If you want a piece of furniture that will break the monotony in your living room, pick a colorful sofa.
1. Living Room with Blue Sofa
I love the colorful sofa paired with the white cowhide rug. The cactus adds tons of personality to your space​.
2. Green Sofa and Colorful Rug
Mixing patterns or colors can be challenging to make it work in your own home.
3. Light Pink Sofa
​​An eclectic feminine home that you will be smitten with. Modern boho home with eclectic decor and light pink sofa.
4. Yellow Sofa
Pretty living room. The yellow sofa really stands out.
5. Green Sofa
6. Colorful Living Room With a Navy Couch
A neatly curated color palette will make any space feel designed.
7. Plants & Colors
8. Eclectic Apartment Salon
Blue velvet, simply powerful.​
9. Lavender Room with Purple Sofa
A lavender-hued living room (with lovely accents in other shades of purple.​
10. Blue Velvet Sofa
This living room keeps the decor primarily neutral. It's the tufted blue velvet couch that formalizes the entire aesthetic of the space.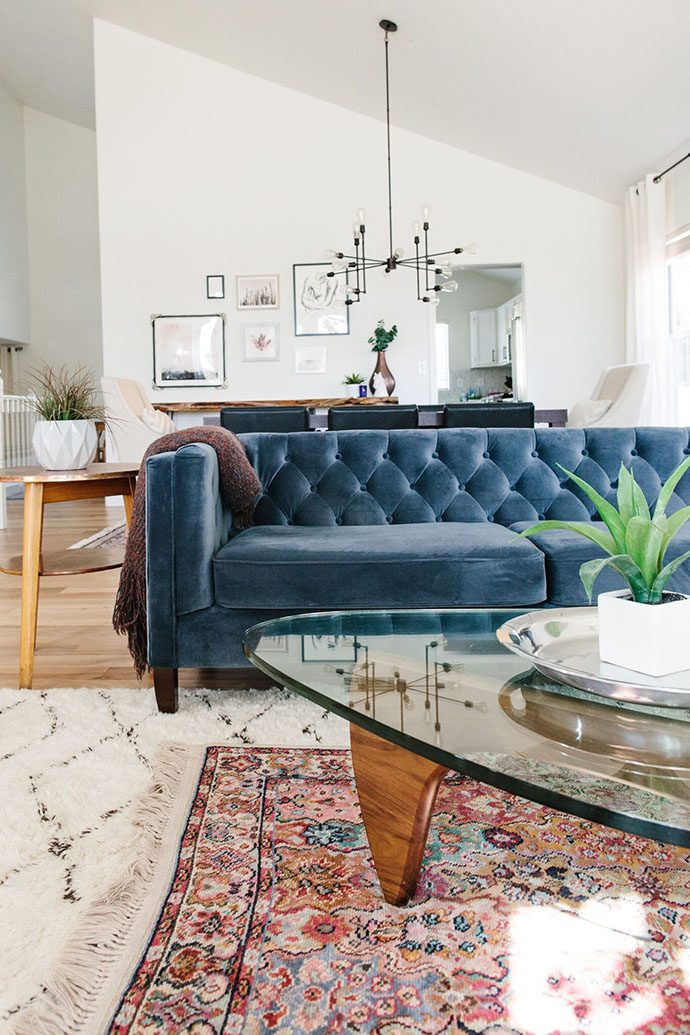 11. Blue Velvet Sofa
12. Teal Sofa
Teal sofa and bright orange occasional chair​
13. Red Sofa
Dark living room with red sofa.​
14. Bohemian Style Living Room
15. Blue Velvet Sofa And Grey Ottoman
Living room with classic architectural details a blue velvet upholstered couch, and a low-hanging gold chandelier.
16. Light Blue Sofa
This black and white striped throw contrasts nicely with the floral throw pillow and the light blue sofa.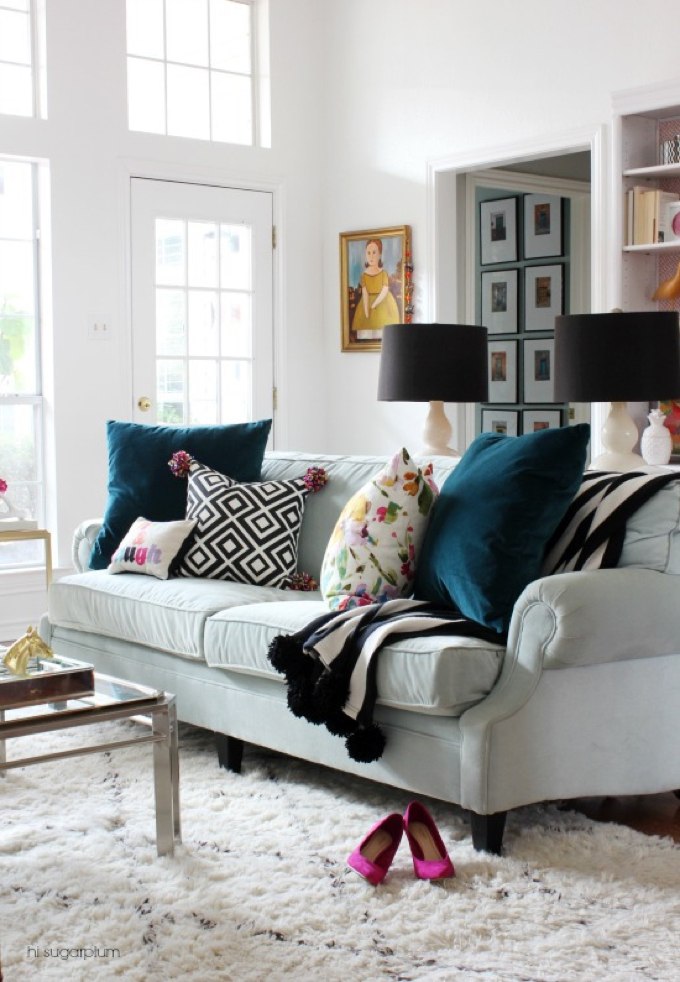 17. Blue Sofa & Brown Rug
Choose a color that's bold but not brash and use a mix of earthy, textured accessories to soften the room up.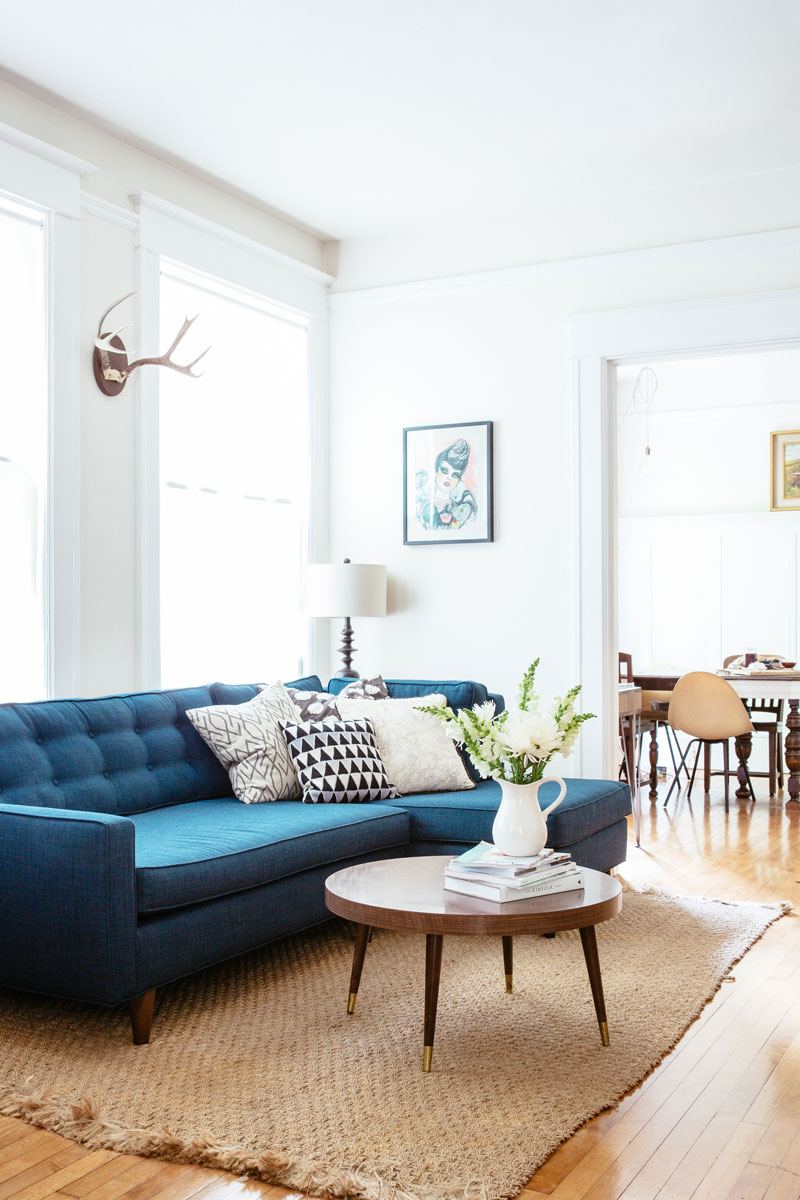 18. Peacock Blue Color Sofa
This peacock blue color is just what your living room needs. Embrace this blue option for your sectional.​
19. Burgundy and Blue
A tufted burgundy couch and a metal tray table on a patterned rug.​
20. Blue Sofa and Floral Rug
Make your room will feel completely different with bold patterns, bright colors or a combination of both to change the look of your space.
21. Light and Orange
Stick with an overarching color scheme and then experiment.​
22. Floral Sofa
Modern living room with lots of green plants​ and floral sofa.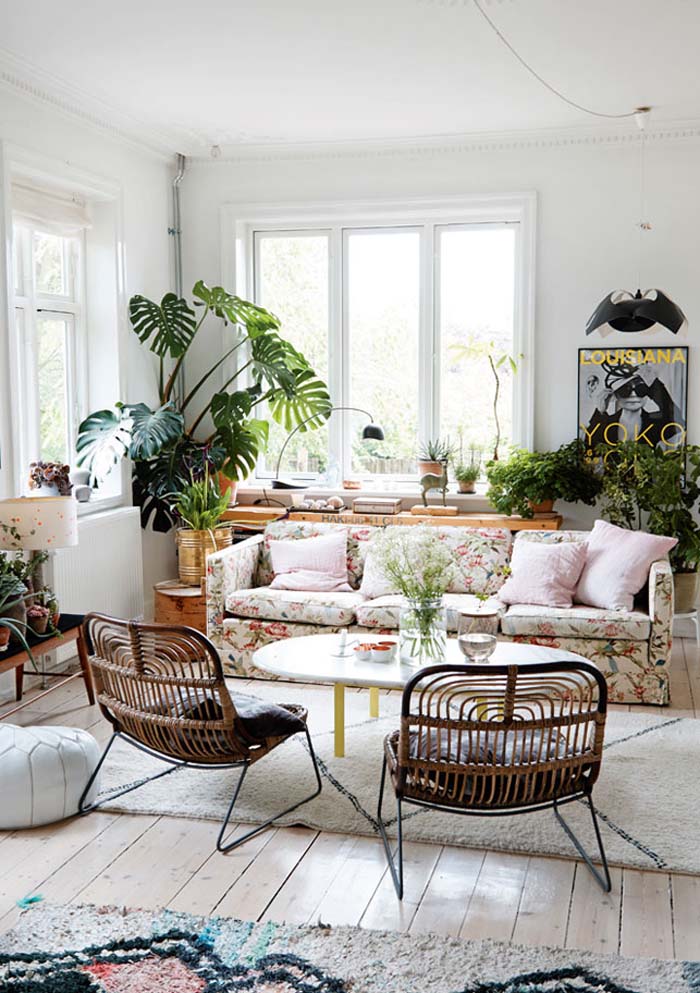 23. Mustard Sofa
White walls plus velvet mustard sofa.