There's something about a blue velvet sofa that makes any living room look more luxurious.
Sophisticated, blue velvet accents bring a rich texture and dramatic allure to any space.
Find ideas and inspiration for a blue velvet sofa to add to your own home.
Beautiful Blue Velvet Sofas in Living Rooms
A mixture of style that has half art deco mixed in with the 50s overall. And, it works rather I reckon. It gives the room a real clean appeal, with enough going on from the half-shell back sofa. The throw breaks the monotony of clean linear lines and gives this home a sense of design combined with comfort. Against the natural and superb floor, the contrast is remarkable. Works well against the backdrop curtains giving it a slight sense of theater.
A terrific and sensual deep blue velvet sofa one may not forget in a hurry. Against the floral armchair, it is superb. The cushions add just about the right amount of "come make yourself comfortable". The greenery adds nature to the whole room including the super cute small flower arrangement on the coffee table. The golden dish also gives a sense of purpose to it all. This is a bald move that incorporates style, comfort, and color upfront and the key dealmakers to making this room an absolute wonder.
A minimalist approach with enough to make this home feel inviting and comforting. The wall art creates the focal point of the room with underneath it this supersized and oversized three large seater sofa. The contrast is all white from the walls to the bookshelves to the rug and the wooden frame chair. Gorgeous room in all the simplicity in the world. No fuss, only the required within a light and welcoming atmosphere.
We aren't certain if the sofa or the oversized Middle Eastern rug takes the number one spot for being the star of the show. It has a true sense of Arabic culture mixed with natural wood to its original unconventional shape. Even down to the lampshade, how beautiful it looks. I love this living area for, of course, the beautifully textured sofa, and for everything else around it that simply works creating a dramatic picture. The wooden beams sure aren't original, but they add the exact thing that was missing from this room. Soul.
Shop my favorite blue velvet sofas:
If deep blues are not a feast for sore eyes, then you may wish to get more pastel-like. This is where Studio McGee excels in every way shape and meaning of the word. McGee manages to really convince us that white is the only color to go forth, in every room in every home on the planet. Of course, maximizing the pillow area welcomes your and your friends to sit in all comfort in a room that is so brightly illuminated with natural sun rays. This light blue, with many shades of grey within it, combines a terrific semi-vintage semi-rural look. One way she creates the perfect design is by working with textures and motifs never giving everything unicolored. Take the rug, for example, it gives the perfect complicated pattern to a serene surrounding.
You are after luxury? After plush design and elements in your living space making the show of the area, the sofa everyone wishes to sit on as an immediate effect upon entering the room? Well, not a lot more could have such a statement than this gorgeous blue velvet sofa. I love the tones of gold throughout the room breaking the electrifying blue denotations. The monochrome art gallery-like wall is splendid, adding a very architect and designer-like finishing to the room. A grown-up space indeed.
The flamboyant of this sofa is on another level. It exudes class and begs you for a glass of deep Bordeaux wine. While reading the most sophisticated lecture from the heroic Hercule Poirot Novel. Makes you almost want to speak the language too and find yourself on that train solving the murder mystery. It drives you into art and history. It is fit enough for a king and queen in the grandest of living areas of the world. To decorate around it, all you would ever need are plain white walls, with small detaining on them. And honestly, that's it. Let the sofa talk. And what about the white threads?
The classy shabby chic. It's all about comfort in a cool, eclectic kind of way. It doesn't look like the sofa belongs in a museum where you'd hesitate to sit. It invites you without asking questions or feeling as if you ought to ask your host if you could sit down. It says it for you. Mix this all in with mega soft furniture and cushioning, and you are in for a treat. The rug usually plays a big part in this instance, where you'll adore putting your naked feet all over it. The big oversized lamp shade descending from the ceiling is incredible too, deforming everything in its path and finalizing the room just about perfect.
One Sunday morning where his and her sofa are clearly ready for some morning literature and a morning coffee or tea. The setting is splendid with two rather different sofas doing the same thing but really working together not against one another thanks to the painting up on the wall above the mantelpiece. It is more than enough to break the monotony of the color blue. The soft Ottoman in the middle of the mix is also a superb addition to soften up the room. One could imagine hours of conversation on this sofa seeing and hearing so many different stories and people.
The perfect New York-style loft was lifted unbelievably well by the Victorian-style brickwork at the back in its original glory. The sofa and the red and tiger-style cushions kill it! It is masculine as much as it is feminine, and I believe this is one of the most diverse designs I have seen in a long time without using light colors to not upset either gender. It was a bald move, but one that really paid off. It is warm and inviting and one would think that someone went to northern Africa a couple of times as extra inspiration.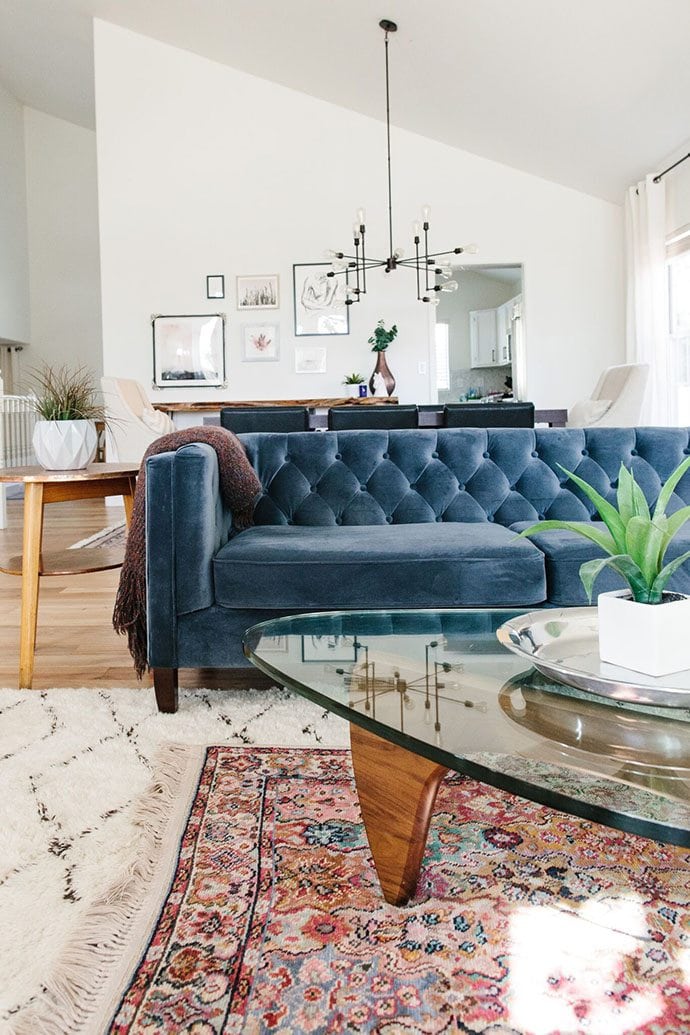 Elegant sofa design that works really well in a rather large living area but complements the space just fine. There is a shabby chic thing going on, with a box standard "safe bet" carpet, and over it the somewhat old school African style carpet adding precious character. A throw on the armchair goes well to support the top rug, adding continuity within the living area. The 50s style coffee table stays clean and simple, with all eyes on the sofa.
Although the sofa is terrific and this is what we ought to be discussing, I cannot help but think about how wonderfully dramatic that painting is. It collaborates so well, as in, so well with the sofa it is marriage material! They both have a similar shade of blue which really does a terrific job bringing the living room alive. All the other details have been carefully thought of well, including the blue lampshade on the brass table tray and the beautiful green plant elements. The blue carpet has white threading which does honor the sofa too. Everything in this room worlds together without fighting the other. It is almost as if they all chose to be there. Terrific scene and yet, simple enough for us all to accomplish.
If you are looking for handwoven contemporary wool carpets and a shop who cares deeply about the art of floor coverings just like rugs and carpets for your homes the best option is
Rugs in San Francisco
.
If you are fortunate enough to find the oversized, concave mirrors from an antique store then by all means jump all over them! They are a must-have as they create something rather magical in any room around the house. But more to the point, above the blue velvet sofa with signs of wear and tear, is simply beautiful. Both the mirror and the sofa look like they date back to the middle of the century, making a room lit with character and presence. The entire room looks like a few trips to the antique store were made, with every item working well in correlation with one another. The thing with going antique is that everything has to make sense unless you planned to only have one or two antique elements within a super new school interior design style.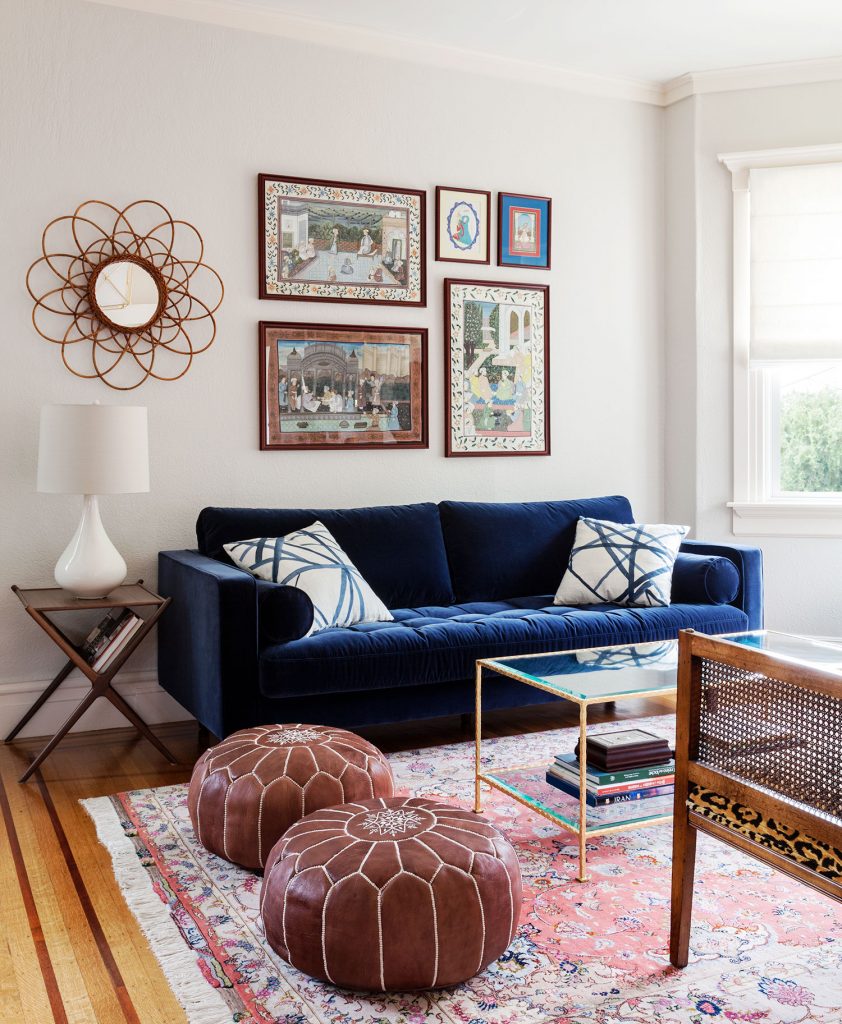 We all know that a home is like a business card, they are a reflection of us, homeowners. It is all about creating a little haven away from the hustle and bustle of everyday life. A great big sofa, if space gives you the freedom, must be large enough for your needs. There is plenty of comforting room for you and 5 other guests all sat in style and comfort. Blue combines serenity, inspiration, wisdom, and health. It is the main purpose and reason why one must choose a blue sofa. Not only does it give you great comfort and style, but also inspires you to feel good and could promote a great lifestyle.
Small apartment owners fear not, comfort is always around the corner. Working with your space no matter the size is key to comfort and accessibility. There is always ample space for something unique and up to your expectations. Velvet is a material that soothes your hardest of days in a matter of seconds. Put this all together with a small rug for your feet to also feel they are being looked after, a few cushions for the back, and a lovely glass of something to let the night go by. The white brick walls are terrific and really do give center stage to the velvet wanderlust.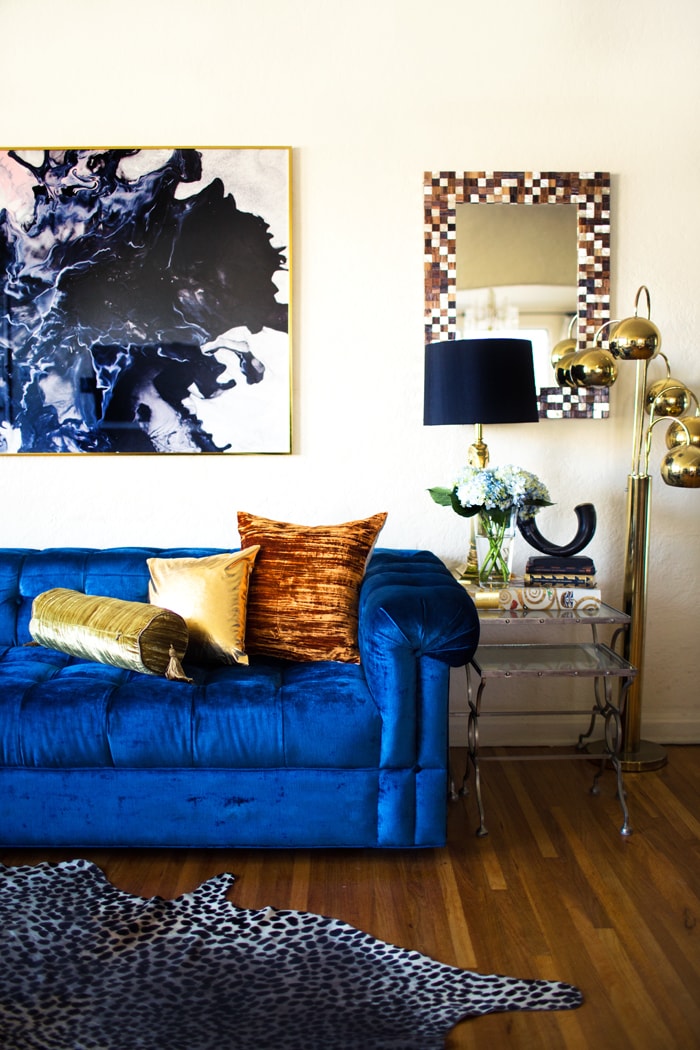 On paper some of these colors do not seem to "like" each other however once put together you wonder why you never opted to step out of your comfort zone! Those eclectic elements really do work well alongside one another, including the panther faux skin, the dramatic blue ink painting with all of the golden elements surrounding it, and the fabulous cushions. The soda itself is a marvel to look at and I am prepared to bet it is dead comfortable. I love the way all of the details work well with each other creating a room with a lot of harmonies.
The play on the velvet sofa, the rug, and the cushion is award-winning in my eyes. A stunning balance of textures, design, and colors all working immensely well together. The natural elements of the succulents on the table smooth out the bold colors on show, including the harsh line of the wall paintings. But enough vegetation has been thought of in this concept, dramatizing it slightly without making you feel vulnerable. Be bold yet conservative on certain accessories to make a room feel right at home, in your home. Make it your room. Something that showcases your humor and persona.
Looking for a new sofa to complete your living room?
Check colorful sofas to break the monotony in your living room or add a touch of color to your living room with blush pink sofas.