If you're searching for a new sofa, blush pink is the perfect color for this season. It goes great with a neutral space, it is very relaxing and also brings a chic touch to any interior.
Make a statement in your living room by adding a blush pink sofa.
If you're looking for more color inspiration, check how to break the monotony in your living room with these 23 Colorful Sofa Ideas.
Blush Pink Sofas in the Living Room
Get inspired for your next home decor project or remodel! Learn how to decorate a blush pink sofa. 
Comfort comes in all shapes and sizes but how about this really rather inviting sofa? Full of cushions, from light pink to super fluffy, to grey and beige matching its surrounding. This sofa really is the centerpiece of attraction, making you and your guests instantly feel relaxed. This example is good for three very relaxed adults or four at a squeeze, but its sheer welcome outstands most of us. Simple in design and not overly fussed with, but a sofa that looks simply fabulous.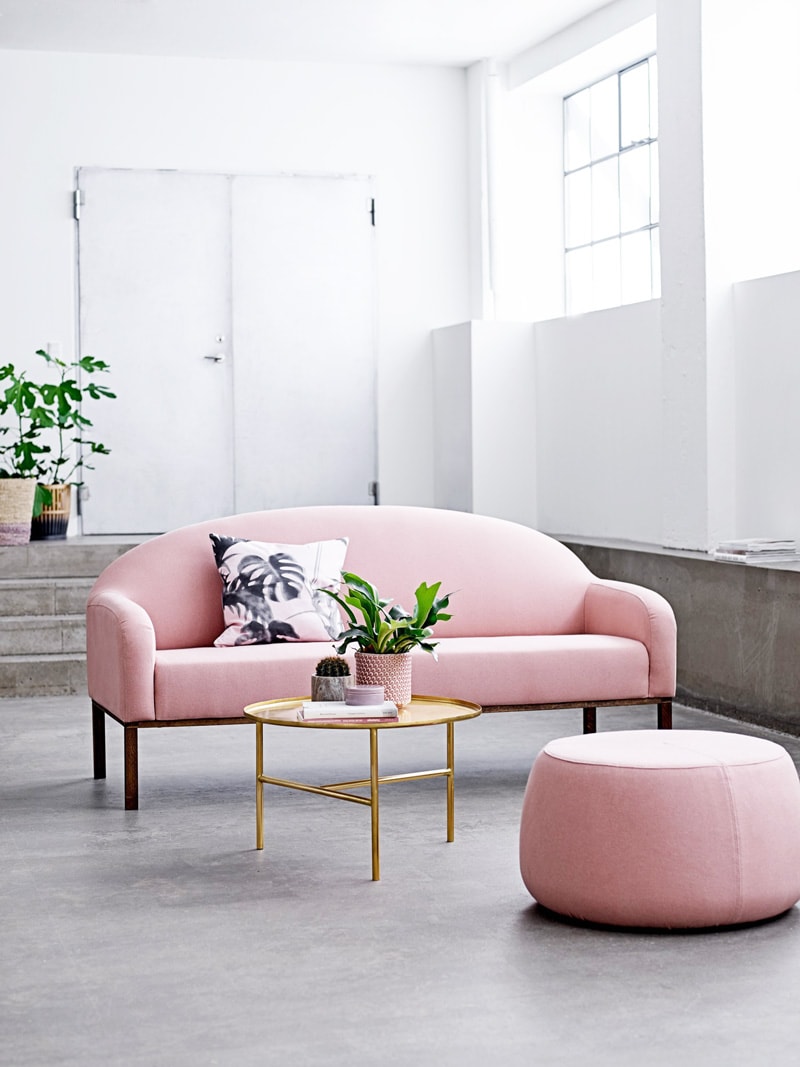 Fresh from 2021, this design is spectacular. I might question the comfort element, but as a design within a designer home, this is totally insanely beautiful. Clean design with a touch of minimalism, alongside the gorgeous golden coffee and the matching ottoman, work tremendously alongside poured concrete floors, white and grey walls. Here you have industrialism that is rather tame. The arch on the sofa softens up the room that could be seen as rather abrupt, but both hands in handwork tremendously well.
This screams Scandinavian styling fresh from the 21st century. A sofa that has very simple lines that do not create much of a fuss. It is there incognito so to speak as it does not want to be the showman or the centerpiece, it simply wants to play a part in making you comfortable co-working against all other accessories and elements throughout the room. The sofa also acts as a sofa bed giving you even more reason why to love it.
The family-style sofa clearly lets everyone know that it is totally ok to jump on it and be cocooned there for hours watching your favorite movie or having discussion after discussions with the family and friends. The color of course is tremendous and can welcome the sheepskin throw and other cozy cushions, perhaps for welcoming everyone in style and comfort. It's big and bold and rather expressive and tells you, all will be ok, come and sit I'll be looking after you!
When wishing to create your own sanctuary of comfort, forgetting all about the many hundreds of stresses throughout life in general, one of your only wishes ought to be to get home, and have a sense of serenity and comfort. The way the room is designed around the sofa is magnificent, focusing on raw materials such as wooden furniture, woven fabrics hanging down the wall, stone elements all within a white color pallet surrounding the room. Lots of plants add the very much welcomed botanical side of things, making you love to chill on your beautiful sofa of pure comfiness.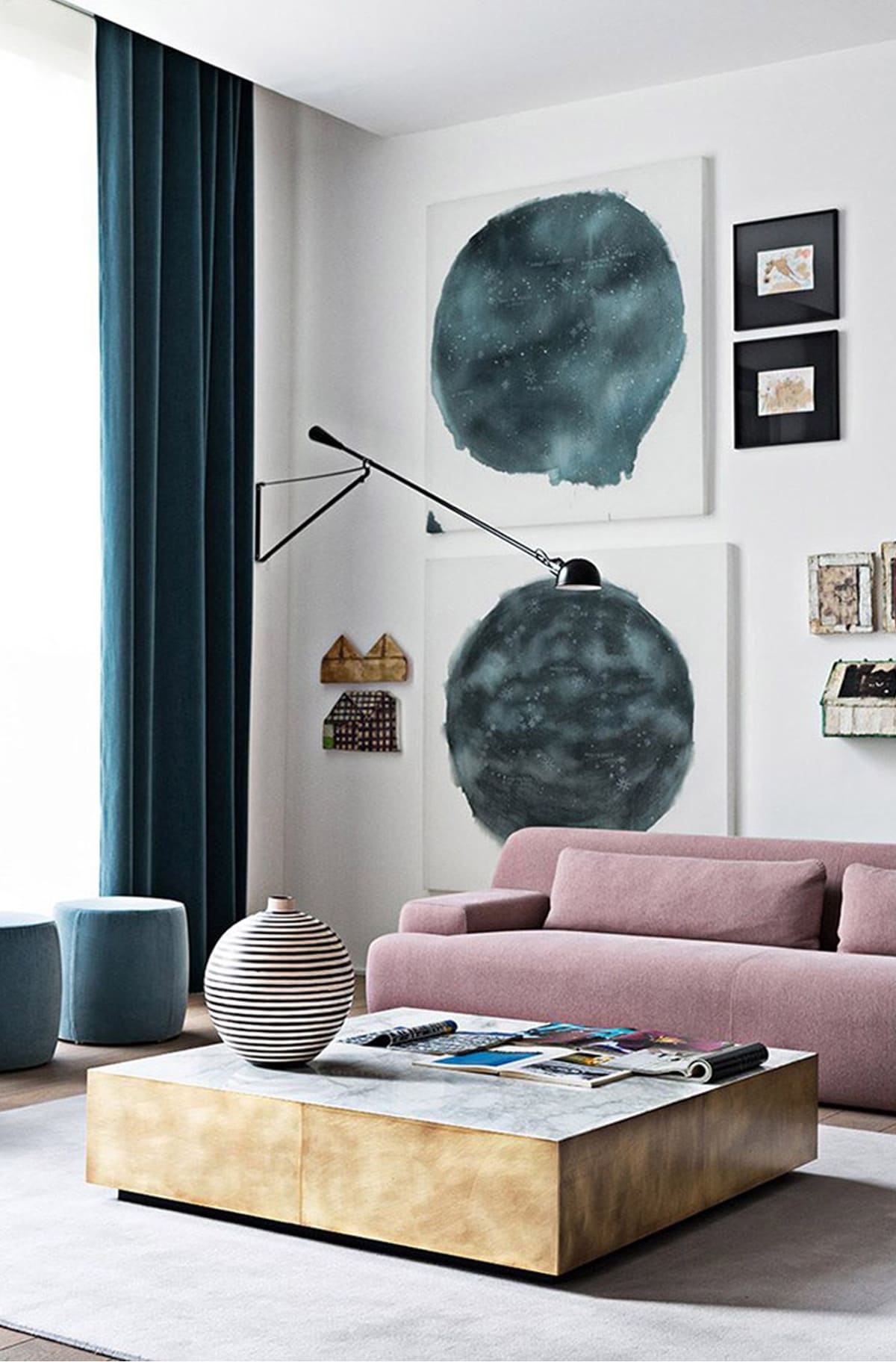 A bit of a 50's design this one, with a fresh outlook of today. A tremendous design element that really showcases your inner designer self alongside other clever design touches from other accessories. The clean lines add to the overall serenity of the room and the way you will feel once entering it. This room example is all about boldness, and oversized elements all working in perfect harmony with one another. The color is another lovely great shade of pink implementing what seems to be lilac within it lovely for the New York loft look.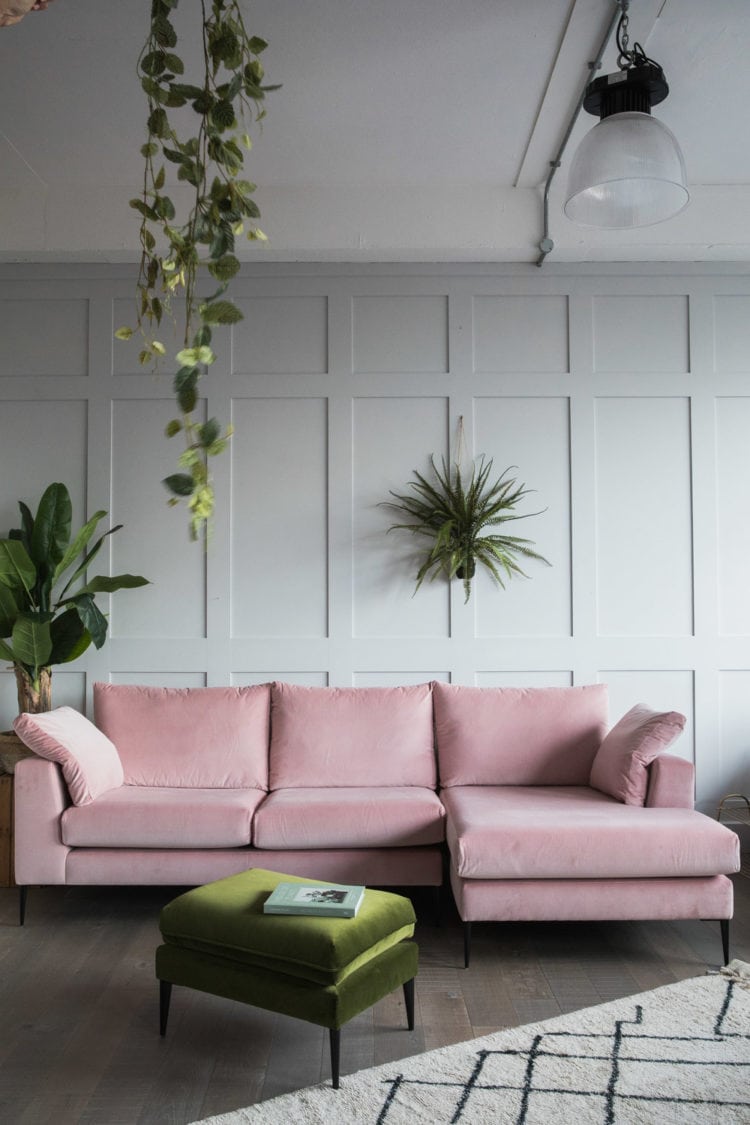 Is the 70's back? Well as I'd like to think, the '50s and 70's played such an important part in the way our homes are designed and the way thousands of designers chose to gather their innovation from. Not only is this a great design element but it is also a very functional one that will suit most rooms no matter how large or small they are. A box standard design means most of the time that your comfort is key, and the design element works with it, not against it. Some pieces of furniture are beautiful to look at and very intricate, until your heartbreaks like your first love heartbreak when you try it and disappointment come flooding in.
Shop my favorite pink sofas here:
Click here to check this Vintage Tufted Sofa Sleeper
Click here to check this Pink Velvet Sofa
Click here to check this Pink Sofa
Click here to check this Pink Futon Sofa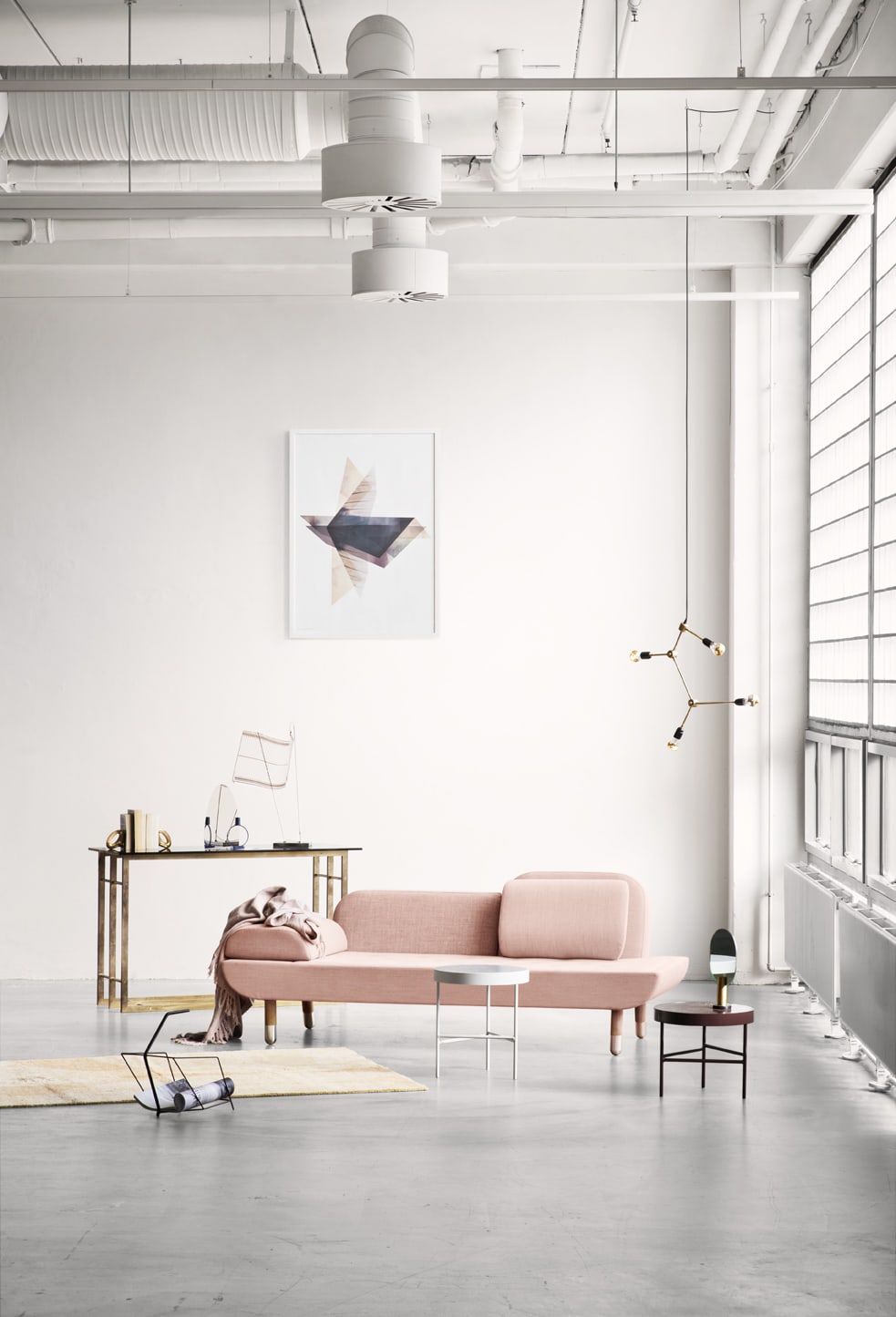 If you aren't the sort of person to have your entire life's done in your home and wish to keep things a secret all neat and put away, then this is something for you. The simplicity of the design is actually a really tough one to achieve. Less is more and is also a lot harder. Some people choose to live unclustered lives, and this is definitely one way to go by it. Beautiful, clean, simple. Does the job in reminding you that you never needed much after all.
A daring shape and indeed a daring overall design of a beautiful room that really does stand out from the norm. The sofa blends in style still being rather reserved with an old-school touch, naturally refreshed to today. It is a very simple design that stood the test of time with beautiful wooden feet adding further natural tones that can thereafter be implemented with other pieces of furniture surrounding it. We're talking sofas, but check this magnificent rug out!
If you have been blessed with space within your living area, then look no further for one of the most stylish pieces of furniture. This magnificent corner curved sofa is without a doubt the star of the show welcoming any people at once all gathered ready for a great time. Many of the same colored citations are there to welcome you and guests, alongside other shades of the same color. A fashion accessory more than comfort in mind perhaps, but something that really does look incredible in most homes.
One definitely gets the feeling that once sat on this marvelous, plush sofa, one never gets up! Not only does it look astonishingly comfortable, but also looks great as a piece of art. The velvety color looks fabulous, alongside deeper colored cushions all working beautifully together. A very sexy feeling about the whole design and one that will for sure be welcoming you time after time.
Onto a more pastel outlook on pink, this feels relaxed compared to say, deeper shades of pink. This is a peaceful environment and a peaceful sofa that once sat on, a life that occurred outside of your walls seems far far away in the distance. And this is the whole point about including the perfect sofa for you that is so critical in your everyday life; more than you would ever think. Think of it as your best friend where it listened to your many conversations and was always there to comfort you! It does not want to be the star of the show, it leaves this job to you.
A very pale pink sofa that marries well the color grey and white, for a neutral looking room with neutral elements within it. A no-nonsense approach to style and comfort and something rather straightforward, because after all, life is complicated enough as it is. This sofa is beautifully simple, with very soft lines cozying you up when you need it to. This sofa definitely has a Scandinavian feel to it, which you can marry with other similar principle accessories.
The pink corner sofa screams a family sofa, where one would imagine seeing the kids running amok all over it playing hide and seek. It is also a very big design statement that could reflect your inner self and character. As you can see the room is rather plain but with the big bold statement this sofa creates, it is more than enough! Include lots of cushions and throws to cut off some harsh line softening up the entire room. This is another great 50's style sofa that oozes with comfort.
Perhaps not the truest of pinks but pink nonetheless. It has a bamboo feel to it adding a lot more texture to the room, not only to itself. And to the touch too making this rather pleasant to sit on because you'll constantly be rubbing your hands over it. A simple design that will withstand the test of time and that will fit in most rooms. Something that will not go out of fashion anytime soon. Works brilliantly well with brass elements with yet again ample amounts of soft cushions.
You can also check these gorgeous blue velvet sofa ideas for your living room.