Many homeowners often forget to upgrade their door handles when executing home improvement projects. However, carefully selecting door handles is essential in enhancing your interior design and security, while adding property value.
Door handles are available in various styles and designs, thanks to the increased growth of interior designs. And, with many options, it can be challenging to pick the right door handles for your home. Fortunately, this article outlines the different aspects to consider when selecting your door handles. Continue reading to learn more.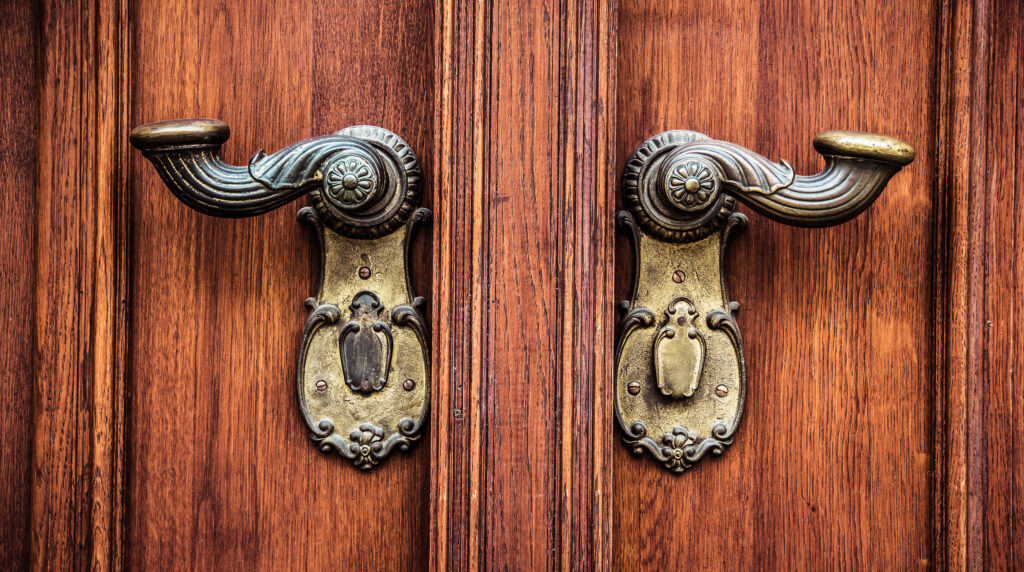 The Style Of Your Home
The first thing to consider when choosing door handles is your home's style. For instance, selecting modern door handles can be inappropriate if you have a vintage or a traditional home. The same applies to selecting vintage or classic door handles for your modern home.
Select door handles that match your home's architectural style, whether traditional and ornate, contemporary and sleek, or a mixture of the two. Remember the type of door designs in your property when considering the style. Some use the same door design throughout their home, while others use a different one in every room or floor. If you've got the same door design throughout your home, you can opt for different handle designs or colors to differentiate your rooms or floors, or choose the same door handles for consistency.
For different door handle designs and colors, you may visit stores such as www.keelerhardware.com.au.
2. Different Types Of Door Handles
When choosing the right door handles for your home, it's essential to be familiar with the different types of door handles available, such as:
Door Knobs:

These are round door handles available in locking, lacking, and pull handle designs.
Lever Handles:

These are the most popular door handles and have a latch bolt that enables you to close and open the

door

. Some have a key lock for extra security. Lever handles are easier to operate than door knobs, making them suitable for people with disability or arthritis issues.
Pull Handles:

As the name suggests, pull handles are fixed handles that open with a slight pull or push. They resemble the lever handles, but lack the latching mechanism. Unlike the levers, pull handles can be mounted horizontally or vertically on the door.

Panic Bars:

These handles are mainly installed on emergency and commercial or public doors, and open with a simple press.
The Material Of The Door Handle
When choosing the material of your handle, it's essential to consider your environment—do you reside near a dumpy, windy environment, or the coast?  There are different materials of door handles suitable for various locations. Also, consider the use—if your handles will be subjected to heavy traffic, settle for a more durable material. 
Door handle materials include:
Stainless Steel Handles:

These types of door handles are the most common because they're cheaper, good-quality, easy to maintain, and durable.
Brass And Bronze Handles:

These copper alloys are suitable for vintage or traditional homes. They're preferred because their copper content is known to prevent the spread of viruses and bacteria. You can also coat these handles with chrome to enhance durability and change their texture, finish, or color.
Aluminum Handles:

They're the lightest handles and don't rust easily.
Plastic Coated Handles:

These types of handles are preferred because they're warm to the touch and are available in different colors. They also have antibacterial properties, making them suitable for use in schools, hospitals, or sports centers.

Ceramic, Wood, Crystal, And Glass Handles:

These handles are mainly used for decorations in homes to match various home styles.
The Current Trends And Innovations
Take time to survey the different trends and innovations in the market. Lately, many door handles are designed with antibacterial properties to prevent the spread of bacteria and viruses. Other handles counter the spread of germs by replacing hand contact handles with foot- or elbow-operated handles.
Other innovative door handles include:
Biometric Handles:

Primarily used in high-security buildings, like banks or government buildings. These types of handles can only be opened by authorized personnel.

Illuminated Handles:

These handles are more visible in the dark
Conclusion
Like many things in your home, you should take time to select the right door handles. Apart from enhancing the look of your home, door handles are a vital security component for your home. Hopefully, the above tips will help you choose the right ones for your property. You may also want to consider other factors, like the size and weight of the door, the locking options of the handles, the door function, as well as your budget.