Winter and snow can be fun, and indulging in the white snow can be very exciting until it fills up your driveway in front of your house. You can't move or drive without removing the snow. You often have to get out with your shovel and dig up the snow to remove it. This job can be pretty hectic and tedious. Not only is it arduous but can be dangerous as well. In this article, we have gathered some clever ways by which you can easily remove snow from your house and driveway.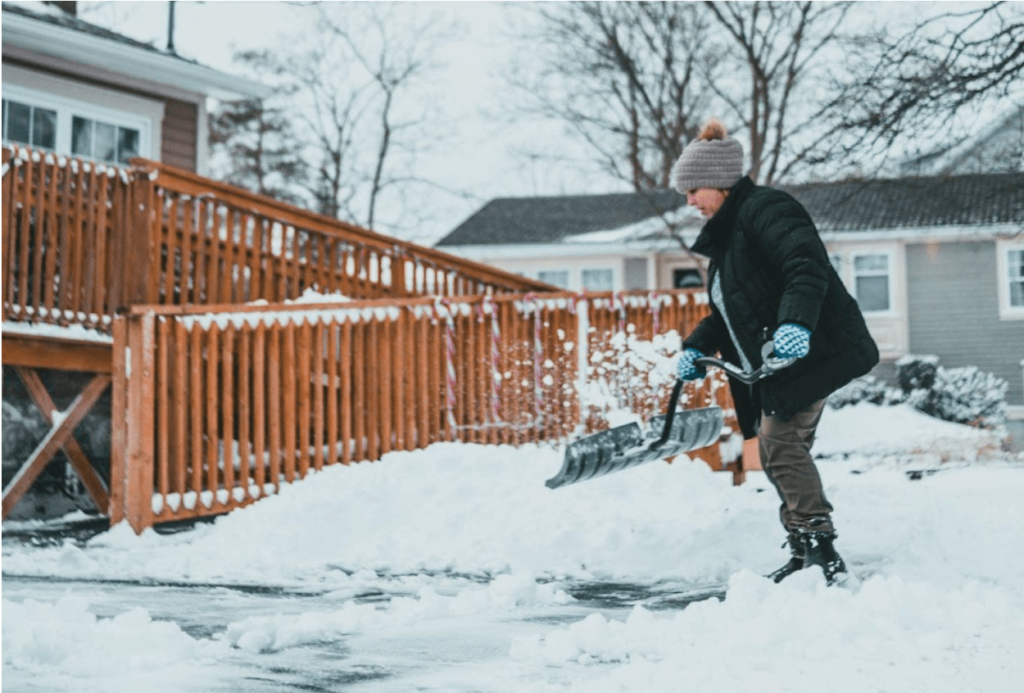 1. Using Snow Blowers and Snowplows
We all know that a powered electric leaf blower won't be very efficient when clearing a long driveway. A two-stage or three-stage or a gas-powered snowblower, on the other hand, might work. You can opt for ariens deluxe 28 sho snowblower without a second thought.
These snow blowers can handle wet snow, frozen snow, packed snow, and everything else you can toss at them easily. If you have snow stuck on the snoot of your blower, just a little cooking spray will quickly clean it up. Wear protective gloves when handling the blower for your own protection.
Snowplows are undoubtedly the best option for exceptionally lengthy driveways, especially those over 400 feet long. A front-mounted snow plow fitted to the front of a 4×4 or SUV is all you need.
It makes no difference if your driveway is paved, unpaved, or gravel; you can clear all of the snow in minutes.
There are also variants that can be fitted to ATVs, UTVs, and snowmobiles allowing you to make the most of your recreational vehicles.
Front-mounted snow plows, on the other hand, are not cheap. With prices ranging from $3,000 to $4,500 on average, these are out of reach for individuals with tiny driveways.
Fuel-driven snow blowers are ideal for paved and gravel driveways with a length of fewer than 200 feet. Longer and unpaved driveways require more time to clear, so our next option is a better fit.
2. Use a Cover
When you have a thick layer of snow, you can definitely use a shovel to clean that up. However, when there is very little snowfall, it will only cover an inch or a two. Trying to dig that up is never a good option. You might even end up digging the surface of your driveway or the pavement. 
The easiest way to get rid of that thin layer of snow is simply to prevent it! How? Before the snowfall begins, cover up your car, driveway, or even roofs with a thin sheet of plastic or tarp. This will stop the snow from falling directly to those places. And when the snowfall stops, you can simply pull it off and get rid of the snow in a very efficient way in no time!
However, you should remember not to follow this technique when there is heavy snowfall. Pulling a plastic sheet with a thick layer of snow will only tear the sheet, and you might hurt yourself in the process too.
3. Using Roof Rakes
Ice dams are not a new scene for you if you live in a cold climate. As snow builds up on your roof, it will eventually start melting when the temperature increases slightly. When this happens, the melted water drips and forms into ice again due to low temperatures. This creates inverse cone-shaped icicles on the edges of your roof or ice dams. This is a problem as these dams prevent water from your roof from draining. This can damage your roof and can also leak water into the house.
The best way to prevent this is removing the snow before it melts. Here is where roof rakes come into play. Roof rakes are a long, handheld snow removal tool with a flat surface to drag down the snow from your roof. Having space for adding multiple extensions to the handle, roof rakes can be easily used on one to two storeyed houses. With typical roof rakes, you can remove snow as deep as two feet at a time.
4. Using Heat
Using heat is another clever way of removing snow from your yard or driveway. When the temperature starts rising, using heat to melt the snow can be an excellent idea to avoid shoving and scooping it up. Simply connect a hot water spigot to a sprayer hose and use the hot water to melt as much snow as possible. You may manage the amount of snow accumulating on your driveway by spraying it as it falls. To enhance traction against any ice that may be there, top with sand.
If you don't have the spigot, you can opt for a basic watering can. Fill it with hot water, half a cup of rubbing alcohol, and dish soap. Not only does it provide an alternative for the hose or spigot but the added ingredients help melt the snow faster! This also deals with the snow build-up underneath.
Installing a driveway system with heat is advised for business and house owners who want the most reliable solution to keep their premises ice and snow-free. With new alternatives on the market, the process has been simplified.
Heated driveway systems add value to a home and satisfy you with automated activation. Adding a heated driveway system this winter might save you a lot of time if you're weary of battling with snow removal completely.
5. Use Your Team
If you want to remove the snow around your house and your driveway fast, involving a handful of people to do the job with you is the best way to do this. The most exciting part is you can make your little team including your family members, which will make the hectic job seem like a game! Do you have some free time? What about children? Consider letting the kids loose on your driveway covered with snow if you're not in a hurry for a job or other obligations. On the driveway, have a snowman-rolling contest. Encourage the kids to use the snow from round the house or the driveway to construct a snowball armory or snow "bricks" for a fort or igloo.
You can even arrange a snow clearing contest if they're old enough to use shovels and follow directions? Divide your walk or drive into equal portions; whoever can clear their area the quickest wins. To avoid injuries, make sure to give explicit safety advice first.
Other Snow Removing Tools and Equipment
In addition to the ways mentioned above, you can keep some tools and equipment ready for easy snow removal. Below are some tools and equipment that can be very useful when removing snow.
1. De-icer or Snow Melter
De-ice any area of your home exterior with an ice melter. These come with enhanced calcium magnesium acetate and an anti-corrosion formula that goes to work immediately upon contact with snow and ice to accelerate the deicing and melting process. Many of them come in color-coded crystals that will help you visually measure and dispense the right amount. They are designed so that you don't need to worry about skidding or slipping in them. If you have pets, the good news is, that many snow melters available in the market are pet-friendly!
2. Power Brush
A snow brush, also called a power brush, a power sweeper, or a power broom, this equipment is not your regular handheld broom or tool used to clear accumulated snow from your vehicle windows.  With strong wire and plastic bristles, this gadget is a gas-powered device that you follow behind to assist in clearing snowfall.
They are available in a range of sizes. They can be used in locations with mild to moderate snowfall. They're also popular because they are multi-purpose, and you can use them in various seasons to clear leaves, dirt, sand, and snow from your walkway and parking spaces.
Conclusion
Removing snow is no easy job, but with technology development, this stressful job can be done comfortably with less hassle. With new advanced snow removal products and equipment in the market, removing snow isn't too much of work now. Roof rakes and snowblowers to include your family in snow removal; not only does the job get easier but also fun!