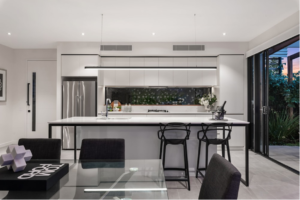 Black is a striking, bold, contemporary shade that looks impressive in any home. However, many homeowners struggle to incorporate it without making their homes appear darker, colder, and smaller. As challenging as it can be to incorporate such a unique shade, you might experience success by taking some of the following actions: 
Purchase Black Accessories
Rather than paint your walls or ceiling black and risk not enjoying the final results, consider purchasing black accessories to contrast against lighter colors in your home. For example, here are 7 reasons to buy a black cutting board for your kitchen. You might also look at black appliances, artwork, and home décor like vases and coasters. By purchasing black accessories rather than black paint, you can easily change your home theme later if you decide that black is no longer your preferred accent shade. 
Buy Black Fixtures
In recent years, homeowners have been spoiled for choice regarding fixtures. While we used to be limited to a mere few options, we can now choose from a range of colors and materials to suit our unique home designs. As a result, you can purchase black fixtures for kitchens, bathrooms, doors, and cabinetry to contrast beautifully against lighter colors. Black and white is always a winning combination, but you can also choose warmer and brighter colors. If your tastes change in the future, replacing them won't be a significant undertaking. 
Paint a Black Accent Wall
Some people are bold and decide to paint large walls in their homes black. If you're unsure if this is the right look for you or don't want to incorporate a considerable amount of black, consider painting a black accent wall. Choose the smallest wall in a room and purchase black paint and a gray or deep-hued base primer. A primer will allow for full coverage in just two or three coats. Matte black is a popular option, but consider high-sheen paints like satin and eggshell if you're painting a high-traffic area that requires frequent cleaning. 
Revitalize Your Window Trim
Peer inside the average home, and you'll notice that most window frames and trims are white. While there is nothing wrong with white, you might enhance your home and inject much-needed contemporary elegance by painting them black. Paint is an inexpensive renovation option, and you can paint them white again later if your preferences change. If you plan to replace your windows during a home renovation project, purchase pre-painted black windows to save time.
Invest in Black Doors
If you're not quite ready to paint your walls black, consider painting your doors black instead. Black doors can work harmoniously with light and soothing-colored walls and look sleek and stylish in any contemporary or classic home. However, it's important to remember that black can show fingerprints more noticeably than other colors. Consider satin or eggshell finishes, or finish your doors with a beeswax-type product to limit their visibility. 
Injecting black into your home doesn't have to be a dramatic or expensive process. A few small home changes, like black kitchen accessories, an accent wall, or new doors, might be all it takes to achieve the look you desire.