Here are some tips to make something creative from wood slices for your home or as a gift. Check these 17 awesome ideas on how to decorate with wood slices.
1. DIY Wood Slice Clock
You can build a clock and enjoy doing it. It's quite an easy project and the end result is charming enough to be a gift to someone.
2. DIY Wood Slice Lamp
This rustic lamp is absolutely adorable and looks a lot more complicated that it actually is.
via www.idlights.com
3. DIY Wood Slice Shelves
These adorable rustic shelves will sprinkle your kitchen decor and this project is quite simple to do too.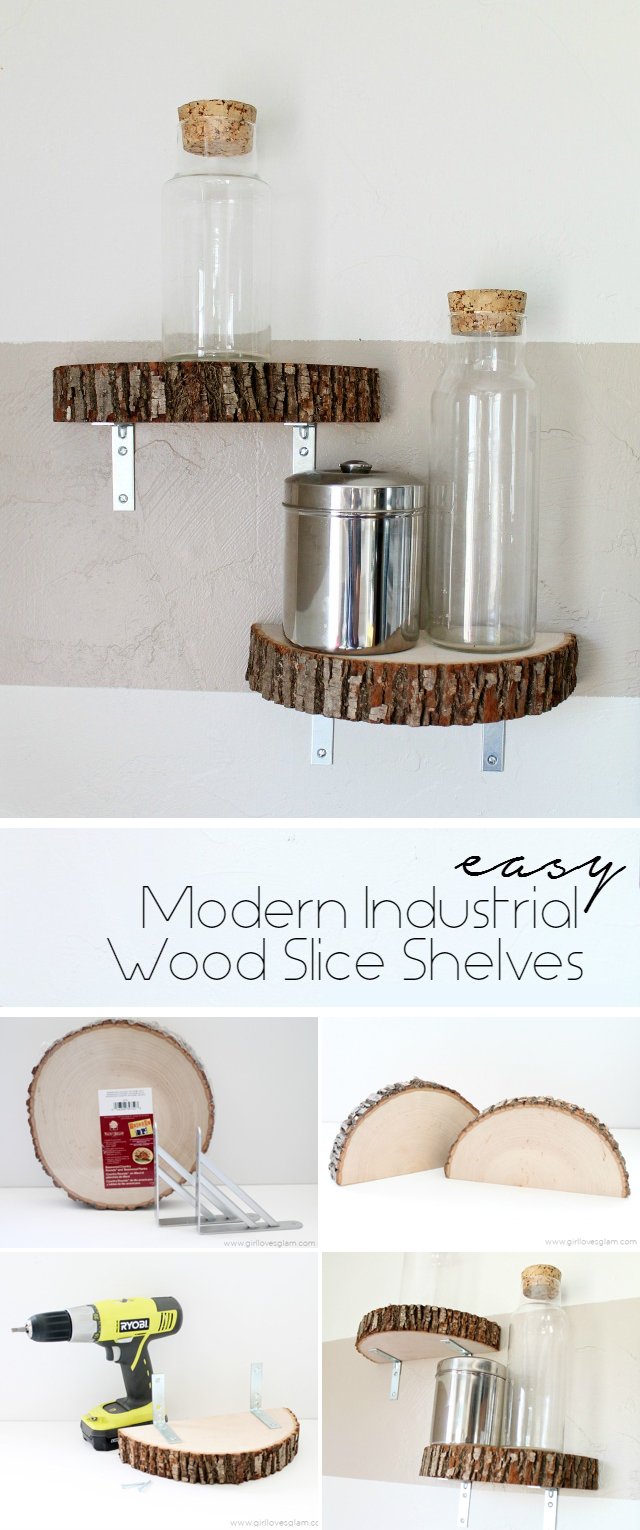 4. DIY Wood Slice Smartphone Dock
Check how to build this easy DIY wood slice smartphone dock.
via scarletwords.com
5. Wood Slice Serving Board
Easy to create even if you don't have access to a huge forest or wood pile, and doesn't require a chainsaw or any fancy power tools.
6. DIY Footed Wood Slice Tray
This DIY footed wood slice tray makes a great home accent piece!

7. DIY Hanging Wood Slice Plant Stand
Tiny succulents will be a perfect complement to this hanging wood slice plant stand. The suede ribbon also adds a warm component to this piece.​
via brepurposed.com
8. Sliced Birch Branch Place Mats
Such a great way to add natural elements into your home! Use birch branches to create this rustic place mat that you can use all year round.
via www.ehow.com
9. Wood Slice Serving Tray
A charming serving tray with drawer handles for easy carrying and chalkboard paint for interchangeable messages.
10. House Number Sign with a Wood Slice
Make a unique house number sign from a wood slice – this is such a great home decor project, and on a budget!
via diycandy.com
11. Botanical Wood Slices
Here is a quick, easy, and inexpensive way to enjoy nature, without getting your hands dirty.
12. DIY Wood Slice Mirror Frame
Make a great rustic mirror frame that has a lot of charm All you need to do is cut a lot of wooden branch slices and glue them together in a circle.
via thatsmyletter
13. Wood Slice Backdrop
Make your own wood slice backdrop.​
14. Transfer Ink to Wood
Simply framing your favorite photos doesn't quite do them justice. Try transferring your best prints onto wood. This creative display will showcase your picture perfect moments in a manner that's worthy of their greatness.

via www.ehow.com
15. DIY Mounted Air Plants
Make a living wall installation with DIY mounted air plants.

16. Wood Slice Chalkboard Welcome Sign
This piece is such a fun addition to any gallery wall or extra shelf space in your home!
17. DIY Mini Wood Slice Trivet
A hot glue gun will be your go-to crafting tool after seeing how easy it is to try out this project idea for a DIY Mini Wood Slice Trivet. The natural materials make displaying indoor plants even more rustic and beautiful.