Find out how to make a DIY miniature fairy garden and get ideas for this enchanting and fascinating garden trend, suitable for both kids and adults.
1. Broken Pot Fairy Garden
Broken pot? Make a fairy garden!
2. Fairy Garden with the Castle
DIY reuse your broken planters to make this beautiful fairy garden.​
3. DIY Sparkly Beach Stone Fairy House
Stock up on smooth round rocks from the beach. You can get your kids creative to cover the rocks in paint and glitter.
Add a few "fairy" touches like mini mushrooms and a birdbath to complete the fairy garden.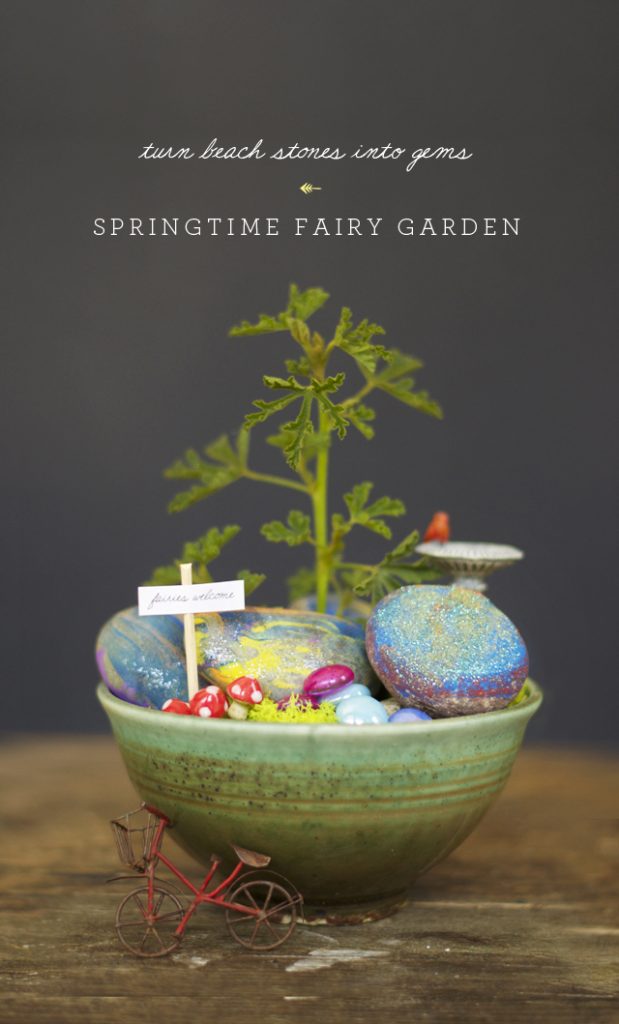 4. DIY Teacup Fairy Garden
Grab a teacup to create this little vignette.
You'll have the perfect mini garden for your apartment or windowsill.
5. Wooded Wonderland Fairy Garden
This mossy hill is just the place to relax among cork mushrooms in the looking glass pond​.
6. Fairy Door Clay Pot Planter
This fairy door clay pot planter is an easy DIY that is super cute and will look fabulous in your garden.
Check out the popsicle stick fairy doors too!​
7. Mini Fairy Garden
Garden in a pod is the most common style with miniature plants and decorations.​​
8. Wooden Box Fairy Garden
​An old drawer is a perfect fit for this fairy garden, with its tiny birdhouse and birdbath, garden chairs, watering can and pretty arch.
9. Mini Garden in a Mini Pot
Beautiful mini garden.​
10. Suitcase Fairy Garden
​Create your own little world with a vintage suitcase fairy garden.
In just an hour you can furnish your own secret garden with fairies, plants, moss, and other miniatures for a wonderful display.
11. Fairy Garden Wishing Well
Make a Wish! – Now that's a lovely fairy garden well.
12. Stone Fairy House
Simply made with one planter base and a few tiny fairy accent figurines with a beautiful, heartwarming tone.
This miniature fairy garden comes with an adorable miniature cottage, fish pond, stepping-stones, fire pit and of course, a couple of chairs.
13. Tiny Fairy Garden
14. Enchanted Door Fairy Garden
Create a miniature fairy garden filled with magic!
15. Beautiful Mini Garden
Beautiful mini garden​ with a real twig arbor, a hand-painted, white, picket fence made with match-sticks, and a tiny patio chair and table set.
16. A Lakeside Cottage Fairy Garden
Miniature fairy garden with a lake.
17. Fairy World in a Basket
Very creative idea to use a basket ​to create a fairy garden.
18. DIY Beach Fairy Garden
Bring the beach vibes to your home.
Add moss, marbles and a few toys to create the ultimate beach vacation right on your porch.
19. Tiny Hammock Life Fairy Garden
Try tying embroidery thread together with twigs and scrap fabric to fashion a little hammock.
20. Fairy Garden in a Bucket
A bucket can be transformed into a very magical location for a fairy garden.
The lilac blooms are truly beautiful and the little red house is absolutely precious.​
21. DIY Fairy Garden
This little DIY project installed in a larger and shallower pot has that whimsical, handmade charm because of the simple tree house and small sparkling pond.​
22. Fairy Garden Inside a Small Grapevine Sphere
This little fairy garden almost looks like a scene from a snow globe.
The grapevine sphere is really beautiful and delicate, and it blends in quite nicely with the garden's base.
The decorations inside are quite neutral, but they stand out beautifully.​
23. Fairy Garden Broken Pot
​Magical broken pot fairy garden.
24. Bird Bath Fairy Garden
Beautiful terraced miniature garden straight out from a fairy tale.
25. Magical DIY Fairy House Planter
If you're into fairy gardens, you're going to love this DIY fairy house planter.
This working planter is decorated with your favorite fairy miniatures!
26. Terra Cotta Pot Fairy Garden
Celebrate in miniature – Make a fairy garden in a terra cotta pot
27. Miniature Garden in a Pot
Bonsai trees make a very realistic miniature garden.​
28. Magical Fairy Garden with Lights
Add some whimsy to your life with this cute little creation and make a tiny garden complete with twinkly lights.
Create your own fairy tale story with this beautiful, tiny wonders.
29. Fairy Garden DIY
Easy fairy garden DIY idea.
30. Barbecue Themed Fairy Garden
This project involves a lot of pieces, but you get to recycle a barbecue into an adorable summer conversation piece.
And you never have to worry about over-cooking your burgers.​
31. Small Indoor Fairy Garden
Everything becomes cuter when it's shrunk down to miniature size.
Twigs look like giant trees and miniature ferns turn into a lush forest for the fairies.
32. Popsicle Stick Roof Cottage
​Craft the cutest cottage ever with a popsicle stick roof and a lot of glitters.
Top it off with a faux butterfly and wait for the fairies to move on in.
33. Perfect Fairy Home in a Cup
​It was just a chipped teacup — until they transformed it into the perfect fairy home…
34. Fairy Garden in a Terrarium
Make a magical forest terrarium​.
35. TreeHouse
​If you have a big enough tree in your backyard, the roots can easily become a magical getaway for fairies.
36. Pinecone Fairy House
To make creative fairy house, use dried birdhouse gourds and pine cones.
37. DIY Flower Pot Miniature Fairy Garden
There are many ways to create a whimsical garden but the greatest way is by making a flower pot miniature fairy garden. You will have a lot of fun while making it.
Your fairy garden pot will definitely become the centerpiece of your garden.