Make your own DIY rustic wall clock using just a few supplies! You can build your own creative and customized clock that will keep you on time and add decor to your space.
1. Giant Reclaimed Wood Clock from an Electrical Reel
​Make a giant reclaimed wood clock from an electrical reel to add a rustic feel to your home decor.
via thediymommy.com
Big worn-down factories are left intact and many have priceless positions if you are the imaginative kind of person! Nothing is to throw away if you think for a minute. This is a perfect example demonstrating that even an electrical wheel can be salvaged and given a new lease of life to enjoy for many years to come. What's even better, is that two of the same can be made! Gift the other maybe to someone always late to everywhere. There, no more excuses!
2. DIY Pallet Wood Farmhouse Clock
DIY pallet wood farmhouse clock! This is a fairly simple project, and it's such a gorgeous statement piece!
This is a fabulous idea to personalize your own "Suisse" timepiece with your family name and since when the home because the family home you have always dreamt of. It is a fabulous reminder of how much love is in your household no matter the time of day even if the skies are sometimes grey. Never forget, sunshine is always around the corner to give you the best of its energy powers. Let it be that clock that always reminds you of the time of love and companionship.
3. DIY Wood Pallet Spool Rustic Clock
Make a super easy DIY wood pallet clock. It's easier & cheaper than you would think!
This is an example that even a non-functional clock can still look great, proudly on a mantelpiece. Some of you aren't born electricians and frankly hate the fiddly bits. But at least, you got halfway to your project! What we believe makes a home, a home, and not just an Instagram home, is the fact that there is a character to be found at every corner of the room. And things to talk about like the, "Do you remember the time you wanted to build a clock?". Also, a great and legitimate excuse to be 5 minutes late.
4. Farmhouse Clock DIY
Create your own personalized farmhouse clock. With just a few supplies, you can build this gorgeous farmhouse-style clock.
Check the video tutorial below:
If you can find walnut, this is the world's best, especially after that lovely wood finish tint. Then again, any wood will do that you can manage to salvage up and recycle. In all this will take you one morning alongside a warm cup of coffee. This example is done in Roman Numeral which adds to that extra detail, but if you feel more comfortable it can easily be replaced with a number time pattern. Some say it's as easy as one two three. Use a hot stamp to personalize it further with what means the most to you.
5. DIY Pallet Wood Clock
Make a clock using plywood and pallet wood and clock hands. Fun project for your wall using simple re-purposed materials.
This clock is the more minimalist approach, with only the numbers three, six, nine, and twelve but with the added semi compass heated onto it. Little details that we love dearly! So, no need to take your fancy phones out. It's on the wall! Always ensure to use the correct safety ear to prevent potential hazards. We never know so prep up ahead of time.
6. Vintage Domino Wall Clock
Create a fun wall clock with repurposed vintage wooden dominoes and a thrift store cutting board- perfect for his game room, office, or man cave! A DIY Domino Clock is easier than you think, and he'll be sure to love it​.
Genius! We love the idea especially for a game's room or for a room destined to have charm and humor mixed, intertwined, and morphed into one, or just because it is your second nature. Taking the very same idea, you could use poker cards for something fun too, or for gifting it to someone who loves a bit of controlled gambling.
7. Pallet Wood Blocks Clock
Make a clock using an old clock movement mechanism and few pallet wood blocks.
See the video tutorial below:​
The more the blocks look incredibly different from one another, the better! This will create bags of charms for any room being the proud new owner of the wall! This is made initially with upcycled wood from the outdoors, the only bit missing is the time machine which can be boxed standard and relatively inexpensive. Up to you. Otherwise, if you wish to dig a little further down the pocket, brass also works beautifully.
8. DIY Farmhouse Clock
Make a fabulous farmhouse clock out of a tabletop.
Bringing a little Parisian flair into your home never killed anyone. It would be like the Europeans bringing a little New York in their fancy city apartment. We simply love everywhere that isn't where we are from. We cannot help it! Again, this is made from a tabletop found in most antique shops and generally speaking stays within a reasonable budget. In this case, $5.00! Use a deco art stencil for whatever wording you wish to apply that means the most to you, or perhaps the place you once visited that you fell in love with instantly, or a place you can only dream of going to.
9. Farmhouse Reclaimed Wood Clock
Salvaged junk clock and farmhouse sign made from reclaimed wood.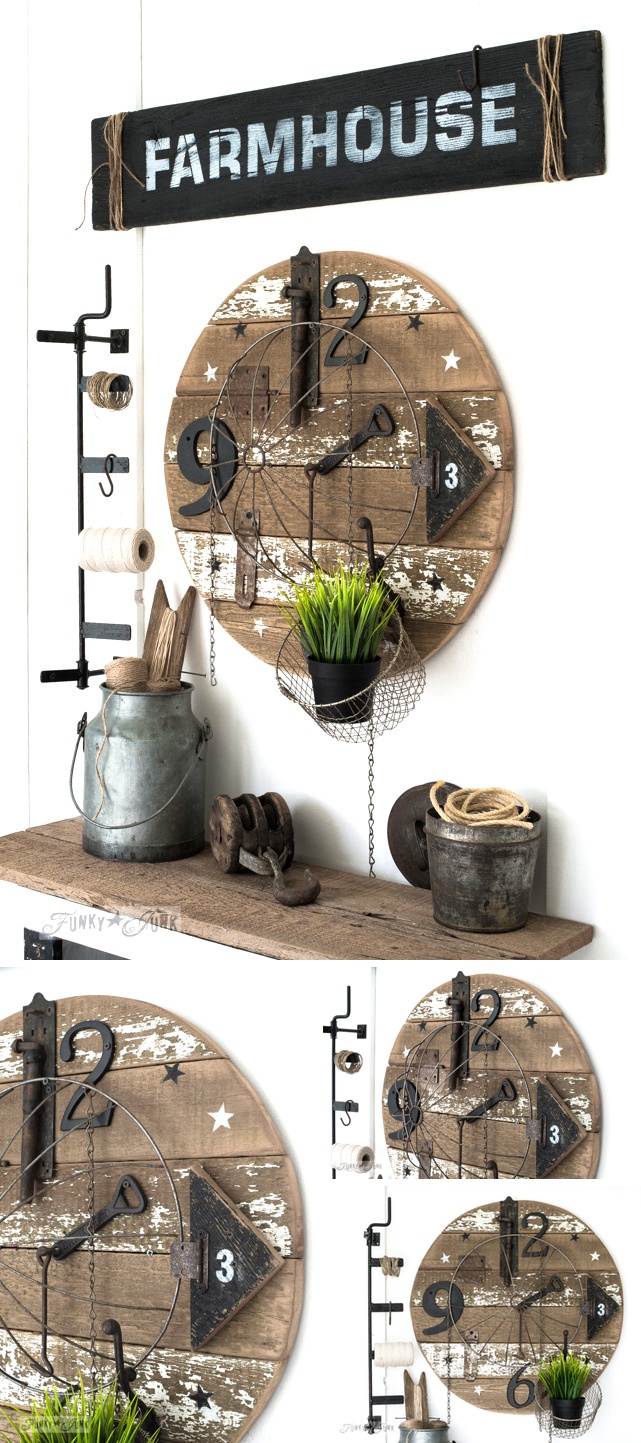 via www.funkyjunkinteriors.net
Incorporating the old within the new has boomed all over the world. People love the antic feel while having a clean-lined environment. Before that, the style was somewhat little clinical and without passion. We soon got the idea that it was boring and opted to have a few pieces dotted around the house that actually does tell history, and not simply that it came from China or Ikea. And, costs less. And, it's fairtrade too; made by people you know, which is you! So, it doesn't matter if you paid yourself or not.
10. DIY Oversized Concrete Rustic Clock
Concrete is definitely in the cool zone at the moment and has been for a few years now. A lot of us have started to use it for our tables and chairs and decorative pieces. Never thought of a concrete clock though did you? This is why we are here for – hashtag smiley face! The industrial look of a home interior is booming and will stay with us for many years to come. Start with this simple tutorial that is simple to understand, and see where you go from here. You might wish to incorporate more concrete features to continue the flow of ideas, mixed in with wood, green plants, earthy decors, and soft furnishing.
11. DIY Oversized Wall Clock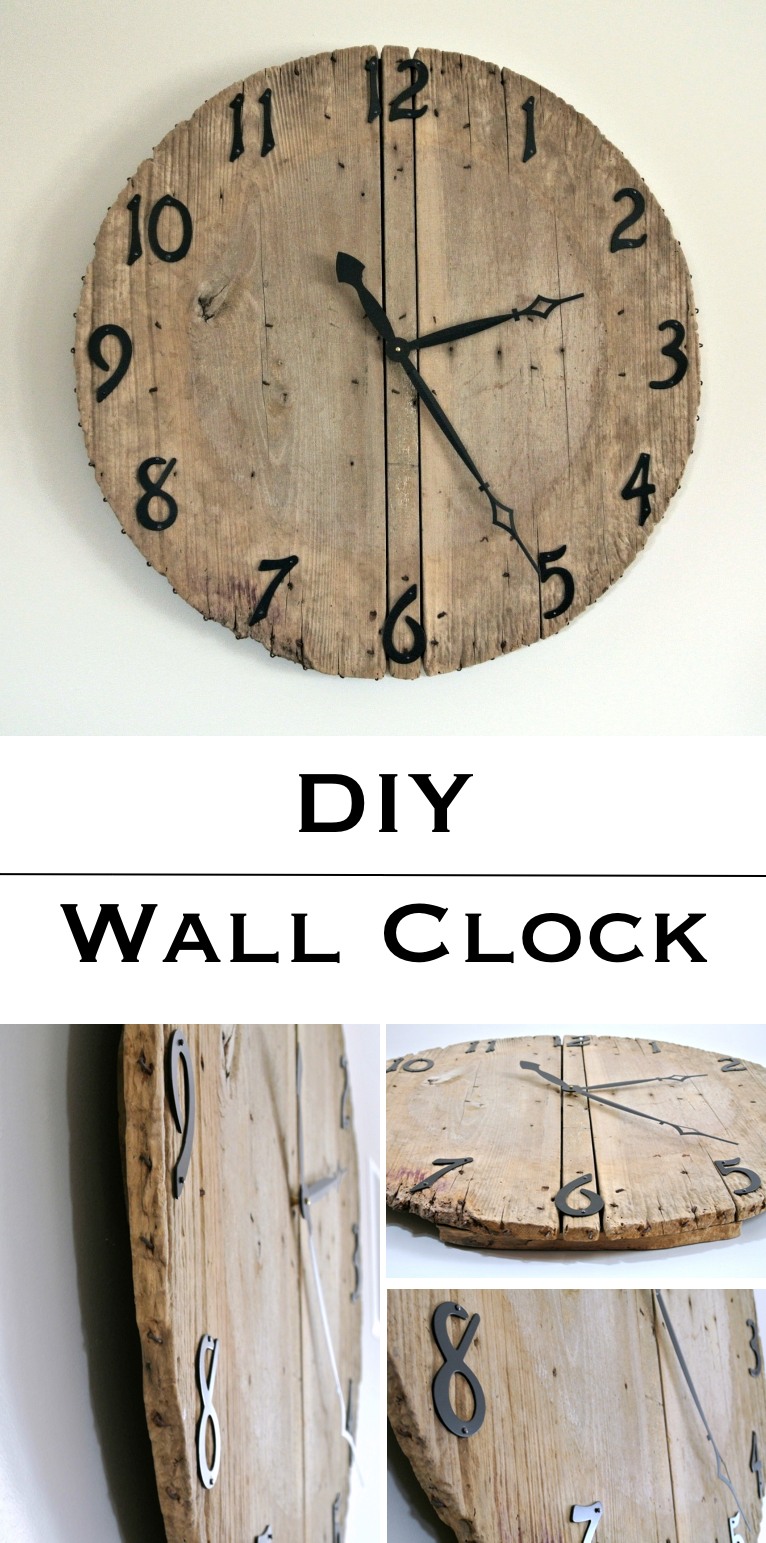 via cottentales.com
If you have an ample amount of space in your room and you do not know what to do with it, this is a great feature to create. The trick is to get the roughest wood surface that looks a little rough at first sight but incorporating superb and clean numbers from 1 – 12 changes the whole scenario. It simply brings so much character and could do so within your own home. The round shape does not indeed need to be round, it could be something that has been lying in your grandfather's workshop for years that you decided to make something out of it. What else more perfect keeping all those memories to life.
12. DIY Rustic Wooden Clock.
Make a statement with this oversized DIY Rustic Wooden Clock. Start with regular lumber and give it a distressed look!
Upcycle what can be found in your backyard we are certain you have hidden gems out there! Before buying, always see what nature could give you in terms of ideas and creations. These rustic white-washed painted boards look terrific and could give your home a shipwreck kinda look. Unic if you live by the seaside to compliment other wood-washed, seaside furnishing antics. The more weathered the wood, the better!