What would cool you more during hot summer days than a glass of homemade lemonade?
Check out 20 best homemade lemonade recipes to keep you cool all summer long.
1. Blueberry Lemonade
The simple homemade blueberry syrup could not get this drink any easier. This lemonade is the perfect way to cool you down on a hot day! Blueberry lemonade is so refreshing, sweet and tangy.
Ingredients
½ cup sugar
1 cup blueberries
¾ cup freshly squeezed lemon juice
Preparation
Make the blueberry simple syrup, mix sugar and 1 cup water in a medium saucepan. Stir over medium heat until the sugar has dissolved. Stir in blueberries and bring to a boil; reduce heat and simmer until blueberries have broken down, about 3-4 minutes.
​Strain blueberry mixture through a cheesecloth or fine sieve; let cool.
In a large pitcher, whisk together blueberry simple syrup, lemon juice and 5 cups water. Place in the refrigerator until chilled.​
via Damn Delicious
2. Rasberry Peach Lemonade
​Add wonderful fruity flavor to your refreshing summer drink with fresh raspberries and peaches.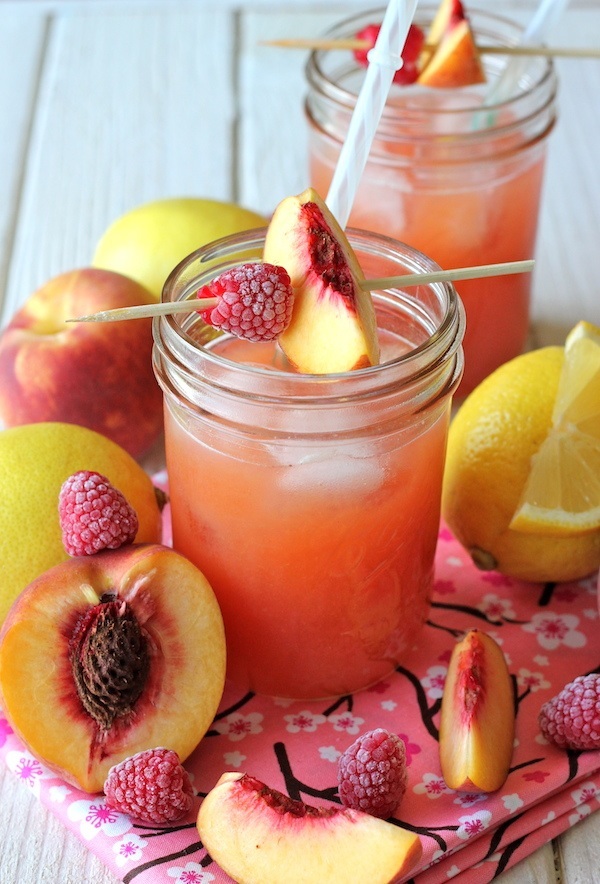 Ingredients
¼ cup agave nectar
6 ounces raspberries
3 medium peaches
sliced 1 cup freshly squeezed lemon juice
Preparation
Combine 1 cup water and agave over medium heat (1 minute) until the agave has dissolved. Add raspberries and peaches, and simmer, stir occasionally (5 minutes), until raspberries have broken down.
Blend raspberry peach mixture until smooth, let cool completely and strain through a cheesecloth or fine sieve.
In a large pitcher, whisk together raspberry peach mixture, lemon juice and 5 cups water.
Place in the refrigerator until chilled. Serve over ice.
via Damn Delicious
3. Blackberry Lemonade
The summer season? Well, that's lemonade season! Try this cool and refreshing drink with blueberries. Serve it in a mason jar because it's the only way to properly serve lemonade.
Ingredients
1 ½ cups blackberries (plus extra for garnish)
1 ½ cup granulated sugar
1 ½ cups lemon juice (approx 8 large lemons)
3 ½ cups water
mint leaves (for garnish)
Preparation
In a blender, puree the blackberries and sugar until completely smooth.
Once smooth, push the pureed blackberry mixture through a cheesecloth or mesh strainer into a large bowl to get rid of any seeds. Set aside.
In a large pitcher, combine the lemon juice and water. Add the blackberry mixture and adjust to desired taste/consistency by adding water and/or sugar.Serve over ice and garnish with a couple of blackberries and a mint leaf.
via COOKING and Beer
4. Roasted Peach Lemonade
Healthier lemonade? The roasted peaches brings out the natural sweetness in the peaches, this way this recipe has way less sugar than the other.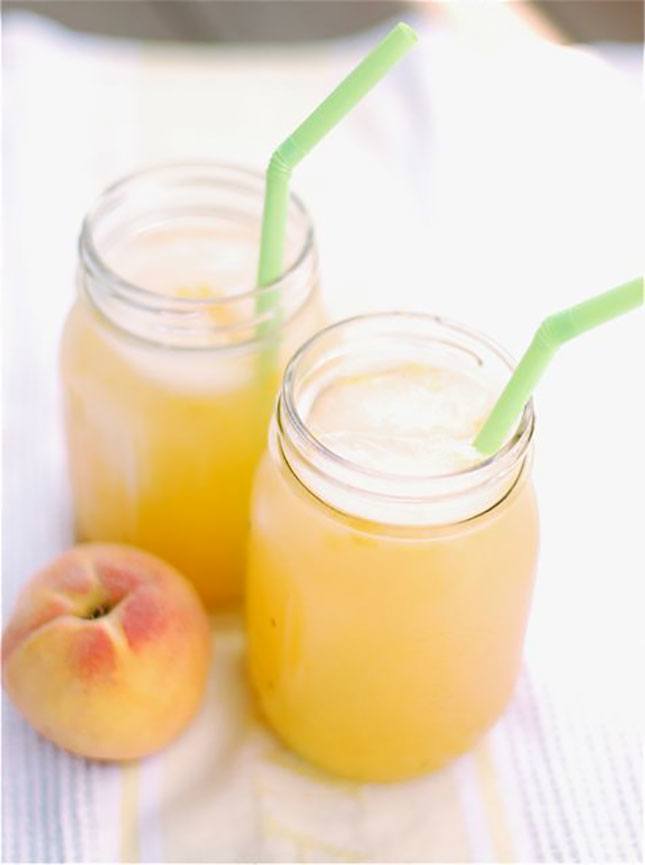 Ingredients
4 medium peaches, pitted and sliced in half
half 1 tablespoon granulated sugar
4 cups fresh lemonade
Preparation
Preheat the oven to 400F. Place the peaches skin side down in a baking dish and sprinkle the tops with the sugar. Roast the peaches for about 25 minutes or until the tops of the peaches are juicy at the skins able to be easily pinched off.
Remove the outside of the peach skins and drop the roasted peaches into a blender. Pour in enough lemonade to cover the peaches in the blender. Blend the peaches completely, until the liquid is a little foamy and frothy.
Pour the mixture into a pitcher and stir in the rest of the lemonade. Chill.
via The Naptime Chef
5. Rosemary Lemonade
What would make you happier on a sunshiny day more than the clink of ice cubes in a mason jar and the cold sip of a fresh homemade lemonade.
Make this one and enjoy on a sunny day while sitting in your garden!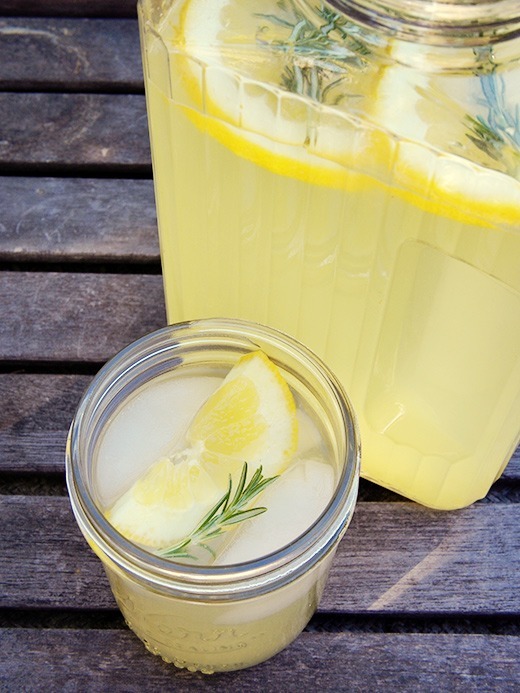 Ingredients
For the Syrup
1 ½ cups water
1 cup sugar
1 to 2 large sprigs rosemary
For the Lemonade
5 to 6 lemons
5 cups water
Lemon slices (optional, for garnish)
Rosemary sprigs (optional, for garnish)
Preparation
Make simple syrup, bring the water, sugar, and rosemary to a slow boil for a few minutes in a small saucepan. Stir until the sugar is dissolved, then turn off the heat, cover with a lid, and let the rosemary steep.
Squeeze the juice out of 5 or 6 lemons to get about 1 cup of fresh juice.
Let the syrup infuse for at least half an hour, remove the rosemary sprigs, then stir the syrup and lemon juice together in a pitcher. Add water and mix well. Taste the lemonade and adjust as needed.
Serve over ice, drop in a few slices of lemon and a few sprigs of rosemary.
via Garden Betty
6. Mango Lemonade
Are you like me addicted to cold summer type drinks? Keep with the trend of adding extra fruit to lemonade and try mango!
This tropical fruit will give you huge boost of summer flavor. While you're in a tropical mood, pretend you're on a sunny island while you sip this delicious mango lemonade.
Ingredients
1 large Mango
2 ½ cup Lemon Juice (about 2 lemons)
¼ cup sugar
1 ½ cups Water
Preparation
Make a simple syrup by heating ½ cup water and the sugar until the sugar is dissolved. Allow to cool.
Peel and puree the mango.​ Add mango puree, lemon juice, syrup and water to pitcher and mix well.​
Serve over ice.​
via Cincy Shopper
7. Pomegranate Lemonade Spritzer
Pomegranates might be technically a winter fruit. Just keep a few in your freezer for rainy days and special occasions. And then you can use them to make this yummy spritzer.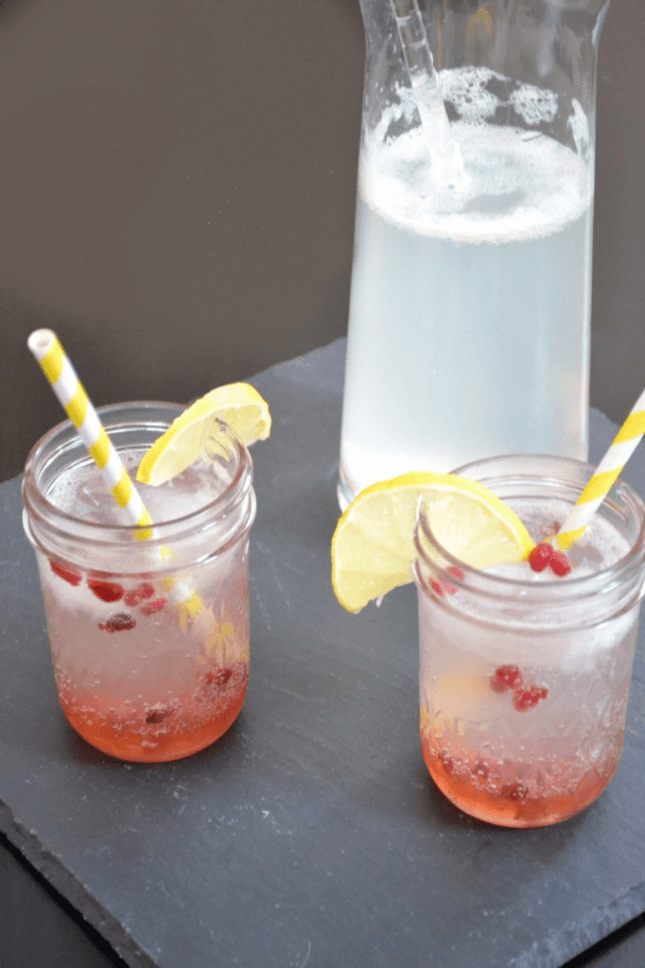 Ingredients
For the Syrup
2 Tablespoons Water
1 Tablespoon Pomegranate Juice
½ Cup Granulated Sugar
1 Tablespoon Pomegranate Seeds
Pomegranate Seeds for garnish
For the Lemonade
3 Cups Sparkling Water
Juice or 1 lemon
Lemon Slices, for garnish
Preparation
Heat the water, pomegranate juice, and sugar in a small saucepan over medium heat until the sugar dissolves and starts to simmer. Stir occasionally. Turn the heat off and add in the pomegranate seeds. Let the syrup cool for at least five minutes.
Add a tablespoon or two of the syrup to each individual glass. Mix the lemon juice and sparkling water together in a pitcher. Pour the lemon water over the syrup, add ice, lemon slices, and a few pomegranate seeds to each glass and then serve. The pomegranate syrup will stay on the bottom of the glass until mixed in.
8. Lavender Lemonade
Lavender doesn't only smell nice, but you can also use it in your kitchen. Especially in the summer, when lemons are in their prime. Nothing would be better than a tall glass of lavender lemonade in your garden.
Lavender gives your drink ​a beautiful pink colour and delicious floral flavour that perfectly complements hot summer days.
Ingredients
2 Tbsp. dried lavender (make sure it's for culinary use)
½ cup sugar
2 ½ cups water
3 lemons, juiced
2 cups water
Preparation
Combine 2 ½ cups of water with sugar and lavender in a medium pot. Bring to a boil, reduce heat and simmer 5 minutes. Cover, and let stand one hour.
Strain out the lavender with a sieve and place liquid in a large jug. Add lemon juice and additional water, stir well.
Refrigerate until cold. Serve with ice cubes.
9. Blueberry Mint Lemonade
Another classic you will love! Enjoy the taste of summer with each refreshing sip. And you will get a shot of antioxidants from the blueberries with this refreshing lemonade. It's so easy to make.
Ingredients
1 cup fresh lemon juice
½ cup sugar
1 pin organic blueberries
1 large lemon, sliced
1/8 teaspoon mint syrup
Edible flower blossoms or a spring of mint for garnish
Preparation
Pour spring water into a large serving pitcher.
Add lemon juice and sugar. Stir the ingredients.
Add half of the blueberries into the pitcher and add several slices of lemon.
Add mint syrup and stir to blend ingredients.
Pour lemonade into glasses, add a few blueberries and a lemon slice. Garnish with borage blossom or springs of mint.​
10. Blood Orange Lemonade
This juice is quite intense in taste. You can use sparkling water in place of the water for a more punch-like effect, or you can add more water to make it less biting and sweet.
Ingredients
For the Syrup
For the Juice
1 cup blood orange juice
1 cup lemon juice
3 cups water (sparkling or regular)
Preparation
To make syrup, in a small saucepan, heat the sugar and water until the sugar has completely dissolved, about 5 minutes. Set aside.
Pour the juices and water into a pitcher. Add the syrup and stir to combine. Refrigerate into well chilled.
Serve over ice, if desired.
via Buttered Side Up
11. Sparkling Honey Lemon Gingerade
This one may be stretching the definition of lemonade, as the recipe calls it gingerade. Lemon gingerade, ginger lemonade… Anyway this drink it''s vacation in a cup, one sip and you will almost feel the ocean breeze in your face.
Ingredients
6 ounces ginger root
9 medium lemons
4 cups water
1 cup ice water
¾ cup plus 2 tablespoons honey
2 cups cold club soda
1 bunch fresh mint ice for serving (optional)
Preparation
Peel and chop the ginger. Remove the lemon peel in strips, making sure to avoid the white pith. Juice all the lemons to get about 1 cup of juice.
Add the 4 cups of water to a simmer in a saucepan over medium heat. Add the ginger and lemon peels and set aside off the heat to steep for 10 minutes.​
Remove the liquid from the heat and transfer to a heatproof bowl. Add the 1 cup of ice water, the juice, and honey and stir to combine. Place it in the refrigerator until it is thoroughly chilled, about 45 minutes.​
Once the mixture is cold, strain the mixture through a cheesecloth or fine sieve. Add the club soda to the strained gingerade and serve immediately. Smack two sprigs of mint between your hands, drop in a glass then add ice and top with gingerade.​
via Aida Mollenkamp
12. Fruit and Herb Lemonade
Try these unique lemonade variations, combining fresh summer fruit and herb-infused sugar syrups. Distinctive combinations like blackberry and mint, peach and thyme, and even tomato and basil, summer just got a whole lot cooler. The tomato basil is specially unique—the lemons and sugar turning a typically savory fruit into a sweet libation. Try this drink It's better than it sounds.
Ingredients
½ cup granulated sugar
½ cup water
1 cup lemon juice (from about 4 to 6 large lemons)
3 cups cold water ice
For Peach Thyme:
2 peaches, peeled and pitted
2 sprigs fresh thyme
For Tomato Basil
1 large (8oz) tomato, peeled and cored
2 tablespoons packed basil leaves
For Blackberry Mint:
1 cup blackberries (or blueberries)
2 tablespoons packed mint leaves
Preparation
Combine sugar and ½ cup water in a small saucepan set over medium-high heat. Bring to a simmer, then remove from heat.
Add herbs; cover and let steep for 5 minutes. Remove herbs and transfer to a glass jar or heat-proof container and refrigerate until cool, at least 20 minutes or until ready to use.
Blend fruit in a blender or food processor until smooth; strain through a fine mesh sieve or run through a food mill to remove any seeds and excess solids.
Combine fruit purée with lemon juice in a large pitcher. Stir in 3 cups cold water and sugar syrup to taste.
Serve over ice.
13. Brazil Lemonade
Why this is Brazilian or lemonade? Not sure but it looks so good! You will love how it had simple ingredients.
Ingredients
3 fresh limes
quartered ⅓ cup sweetened condensed milk
⅓ cup sugar
4 cups cold water
Preparation
Pulse limes, sweetened condensed milk, sugar, and as much water as you can until everything is combined.
Pour the liquid through a strainer to remove the chunks of limes. Pour the remaining water (do not exceed the 4 cups) through the strainer to remove any sugar or pulp that was left behind.
Stir and serve immediately over ice.
via Recipe Critic
14. Strawberry Lemonade
​Easy and quick homemade strawberry lemonade that it's made in blender using lemons, strawberries and honey. This is a timeless classic that looks so good and taste delicious.
Ingredients
1 ¼ lb strawberries washed & cut in halves, about 4 cups
2 lemons, washed and quartered (use limes to make strawberry limeade)
½- ¾ cup honey or sugar to taste, adjust based on your preference and sweetness of strawberries
6 cups of waterIce
Garnishes:Strawberry slices, lemon slices and/or fresh herbs (mint, lemon verbena, lemon balm, basil)
Preparation
First blend only the strawberries with the honey and 1 cup of water.
Then place the blended strawberries mix in a pitcher.Then in the same blender, you don't need to wash or rinse it, blend the quartered lemons with the 1-2 cups of water.
Strain the lemon mix into the pitcher, mix well and add the rest of the water.
Taste and adjust sweetness level if needed.Serve over ice.
via Laylita
15. Classic Lemonade
This homemade lemonade recipe is really super easy. The hardest part is squeezing the lemons. The flavor of homemade lemonade is just so bright and fresh and perfect for hot summer days.
Ingredients
2 cups of sugar
3 cups of fresh, cold water
2 cups of freshly squeezed lemon juice, about 20 small lemons
Ice
Preparation
Squeeze and strain lemons.Combine sugar and water in a saucepan and bring to a boil.
Reduce heat and let simmer until sugar is completely dissolved.Let sugar mixture cool and after combine with lemon juice.
Refrigerate until chilled.Serve over ice.
via No. 2 Pencil
16. Peach Mango Lemonade
This lemonade recipe basically needs tossing your ingredients in the blender, blending until smooth and putting everything through the strainer to catch all the bits of lemon pith and pulp. Sounds easy? Then try this delicious mango peach lemonade.
Ingredients
4 lemons, cut in quarters and de-seeded
1 large mango, pitted and skinned
4 ripe peaches, pitted and skinned
½ cup granulated sugar
1 cup crushed ice
¼ cup raspberries and sliced strawberries (optional)
Preparation
Combine everything in the blender except for the berries and blend until a very smooth consistency. It should look a bit like a smoothie.
Strain the lemonade over your pitcher. Save the bits for baking or making jam later. Put the berries in the bottom of your glass and mash.
Pour the peach mango lemonade over the berries and enjoy!
17. Thyme Lemonade
Enjoy another refreshing drink! This version of homemade lemonade is not too sweet. What makes it special is that it's infused with lots of herbally goodness. The cucumber slices just increase it's freshness and make it perfect for a summer's day.
Ingredients
1 ½ cups superfine sugar
1 bunch fresh thyme sprigs
2 cups fresh lemon juice (about 10-13)
Cucumber for garnish
Additional thyme for garnishin
Preparation
In a medium saucepan, bring sugar, thyme and 1 cup water to a boil; stir until sugar is dissolved, about three minutes. Stir in lemon juice and 6 cups cold water, strain into a large pitcher.
Refrigerate until cold (will stay for about a week).
Serve over ice and garnish with thyme spring a a few thin slices of Persian cucumber.
18. Vanilla Bean Lemonade
A lemonade with a black speck in a glass? Yes, that's kind of a strange-looking drink. This fresh-squeezed vanilla bean lemonade is so amazing.
With tart, fresh lemon juice and creamy notes of vanilla, this lemonade will become your favourite super-refreshing summer drink.
Ingredients
½ cup granulated sugar
1 cup + 3 cups water
divided 1 vanilla bean, sliced open and seeds scraped
½ cup fresh-squeezed lemon juice
Ice for serving
Preparation
Add the sugar and 1 cup water to a medium saucepan over medium heat. Slice the vanilla bean open with a paring knife and scrape the seeds from the bean and add to the saucepan along with the remaining whole bean. Heat, stirring occasionally, until the mixture begins to steam and the sugar has dissolved, about 3-4 minutes.
Remove from heat and set aside for 15 minutes.
Meanwhile, add remaining 3 cups water and lemon juice to a pitcher. Set a fine-mesh sieve over the pitcher and pour in the vanilla/sugar mixture.
Stir with a spoon and chill.Fill individual glasses with ice and pour lemonade over the ice.
via Kitchen Treaty
19. Vanilla Lemonade
Vanilla lemonade is on fire! Nothing will quench your thirst on the hot summer day like an ice cold glass of lemonade.
Ingredients
For the Syrup
1 cup sugar
1 cup Water
3 slices of Lemon Peel
1 Vanilla Bean
1 generous pinch of Kosher Salt Cheesecloth
To strain syrup For the Lemonade
Juice of 6-8 lemons, strained
8-10 cups of water
1 cup of vanilla/lemon syrup
Lemon slices to garnish
Preparation
Slice the vanilla bean in half and with the back of your knife scrape out all the seeds.
Bring sugar, water, vanilla bean and pod, lemon peel and salt to boil on your stove.
After sugar dissolves gently simmer for 10 minutes to really get the lemon peel flavor in there.
Remove from heat, strain through a few layers of cheesecloth set.
Once the syrup has cooled; add it to a large pitcher along with the 8-10 cups of water and strained lemon juice.
Garnish with a few lemon slices.Pour in a tall glass over ice and sip.
via Simply Scratch
20. Strawberry Lemonade
Strawberry lemonade? I'd never get enough of this. Sweetened with pure maple syrup, it's subtle and tangy, with a nice surprise hidden in its blush.
Ingredients
16 ounces strawberries, washed, hulled, and cut in half
2 Tablespoons maple sugar
1 cup freshly squeezed lemon juice (from about 5 medium lemons)
5 cups water
½ cup pure maple syrup
Preparation
In a large mixing bowl, combine the strawberries with the maple sugar and let macerate on the counter for 2 hours, stirring occasionally.
Squish the berries with a potato masher and then place a fine-mesh sieve over another mixing bowl and strain the mush to extract as much strawberry juice as possible.
While the strawberries are straining, juice the lemons until you have 1 cup of lemon juice.
Pour into your pitcher and add the water and maple syrup. Stir to combine.
Toss the strawberry pulp (or save it for muffins or quick breads) and add the strawberry juice to the pitcher. Stir.Serve over ice.
Enjoy!