Are you looking for something refreshing this summer? When temperatures increases, a popsicle can always save the day.
Check these recipes from Homelovr. They're easy to make and only require a few ingredients. Yeah, that's good and you can spend less time in a hot kitchen and more time in the pool or playing in the sun.
Whether you want something fruity, sweet, tangy, creamy, boozy, healthy or indulgent, we got a recipe below to meet your needs.
1. Brownie-Cow Popsicles
These cow-brownie pops look perfect! Especially if you're craving something refreshing but rich. The secret ingredient for this ultra-indulgent treat?
A splash of sweetened condensed milk is the secret ingredient for this indulgent treat.
Ingredients
To make the Brownie:
2 oz (60 grams) of bittersweet chocolate
1 stick (115 grams) of unsalted butter
1.5 oz (45 grams) of nutella
½ cup + 3 tbsp (163 grams) of granulated sugar
2 large eggs
1 tsp of vanilla extract
½ tsp of flaky sea salt
2/3 cup (120 grams) of all-purpose flour
To make the popsicles:
1½ cup of whole milk
3/4 cup (230 grams) ~ 1 cup (306 grams) of sweetened condensed milk
Preparation
To make the nutella brownie:
Preheat the oven on 350ºF/175ºC.
In a microwave-proof bowl, add the bittersweet chocolate and unsalted butter. Microwave on high at a 30-seconds interval, stirring the mixture in between, until just melted (approx 1:30 ~ 2 min). Whisk in the granulated sugar and large eggs until thick and even, then add the vanilla extract and sea salt. Whisk again until even. Add the flour, fold the mixture together with a spatula until there is no flour-lumps left. Pour the batter into a parchment-lined, 8″ square-pan or round-pan. Bake in the oven for 25 min.
Let the brownie cool for 30 min.
To make the brownie popsicles:
Break the brownies up into large chunks. Lay a couple of pieces at the bottom of the popsicle-mold and insert the wooden stick. Fill the empty space loosely with more brownies until they reach to the top. Repeat with the rest.
Combine whole milk and sweetened condensed milk together, and warm in the microwave just enough for the sweetened condensed milk to dissolve. Whisk the mixture together to make sure it's fully incorporated, then pour the milk into the popsicle-molds until it fills to the top.
Freeze for at least 6 hours to overnight until hardened.
2. Mint Chocolate Popsicles
Here we go! This classic combo gets a makeover with dairy-free coconut milk! You will also love the use of both fresh mint and extract.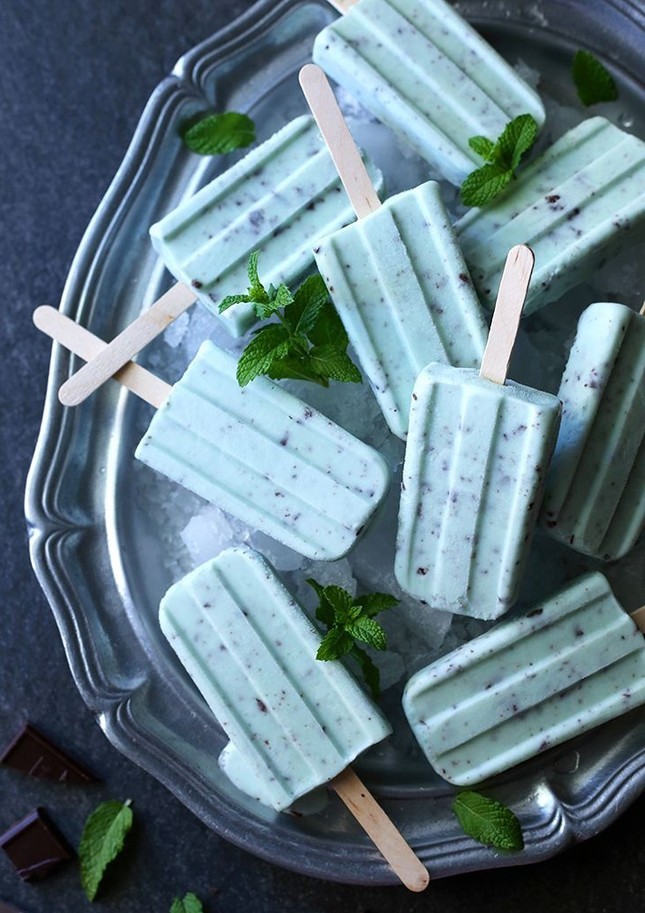 Ingredients
2 2/3 cups full fat coconut milk
3/4 cup packed fresh mint leaves
3/4 cup sugar
1/8 tsp salt
peppermint extract (optional, and to taste)
food coloring (optional)
3 ounces semisweet chocolate, finely chopped
Preparation
Combine coconut milk and fresh mint leaves in a saucepan over medium heat. Heat for 5 minutes, until bubbles appear around the edge of the pan. Remove from heat and let steep 20 minutes.
Strain infused coconut milk through a fine-mesh sieve into a bowl, pressing on the mint with the back of a spoon. Whisk in sugar, salt, peppermint extract, and food color (2 drops green, 1 drop blue) until smooth. Let mixture cool to room temperature, then cover and chill for 6 hours in the refrigerator.
Stir chopped chocolate into the mixture and fill popsicle molds, leaving a 1/2-inch of space at the top of each mold. Freeze for about an hour, then insert popsicle sticks and freeze overnight. To unmold, let popsicles stand at room temperature for 5 minutes. Carefully remove from molds and serve.
3. Cucumber Gin&Tonic Popsicles
Yeah, you're right, this is really a Gin & Tonic on a stick. Add fresh slices of cucumber or mix it up with a little citrus zest.
Ingredients
3 cups tonic
1½ oz gin
¼ lime, juiced
½ cup cucumber slices
Preparation
Mix together tonic, gin and lime juice.
Place cucumber slices into popsicle moulds, then pour in tonic mix.
Freeze overnight before serving.
4. Honey Mint Popsicles
This melon and mint combo are as soothing as it sounds. It's all you need to get a real treat and fruit.
Ingredients
½ cup sugar
1 cup mint leaves
½ cup water
4 cups diced honey dew
juice of 1 lime
Preparation
Mix together sugar and mint leaves in the food processor.
Place the mint sugar with water into a saucepan and bring to boil. Boil the syrup for 60 sec, remove from heat and strain through a fine sieve. 
Place the honeydew in a blender with the lime juice and mint syrup. Blend until smooth.
Add the mixture to popsicle molds, freeze ​30-60 minutes, insert sticks and continue to freeze until solid.
5. Smashed Berry Lime Coconut Yogurt Ice Pops
Thinking about a perfectly satisfying (and healthy!) combination? Think tangy yogurt, fresh berries and luscious coconut milk.
This definitely can be your perfect breakfast on a hot summer morning.
Ingredients
8 oz mixed berries (raspberries, blackberries, olallieberries, etc.)
juice of 1 lime, freshly squeezed
3½ Tbspn sugar
16 oz Greek yogurt
½ cup + 2 Tbspn coconut milk (with cream)
big pinch of salt
Preparation
Mix together the berries, lime juice, and 1 Tbspn of sugar. Let sit for 10 to 15 minutes, then mash roughly with a fork. Set aside.
In a separate bowl, mix together the Greek yogurt, coconut milk (with cream), 2½ Tbspn of sugar, and salt. Fold in the berries — juice and all — but make sure to leave streaks.
Fill ice pop molds and freeze for about 30 minutes to an hour, then insert ice pop sticks halfway. Freeze until solid — about 4 hours or overnight.
To unmold, dip the popsicle molds in running water or leave out for a few minutes.
6. Firecracker Berry Yogurt Pops
These festive blueberry and strawberry pops scream the perfect holiday dessert.
Plus, they only take a few minutes to make with the help of a food processor, leaving you more time for splashing in the pool on a hot summer day.
Ingredients
½ pound strawberries, hulled and quartered (1½ cups)
¼ cup sugar
½ pound blueberries (1½ cups)
1¼ cups low-fat plain yogurt
Preparation
Puree strawberries with 1 tablespoon sugar in a food processor. Transfer to a small bowl. Then puree blueberries with 1 tablespoon sugar in a food processor.
In another small bowl, whisk together yogurt and 2 tablespoons sugar. Pour the 3 mixtures, alternating, into ten 3-ounce ice-pop molds, making 3 to 5 layers in each.
With a skewer or thin-bladed knife, swirl mixtures together in an up-and-down motion. Insert ice-pop sticks and freeze until solid.
7. Watermelon Popsicles
Could watermelon get any more refreshing? Try watermelon pop!
What's the best part about the watermelon ice poop? You only need two ingredients to make them. That's a good thing because you'll want to have these around all the time during hot summer days.
Ingredients
3 Yoplait watermelon flavor yogurts
1 cup diced watermelon chunks
Preparation
Add ¼ cup yogurt to each of 8 popsicle molds.
Push watermelon chunks into each popsicle mold. Fill the mold the rest of the way with the remaining yogurt. Insert handles or popsicles sticks into the popsicle molds.
Freeze at least 4 hours or overnight.
To serve, turn the popsicle molds sideways and run the mold under hot water for 10-15 seconds, then gently slide the popsicles out.
8. Ombre Grapefruit Tangerine Popsicles
These are as pretty as they are tasty and surprisingly easy to make. All you need are two Italian sodas or fruit juices in complementary shades.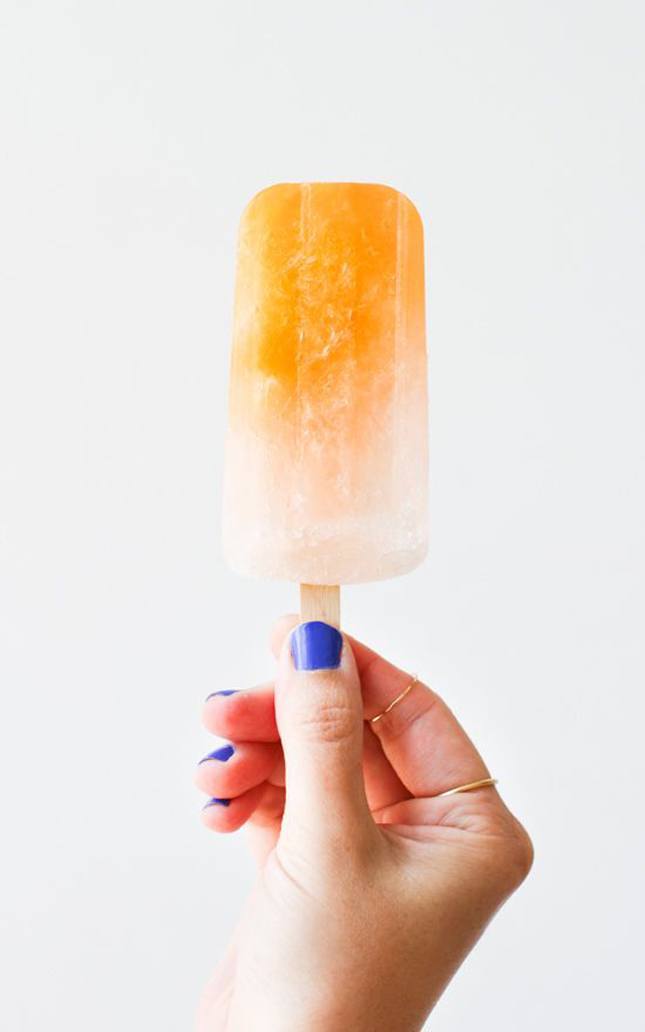 Ingredients
Tangerine Italian Soda
Grapefruit Italian Soda
Preparation
To get an ombre look, use the two Italian sodas or juices that are in the same color family.
Then pour one of the Italian sodas into the popsicle molds at the desired height. Put the mold in the freezer for about 90 minutes. Then, remove the mold from the freezer and let it sit out for several minutes. Then add the second favor of juice or Italian soda on top.
Add popsicle sticks and put the molds back in the freezer until fully frozen (about 4 hours). Remove and enjoy. To loosen the popsicles from the mold run warm water over the underside of the tray for 20-30 seconds. 
9. Roasted Strawberry Red Wine Popsicles
Strawberries roasted in sugar? Balsamic vinegar? Dessert topped off with red wine?! Do we need we say more?
Ingredients
16 ounces (450 grams) strawberries, hulled and quartered
1 teaspoon balsamic vinegar (optional)
2 tablespoons granulated sugar
1 cup (240 ml) sweet red wine
Preparation
Preheat oven to 375 degrees F (190 degrees C).
In a bowl, mix together the quartered strawberries, balsamic vinegar, and sugar. Spread evenly over a rimmed baking sheet and bake for 20-25 minutes. Remove from the oven and cool to room temperature.Place half of the roasted strawberries and juices in a food processor and process until smooth. Stir in the red wine.Spoon the remaining half of the roasted strawberries into the popsicle molds.
Evenly pour red wine mixture into molds until close to the top. Freeze popsicles for at least 45 minutes before inserting popsicle sticks. Freeze for a remaining 4 to 6 hours, or until completely frozen, before serving.
10. Classic Creamsticle
These popsicles are better than the ones from your childhood dreams. To make them you can use any fruit juice. We suggest grapefruit for a yummy twist.
Ingredients
4-5 oranges (8 oz. orange juice)
​2 1/2 cups vanilla ice cream
​1 tablespoon orange zest
1 cup heavy whipping cream
Preparation
Extract the juice from the oranges.
Blend the orange juice, ice cream and zest until smooth. Pour into 3/4 popsicle molds. Whip the heavy whipping cream until soft peaks form. Spoon the whipped cream on top of the creamsicles, add popsicle sticks and freeze overnight.
11. Chai Tea Latte Gelato Popsicle
Have you ever had to make a very stressful decision to choose popsicle versus ice cream? It will never happen again. This recipe is based in custard and you'll get a gelato texture.
Ingredients
1 cup International Delight Chai Tea Latte
¾ cup sugar
5 egg yolks
¼ teaspoon salt
½ teaspoon vanilla
1 orange, zested
Preparation
In a medium sauce pan, heat heavy cream, Chai Tea Latte over medium heat until bubbles begin form around the edges.
Whisk together egg yolks and sugar until thick and pale yellow. Slowly pour hot milk mixture into the eggs, whisking constantly. Carefully pour mixture back into the saucepan, whisking continuously.
Reduce heat and continue to cook until mixture is thick and coats the back of a spoon. Remove from heat and strain mixture. Stir in orange zest.
Pour custard into 8 popsicle molds. Place popsicles in the freezer. After an hour, place a wooden popsicle sticks in the center of each mold. Continue freeze popsciles until set.To remove popsicles, run hot water on the outside of each mold.
12. Raspberry-Peach Bellini Ice Pops
Bellini in frozen form? Yeah, it will add a little bit of kick to these fruity frozen pops.
Ingredients
Raspberry Layer
1 10-ounce bag frozen raspberries
¾ cup Prosecco or other sparkling white wine
¼ cup sugar
Pinch of kosher salt
Peach Layer And Assembly
2 16-ounce bags frozen peaches
2 cups Prosecco or other sparkling white wine
½ cup sugar
Pinch of kosher salt
Preparation
To make the Raspberry Layer:
Purée raspberries, Prosecco, sugar, and salt in a blender until very smooth. Pour 1 Tbsp. raspberry purée into each ice-pop mold (about ½–¾). Freeze while you make the peach purée.
To make Peach Layer And Assembly:
Purée peaches, Prosecco, sugar, and salt in a blender until very smooth. Pour peach mixture over raspberry mixture to fill molds. Cover and insert sticks. Freeze until firm, at least 4 hours.
Dip molds briefly in hot water to release pops.
Bon appetit!