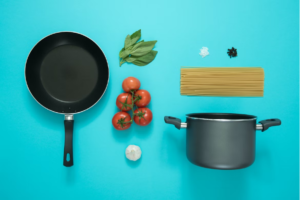 Do you love spending time in the kitchen? If so, you know that having the right tools can make all the difference. In this blog post, we will discuss six must-have kitchen gadgets that will make your life easier. From a garlic press to a salad spinner, we have you covered! Keep reading for more information on each of these helpful gadgets.
1. Garlic press
The first must-have kitchen gadget is a garlic press. If you love cooking with garlic but hate the hassle of mincing it, this tool is for you. Use it to quickly and easily mince fresh cloves of garlic in no time at all. Additionally, many garlic presses also feature an ergonomic design which makes them easy to grip and use. You can also find some garlic presses which include a cleaning tool, making it even easier to keep your press in tip-top shape.
2. A blender
If you love making smoothies, sauces, and frozen drinks, a blender is an absolute must. Not only do blenders make it easier to blend ingredients together in no time at all, but they also come with many useful features. 
For example, some blenders include settings that allow you to choose the speed and consistency of your mixture. Plus, many blenders also come with different blades for different tasks. Namely, the professionals at Blendtopia recommend investing in a blender with a chopping blade to make chopping and mincing ingredients that much easier. You can also find blenders with lids and spouts which make it easy to pour out your blended creations.
3. A food processor
Another kitchen gadget that will make your life easier is a food processor. This tool helps to quickly and easily chop, dice, and shred ingredients in no time at all. Plus, many food processors come with attachments that allow you to do even more tasks such as making nut butter or grinding coffee beans.
When choosing your food processor, it is important to make sure that you select one with plenty of power and durable construction. For instance, the experts at Food Processor HQ recommend opting for a model with at least 500 watts of power that is made from stainless steel or plastic. This way, you can be sure to get the results you want.
4. A slow cooker
If you love cooking meals that require long periods of cooking time, a slow cooker is an absolute must-have. This tool allows you to put your ingredients in and then leave them to cook while you go about your day. Plus, some slow cookers also have the ability to keep your food warm after it has finished cooking. There are several slow cooker options to consider. For instance, you can find slow cookers with a range of settings that allow you to choose the cooking temperature and cooking time. Additionally, some slow cookers come with automatic shutoff features which make them even more convenient. You can set them to shut off after the allotted cooking time and then enjoy your meal whenever you're ready.
5. A salad spinner
If you love salads, having a salad spinner is essential for making sure that your greens are always crisp and fresh. This tool allows you to quickly spin away dirt and moisture from your lettuce before serving or storing it. Plus, most models also come with a colander for washing and a container for storing your greens.
If you haven't used a salad spinner before, it is important to make sure that you select one with a lid that fits securely. This will help you avoid splashing water all over your kitchen counter when spinning your greens dry. 
6. A kitchen scale
A kitchen scale is another must-have tool in any well-stocked kitchen. This gadget allows you to accurately measure out ingredients when baking or cooking, which makes it easier to get consistent results every time. Additionally, many scales also feature a tare function which allows you to easily measure out multiple ingredients in one bowl.
A scale can be very useful when you want to calculate nutrition information for the meals you are cooking. Plus, it can also help you portion out ingredients correctly so that you don't end up with too much or too little of something. When choosing a kitchen scale, make sure to select one that is accurate and easy to use. This way, you can be sure that your measurements are spot on every time. 
These are just a few of the must-have kitchen gadgets that will make your life easier. From a garlic press to a kitchen scale, having the right tools can help you whip up delicious meals with ease. Start investing in these helpful tools today and you'll be cooking like a professional chef in no time!