Mid-century modern design is one of the most popular and enduring styles for interior design. Its focus on sleek lines, neutral colors, natural shapes, and organic shapes set against an uncluttered backdrop works with a variety of styles while instilling a welcome sense of nostalgia.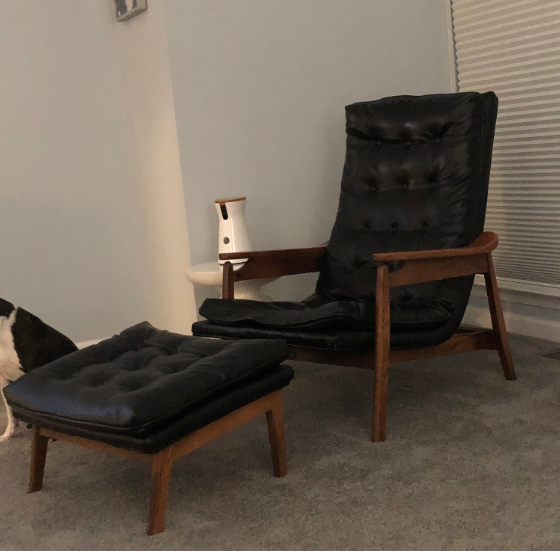 Here are some suggestions for styling a leather ottoman, one of the most versatile pieces of furniture, in the mid-century modern style.
Create Contrast
Mid-century modern design utilizes neutral colors and natural materials. Creating a contrasting look with an ottoman that breaks the room's color scheme is a great way to make a statement. For example, a red leather ottoman in a room full of neutral stone colors will pop in a clean and eye-catching manner without being overwhelming.
Also Read: 7 Ways to Make Your Home More Organized
Pair Up
What is better than one leather ottoman? Two. Use multiple ottomans in a living space to create a balanced and symmetrical look. This also creates multiple surfaces for displaying objects or seating additional guests. Position the ottomans together to create a larger surface or scatter them around the room; either way, the versatile pieces are inherently practical and stylish.
Place in Any Room
While the leather ottoman is generally viewed as a living room piece, it is actually at home in a variety of spaces. The ottoman is a useful piece for the foot of the bed in the main bedroom or for a seating space in a guest room. Adding an ottoman to a large closet instills a sense of luxury while serving a practical purpose for storage or seating while putting on shoes. An ottoman added to a bathroom can be a stylish place for towels or seating while adding texture and warmth to the space.
Also Read: 23 Colorful Sofas to Break the Monotony in Your Living Room.
Utilize a Tray
The leather ottoman can serve double duty as a seating area and coffee table by using a tray, which is easily removable when additional guests are present. A single large tray that stretches the length and width of the ottoman creates a sleek look, or multiple small trays can be used to change the look.
Style with Mid-century Items
The use of items that incorporate mid-century modern characteristics can heighten the style of the room. Display stacks of mid-century modern design books for a sleek look.
Place mid-century modern items on a tray on the ottoman, but keep in mind that part of the design is the uncluttered look, so keep the items to a minimum. Try these ideas for an authentic mid-century feel.
Ceramic Items
Ensure all ceramics maintain an organic, handmade look. Low, squatty shapes or tall vases with long necks displaying ribbed designs or volcanic glazes are good choices. Geometric patterns or playful designs also echo the mid-century aesthetic.
Unique Wooden Pieces
Use pieces made with wood to incorporate the natural materials popular in mid-century design. Include wooden trays and bowls, a container full of wine corks, or hand-carved wooden sculptures.
Framed Photos
Pictures in frames are a great choice of decor on a leather ottoman tray. Use bronze or brass for an authentic mid-century look. Photos printed in black and white or scenes depicting the outdoors are a great way to incorporate the mid-century aesthetic.
To find the perfect leather ottoman to add to your mid-century modern decor, shop the wide selection at Poly & Bark.