Are you feeling overwhelmed by the amount of clutter in your home? Do you find yourself constantly searching for things that you just can't seem to find? If so, it might be time to start getting organized! In this blog post, we will discuss seven ways that you can make your home more organized and efficient. Follow these tips and you'll be able to declutter your life in no time!
1) Declutter
Clutter is one of the biggest obstacles to getting and staying organized. It can be difficult to focus on anything when your environment is cluttered and chaotic. Not only that, but clutter can also be a source of stress and anxiety. If you're feeling overwhelmed by the amount of stuff in your home, it's time to start decluttering! You can start by getting rid of anything you don't need or use anymore, organizing what's left in a way that makes sense for you, and finding space-saving storage solutions. In addition, try to establish a routine for regularly going through your things and getting rid of anything you no longer need.
2) Create a System
One of the best ways to stay organized is to create a system for everything. In other words, this means finding an efficient way to store and organize your things so that you can quickly and easily find what you need. This could include labeling boxes or containers, or creating a filing system in order to keep track of important documents. Additionally, try to assign certain locations for items so that they always stay organized and easy to find. 
3) Make Use of Storage Solutions
Storage solutions are essential for keeping your home organized. And there are many different options available! You can find a self-storage unit to store any large items you don't have enough room for in your home. And, with this site, it's easy to see different units and sizes, find the best prices, and reserve your space. You can also make use of closet organizers or storage cubes for smaller items. Besides self-storage, consider investing in furniture with built-in storage – for example, a bed frame with storage drawers or an ottoman that doubles as a storage box. You'll get extra space to store items and your home will look more organized.
4) Set Aside Time Each Day for Cleaning
Daily cleaning can go a long way in keeping your home organized. Set aside at least fifteen minutes each day for basic cleaning tasks such as making the bed, dusting surfaces, and vacuuming floors. This will help keep your home tidy and make it easier to stay organized. In addition, it's also important to do a deep clean every month or so to get rid of any unwanted dust and clutter.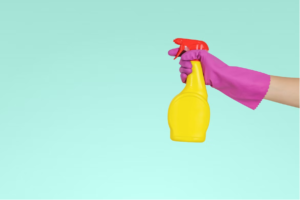 5) Think Vertically
When trying to make the most of your space, it's important to think vertically. This means using shelves, wall fixtures, and other vertical storage solutions in order to store items efficiently. For example, you can use wall-mounted shelves to store items such as books, magazines, and seasonal decorations. Not only does this save space, but it also helps make your home look more organized. In addition, you'll be able to save floor space and make better use of the vertical space in your home.
6) Have a Place for Everything
If there isn't a specific place for something, it will inevitably end up being scattered around the house. Make sure you have designated places for everything so that you always know where to find items. This could include having separate drawers for different kinds of clothing, having a designated spot for keys and wallets, or having certain spots for cleaning supplies and other items you use regularly.
7) Donate or Sell Unused Items 
There are always going to be items in our homes that we don't need anymore. Instead of letting these items take up valuable space, consider donating them or selling them online or at a garage sale. This will help you get rid of unnecessary clutter and make your home look more organized. Not to mention, it's a great way to help out those in need or earn some extra cash! However, you can also recycle items that can't be donated or sold. 
By following these seven steps, you can make your home more organized and clutter-free! Create a system for everything, make use of storage solutions, set aside time for daily cleaning, and think vertically. In addition, have a place for everything and get rid of unused items by donating or selling them. Soon your home will look and feel more organized.