Get your home ready for Halloween with these great DIY outdoor decoration ideas!
Whether you're looking for something spooky or something more traditional, you'll find everything you need to decor your porch with these 19 DIY Halloween outdoor decoration ideas.
1. Ping Pong Ball Ghost Lights
Ping Pong Ball Ghost Lights using cheesecloth, ping pong balls, mod podge, and Christmas lights.
Halloowen Pumpkin Arch
DIY Illuminated Pumpkin Arch made from 30 foam pumpkin as well as PVC pipe and rebar.
via crazicarlos
3. Black Cat O'Lanterns
Make your entry glow with fat Halloween cats made from stacked pumpkins (and mini-pumpkin paws).
via www.sunset.com
4. Floating Wicked Witch Hat luminaries
Looking for a slightly spooking Halloween Front Porch decoration this year? DIY some Floating Wicked Witch Hat luminaries! They light up!
5. Giant Spider In Spiderweb
Transform basic plumbing material into a huge, larger than life spider. Here is a DIY Halloween decor idea to enhance the spookiness of your yard with a giant spider that is resting in its spiderweb with bone-chilling grace.
6. Tin Can Ghost Windsock
Get ready for Halloween with this DIY tutorial for a ghost windsock with ribbon and paint for a spooky friend straight from the recycle bin.
7. Halloween Porch Decor with Flying Bats
Love the bats flying across the door. Such a cute idea!
via www.itallstartedwithpaint.com
8. Simple and Sophisticated Halloween Door Decor
Though simple, the striking black and white contrast here sells an overall creepy but classy look.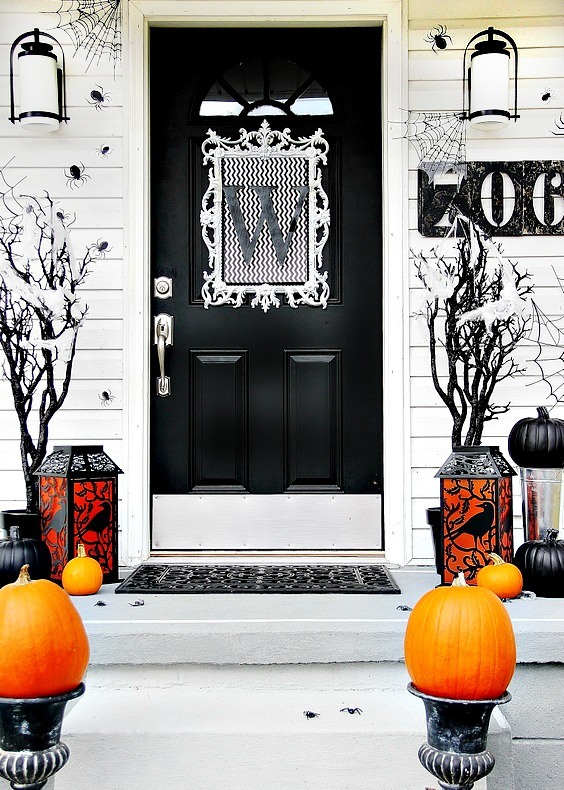 9. Ghostly Outdoor Draperies for Halloween
Hang them from the porch or place some directly on the door, cheesecloth cobwebs look especially eye-catching alongside black birdcages and seasonal throw pillows.
via www.hgtv.com
10. Giant Spider
Great idea for how to lay out a real spooky front porch!
11. Spooky Halloween Front Porch Decor
12. A Batty Front Porch
Welcome trick-or-treaters in hair-raising style by turning your front porch into a bat cave.​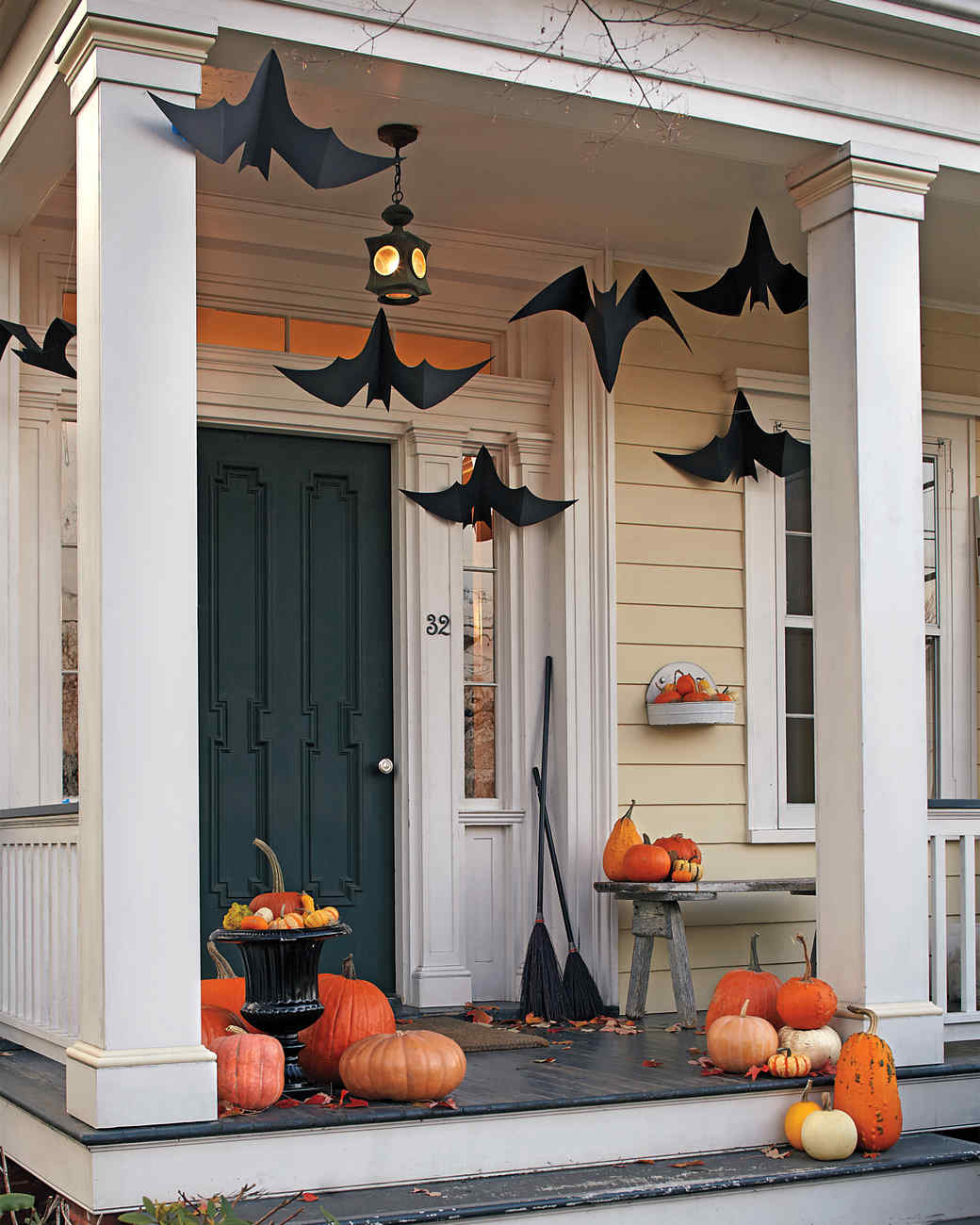 13. Trick or Treat Halloween Door Decoration
Isn't it "Trick OR treat"?
14. Lighted Outdoor Halloween Pumpkin Topiary
Grab some faux pumpkins from the craft store and create this unique Halloween pumpkin topiary! It will look perfect on your front porch. So festive!
via diycandy.com
15. Spooky Halloween Tree Door Decor with Pumpkins
Create a door that sets the proper Halloween mood. The centerpiece is an eye-catching, life-size removable tree decal.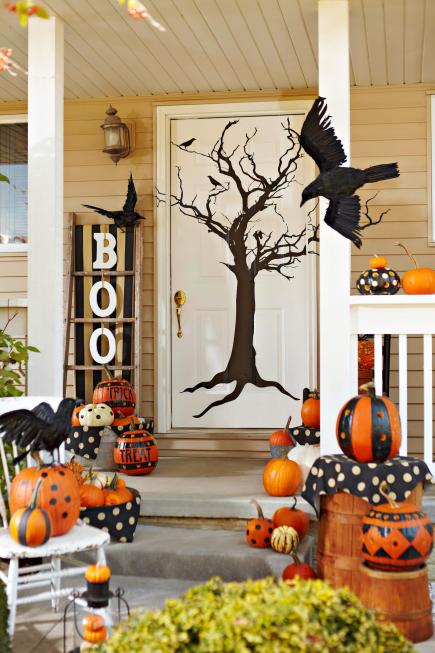 16. Batty Front Door
Simply add felt bats to a natural twig wreath to give trick-or-treaters a friendly fright.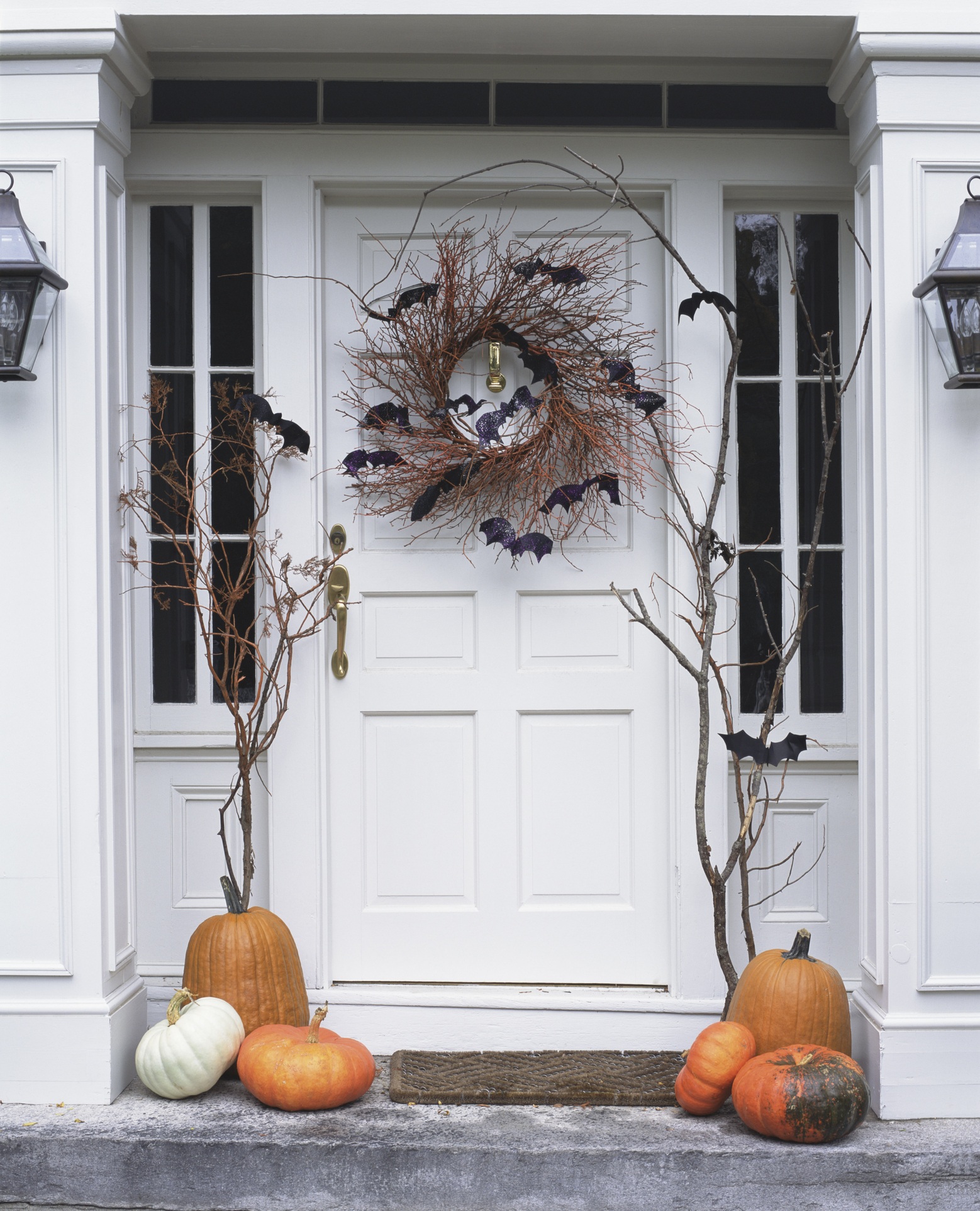 17. Spook Up Your Front Door with Halloween Decor
18. Spider Egg Sac
Stuff a stocking or sock with cotton and stick spiders on the outside to create spider egg sacks. Pretty creepy decorations!
19. Halloween Monster Mud Reaper
DIY grim reaper for haunted house.