These 19 the cutest DIY projects will definitely steal the attention of everybody who is going to see them. Check how to make them with Homelovr.
1. DIY Fruit Macarons
​These macarons are just dripping with cuteness! Edible markers will change your life.
And, you do not have to be Parisian to enjoy the look of these while having coffee on the Champs Elysees! Macarons come in every shape imaginable and are delicious. They come in pretty much every flavor imaginable (and no before you ask they aren't doing beef jerky flavors!). The extra design makes them the perfect treat for a neighbor, friends, and family. If you are a natural artist then this will come very naturally, otherwise like a lot of us, simply give this a go. It will look undeniably terrific, so have faith!
2. DIY Bunny Tote Bag
Keep everything in one adorable place with this bunny tote.
By no means is this a Louis Vuitton, but let's be honest, it's so much more fun! This Tote bag is perfect for Easter but also perfect for any time of the day. It can also be a craft for the children while on break (no reference to Friends), and something they too can use doing their own errands at the market for example.
3. Pom-Pom Napkin Rings
Why not use these pom-pom napkin rings for the most delightful dinner party ever?!
via artbarblog.com
These rings are great especially if you have a large family of at least a couple of children to separate whose table napkin it is without ever starting up a fight between the two or more of them. And, everyone can choose which color suits them best. It doesn't look like a family table unless everyone has their own napkins. Looks great on the table, and is always so much more inviting gathering everyone around the table ready to find out what everyone has been up to. Sometimes all we need are simple crafts such as these to get the conversation rolling.
4. Airmail
Vintage fabric stamps make the coolest little gift tags.
Especially if you are a gift expert and love to give gifts! You fall in love with what you first see, not what is inside (same with us humans. Same) and therefore, adding a small detail that you have gone out of the way to do is sometimes even more special than the actual gift in itself. The thought of you having to craft something, let alone go out to buy the gift is really proof of love, care, and attention. Make someday's special that bit extra special.
5. Cute String Organizers
These little cool cats are basically wearing stylish tube dresses of string.
via diyjoy.com
And for far better motivation to get to do these cuties, they always keep the strings to where they should be, without spending half the day untangling them all. That has got to be worth the extra few minutes to spend doing them; especially if you have a panoply of ranges of colors adding to needing a way to sort them out best for reliability and practicality.
6. DIY Clay Bunny Bowls
Imagine setting your ring down in this adorable little bowl before doing the dishes.
via aliceandlois.com
Easter is coming ladies and gents and this is the perfect time to bunny up all those ideas! It may sound too easy to be true, but how many people do you know, if not yourself, that have had to call the plumber to dismantle the sink's water pipes system to pray to find your ring that fell into the kitchen washing basin; and down the drain? Stressful experience hm? We reckon so. This craft is not only adorable but actually serves a super important purpose to look after the most precious of your belongings, safely.
7. Make Your Own Pet Cloud
Make a new friend!
Or indeed, give a little special someone to a younger child that oozes with imagination and love. You can write a special message that the cloud holds within it, and kids do get excited with the smallest of gifts as long as it looks cuddly. Well, until the age of 6/7 before they start asking for a PS5 or an iPhone or something. These gifts will cost you under a dollar to make, but it isn't about the cost, it is all about you having crafted something super cute, and thinking about the person who will be the recipient. You could also die the clouds if ever you wanted to make figurines out of them too.
8. Animal Ear Cake Toppers
These lovely animal ear cake toppers will make any cake almost too cute to eat.
They can hide many secrets within them, hiding something small and sweet too. This is really multi-purpose and its prime aim is to really surprise the children. Perfect for Easter, and also perfect for children's birthday pirates or anything that screams out, party! The first time you do it could be tricky, but after a couple of attempts, you'll only get faster and more inventive and innovative. Many animals could be done once you get the hang of things.
9. Pom Pom Town Play Set
Welcome to your new happy place, Pom Pom Village.
If you love yarn and have a rather large selection of colors then this is a must-try. These ideas are beyond cute and the perfect idea to dress up a children's birthday party. For children, earring at the table can be laborious and frankly not the most exciting. The only thing they want to do is go play after the first bite; if. So, why not preoccupy them with these little wonders throughout their dining experience, unconsciously training them to spend time at the table and falling in love, eventually, with what it truly means to spend time with the family while eating together.
10. Glitter Tassel Animal Ornaments
Hang these tassel ornaments on your favorite tree.
​via asubtlerevelry.com
Why not plan and make yourself feel really good about it? Nothing wrong with a little Christmas cheer, even when the sun blazes its warmth upon us! These ornaments are so personalized, and some that could also be done alongside the children keeping them busy and away from too much technology. Win-win right? If the idea of the 25th December is far too depressing for you, these could be done and placed on top of presents as name tags. No excuse not to give them a try.
11. Happy Keyboard for Happy People
Computers and technology, could we ever live without them nowadays? Even those wishing for a simple standard of living, with as little tech as possible, may not be able to answer the question with simplicity. How would people communicate to their loved ones if they are far away? Then again, people could start kicking off Facebook and Instagram in the butt. Let's share with people we love. Not people who make zero difference to our world and most importantly, to ourselves. Chances are in your home, you do have a computer. Boring aren't they? How about sticking really cool stuff onto your keyboard's keys? These stickers are super fun trust us. They add a little something characterful to an everyday shore especially with people homeschooling and working from home. So, about time to add a little zing to your work-life environment.
12. Dinosaur Corn Cob Holders
If you have a young boy living with you, then chances are he has desperately been trying to get you to buy all the dinosaur toys on the planet. Something about boys living dinosaurs. These craft ideas not only will make them bounce of joy for around, well, forever, but they will also invite them to eat their veggies too! And that is a win-win situation and how to outsmart a child. Let's face it, these 3-6-year-old small people are getting smarter!
​13. DIY Watermelon Pinata
Do you feel something is missing in your backyard? It's probably this cute watermelon pinata.
via ohhappyday.com
We all know that grown-up pinatas hide one thing and one thing only. Alcohol within it. But for the kids, not such a good idea so we have something super interesting for you. This is really something for the kids to craft. They would love it. And this will keep them busy for a while. They would love nothing more but to test it out once finished, with the other kids bashing it around. How fun is it, really? Brilliant fun this, bringing all the family together.
14. Ice Cream Cone Garland
Get ready for summer with an ice cream cone garland.
Create your favorite sorbets and ice cream colors with these really simple crochet ideas. The idea is to simply put a smile on someone's face when they see this. It takes minutes to do and it's really simple to get to the finishing line. Do this for the children or perhaps for a baby shower and a super gift to add a personalized touch to the baby's, or child's bedroom.
15. Animal Pom-Poms
Are you thinking about making something cute for next Christmas? These animal pom poms would make amazing fuzzy Christmas ornaments for the cutest tree in all the land.
Even if the Holy season is far too far away for you, this is still an amazing idea to get the creativity out of the kids running wild. They love animals. They are cuddly and all look different with different styles and colors. The method for each animal is actually the same, so get a coupe right, and the rest will flow. Perfect to gift for a stroller or in a kid's bedroom near their bed.
16. Tea Bag Note
There's nothing cuter than a cup of tea with a tiny note. Make a Sweet, Custom Tea Bag.
via curbly.com
As much as we love our kids, let us not forget that your other half is in fact the most important person in the house. The kids come next. And this is because the love you both have towards one another will easily transfer to others, showcasing the importance of togetherness, and what love is all about. This could be the greatest lesson of life you could teach them. So, these teabags could hide the simplest yet cutest of all love notes. And remember, you do it for the other half, not just for yourself. Even if you are a guy, guy, guy kinda guy, no excuse. Get a pair of scissors and start spreading the love Mr.!
17. DIY Felt Birthday Crown
The smaller the crown, the cuter the queen!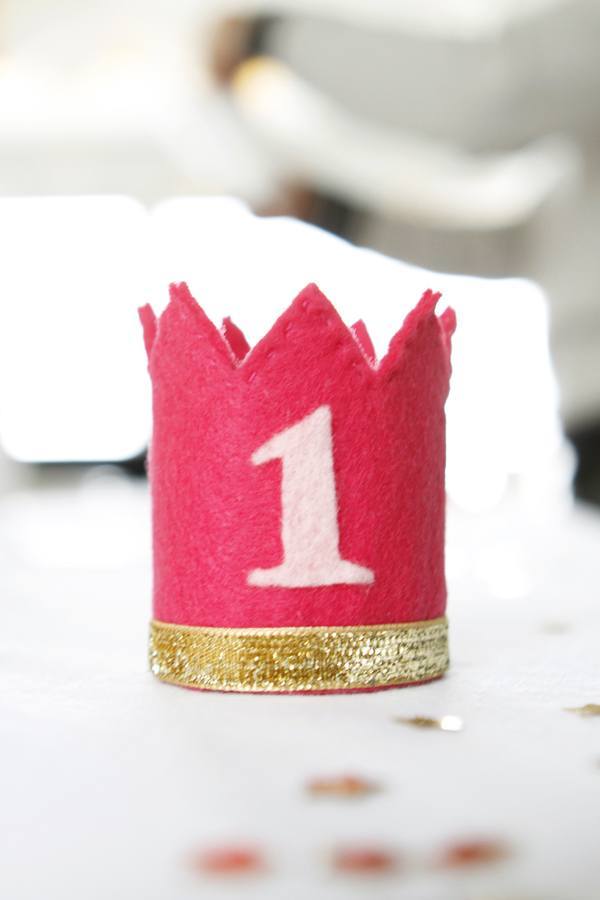 via lovemaegan.com
When doing this craft it explains how all of this can be measured with a banknote, so make sure to take it away before finalizing the project! Or, lose and accidentally give the children two dollars! They love playing king and queen when they are not running errands like headless chickens after far too much sugar intake. They can assist you in making these crowns ready for either their birthday as a celebration hat or simply thinking of a game to play with all the family together. These are really super cute, get your smartphone ready on camera as you'll be clicking away a hundred times, they'll be this cute.
18. Polymer Clay Galaxy Doughnut
Try not to get hungry while making your very own donut charms.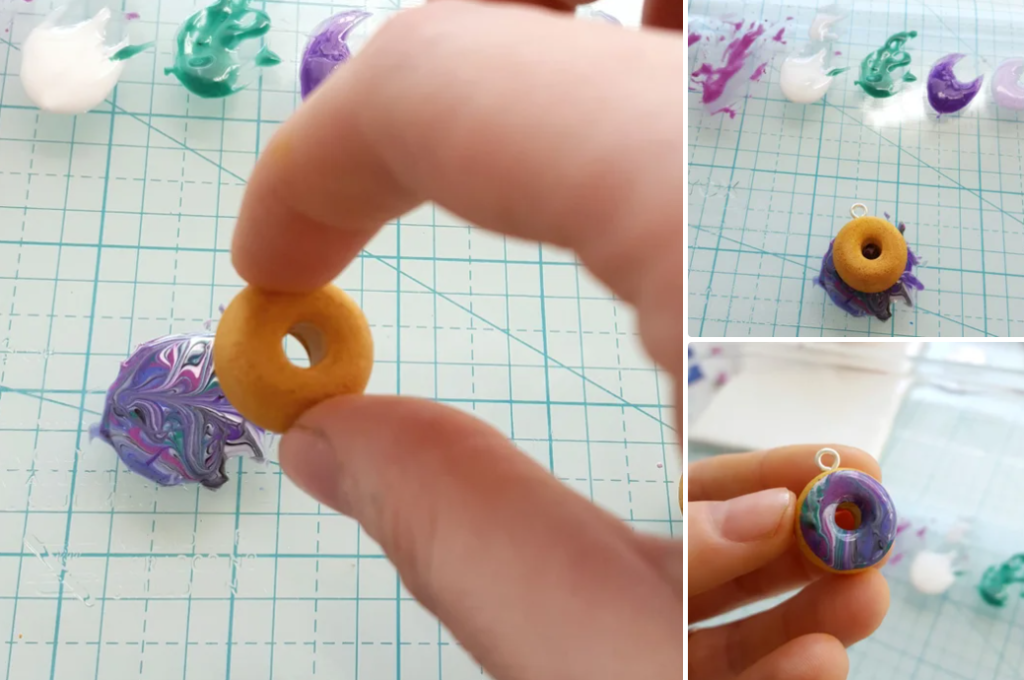 Or, be prepared to triple up the workload! Seriously though, keep away from the children as they may not be aware. However, for young adults, this is really cool and so fun to do. You can do so many different things with them with thousands of different ways to get them to your unique preference and liking. It's a cute way to think of jewelry, fun and cheap too.
19. DIY Fabric Flowers
 The flowers come together fairly quickly, they are easy to make and go great on everything from clutches to hair accessories.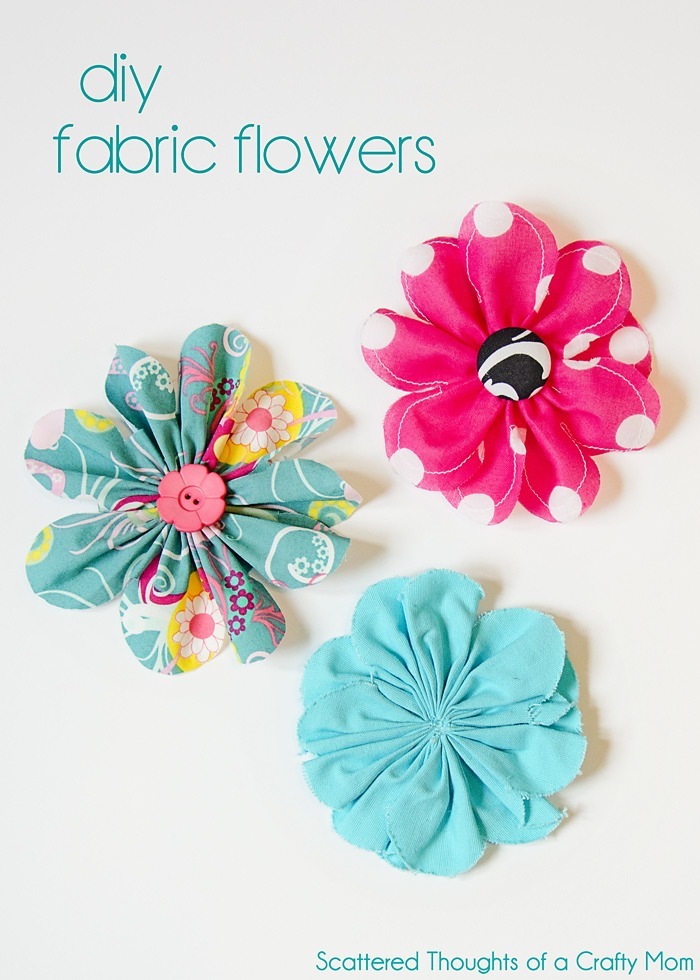 via www.scatteredthoughtsofacraftymom.com
You can also wear them as arm wrist bands which will give a lovely freshness, especially on a beautiful, bright summer's day. They are a great accessory to have on hand especially if you have a reasonably plain dress that you wish to spruce up a bit and give it more life. You can really play around with the colors and make as many as you wish to complement every style and color combination of cloth you have. A great gift too for young girls that would love to show off in front of others with pride
What's the cutest DIY project you've ever done?