Here's a list of a few spooky Halloween drink ideas that will scare your guests. Get creative with your presentation and garnish to add some scare to this drink.
1. Fanta Jack O'Lantern Floats
These Fanta Jack O'Lantern Floats are a sweet and spooky twist on a classic! Made with Fanta Orange soda and vanilla ice cream, they're the perfect, easy treat to impress kids and adults alike this Halloween! #SpookySnacks
2. Halloween Eyeball Punch
This is a great Halloween cocktail idea for everyone who is hosting or attending parties and looking for spooky cocktails to serve. This Halloween Eyeball Punch can be served virgin or with alcohol and will scare whoever takes a sip and finds several "eyeballs" in their drink.
3. Halloween Pumpkin Punch
This punch contains everything fall and halloween! It embraces pumpkin puree, spiced rum, orange and lemon juices, and cinnamon sticks for garnish. Serve in a large, hollowed-out pumpkin for extra autumn appeal.
via honestlyyum.com
4. Bloody Shirley Temples
These Bloody Shirley Temples are perfect for a Halloween party and so easy to make! Plus, your younger guests get to take home a fake syringe.
5. Ghost Milkshakes
These ghost milkshakes are perfect for any Halloween party. While they're not complicated to make they taste like a professionally made…
6. Cherry Chiller
Do the mixing yourself, use soda and grenadine to make a big batch of this Cherry Chiller Halloween punch.
7. Pumpkin Crush
This halloween drink couldn't be simpler, and your kids will love the bright-orange hue of this slushy.
8. Candy Corn Layered Halloween Sipper
It's not Halloween without candy inspired food and drink like these Candy Corn Halloween Sippers.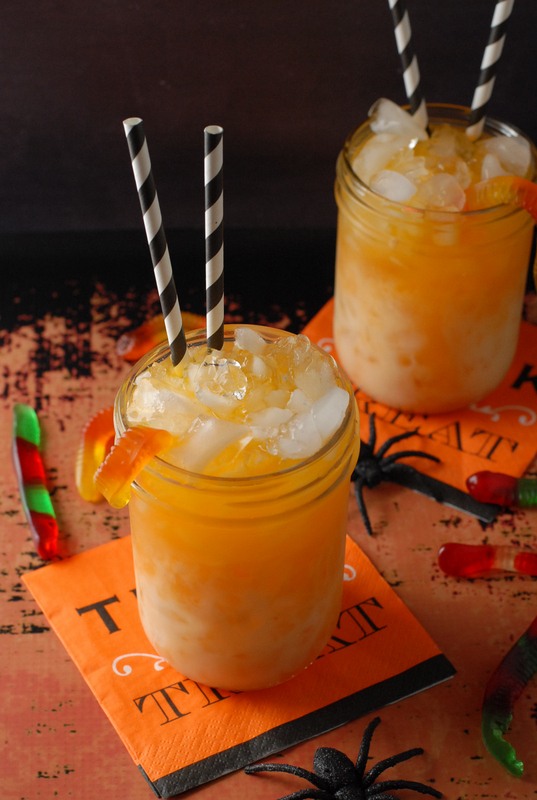 9. Witch's Potion Drink
Witch's Potion Drink recipe – a chilled Lime and Pineapple mixture that is bubble and perfect for your next Halloween party!
via lilluna.com
10. Purple People Eater Cocktail
Purple People Eater Cocktail! A tasty (and creepy!) cocktail that get's it's purple hue from blue curacao, grenadine, and cranberry juice.
11. Black Magic Jello Shots
Vodka-infused Berry Blue and grape Jell-O make for wicked layers when topped with black sugar.
12. The Witch's Heart
The Witch's Heart – This shimmery Purple and Red cocktail is the perfect halloween cocktail or party cocktail! Easy to make and tastes delicious!
13. Magic Potion Punch
Sizzling and bubbling… this punch combines lemonade and grape juice with soda to create the ultimate magical potion.
via bitzngiggles.com
14. Creepy Eyeball Martini
Add a couple lychees stuffed with blueberries into your glass and your martini will be watching your every move. Spooked yet?
via www.pineappleandcoconut.com
15. Blood-Clot Shots
Looking for a creative Halloween Drink that will WOW your guest? Check out this easy drink recipe for Halloween- Blood Shot Clots. It's so gross, you may just not want to drink it! 😉