Whether you're carving, decorating, or using this classic fall gourd for Halloween inspiration, these pumpkin ideas will excite you all season.
1. Hanging Half Pumpkins
If you're looking for something a little bit different, check these fun half pumpkins, perfect for fall décor wall mounts and fun signs. Grabbed a half pumpkin, grapevine wreath with a basket on the front and some floral embellishments.
2. DIY Pumpkin Fall WreathWreath
There are so many ways to DIY craft a pumpkin for your home, a party or even as a gift. Check this fall wreath idea and get inspired.

3. DIY Pumpkin Succulent Harvest Decoration
The no-fuss, easy-to-care-for nature of succulents make them the perfect plant to display in your home this fall.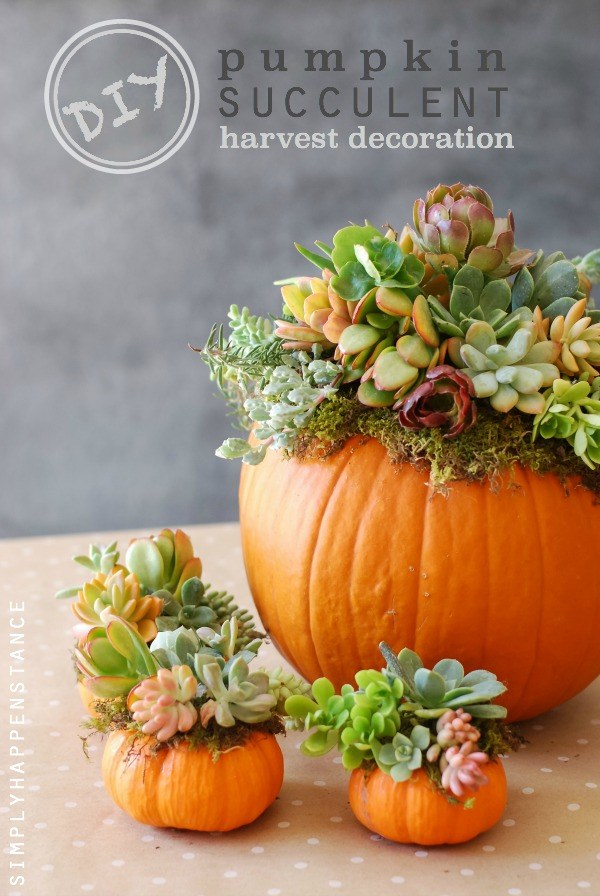 via www.simplyhappenstance.com
4. DIY Pun-kins!
Light-hearted "punkins" with pre-cut letters.
via studiodiy.com
5. Sharpie Art Pumpkins
These are super fun to make! The most AWESOME idea about these pumpkins is they are TWO-SIDED! One side is for Halloween and one side is for Fall!!
6. Woodland Creature No-Carve Pumpkins
These Woodland Creature No-Carve Pumpkins are the perfect way to dress up your pumpkins this fall. If you love pumpkins, but loathe carving them, this is the project for you!
7. Mini Pumpkin Succulent Centerpiece Craft
An easy and perfect craft for decorating a Thanksgiving table!​
8. DIY Copper Striped Pumpkins
Copper is HUGE in farmhouse decor right now, so these copper pumpkins are perfect. And they only take a few minutes to do. That's a win win!
9. Pumpkin Cage – Quick Easy Fall Craft
Simple and quick to make, pumpkin cage, using aluminum wires and tools that can be found in your toolbox. 30 minutes DIY for fall….
10. DIY Fabric Tape Pumpkins
Create these adorable DIY fabric tape pumpkins by wrapping faux pumpkins with fabric tape for a rustic touch.
11. Melted Crayon Pumpkin Decorating Idea
DIY pumpkin craft you can make from stuff you already have…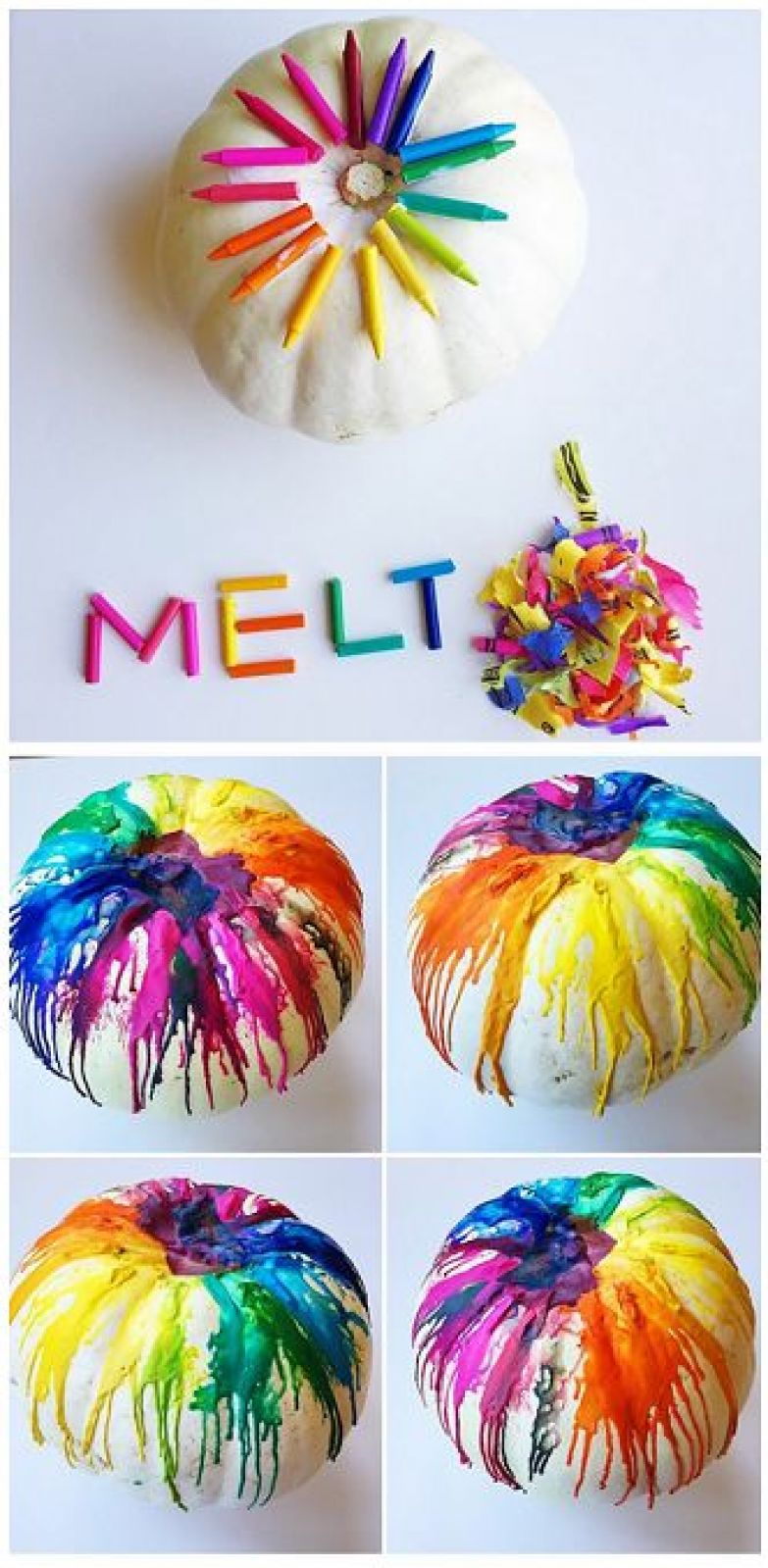 12. Halloween Yarn Pumpkin Garland
13. DIY Dry Brushed Chalk Painted Pumpkins
Learn how to create realistic looking DIY pumpkins using a special chalk painting technique.
14. Pumpkin Leaves
Fall table centerpiece of white pumpkins!

via www.ellaclaireinspired.com
15. DIY Pumpkin Decor with Waverly Inspirations Fabrics
Create your own DIY pumpkin decor for the season using Waverly Inspirations Chalk, Mod Podge, and coordinating Waverly Inspirations fabrics!​
16. Bling Pumpkin
DIY Fall project: Make a cool and stylish metallic Bling Pumpkin in no time using tacky glue, gold paint & a string of gold mardi gras beads.

17. Glitter Pumpkins
DIY Glitter Pumpkins are so easy to make that there is no need to decorate this year with plain pumpkins so grab your glitter and let's get started.​
via www.twosisterscrafting.com