Are you looking for innovative ideas for your small living room?
 Check these 30 small living room ideas to make the most of your space.
1. Add Curtains
Curtains can be so expensive especially if you are after the ones that allow zero light to enter the room at night, perfect for movie watching. And one the plus side, it does offer the ultimate privacy and a setting that oozes in romance. You feel somewhat cocooned with them closed making the room suddenly cozy from having to be light and bright during the day. It really is worth that small investment especially if you are trying to add class and earth to the surroundings. Best from ceiling to floor height for the best dramatic show.
2. Try Wall Decals Instead of Painting
via thespruce.com
Wall detailing isn't tacky at all and can differ from 3D items sticking out of the wall, wooden carved walls giving a further dimension to the entire room, or by simply having a dramatic and drastic design on one area of the wall, breaking the monotony and movement. Extra natural movement can be added by flower wallpaper or simply leafy greens on one wall. Match this with similar cushions and other detailing you may find to keep a natural and similar movement and continuity.
3. Exciting Minimalism
Minimalism can be a little unwelcoming and very unlike what we feel a home should be. But, life can be full of obstacles and clusters. It is always good to take a step back or two, and actually, really think about what are your necessities and requirements. To feel at ease in our home, we must also focus on the flow of energy throughout the house without having too many obstacles in the way. And also, think about saving hours of cleaning a week and perhaps focus this time won, by de-clustering, doing something productive elsewhere.
4. Graphic Art
If you feel yourself being a little on the arty kind, then we are certain you have already considered black and white graphics on the walls. Graphics are great because they do not necessarily take an actual object, scene, or character to mean something. They can be geometric lines, or unrelated pieces of forms stuck together creating artwork unique to this particular art. It will be a very designer touch in your room, perfect if you wished to edge on minimalism.
5. Scandinavian-Inspired Living Room in Light Grey and White
via www.homedit.com
Scandinavian have been with us for a couple of decades and to date more and more of us are after the minimalist approach the Scandinavians have, by having next to no cluster in a home and nothing that hasn't really got a purpose. You can still create a character in your home by choosing wisely what to include in your life alongside the peaceful color scheme light grey and white brings. Add touches of colors here and there in the cushion department, woven wood baskets, and interior green plants with an organic plant pot.
6. Corner Shelves: A Smart Small Space Solution
Space is not a commodity, it is increasingly becoming a luxury. But that isn't so bad, as it makes us think outside the box to increase space and work with what we have more efficiently. Instead of clustering a piece of furniture like a low cupboard with frames and all your favorite flower pots, arty objects, and picture frames, think about a side of the room that is somewhat naked. Perhaps a corner shelf will help to open up space and free valuable clustered areas.
7. Soft Textures of Throws and Fluffy Moroccan Rugs
via theeverygirl.com
Textures are fabulous to increase the home sweet home feeling, a sense of belonging on something field with warmth and soft touches. Adding fluffiness really invites you to enjoy the room and the moment doing whatever it is that makes you happy. A book, a movie, or say, a group of friends reuniting together. Let's get rid of the many harsh lines throughout the living space and focus on comfort without jeopardizing style.
8. Pink Sofa
If your living room has white walls, opt for a bright-colored sofa to contrast and liven up space.​
You cannot do the greys, whites, browns…in fact, you are the most colorful personalities of personalities and you wish to create your space, screaming character but without overdoing it? No time to be scared of colors. It is a make-or-break! The bright fuchsia / pink sofa adds the exact amount of character to a room without it looking a little too over the top creating migraine all day long. Against a plain wall, the sofas with their never as important black and white cushions really do the job in creating the atmosphere, offset by the b+w cowhide skin, and wall art bridging that beautiful splash of color to life working in harmony with its environment.
9. New Rug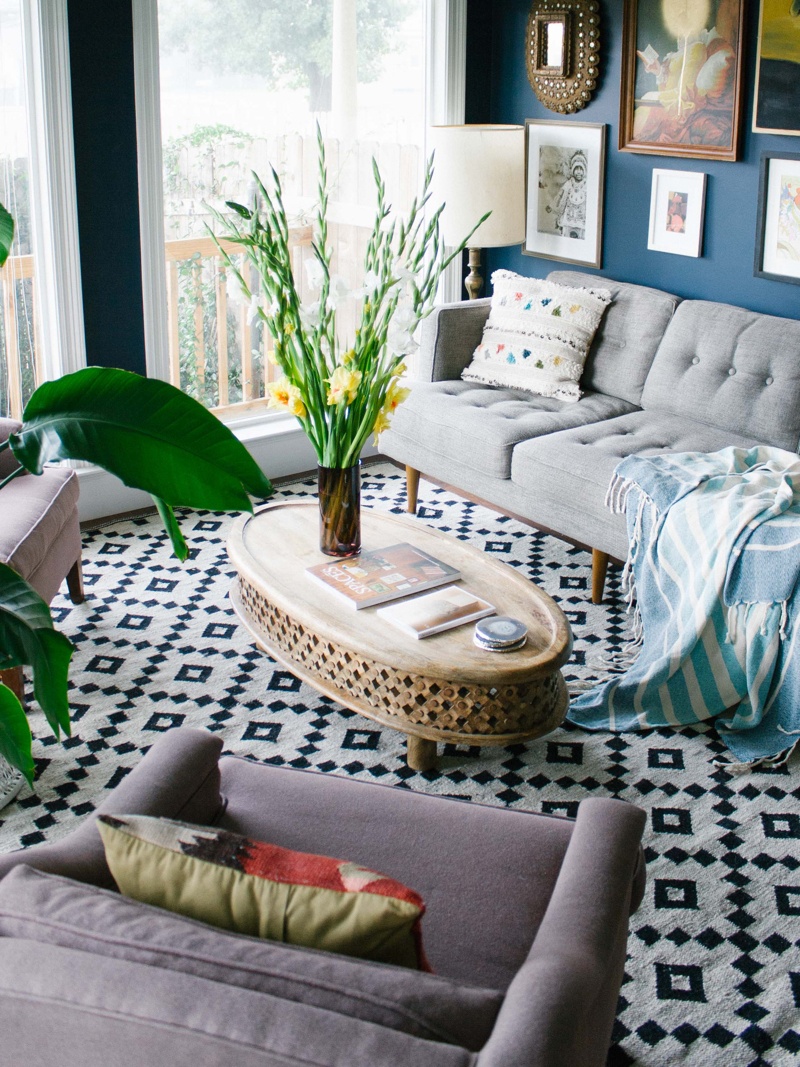 There is little that brings comfort to any room than a new rug, dramatizing and characterizing your living space. Rug oozes in comfort, especially on your feet. We all live busy lives and walking is part of it, hence when coming home to feel a natural touch on the feet is pure, unexplainable bliss. Here we have triangular patterns, but you may opt for a more circular pattern to add greater Shi (positive energy) to your room focusing on Feng Shui. Your space will instantly be transformed without having to go through major changes impacting your finances.
10. Mid-Century Living Room
via cupofjo.com
How we loved and still love the 50s. A style that is unique by far to any other styles within a hundred years we reckon. And one that many of us subconsciously adapted in some form or shape or rather. We have been 50s style gurus all along and we didn't know it. This style combined a little Scandinavian with natural deep brown, clean line furniture. Add a little geometry coming in the form of cushions, lampshades, and throws.
11. Beautiful Industrial Living Room with Rose Gold and Serenity Details
If you have been gifted a loft kinda style with exposed brickwork, and the odd visible cabling and pipeline then you are in luck! Large tall ceilings have bever looked so comfy and stylish. It is important in this kind of space to add super comfortable touches such as a thick carpet, softly rounded furniture such as the sofa and coffee table, staying away from overly harsh masculine lines all over. Add staples of pinks within your design, and you will have an instant win concocting something really raw, with a super-luxurious comfort feel.
12. Couch Facing Window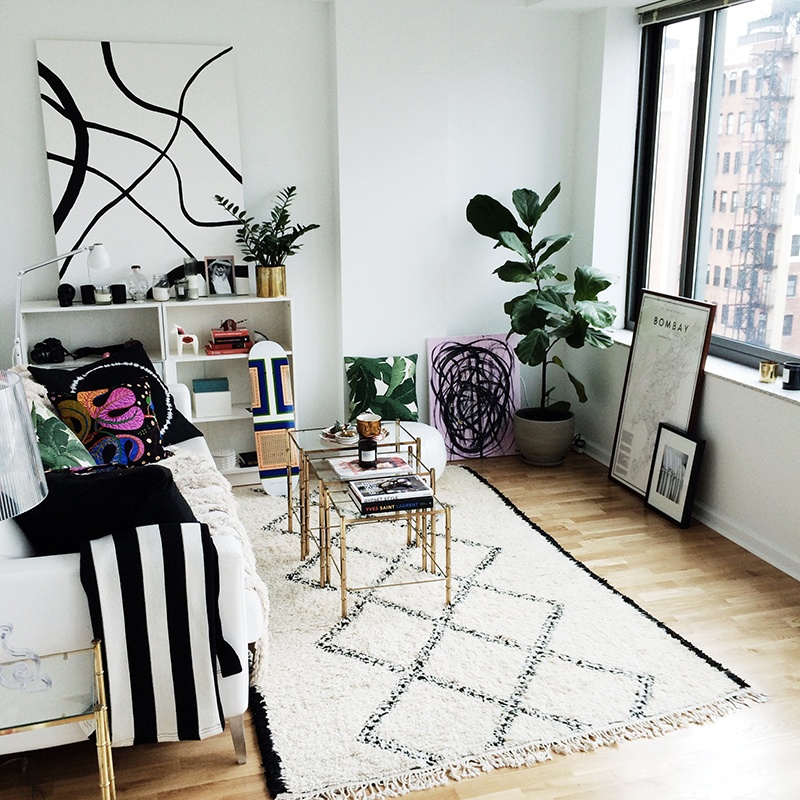 Small apartments are everywhere and once in our lifetimes, we all have been through it. Or, going through it as we speak. To embrace that sense of important freedom and lightness within your home is to embrace as much of the outdoors as possible. So, bring in a few plants in earth pots, but also face your sofa towards the windows will make you gain mental and precious space awareness. You will immediately feel like your home is airy as opposed to closing itself onto you. The sofa against the window will make you face a very negative wall. Embrace space and the natural light as much as you can.
13. Use Pastels
via Pinterest
Pastel colors can be a difficult thing to marry. And somewhat a daunting task. Pastels, blues, greens, and pinks are terrific to add a true personality and inviting imaginative freedom into your home, without always thinking white is the best, but still maximizing the natural light bouncing all over your living area. Pink can be mixed with pastel blues and greens and oranges the best. If we were trying to recreate our favorite sweets as a child and turn it into color within a living space, we reckon it would look just like that. It has a touch of American 50s dinner to it which we forever love.
Pink can be mixed with pastel blues and greens and oranges the best " to " You can use two color combination, Pink can be mixed with pastel blues and greens and oranges the best
14. Decorate with Potted Plants and Hanging Plants
A home never has too many pants. After all, they are the reasoning behind our living. So, it is time to focus more on the natural stuff rather than simply depriving the planet of its natural resources! And not to mention, indoor natural plants will give us all a sense of responsibility as we will need to care for them. And we believe this is as equally as important as doing your bed in the morning. They add terrific design elements, warmth, and color to any room. Hang them from the ceiling, place them on shelving units, in a corner that begs for something to happen. Treat yourself.
15. Corner Couch Takes up Less Space in Small Living Rooms
Space is key and a few of us might not have the luxury of a 2 bedroom apartment that has over a thousand square feet of living space with all of the practicalities. Corner sofas end up by the wall, without having a two-seater and one-seater eating as much as 1 square meter of the living space. Also, they are super comfy if a guest decides to stay the night without having to think of a sofa bed. Be smart about space and work with it, not against it. Space always wins!
16. Get Bright
Choose bright and printed rugs that pop and add pattern to your living room.​
White walls help to bring in natural lights from the outdoors even on a grey sky day. White is brilliant as it will reflect the lights to every corner of your living spaces. But white can also soon turn into a clinical interior design missing that all-important personality. And in the end, you will wish to feel at home, in your own home. If big bold and bright colors reflect who you are, don't fight against the white walls, add splashes here and there complimenting them. And the perfect area to focus on is the floor, with a beautiful and bright Morrocan style carpet, and even thinking about the ever so important sofa cushions too for added detailing.
17. Bright Yellow Art Spot in a Gray and White Space
Is it me or are we noticing more and more yellow, everything? The greatest way to lighten the mood and feeling constantly happy is by adding yellow to every single room. Our cars should all be yellows too! It is the color that inspires the summer and really does affect our moods significantly as it is such a happy color. So, no need to say much more here. If you need shearing up, paint yourself a yellow wall, add yellow cushions and yellow slippers. In a world of concrete jungles, bring in natural light, plants, and earthy natural warm touches.
18. Modern Rustic Living Room
via www.micasanoesdemuecas.com
Modern never dies. It is all about creating a space that incorporates clean lines without too much-added fuss and cluster. Natural forms, in all their glory and simplicity. Plus, what you will get from it is a hugely breathable area that will not sophisticated you. Keep colors light but add one particular color to offset the monotony of blindness. A splash of yellow or orange, pinks or red adds a well-deserved homely feel to most rooms with very clean and subtle furniture.
19. Geometric Wallpaper
via www.houzz.co.uk
Geometry was the cool thing of the 20s and 30s, inspiring what we know as Art Deco. Wallpapers are back for wallpaper lovers. Even if you feel hesitant, a wall with wallpaper makes all the difference and creates personality like nothing else. There are tonnes of wallpapers available today and even more geometric styling. What the very styling does to your home is inexplicable and adds both character and style working hand in hand. Adding elements of gold, copper, and brass accentuates the entire uniformity of the living space.
20. White Brick Wall, Grey and Pink Colors
via vanhetkastjenaardemuur.blogspot.com
To some, painting the natural red bricks can be the biggest style offense of the 21st century, but to others, it is a different story. You are still keeping history, but refreshed to today while combining an airyated space with floods of natural light coming through. Red bricks will add warmth, but also kill any chance of vibrant natural light. It isn't an easy choice to make, but if you are after a big light space in a smallish environment, this is the best way forward.
21. Bohemian – Mid Century Living Room
via frenchyfancy.com
Bohemian doesn't mean you'll find banana peels under the sofa two months later, as you might have done in your teenage years. No, it is all about balancing style, with homemade cushions with a once loved top, old leather sofas with beautiful and meaningful history writing all over it like a senior person with wrinkles, recycled woods, and a lot of plants and earthenware. It does still take style seriously, but in a way that isn't the stuffy approach making your personal space look like a showhome, but more of a "proper home kinda home".
22. Bohemian Living Room with Moroccan Rug
via Pinterest
Moroccan rugs are some of the best choices to go for when combining style with a bohemian living space. Always use the colors within the rug to your advantage and onto the wall arts, cushions, throws, and other stylish accessories you may wish to incorporate within the space to create a flow of continuity regarding the color scheme. Get yourself low seating such as the ottoman and the coffee table.
23. Faux Fur Accents
via www.sallywheatinteriors.com
Fast forward to current times and faux fur is back in fashion ladies and gents! Thanks to the rise of Scandinavian and Viking interior trends which focus on undertone, natural and earthy textures, faux fur has made a huge comeback. The 50-s had a lot of animal prints on drapery seats and floor rugs, and faux fur really was introduced in the 70s, creating radical and innovative materials for furniture. It can add splashes of elegance, sophistication, and appeal. Faux fur is here to stay, and thereof your home will always feel fresh and on par with fashion.
24. Dark Color Behind Gallery Wall
Make a statement with a dark color behind your gallery wall.
via westelm.com
Working with dark colors isn't as complex as one two three. However, it adds none other than commitment admittedly. A dark wall, or walls, will make any room feel incredibly cozy and sometimes could make the room feel like it is getting smaller, and therefore it is imperative that adding splashes of bright colors is very much welcomed and needed. It has something sexy and romantic at the same time hugging you in an arty blanket even on the coldest nights. Perfect if you wish to create a sanctuary of warmth and fashion.
25. Gallery Wall
We've gone through the minimalist approach and now time to put your love for art on the walls. Still, while going for a minimalist look without closing the home onto itself by overcrowding pieces here and there and everywhere. It is important that your home makes you comfortable and not simply because it looks pretty. You want to belong to it and vice versa. You can for sure design the rest of the room with the color tones of the artwork. Get in your favorite music band posters up sitting proudly in your living space.
26. Eclectic Style
via www.houzz.com
For the most discerned of fashion gurus here is one to please the most extravagant of personalities. Being electric is not strictly following one style and one direction. It is all about mixing different styles, eras, and cultures into one harmonious space. And it could look absolutely brilliant. Within the interior design, features are dating back to the late 18th century, up to date passing through the Art Deco stage, the 50s, and 70s.
27. Fit a Workspace into a Small Space
Space is luxury and space also means digging deeper in the pockets. But, you sometimes can bypass the rather awkward bank day out by creating a smart living that works for you. If you haven't got the luxury of an office space or an entire room, think of subtle table furniture that can double act as a desk, workspace. Not only can it be added to your style but bring in really cool, refreshed decorative attributes to it.
28. Green Couch Living Room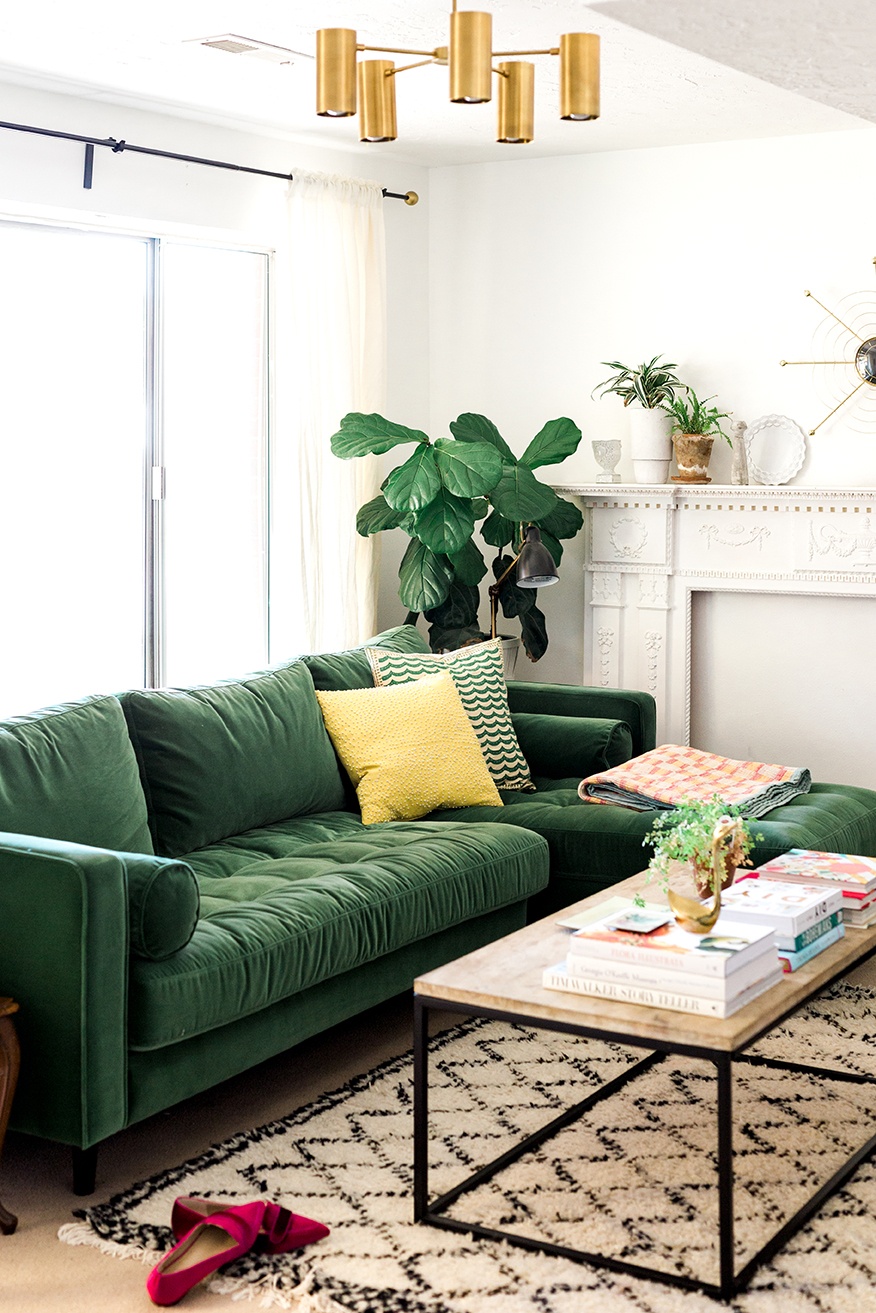 Green, how daring! But then again green is nature at its most beautiful, inspiring spring and summer is coming. It comes to life once again and does similar things in a home. By adding bright, yellow cushions imitating the sunrays, gold ceiling lights, and golden objects throughout the living space, it really does bring nature back to life. Naturally, you may wish to include real greens like botanical house plants and even plant patterns as the wallpaper, or onto the cushions.
29. Minimalist Coffee Table
via www.brit.co
It is wonderful to have a massive coffee table to put your feet on or have a lovely tv dinner every so often, but the thing is, it does take ample space especially if space isn't something you are blessed with within your home. Opting for out-of-the-box ideas is the way forward to enhance the image and balance of the home and living space. Think also of having a side table on the side of the sofa to include elements of what you require throughout your sofa time, giving you more tactical, smart space.
30. Modern Monochrome Scandinavian Living Room
You would be amazed at how back and white can make a home totally feel like a home. And that is actually a little difficult. It takes a lot of guts to go minimal. But using a couple of colors only in your own space is a statement in itself. This is also achieved by house plants, soft cushions, blinds, and super comfy rug. The gallery wall is gorgeous, giving a little something different to what we often see as bare walls. The great thing about creating a neutral room, is that you gain space, look super fresh with so much light going into the room, and that almost every other new accessory element can fit within the space. And if one day you wish to add color, it will never work better than with this color-toned interior.