Get inspiration and ideas for designing your bathroom with contemporary style.
Check these stylish modern bathroom ideas to create luxury appeal.
1. Modern Bathroom Design with Subway tiles & Glass Door
2. Fish Scale Tiles in White Bathroom
3. Black and White Striped Tiles
Part retro and part modern, geo tiled floor works perfectly with black hardware and warm wood cabinetry.​​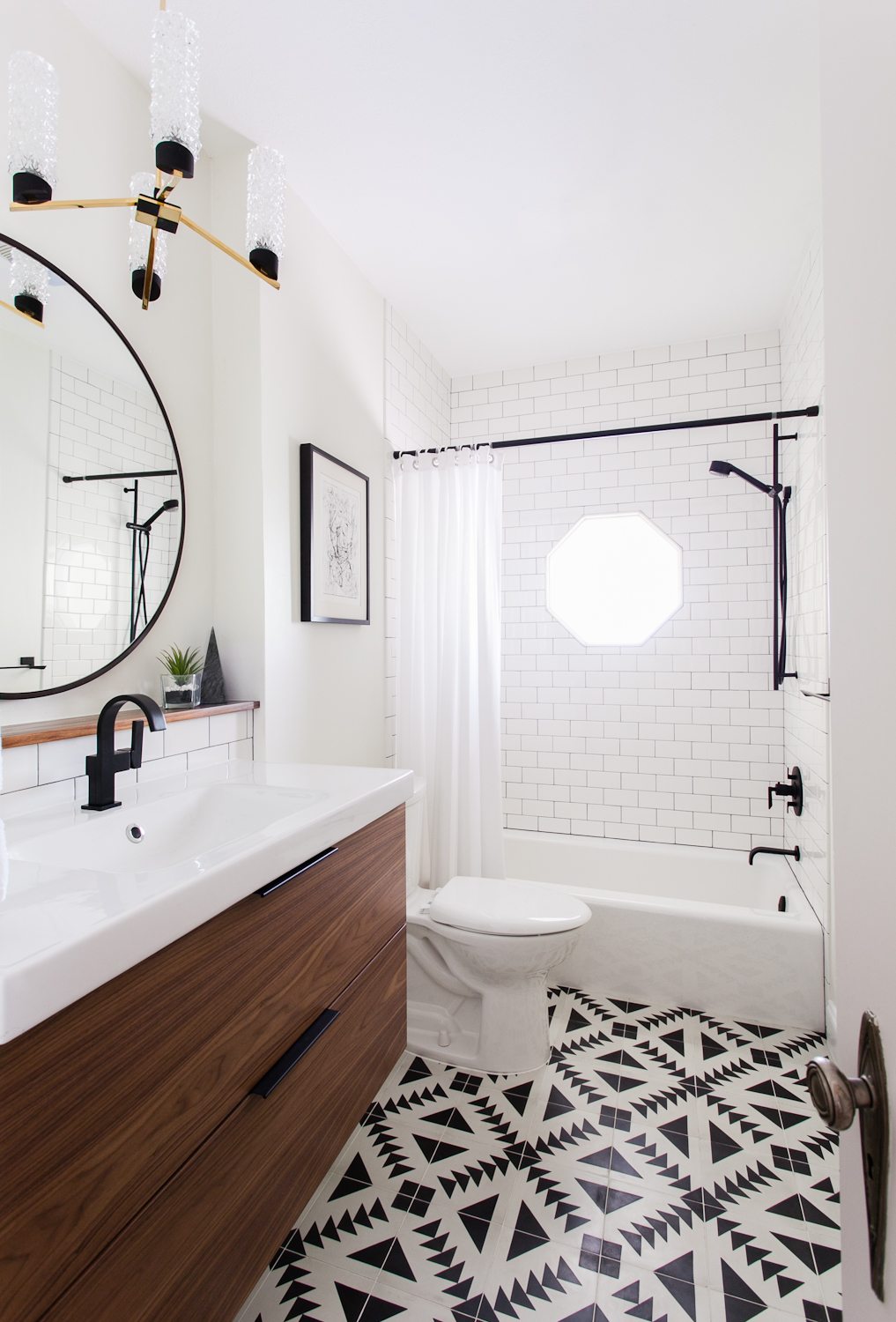 4. Modern Bathroom
Modern bathroom with dual brass shower heads against a backdrop of white subway tiled walls.
5. Coastal Modernity
via www.homedsgn.com
6. Wood Accents
7. Tasteful Minimalism & Golden Pendant Light
8. Dark Bathroom with Sculptural Light Fixture
via www.dwell.com
9. Industrial Bathroom
via TradHome
10. Mid Century Bathroom
11. Contemporary Bathroom Design
via dudzele.com
12. Spacious White Contemporary Bathroom
Gray, black and white infuses in harmony to accent a chic wall setting and designer accents and touches.​
via estliving.com
13. Concrete Bathtub and Tile Backsplash
14. Mod Patterns with Pops of Color
via homeadore.com
15. Modern Bathroom with Marble Shower
16. Window as the Centrepiece and Long Marble Bench with Sink
17. Wooden Furniture and Geometric Shapes
via alleideen.com
18. Make the Most of the Space with Big Mirror
via homeadore.com
19. Modern Grey Bathroom Design
via www.behance.net
20. Elegant, Modern Bathroom
21. Black, White and Grey Bathroom
via alexanderand.co
22. Modern Bathroom with Black Frame Shower
23. Hexagon Tiles with Round Mirror and Black Tapware
24. Clean and Modern Bathroom
via www.newzealanddesignblog.com
25. Luxury Bathroom
via www.alvhem.com
26.​ Luxe Touch with Freestanding Bath
27. Light, Clean and cClassic
28. Bathroom with Black Accents
via style-files.com
29. Modern Bathroom with Marble, Black and Wooden Accents
via www.dezeen.com
30. Modern Bathroom with Dark Ceiling