Get inspiration and ideas for designing your bathroom with a contemporary style.
Check these stylish modern bathroom ideas to create luxury appeal.
Your bathroom is one of the most essential rooms in your home where you can refresh your body, relax, and be invigorated. It's only natural that you put effort into making it comfortable and pretty.  If you wish to have your bathroom renovated, check out the latest in bathroom designs in showrooms or online. 
1. Modern Bathroom Design with Subway tiles & Glass Door
We usually all forget about the bathroom because we tend to give out all the love to our kitchens. After all, this is where the fun begins and where most of the entertainment happens with friends and family. However, newlyweds might love to have good brushing teeth together and well, other things newlyweds would wish to do. Incorporate plants and flowers, natural and soft fabrics, wooden woven baskets, and all your day-to-day requirements for a little self-pampering. Smells are also important to get a scented candle, or some sort of freshener to ease ourselves in comfort.
2. Fish Scale Tiles in White Bathroom
If you wish to give your home a little art deco 1920s and 1930s style, then the fish scales are the way to go. It gives just about enough character to get away with a white bathroom to give it an ample amount of character yet serenity too. You can go crazy by adding gold touches on the cupboard doorknobs, bathroom towel holder, and water taps.
3. Black and White Striped Tiles
Part retro and part modern, geo tiled floor works perfectly with black hardware and warm wood cabinetry.​​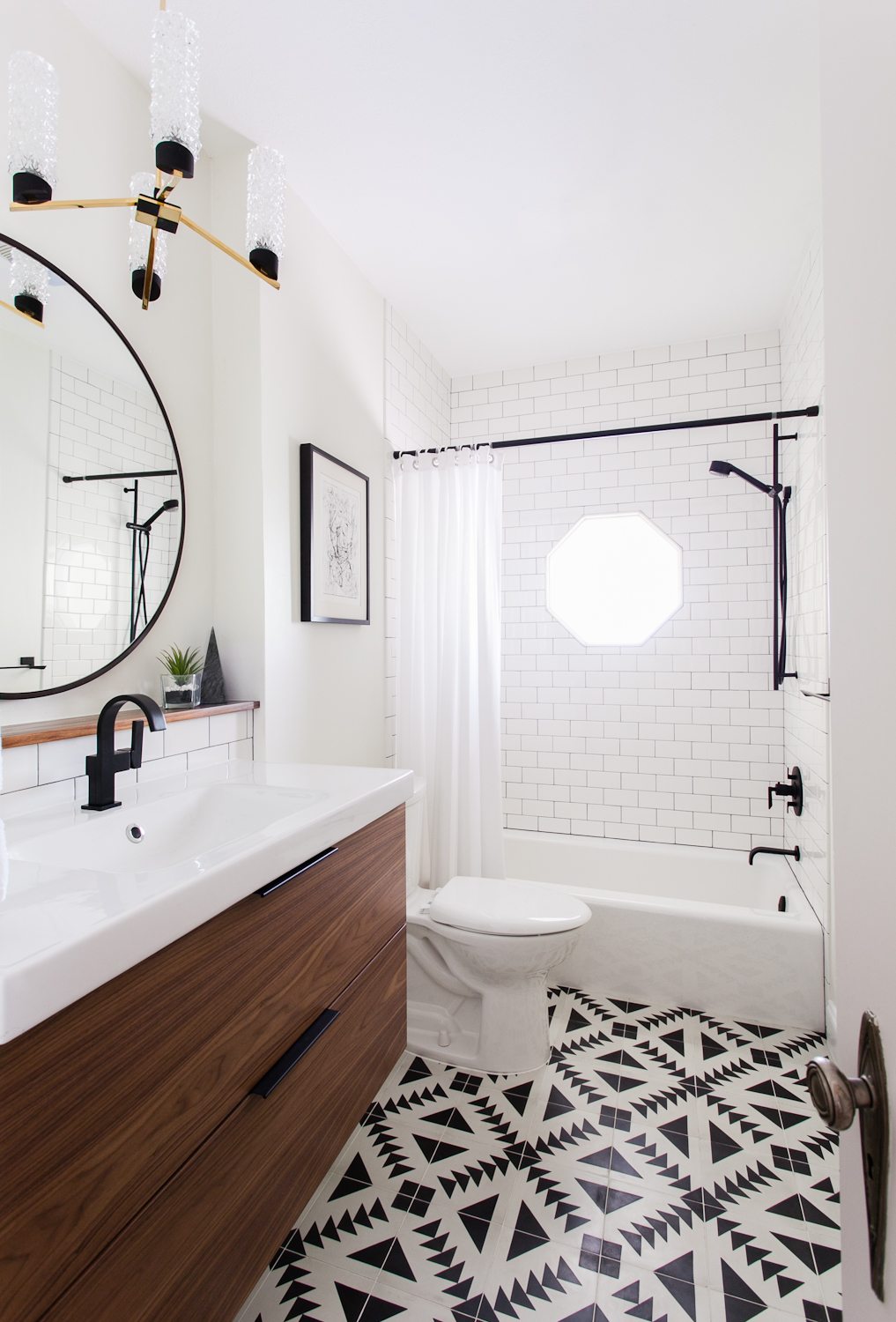 Many of us are afraid of the whole black and white combination, however, this will for sure ease you into going for it! Adding natural wood breaks off the monotony of the B+W combination and adds warmth not making things too clinical. All of the touches are mat black and not gloss as it would be far too aggressive on the eye. This way, the light will be absorbed and not bounced back which is important to give you a sense of tranquility and sophistication.
4. Modern Bathroom
Modernity mixed with a little 18th-century outlook on things is one of the greatest achievements to date! The light eccentricity mixed with down-to-earth warm energy creates something a little special to our eyes. It is a room that feels like a lot has been spent on it financially speaking, however, the brass touches are a simple reminder of back when the abundance of expensive items was the must-have to showcase your status. This room decor stays within reason and looks so inviting. This surely is one of the only ways to bathe or shower in style.
5. Coastal Modernity
via www.homedsgn.com
If you are all about clean lines, a minimalist touch, and love simplicity, what a way to go by it. It has a Scandinavian take on it due to its minimalist approach and one that suits the unclustered kinds. Small glass partition for the shower, and clean natural wood for the sink cabinet. This is an area that understands what it needs to do, without under or over-deliver, just what you need. Add a money plant to add a natural touch bringing nature to your tranquil haven.
6. Wood Accents
via shairoom.com
Wood in every room will help bring nature into your home and also bring peace and harmony at the same time. It breaks the bland walls and potentially the surrounding it's in especially if you opt for a rather modern home. In Japan wood is used in every room in abundance as it does bring Shi to your life (positive energy), better known as Feng Shui.
7. Tasteful Minimalism & Golden Pendant Light
You wish to keep things simple, fresh and modern yet with the ability to add warmth and character to your bathroom? By using gold, brass, or copper this can easily be achieved without over pronouncing the integrity of the modern space you wish to create. The golden pendant light in this instant is ever so important as it does bring just the required breaking the monotony between back and white while adding a little sophistication to the room.
8. Dark Bathroom with Sculptural Light Fixture
via www.dwell.com
He/she who dares will prevail? Black, we are all afraid of using the color. It is fighting. Can look good in a magazine, but how about in our own home. Well, sometimes, we must jump ships and into the unknown. In this case, it is pretty explanatory that the bathroom looks spectacular. It is the total opposite of the classic and "safe" bathroom we all create or think a bathroom should look like. But imagining taking a bath in this room is so romantic and rather powerful too. Could picture having a glass of red wine while relaxing after a long day at work, in a place that won't blind you. Add candles throughout for a little added romance were there on your own or with a partner. Incredible space.
9. Industrial Bathroom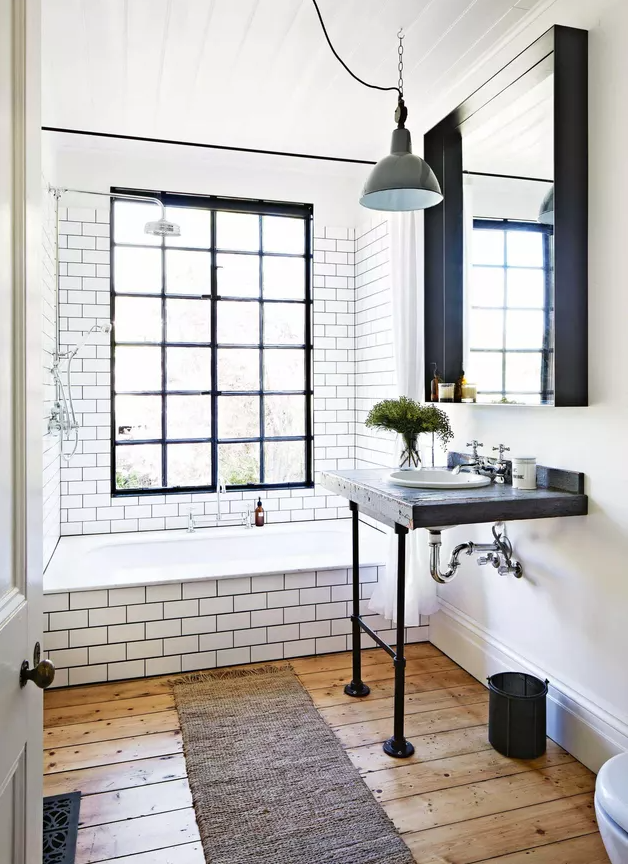 via www.hunker.com
Industrial ideas have boomed the market and still are at the height of fashion and what a lot of people decided to go for when thinking about design elements and how to potentially incorporate many details into space. Industrial touches include concrete, wood, dark iron, brass, and copper; adding the much-needed warmth and softening the environment a little. Industrialism is all about exposing pipes, ducts, tubes, and wires.
10. Mid Century Bathroom
via onekindesign.com
The geometric lines are once again creeping into our homes and design, including furniture. Took a while but it managed to get into our hearts one more time. Geometric tiles are a must alongside a chandelier or pendant lights and have them also on the countertop near the sink. Mirrors uniquely framed are an important piece of the puzzle bringing the 50s into one space.
11. Contemporary Bathroom Design
via www.pinterest.ch
To design modern living and have this in mind, contemporary bathroom suits tend to have a smaller footprint than their older counterparts. It is all about bringing in exactly what is needed, without anything too flashy that serves no real purpose. This design is all about the now and the future in mind, creating something that stands out of what we would call, the norm. Here you are about to embark in a functional sanctuary that you will love and enjoy for years to come and that, without following trends and fashion that could soon be a thing of the past. Contemporary very often withstands time.
12. Spacious White Contemporary Bathroom
Gray, black, and white infuse in harmony to accent a chic wall setting and designer accents and touches.​
via estliving.com
Some might say that this design does include touches of industrialism due to the concrete style finishes, but let's not forget that contemporary means to withstand time and fashion. And therefore, it is there to stand proud for many years to come, with quality finishes in an open space to let the flow of energy relax us naturally while having our time out from the world. Because a bathroom or shower room is exactly that. It is a little sanctuary of peace enjoyed by oneself. It is therefore imperative that the room speaks your language.
13. Concrete Bathtub and Tile Backsplash
via www.pinterest.pt
Perhaps it sounds silly, however, this is the way we're getting this. We all need to be comforted every so often for whatever our reason may be. And we think of support, we think of strength. Something or someone that will be here for us to hold us telling us, everything will be alright. That's the exact angle we see this bathroom. We think of concrete as something super sturdy and material that we know of as rock-solid. Something that won't let us down. And there you have it, a reason why to totally consider this space, for its protective nature and feel. Think of it as an SUV or a big 4×4. You are taller than most on the road making you feel superior. That's exactly what the bath here does.
14. Mod Patterns with Pops of Color
via homeadore.com
When it comes to the tiles, speechless really. Utterly beautiful with a big influence and inspiration of the art deco style back in the 20s and 30s. Apply very basic furniture when going for a complicated-looking tiling wall art, keeping things tidy and not too busy confusing beauty with having a headache! There is a sense of serenity with the bonus of having something super interesting to look at, perhaps even bringing you imagination for a project you are about to tackle. Remember, what we see can truly influence how our day will go and influence our ideas and creativity. A blend room will give you peace, but consider something with more charisma bringing us something totally different.
15. Modern Bathroom with Marble Shower
Not only does it withstand the test of time, but it is super hard to make it look out of fashion. It inspires luxury and luxurious hotel rooms throughout the world. Marble also being nature's product and not man-made like titles for example will end up costing more, but will last forever. Literally. If you have children, they won't break it. Unless they have a bulldozer to hand…
16. Window as the Centrepiece and Long Marble Bench with Sink
If covering the entire bathroom works out to be a little expensive, then touches of it will do the trick just perfectly too. Quartz can also be used to mimic marble but is a lot more porous. Both are natural stones and both require experts to put everything in place. But trust us, marble won't be going anywhere nor will it go out of style. It is the perfect choice for a bathroom as it is more than sturdy and will add a touch of luxury to your space. Do we need luxury? No. Does it feel awesome to have elements of it that bring in a little good factor that we deserve once in a while? Definitely!
17. Wooden Furniture and Geometric Shapes
via alleideen.com
In short, geometry is all about constructing and representing free forms, surfaces, volume and is closely related to geometric modeling. It is a branch of computational geometry. Now that's that out of the way, it helps bring a bright and modern interior with balance and harmony that is both interesting to look at and touch. It gets our curiosity going. Each level of geometry adds something different from the visual aspect, from the way you analyze to rigor and formal dedication using its own language and symbols.
18. Make the Most of the Space with Big Mirror
via homeadore.com
If you are constantly being surrounded by people all the time and live in the big cities, you might wish for a more serene and easy approach to life once getting home. The perfect way to increase the sensation of space is through the addition of mirrors, amplifying space and freedom. Mirrors also help with reflecting light, in perhaps less than naturally lit spaces. Full length and height wall mirrors assist in getting the interior design to be rich and modern.
19. Modern Grey Bathroom Design
via www.behance.net
Not just any grey of course, but thousands of nuances of them in a room gives the same as brightly colored places. This look can be achieved with tiles, quartz, or marble. The trick is to have a bigger tile for the flooring and a slightly smaller one on the walls to break the continuity pattern. A touch of greenery won't go amiss, with the inclusion of brass elements within your beautiful grey bathroom sanctuary.
20. Elegant, Modern Bathroom
via www.pinterest.fr
A modern bathroom is achieved by using and rearranging shapes in a geometric manner, with geometric mirrors on the bathroom walls. Small elements such as flower pots, elegant and modern soap and cream dispensers down to the tap are added for an extra organic feel. Pendant and natural lights are a must with the addition of candles, hang framed modern prints, floor to ceiling mirrors backlit, and without forgetting to shoelaces concrete and wood together. All elements working in perfect harmony and not against each other.
21. Black, White, and Grey Bathroom
via alexanderand.co
Modernity mixed with functionality is exactly what this is all about bleeding upper natural colors altogether while creating a pretty sustainable and well-crafted bathroom. The simple design is there for the more discerning people longing for more simplicity in their life without having clusters everywhere. There is a sense of purity within the design that makes you feel relaxed and at ease. Lovely clean patterns throughout, you could totally see white long bathroom towels hanging on the sidewalls.
22. Modern Bathroom with Black Frame Shower
All you need is a design element that breaks the norm and the fluidity of the other lines throughout your bathroom. In this case, they are done by a simple iron-like shower frame, adding the perfect balance of certainty with character. With the addition of the subtle touches of brass and copper, the room feels like it has a personality one that does shy away yet does not mean to be the center of attention. It combines the style really well with the feeling of pure relaxation.
23. Hexagon Tiles with Round Mirror and Black Tapware
via fi.pinterest.com
Working with shapes can be daunting but can be so much fun. Including different shapes in your area really breaks away the monotony of the pattern and style you wish to go for. Here you will find art deco tiles broken up by the circular mirror and linear lines of the rest of the bathroom from the sink cabinet to the shower frame. This Is a perfect example of how to have fluidity, without it looking bland and uninteresting.
24. Clean and Modern Bathroom
Bathrooms are like jewelry, they are very dependent on the character of their masters! Each has its own style and interpretations of what modern means and ought to feel like. This is a beautiful example of clean lines throughout the area, with organic finishes on the top table of the bathroom sink and cupboard, down to the natural soft circular lines of the bath itself. A mix of blacks, creams, pearl white, and natural wood all combine to make this super clean and flawless. The perfect sanctuary for peace and laid back approach.
25. Luxury Bathroom
via www.pinterest.fr
Not a lot more screams out luxury like golds and marbles. This is a rather easy combination of a couple of color schemes and design, focusing on the same marble from the walls to the floors, and everything else in between has gold starting from the shower frame, to the sink's water taps to the vases to the mirror frames and the list goes on. These types of bathrooms are typical and worthy of 5-star hotels of the world, on which many of us travelers wish to focus. This means, reenacting the feeling you once had in the most splendid hotel you've ever stayed in, to remind you every day how you felt once you got to spend the best part of your morning in it pampering yourself.
26.​ Luxe Touch with Freestanding Bath
Luxury comes in hundreds of different ways and shapes and ideas. Luxury can mean having a space of your own with clean, simple lines, to an over-fussed area with thousands of little golden objects. This bathroom focuses on what you need without offering more but in style and luxury. The plants add that natural feeling of nature in your bathroom pace making you at ease with whatever it is you are doing. Neutral colors are used to not overly fuss over anything tacky and unnecessary.
27. Light, Clean, and Classic
As easy as one two three isn't it! Nothing wrong with a classic. And in fact, classic never dies. It is the most fashionable of the fashionable world if you wish. To be the fashion is not to be the fashion and as time goes by and times change, your bathroom will still feel new and fresh. Pearly whites are used for both the bath and the sink, with a simple yet efficient shower partition, an organic touch with the plant, and the woven bath mat.
28. Bathroom with Black Accents
via style-files.com
In a world of white or cream bathrooms comes the other side of the spectrum, black. Always a little tricky to see how to best use it, especially in a bathroom where you would want to clearly see yourself in it, without the black overly taking the natural light away from you. And this can be critical if you wish to apply a little makeup or have a clean-shaven. But combining black with pearl white accessories will ensure your bathroom has plenty of light with a mix of warmth and powerful seduction attributes to it. The natural wood sink cabinet really breaks the monotony of the black and white and brings in a natural aspect to the finishing touches.
29. Modern Bathroom with Marble, Black, and Wooden Accents
via www.dezeen.com
Modernity is the way forward if you wish to have a present and future-proof bathroom that will withstand the test of time. And quality too. Marble, the natural stone, looks fabulous personally, in any room. Everywhere. Beautifully crafter and add a touch of both sturdiness and luxury to bathrooms. Easy to maintain too, marble works beautifully with natural-colored woods, greys, and blacks. Add a little luxury to your life that doesn't scream out look at me, just does it with the utmost subtle intention.
30. Modern Bathroom with Dark Ceiling
Dark grey to back naturally patterned quartz stone floor, to the black late 18th-century style modern bath, to the beautiful hexagonal titles to the black ceiling. Look define this space. A lot of details and attention has been placed within the bathroom, creating something really rather different and super cozy, thanks to the painted back ceiling bringing everything together up close. The lights clearly bounced off the walls, however not so much so that sunglasses are required to enter the room. That's again thanks to the smart usage of the bold blacks.