Decorating terra cotta pots in an easy way to add color to your plantings! Create something fun for your home by painting your own terra cotta pots.
1. Dip Dye Succulent Pots
Soft pastel colors plus a hint of ombre make these dip-dyed pots the perfect blend of trendy and simple.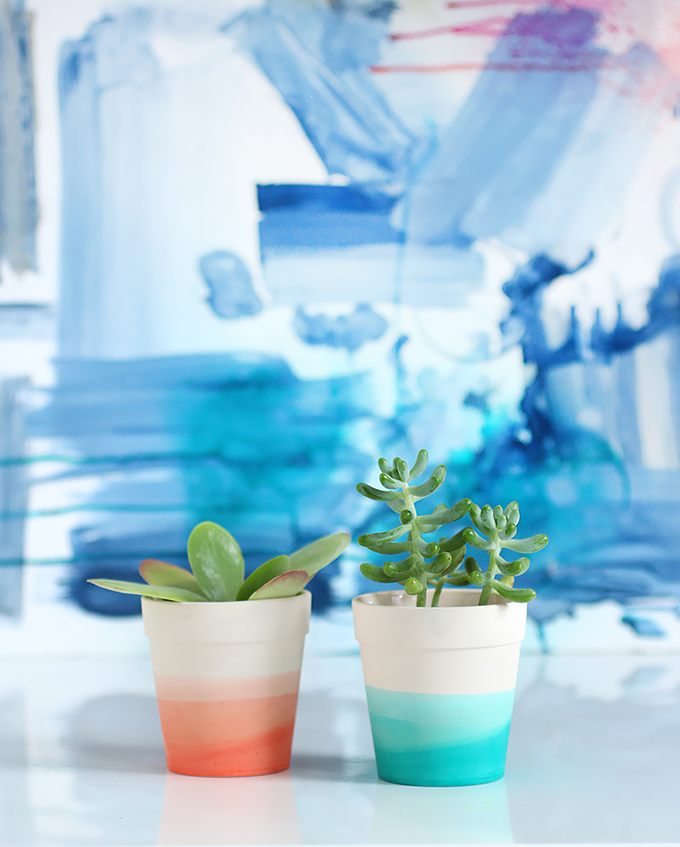 Click here to see the tutorial
Add your content here…
via ispydiy.com
2. Yellow Herringbone Terra Cotta Pot
This yellow herringbone pattern on your terra cotta pots will be perfect for the bright and sunny spring days.
3. Geometric Terra Cotta Pot
You caan keep your terra cotta pot cute and simple with this black-and-white triangular pattern.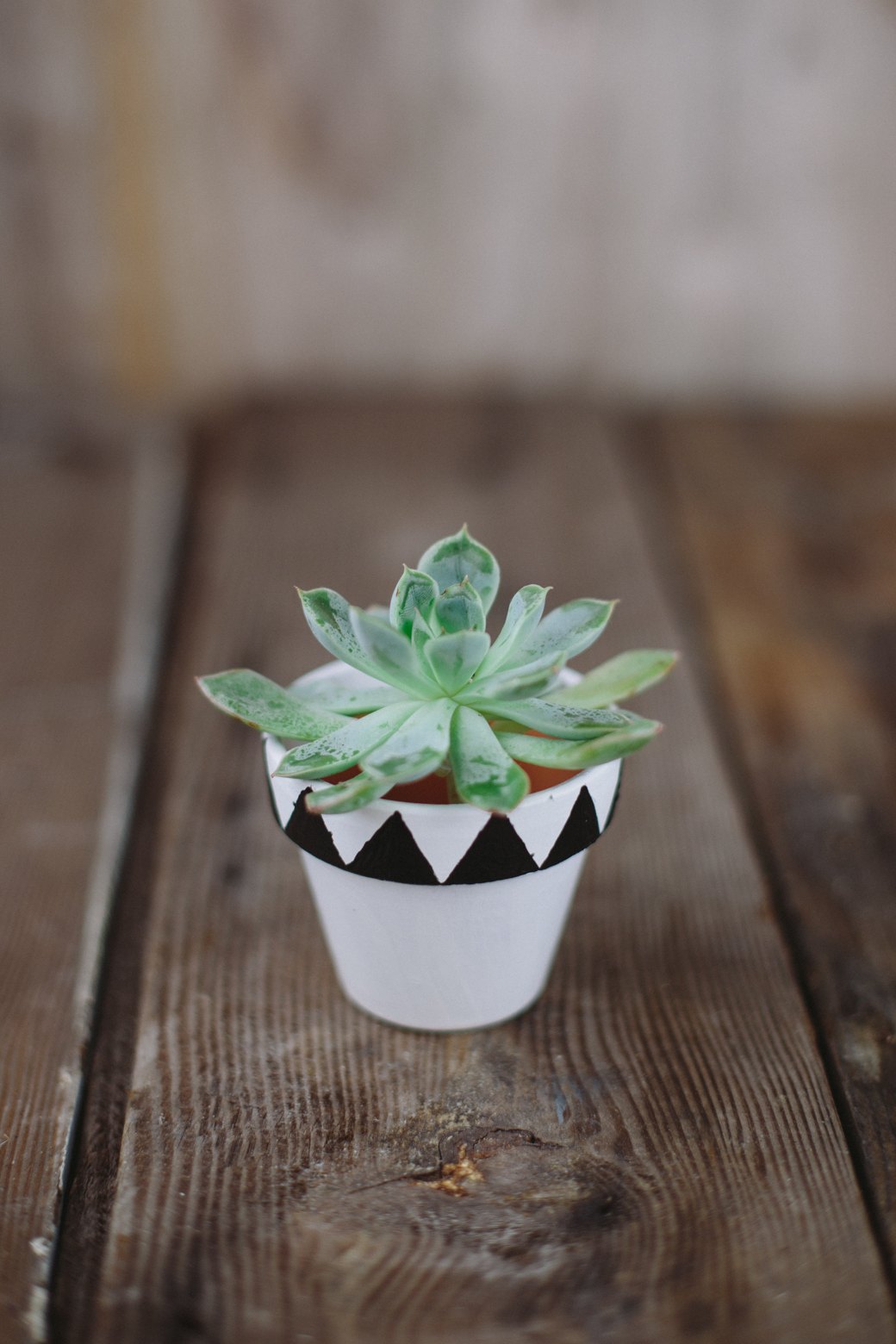 4. Easy Neon Painted Terracota Pots
Spruce up your plain-white pots with bright pink dot sticker!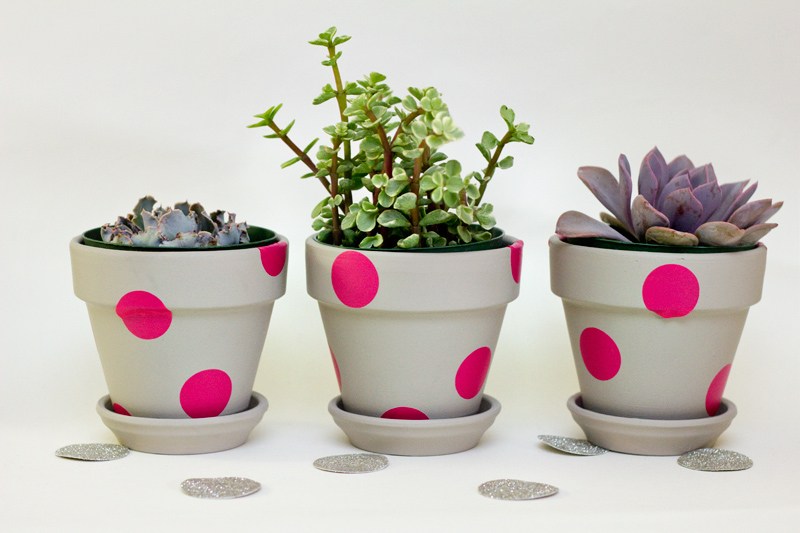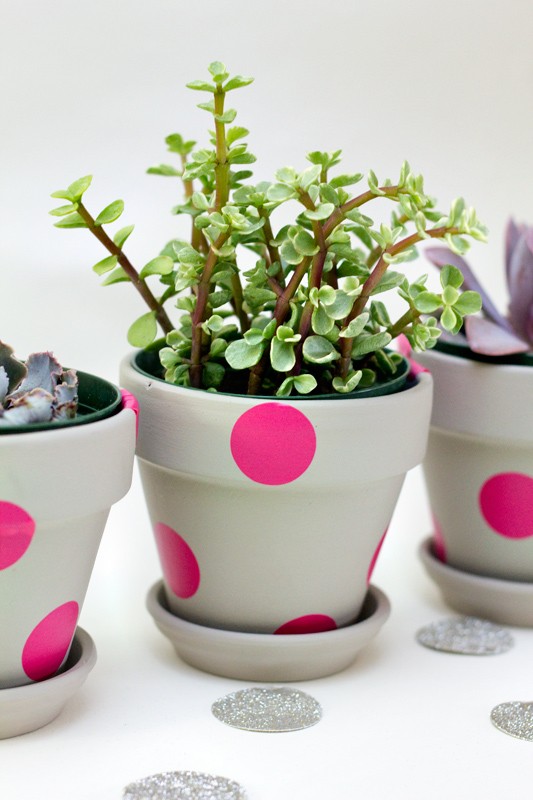 via sarahhearts.com
5. Nail Polished Marbled DIY Planter
Here's the perfect DIY to clear your old nail polish out while creating super cool pots.
Pin the tutorial
via helloglow.co
6. DIY Hand Painted Ikat Pots
Get a little more intricate with these crazy-cool ikat-patterned pots.
Click here to Pin the tutorial
via saltandritual.com
7. Pretty Floral Flower Pots
Use any fabric you can get ahold of to completely customize your pots.
Click here to Pin the tutotial
8. DIY Gold & Purple Terra Cotta Pots
Combine gold leaf and lace-lined techniques for a ridiculously beautiful succulent garden.
Gold Leaf
Click here to see the tutorial
Paper Decoupage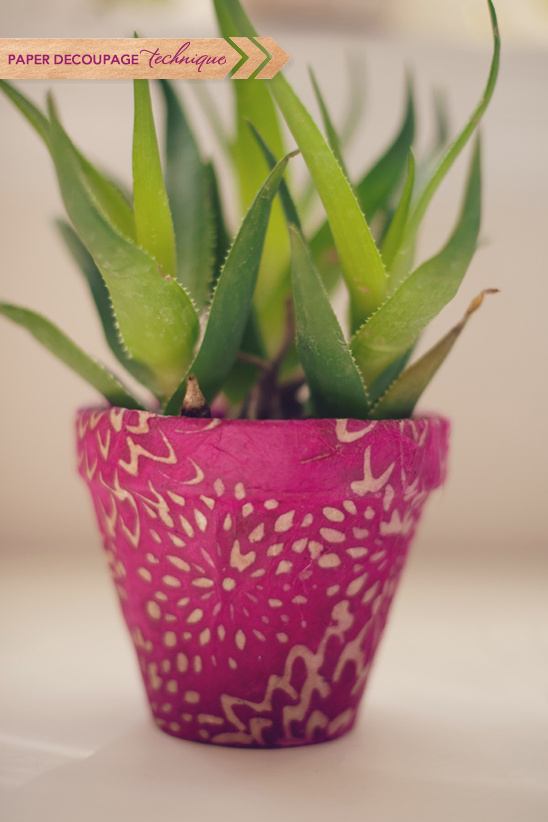 Click here to see the tutorial
Acrylic Paint & Gold Leaf
Click here to see the tutorial
9. Pretty Lace Flower Pots
You really can't go wrong with white lace and succulents.
Click here to see the tutotial
10. Copper Leaf Planters
Beautiful Copper Leafed Planters with bright colorful moon cactus!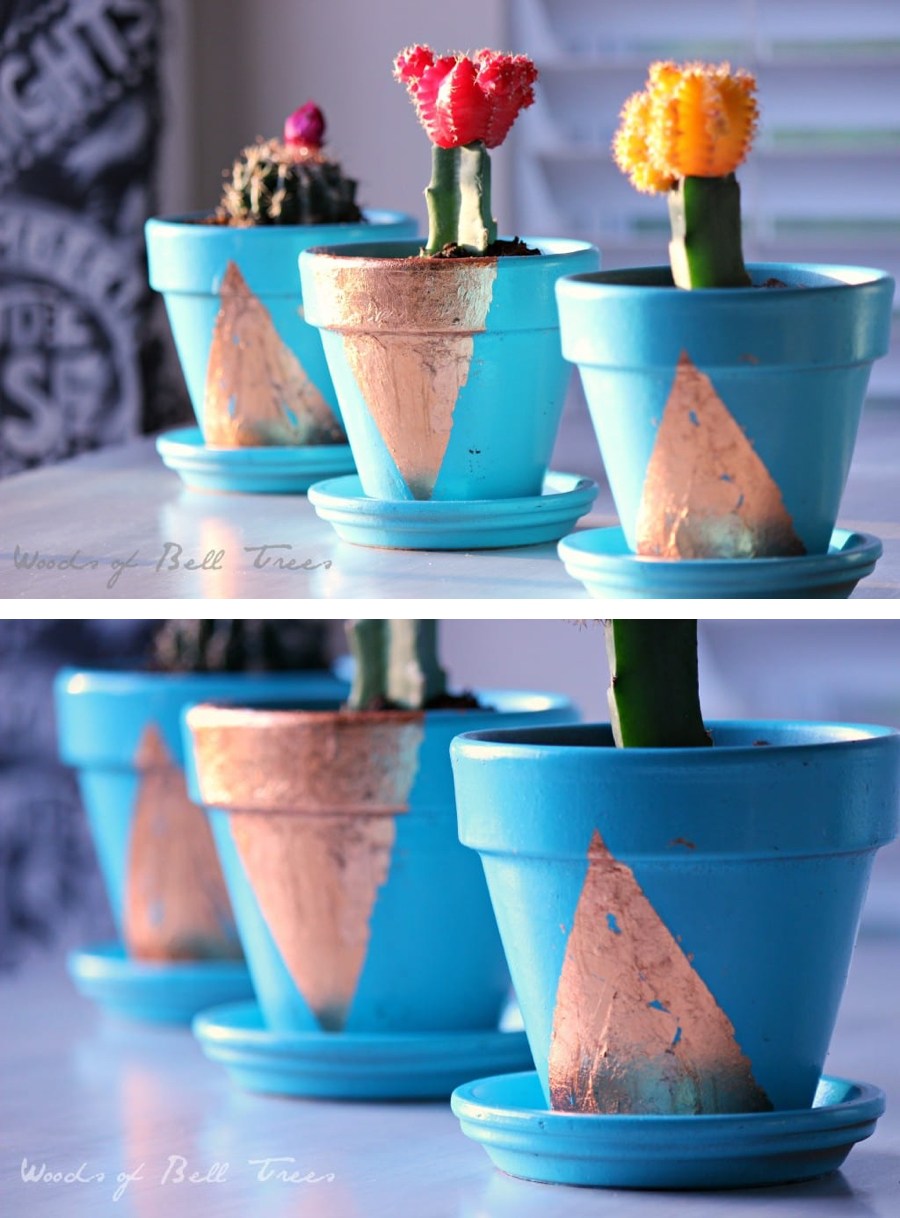 Click here to see the tutorial
11. Stunning Terra Cotta Pots with Gold Leafing
These statement-making terra cotta pots have varied designs with a common gold theme to tie them together perfectly.
12. Gilded Succulent Pots
Let the negative space do the talking with these fab gold creations.
13. White Color Block
Just paint the upper half of the pots white and let the clay do its own thing on the bottom to get this totally chic look.
14. DIY Gold Foil Lettering on Flower Pots
Customize your flower pots with your own thoughts, quotes and mantras. You can never go wrong with glitter!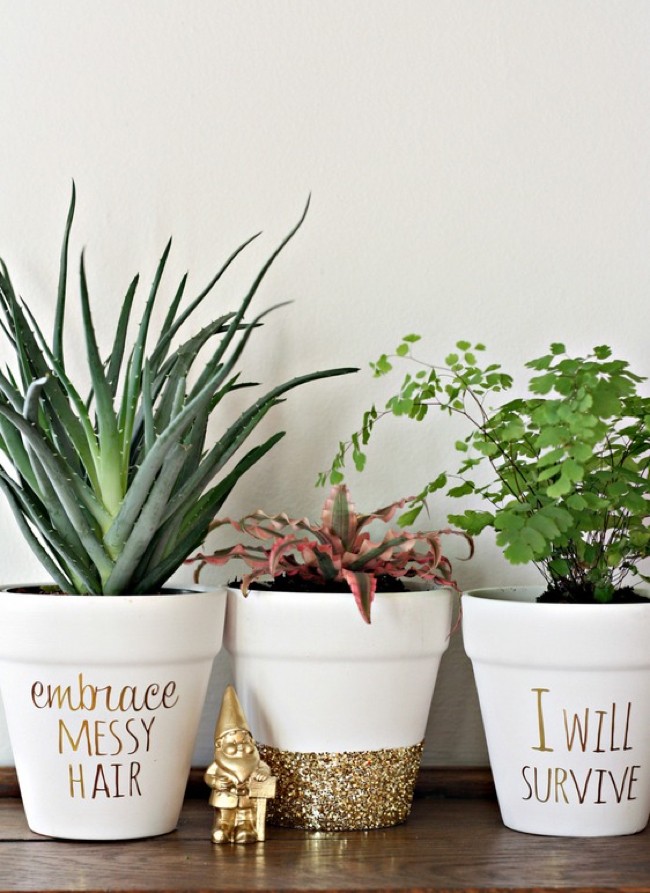 You terra-gotta try these DIY flower pots!
15. Marbled Terra Cotta Pots
You don't have to be a professional gardener to know that terracotta pots are good for the plants but why is that?
16. Cute Terra Cotta Planters
via omundodejess.com
17. DIY Mini Pattern Plant Pots
Things are just better when they're mini amiright?  Get a few mini cacti and paint mini terra cotta pots to put them in.
18. Gold Dipped Plant Pots
Fun and colorful succulent pots. Easy to make and perfect for Spring.
19. DIY Scalloped Painted Pots
These are so cute! Plus they're so easy.  You can make them by placing little circle stickers on the the pots and painting them.
20. French Terracotta Pots
DIY painted and distressed French Terracotta Pots.
Click here to see the tutorial
21. Rustic Succulent Pots
These DIY Rustic Succulent Pots are the perfect addition to any table inside or out, and a great way to welcome outside plants indoors.
Click here to see the tutorial
via www.pinkwhen.com
22. Doily Painted Flower Pots
Learn how to make Doily Painted Flower Pots and the easy way to clip and replant succulents.
Click here to see the tutorial
23. DIY Painted Terra Cotta Pot
This cute rustic planter makes the perfect home for your herbs. Make this using a terracotta pot, twine, and letter stamps to add a little bit of greenery to your home.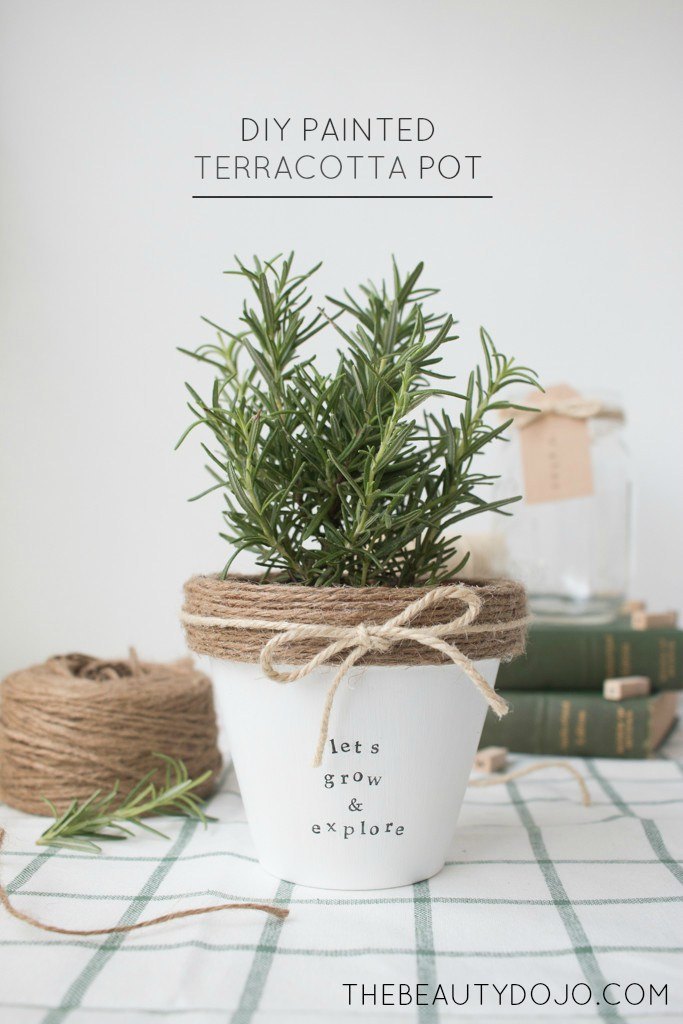 Click here to see the tutorial

24. DIY Geometric Painted Pots
Geometric Painted Pots – the perfect way to show off your succulents and dress up your windowsill or patio!
via mom.me
25. Colorful Hello Cactus Painted Pots
Make these easy painted pots using terra cotta planters and your favorite paint colors – the cute sayings will brighten up any dreary days!
Click here to see the tutorial
via diycandy.com