Repurposing, reusing and upcycling an old door is just a great idea. If you already have an old door at home and you don't know what to do with it don't worry.
Here are 19 ​creative DIY old door project ideas.
1. Stable Door Display Shelf
This piece can be the perfect addition to decorate your entryway.
Find an old door you want to repurpose, simply find or make a shelf that you like and add it to the door.
Once you have installed it in your home, decorate it with your favorite items.
Check the tutorial below:

2. Vintage Door Lighted Display Shelf
Repurposed old doors are a great way to bring a unique vintage or eclectic feel to your home decor.
Click here to see the tutorial
3. Kitchen Island
Build a kitchen island from an old door.
If your kitchen could use an island or breakfast bar, then this economical project using a recycled door is great. 
4. Porch Swing From An Old Door
Old door furniture. Porch swing constructed from old doors and newel posts.
5. Coffee Table
Turn an old door into a coffee table for your living room.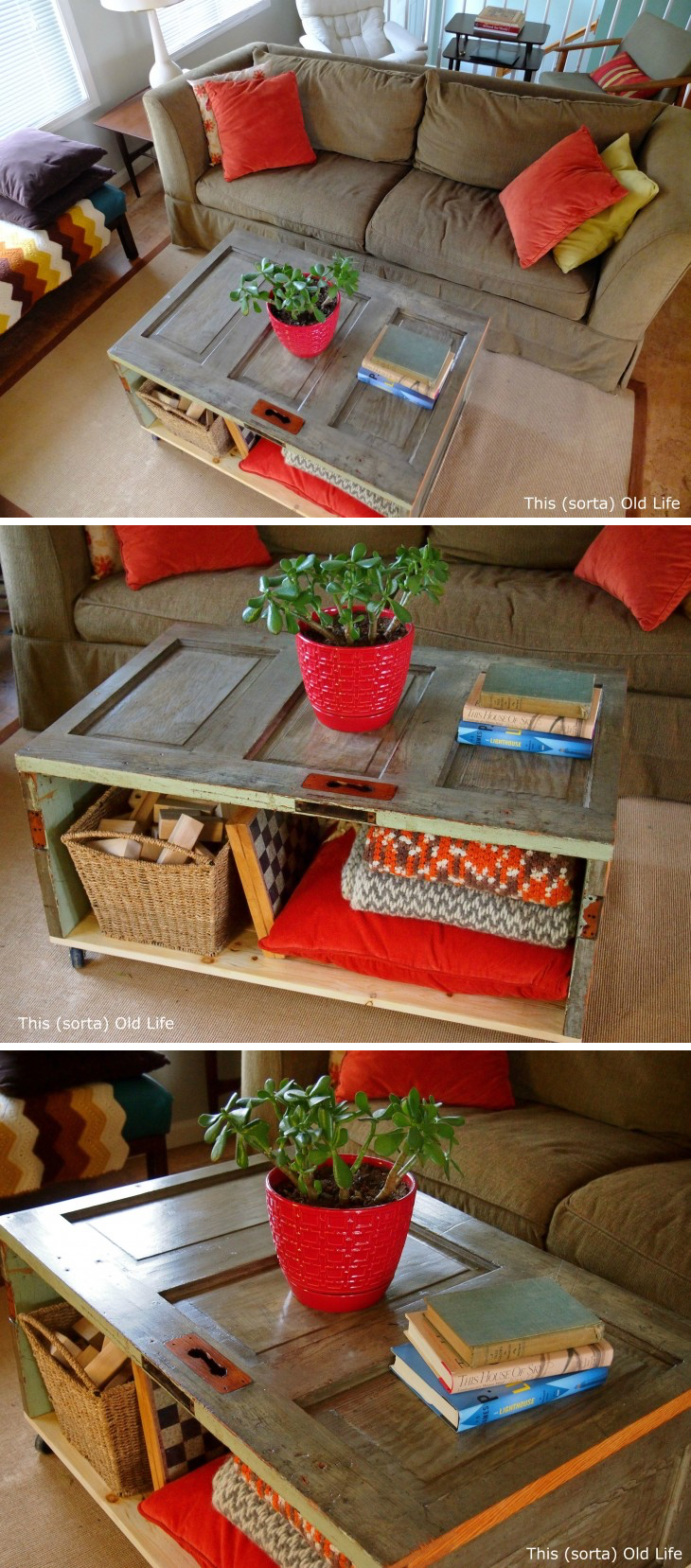 6. Potting Bench
You can make this from an old door, half a table and the metal part of a rack.
It makes a nice accent in the corner of our yard between two flower beds.​
7. Old French Door Repurposed as DIY Coat Rack
This old door photo frame and coat hanger is just the ideal project for a hallway.
8. Sliding Pantry Door
Add the fixer-upper touch to your home with inspiration from these farmhouse-style repurposed and upcycled DIY old door project!
9. Classical Panel Framed Full-Length Mirror
10. Vintage Door Bench
Make some more seats out of old solid wooden doors!
11. Make a Coffee Table From an Old Door
Amazing transformation!
Turn an old door into a shabby-chic coffee table!
Add serious rustic or farmhouse decor to your home with his DIY.​
12. Old Door, New Bench
Old Door, New Bench – See how an old wood door transforms into a gorgeous, rustic bench!
13. Old French Door Repurposed as DIY Coat Rack
Great DIY project for repurposing an old French door as a coat rack.
14. Upcycled Vintage Door Beverage Bar Station
Build your own upcycled vintage door beverage bar. It could also be used as a potting station.
Check the tutorial below:
15. Old Door Repurposed as a Desk and Shelf
Use Salvaged Door -Then Attach half a table to it -And Add corbels & planks to create shelves !! Genius!​
16. Door Repurposed into Entryway Essentials Organizer
An antique door made into a hall tree with handmade shelf and shutter shelf table.​
17. DIY Door Chalkboard Calendar
A great chalkboard calendar made from an old door. Such a simple project that can help you keep your whole family organized.
This would look great in an office, entryway, kitchen, command center, & more!​
18. Old Door Turned Into Hanging Outside Table
Suspend an oversized door from a tree using a sturdy rope to create a picture-perfect outdoor picnic table.
19. Upcycled Beverage Station
Got an old door lying around?
This upcycled beverage station is the hottest idea of the summer!​
Check the tutorial below: