Update your place with a lot of new fall décor elements and accessories. The transition into fall gives you the perfect excuse to change your usual decoration.
1. Macrame Hanging Pumpkin
Hang your pumpkins from the ceiling in big, thick macrame knots.
Hanging baskets, check, hanging pumpkins, ah. You can get every color under the sun thrown at pumpkins nowadays. They can become a bit of a fashion accessory if you ask me. How beautiful are these? There are far worse supposedly called artworks in the world. Nature paints too and the most beautiful so than anyone else on the planet. No human can quite hit the spot as well as nature can. Look at these things. Earth is giving us the most wonderful of its creation. Hang it up, make your space invaded with real food artwork, that can be changed seasonally. Then, it's them!
2. Fall Bouquet
Create a beautiful fall bouquet with grocery store flowers.
Pick up some bunches of eucalyptus and pepper berry and put them together in a glass vase.
Beauty has never come so easy and is everywhere around you, as long as you keep your eyes opened. Openmindingness is important when it comes to arranging flowers together. This is thinking outside the box and in keeping with seasons too. Beauty is all around us, we need to simply open up to it. And this is possibly one of the best examples teaching us all that simplicity can be, and is terrific and often our best option.
3. Simple Kitchen Fall Decor Idea
We love spring for the start of everything, giving birth to billions of leaves in all shapes and sizes, and colors throughout our globe. Trees are there to support all living organisms to live. Without them, we are in trouble! But when falls come, a dramatic change occurs, like in us humans. Everything ages and everything eventually passes on, but when it comes to fallen tree elements, all of these can be showcased and put on display as the last hoorah so to speak; respecting what nature gave birth to a few months back. Embrace nature, it will embrace you a million times more.
4. Easy Fall Centerpiece
Simple centerpiece created with dahlias, eucalyptus, wildflowers, and foraged branches.
Dahlias are the shining stars of fall – pair them with some greenery, and you're set!
Nothing is better than seasonal flowers made into a beautiful flower display showcasing the seasons' beauty. And there is nothing better than to show the world the very same principle on the dinner table, perfect when hosting a lunch and not fully knowing what to include on top as your centerpiece. These are deep in color making everyone feel a sense of warmth and togetherness. The power of flowers is unlimited and to an extent can really contribute to the entire dining experience bringing everyone together.
5. Kitchen Table Fall Decor
An absolute dramatic entrance in both style and color. Especially s against a rather normal shall we say environment containing only but white. It is offset like nothing else giving you the much-needed botanical elements in your home and this instance, within your kitchen. The maple branch looks epic in this kitchen, adding simple beauty to the room fresh from the yard.
6. Simple Fall Decor with Pumpkins and Leaves
Pure and simple nature is used for decorating the inside with a little of the outside.
Here is the perfect example of how to best respect nature. When an animal as an example goes after its prey, it is not to simply hunt for fun it serves a purpose. To feed the herd, the family, and friends. Well, with this very same principle, fallen leaves have the same thinking behind them. Everything has a purpose and is to be repurposed. Leaves naturally aging and changing in color is another process of life, part of that magical cycle. See things differently and you will fall in love with nature moreover. Beauty lies within us all and within everything, nature puts on Earth.
7. Autumn Banner
Autumn banner with a burst of sage-green eucalyptus and a nubby pumpkin.
All of which add the perfect amount of holiday season into your home. The banner can have whatever super positive thing you wish to write on, reminding the family how special the seasons really are and what it means. Subtle elements really do make extraordinary changes to a room, a room for that matter, and are perfectly embracing whatever the new season throws at it. Beautiful art in your beautiful home. Get the kids creative in the same process decorating the other rooms.
8. Happy Fall Pumpkin Decor
Pumpkin lettering will help bring a welcoming touch to your place.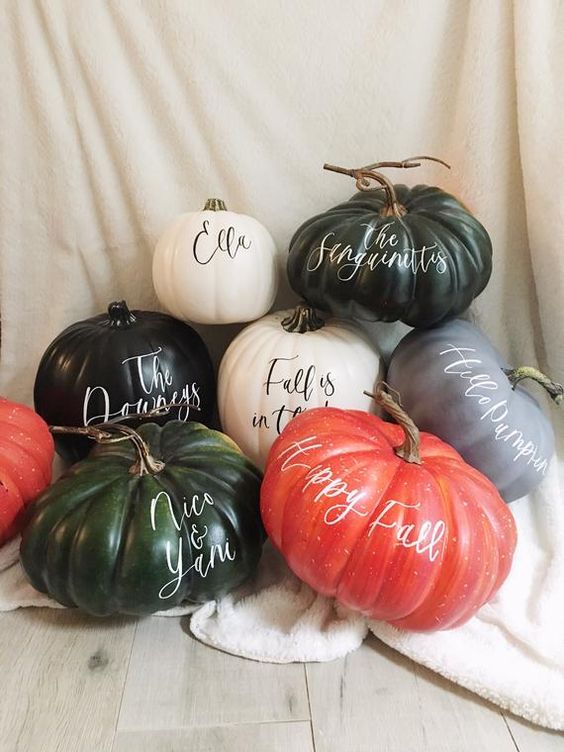 Nothing better than for you and your guests to be reminded of the special season but to also feel welcomed once in another's home. Make your guests feel an instant sense of belonging with this simple touch, one that can be done in no time. A lovely tabletop idea to include the phrases, count your blessings, give thanks, and of course, happy fall. Add other fallen foliage from the trees, adding further notes of autumn.
9. Mini Fall Bouquets
Put a few mini vases of flowers together to make a festive display on your dining room table.
Make it even easier and pick dried flowers that will last all season long.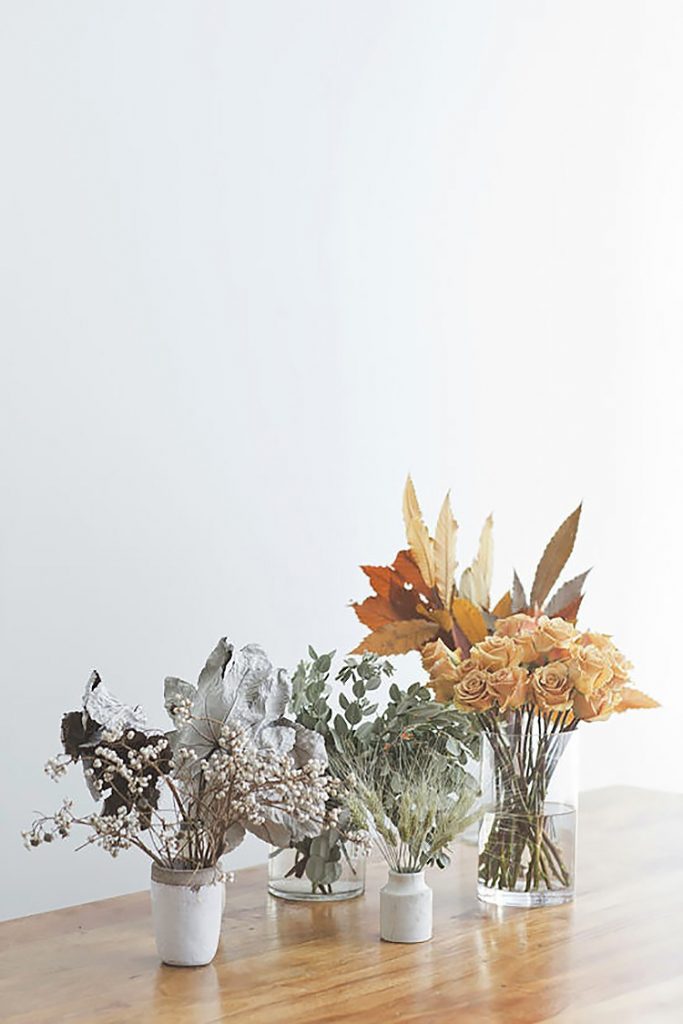 Not only are these super beautiful, but also are brilliant as they can go from area to area forever changing their destination throughout your home. We don't always need a massive and somewhat incredibly impersonal big flower bouquet arrangement. What we all need though, is a little thinking process in small doses, but time after time! All the time! These are terrific to give identity to your home and to the season, but also will look great as a centerpiece or anywhere that the world can see.
10. Fall Decoration with Orange Berry Branches
Chic simple fall decor with dried branches in stylish colorful glass bottles.
It just takes a few branches of fall berries to make a fall statement! I love how light and airy this simple autumn arrangement is.
I love how light and airy this simple autumn arrangement is. Beauty lies within everything nature throws at it. It is all around us. Respecting nature is using what nature brings us without harming it. Fallen leaves, twigs, and others are all beautiful and all once had a purpose. And to re-use that purpose to the optimum, well, there is nothing greater in the world than that. And, it is free! Nature said hey, take this. It's from me to you.
What is your favorite fall decoration idea?