Give your guests the first impression of your home design and decor with an entry table. Get inspired by these stunning entry table décor ideas.
Entry Table Decor Ideas That Make a Great First Impression
Monochromatic, simple, and modern-looking entry table. A clean look to help you relax as you come home. The minimalist Scandinavian console table really does transform the space to include the very organic-looking large wall mirror bouncing off all the light available within the space. This works especially well in smaller hallways giving you a sense of space in the tightest of areas. This is the North Avenue Collection by The Brick and is by far one of the top favorites to-go to place. Simple, clean, and efficient; think black and white which equals cozy.
Add a console table to create an entryway and drop zone. Make an entryway even if you don't have a true hallway. The McGee interior designers are very smart when combining style with openness and brightness, mainly focusing on neutral colors to not take space away, but giving you the impression of a greater room. No matter the room. Space not only looks great, but it has plenty of hidden compartments such as the boxes on top of the console to conceal your wallet, keys, and your everyday accessories; away from sight. Adding vases, plants or flowers does make all the difference welcoming you warmly profiting from the space. 
Add a touch of greenery to your space by incorporating a potted plant into your entry table décor. I reckon plants should be in every room throughout your home. And your entry is one of them and should not just be left to your belongings cluttering the space. It is possibly the most important room around your house because, even to yourself as the homeowner, it invites you repeatedly time after time, and wishes you a good day in simplicity. Plants add, anywhere, a sense of life and belonging. They are naturally organic and make you feel instantly in great humor having peace of mind. You even get a place to sit to take your shoes off, have your own "key bowl" and enough organization for everything you require to step in and out of the house.
Minimalistic entry table décor with large rounded mirror. Now, this is a clever idea, to orientate the ceiling-mounted light just perfectly center when looking dead in the center of the mirror. This is perfect symmetry instantly making you at peace. You would not want even a tenth of an inch off-center! Clean, smart and does exactly what it is supposed to. To increase both space and the brightness of the entryway keeping things neat with as little fuss and unnecessary clutter. We'd like to call this the Feng Shui of Scandinavian design!
Chic simplicity entryway table decor. This is totally an 80's relic creating a modern yet approachable home. If you take it too far, your comfort is exchanged with a gallery-looking showhome that doesn't exactly inspire the all-important word, home. The architectural touches are fabulous focusing on straight harsh lines that somehow blends in with such purity it's untrue. This is, to me, one of the only ways to really showcase your personality as soon as someone enters your home giving away a little bit about you in an instant. A beautiful approach to style and functionality in a space often left to its own accord. 
Soft-hued entryway table. The big impact often comes from items we often overlook but which is simultaneously giving us a lot to think about. Without knowing exactly what attracted our minds in the palace. Life is as complicated as one makes it, and this example gets rid of every life complication in a simple ABC tutorial. All you need is a coastal baby blue Scandinavian-style table, a plant in a clear vase, a table lamp, and your favorite literature. That's it. Simple and effective.
Minimalist entryway table idea. This idea has minimalist industrialism written all over it. An almost new design idea too! Its clean lines give plenty of space for the positive energy to flow within the space, including wooden and natural furniture softening all the harsh metal elements combining style and comfort. Add a couple of candles as the welcome you have been longing for all day, wanting to relax before the cooking duties demands! Designing this space is harder than it looks because, on this occasion, less is more. Perfect for smaller apartments.
Minimalist entryway table. The word itself can sometimes be off-putting for some, but minimalism does really help with staying free from too many accessories being crammed into a tiny space, defeating the objective of making you feel relaxed and zen. We are surrounded by clutter and frankly, by things we don't need. Simply, clever marketing dictating us and how we spend our money. We say no more! Stay as minimalist as possible to leave a clutter-free life, simplifying it. Everything starts with your hallway. 
Scandinavian chic ethnic style entryway table. The Scandi Boho style mixes in the perfect amount of clutter-free and elegant minimalist hallways with refurbished, natural wooden elements and plants. The two really go perfectly hand in hand intertwined like they were meant to meet and cross over in style. This is a relatively new trend keeping in a minimalist and clean approach, including botanical and organic touches in total comfort.
Modern entry with mid-century style table in a blue lacquer finish, scalloped edged round mirror, white walls. This is possibly one of the coolest ideas we have ever seen regarding style, daring to be different without shooting it in your face so to speak. It has still got intimacy and decency, but you gotta love the 50's style blue drawer sets. This is a totally incredible statement whether you feel it corresponds to your liking or not is overly relevant. What is relevant, is that you will not forget this anytime soon. And I believe this is the whole idea. It is a memorable space that simply is incredible. It's bold and beautiful. 
Neutral, boho-chic entryway. Boho Chic home decor combines items that are relaxed, bold, and somewhat unusual. The look can be achieved by involving eclectic elements of natural pieces and with many variations of color. The look can be pulled off to also look rather elegant embracing patterns and warm colors. They can all be tempered down with rich backgrounds such as browns or charcoal. You will create a space that has zero pretentiousness, simply a space that works well for you looking great and welcoming. 
Stylish entryway table idea. Not all of us, but many of us inherited pieces of furniture along the way from various sources. And some furniture that holds a lot of happy memories too. But to blend them into our everyday, contemporary homes with a minimalist touch can be tricky indeed. This clearly details out that it can be done! And the old furniture can have a place in your home still looking great with a sense of belonging. For best results, surround it with plenty of natural colors and soft furnishings, to natural elements such as a wooden chair, a rug, and plants.
Entryway with homemade console table and bench made from reclaimed materials. There has been a big tendency for a few years now for reclaimed wood table tops made from very dried-up wood from a single piece of the tree. Beautiful and frankly nonrepeatable. The pieces also are individually unique that will stand out and put a stamp of singularity beautiful to your entryway. Do the same for the bench where you would sit to put on or take your shoes off. The industrial look accentuates the wood, adding texture and further finishing style touches to the overall space. A simple yet stunning example of purity in design. 
Entryway with large painted canvases, monochrome runner, and the bright yellow legs of the console table. This is eclectic without being a too over-the-top stunning minimalist while including unconventional touches to the basics of furniture. The yellow feet of the console have Andy Warhol written all over it, taking something rather simple into a state of art. The oversized painting above it is bold and expresses much of your character. From the monochrome rug to the door frames and windows, this hallway is a statement of, "I cannot wait to see the rest of the home". A brilliant and clever way to use a simple design, to turn it into an extravagant Scandinavian madness if you wish, forever remembered.
Entryway vignette with a vintage mirror. All of which creates an eclectic and classic space balancing elements from a variety of interior styling. A great design ought to be cleverly elevated by combining classic forms, varied textures, and well-developed color palettes. This creates a chic design, but without creating a stale space that does nothing for you. This particular style blends in boho chic, with industrialism and late 18th-century style elements such as the mirror. A different way to mix and match many items together from totally different eras, into one. One of today.
Entryway with wooden console table. Your personality here can be found easily, with many different accessory pieces such as the old school radio, a 1950's console lamp, an oversized mirror reflecting a much light as possible creating space in a smaller sized home, a candle to soften things up, and of course, a lovely rug to let the dirt stay there keeping your home nice and clean in the process. Everything has its purpose! 
Entryway console table and colorful print. The Africanesque styling here is tremendous and just does enough to make anyone think you love your traveling and picked up a few ideas while visiting and trekking Africa. Their colors are simply terrific and some of the most beautifully artistic ones too instantly make you and anyone happy. And that is regardless of whether they appreciate the art or not. It is an instance that happens in one small hallway. Color affects your mood, and this example certainly knows how to send you off to work in therapeutic good humor. A space that works both your inner and outer personality.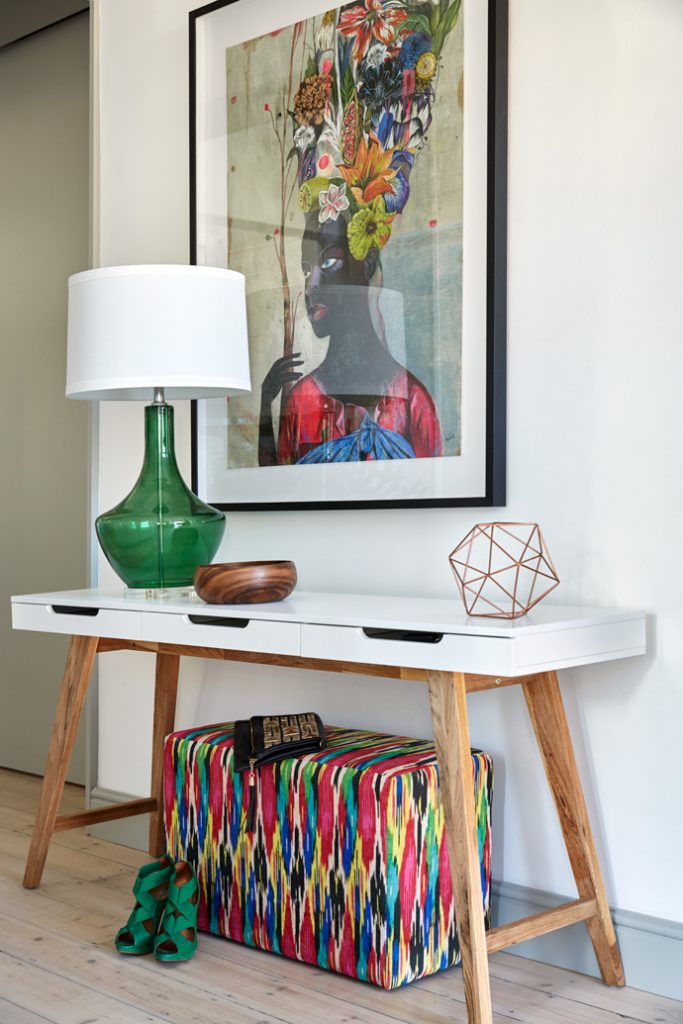 Entrance hallway with super slim console table. Hallways are notoriously known for their vast spaces especially if you live in a small apartment or terraced house. Therefore the trick is to be smart and not defeated by space itself. There are beautifully engineered table consoles made for such spaces that not only will give you a great architectural design but also enough space to put your everyday belongings such as your home and car keys, wallets, sunglasses, and the rest. For smaller spaces, using monochrome colors is super beneficial as it enhances the appearance of space making your home feel bigger than it actually is. Have you been in a large home that felt smaller? Same principle. Be smart with your space. Include what you need. 
Entryway console table and rounded mirror. A world where everything is mirrored to mainly admire ourselves in them 50 times a day is a thing seen and seen again. How about having a little fun and opting for a concave mirror giving you a sense of exaggeration making everything look bigger and over altered? They look fabulous on walls in possibly every room in the house and are the sort of thing that really stands out from the norm making this a super cool accessory for fun sake. A lovely touch that brings in something fresh and new, alongside the traditional yet very functional console table and golden vases. Adding plants on the sides will accentuate the amount of botanical you have indoors, bringing a little of the outdoors, especially if you're a city center person.