If your home has a wooden staircase, you may be wondering how to renovate it to make it look new again. Whether you're wanting to update the style of your staircase or simply want to refresh its appearance, there are several things you can do to achieve this. Keep reading for some helpful tips on how to renovate a wooden staircase!
Remove any old paint or varnish 
If you are looking to give your staircase a fresh new look, removing any old paint or varnish is an important part of the process. The best way to accomplish this is to use a stripping agent made specifically for wood. This will carefully remove stubborn stains and provide you with the cleanest surface possible, allowing your staircase to shine again with that brand-new appeal. Whether you're just touching up certain areas or giving the entire staircase a facelift, using wood-specific products makes all the difference in achieving ideal results.
Sand the wood down to create a smooth surface
When the staircase in your home is looking worn and aged, you need to take steps to revive it. One of the simplest ways to restore its original beauty is to sand it down and create a smooth surface. If the wood is in good condition, all that is needed is elbow grease and some sandpaper. The process may be time-consuming – and dusty – but it will be worth the effort if you have a staircase that shines like new. Keep in mind that you should always check with an expert about any concerns before starting the project, so you can ensure the staircase remains safe for years to come.
Buy new parts if needed
Now that you have the surface of your staircase looking great, it's time to replace any broken or worn parts. You may find that the railing is wobbly and you need a new post, or maybe the balusters are outdated and need to be replaced. Either way, it's important to invest in quality pieces when replacing any part of your wood staircase. Luckily, if you take a look at https://cheapstairparts.com/wood-stair-parts/ you'll see that you can find the perfect parts to fit your preferences and budget. Just make sure you measure everything correctly and find the right fit for your space
Apply a new coat of paint or varnish
Refreshing a wooden staircase with a new coat of paint or varnish can be a challenging yet rewarding task. It is important to choose good quality products and tools – such as a brush or roller specifically designed for use on stairs – to obtain favorable results and prevent future damage. Rollers are typically used for larger sized projects, while brushes give a greater level of control which allows for precise application, especially in hard-to-reach spaces. Furthermore, it is important to mention that you should use a separate brush or roller for each color, as cross-contamination can occur and ruin your project.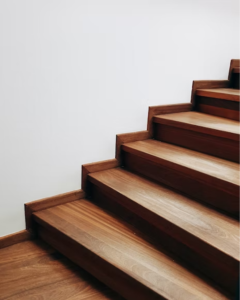 Put all the pieces back together
After all of the above steps have been completed, it's time to put everything back together! Make sure that all hardware is correctly attached and secure so that your staircase remains stable and safe for use. It should now be ready to admire in all its glory – with a fresh look that will make your home feel brand new! 
Add some decorative touches
When you're looking to spruce up an old wooden staircase, one of the most noteworthy options is to add some decorative touches. Installing a new handrail, for example, can bring a sleek new look to the area and give your wooden staircase a much-needed facelift. Alternatively, adding some stained glass panels to the risers of your wooden staircase can bring a bright and vibrant flair that is sure to be noticed. Whichever option you choose, adding decorative touches to an existing wooden staircase will offer a major transformation in both style and design.
Revitalizing an old wooden staircase can be a rewarding and advantageous task. From sanding down the wood to create a smooth surface to replacing any broken or worn parts, taking these steps will make sure that your staircase shines like new. Applying a coat of paint or varnish with the right brush or roller can add the perfect finishing touches, and some decorative elements can turn a standard wooden staircase into a truly beautiful one. So if you're looking to spruce up your home with an updated staircase, follow these steps and get the job done! We hope this article was helpful.