Slipping on smooth surfaces may be both humiliating and dangerous, posing a risk of harm. Whether you work in a busy restaurant or a crowded hospital or simply want to increase the safety of your ordinary shoes, making your shoes non-slip is essential. 
Fortunately, there are numerous simple and effective methods for doing this, and we will look at seven tried-and-true methods for making your shoes non-slip in this piece. 
Prepare to walk confidently and safely on any surface, knowing you've taken proactive steps to prevent slips and falls using DIY remedies and specific equipment. 
Learn how these tactics can assist you in gaining traction and prioritizing safety without compromising style or comfort.
Assessing the Shoe's Traction Needs
Every day, injuries occur as a result of someone taking a tumble. It's debatable whether those tumbles were caused by inattention and looking at our phones.
However, many of those falls are caused by poor footwear and a lack of non-slip shoes. While we'd want to believe that our favorite pair of five-year-old shoes aren't to blame, they very well may be. 
7 Methods To Make Shoes Non-Slip 
Method 1: Using Traction Pads
The repeated walking (and maybe dancing) we put on our favorite shoes eventually wears off the original sole's grip. You're slipping and sliding all over the place, unable to get a firm footing.
If you can't face the thought of throwing away a specific pair of shoes, consider adding an anti-skid cushion. These self-adhesive (mainly rubber) patches cling to the bottom of your shoe and prevent slippage on wet, sticky, or slippery surfaces. 
If you find yourself skidding around (or perhaps falling into the ground) while wearing your favorite heels to a friend's wedding, consider covering the base of your heel with heel caps. No grass, gravel or subway grate will get the better of you this way.
Method 2: Applying Non-Slip Sprays Or Paints
Spray pads and spray-on coatings are other excellent solutions for making shoes non-slip. Spraying the shoe's insole or sole might assist you gain footing for a short period of time. 
Spray pads may be the best option if you want something that can be readily reapplied. You can use them as often as you need to.
Hairspray works well to keep your shoes from slipping. All you have to do is spray the soles of your shoes with hairspray before wearing them on a slick surface.
It's also vital to remember to let the hairspray dry before donning your shoes to work. However, the spray is not a permanent remedy, but it does serve a purpose.
Method 3: Creating Traction With Sandpaper
You can make a more durable surface by abrading the soles of your shoes using sandpaper. It will have a stronger grip on slippery areas such as wet restaurant floors and snowy streets. So, if you're wondering how to make shoes non-slip on damp surfaces, give this a shot.
This is an excellent option if you don't have an abrasive concrete surface to scuff them against. This approach is for you if you have greater access to sandpaper at home.
Method 4: Utilizing Traction Puff Paint
Art and craft products, such as puff paint, can help enhance the grip of slippery shoe bottoms. Although it was designed to increase grip in children's projects, it can also be a suitable alternative for making shoes non-slip.
To make your shoes non-slip, apply a coat of puff paint and allow it to dry. When the paint is applied thinly, the texture will show through after it has cured and is ready to wear. You may expect your non-slip shoes to stay longer if you use puff paint instead of hairspray.
Method 5: Adding Grip With Hot Glue
You can make your new or old slippery smooth shoes non-slip. This hot glue technique is worth attempting if you don't have a texture spray gun. All you have to do is use a glue gun to create textured patterns, simple dots, or varied lines.
Glue also dries clear, so there's no smearing or leaving a stain on your shoes. Simply use a hot glue gun to get uniform, firm adherence that will stay longer than puff paints.
Allow the glue to cure completely before wearing your shoes to guarantee even adherence and a solid connection. But don't wait until the ground is entirely dry; you'll be left with rock-solid shoes. Simply walk on a level surface, such as a sidewalk or a parking lot, to assist it in the setting. If you do this now, the glue will hold better in the long term.
Method 6: Using Epoxy Resin Or Silicone
When making shoes non-slip, epoxy resin and silicone each have distinct benefits. Epoxy resin is well-known for its long-lasting toughness and water resistance, making it a great choice for long-term grip augmentation. 
On the other hand, Silicone is acclaimed for its excellent adherence, which ensures a firm link with diverse shoe materials. Both materials give dependable non-slip surfaces, inspiring confidence with each stride on slick terrain.
Proper shoe preparation is required before applying epoxy resin or silicone for best adherence and efficacy. 
First, thoroughly clean the shoe's sole to eliminate any dirt or impurities that may interfere with the bonding process. Having a smooth and level surface will make it easier to apply the selected material smoothly. Adequate preparation sets the foundation for a successful non-slip treatment that greatly improves the traction and grip of your shoe.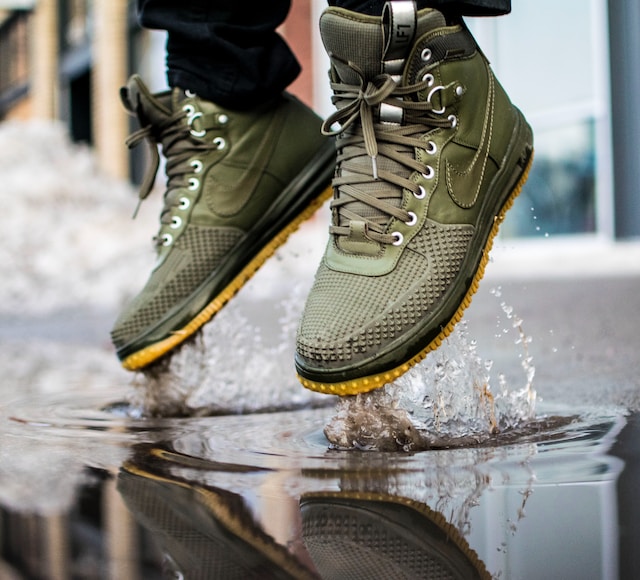 Method 7: Modifying Shoes With Rubber Bands Or Socks
This might be an efficient method of retaining your shoe on your foot in rainy conditions. Some individuals additionally value this device for its use when shopping at the mall while wearing cleats.
Grip pads exist in a variety of sizes and forms. However, most are universal in size. Small, spherical pads are appropriate for indoor use, whereas bigger pads are preferable for outdoor activities.
These high-traction goods come in various flavours based on the main component. "Non-slip" is one of the most prominent product names. 
They are non-toxic because they are made of compounds that do not dissolve in water. If you're having trouble walking on damp areas because your shoes are slipping, give these sprays a shot. Fortunately, there is no need to remove the sole of your shoe because you can simply spray it on the top and right onto the sole. 
Maintaining And Reapplying Traction Enhancements
Regular maintenance helps maintain the materials' efficiency and assures continuing safety and stability. 

Wipe out any dirt, debris, or residue that has accumulated on the bottoms of your shoes to keep them clean. 

This prevents impurities from accumulating and compromising the grip. In addition, evaluate the traction enhancers regularly for signs of wear or damage. 

It's time to reapply if you see any places that have worn out or lost their efficacy.
Also read: Keeping Furniture In Place: Tips To Stop Sliding And Improve Stability
Conclusion
Proactively refreshing the non-slip surface with epoxy resin or silicone can ensure your shoes retain their outstanding grip over time.
With these easy yet crucial maintenance practices, you may walk confidently on any surface, knowing that your shoes will give the necessary stability and traction. Stay safe, secure, and enjoy the peace of mind that comes with wearing dependable non-slip shoes.