Commercial property owners and managers in Milwaukee need to take important steps in the fall to prepare their businesses and parking lots for efficient and safe snow removal during winter. Failing to prepare adequately can result in disruptions for customers and staff, damage to property, fines, and legal issues.
As a business owner, ensuring your commercial parking lots and sidewalks are cleared of snow and ice should be a top priority. Hiring a professional commercial snow removal Milwaukee contractor is critical to keeping your business running smoothly during the winter months. However, there are also essential preparations companies need to handle ahead of the first snowfall. Creating a comprehensive snow removal plan, finding a reputable contractor, preparing the property by installing weather-resistant signs and checking equipment, and notifying tenants of procedures are all essential pre-season steps.
The run-up to the winter snow removal season is different from the time to be scrambling for solutions. Businesses need to start planning commercial snow removal as early as October to guarantee they are fully ready for snowstorms. With the proper preparation and servicing, business owners can feel confident their customers and employees have safe access and mobility all winter long regardless of what extreme weather may come their way.
Create a Comprehensive Snow Removal Plan
A comprehensive snow removal plan is essential for ensuring efficient and effective parking lot snow removal and clearing of critical access points around your business. Start by designating areas like main entrances and exits, ADA-compliant ramps and spots, emergency exits, loading zones, and primary walkways as top priorities. These high-traffic areas should be the focus during heavy snowfall.
Determine how often staff will monitor snow conditions and when contractors should be called in for plowing and shoveling based on expected accumulation. For example, 2 to 3 inches of snow may require clearing priority spots only, while 6 inches or more warrants clearing the entire parking lot and all sidewalks. Assign specific staff members to oversee snow-clearing responsibilities and create a communication plan for notifying contractors when on-site assistance is needed.
Create a written schedule dictating at what times contractors should arrive to handle snow removal based on different snowfall amounts. The schedule helps avoid confusion and ensures prompt clearing. Meet with contractors before the snow season to review priorities, the schedule, and the staffing plan. They should understand when and how they will liaise with employees to efficiently coordinate and carry out snow removal.
Review the comprehensive snow removal plan with business owners, staff, tenants, and all contractors and subcontractors involved. Conduct a dry run meeting on-site if possible. Discuss any restrictions on clearing certain parking spots during business hours when lots fill up and address any other questions or issues. With a detailed plan in place before the first flurries fly, you can feel confident your business continuity plan is ready to be activated as needed to handle winter weather and keep customers and employees safe.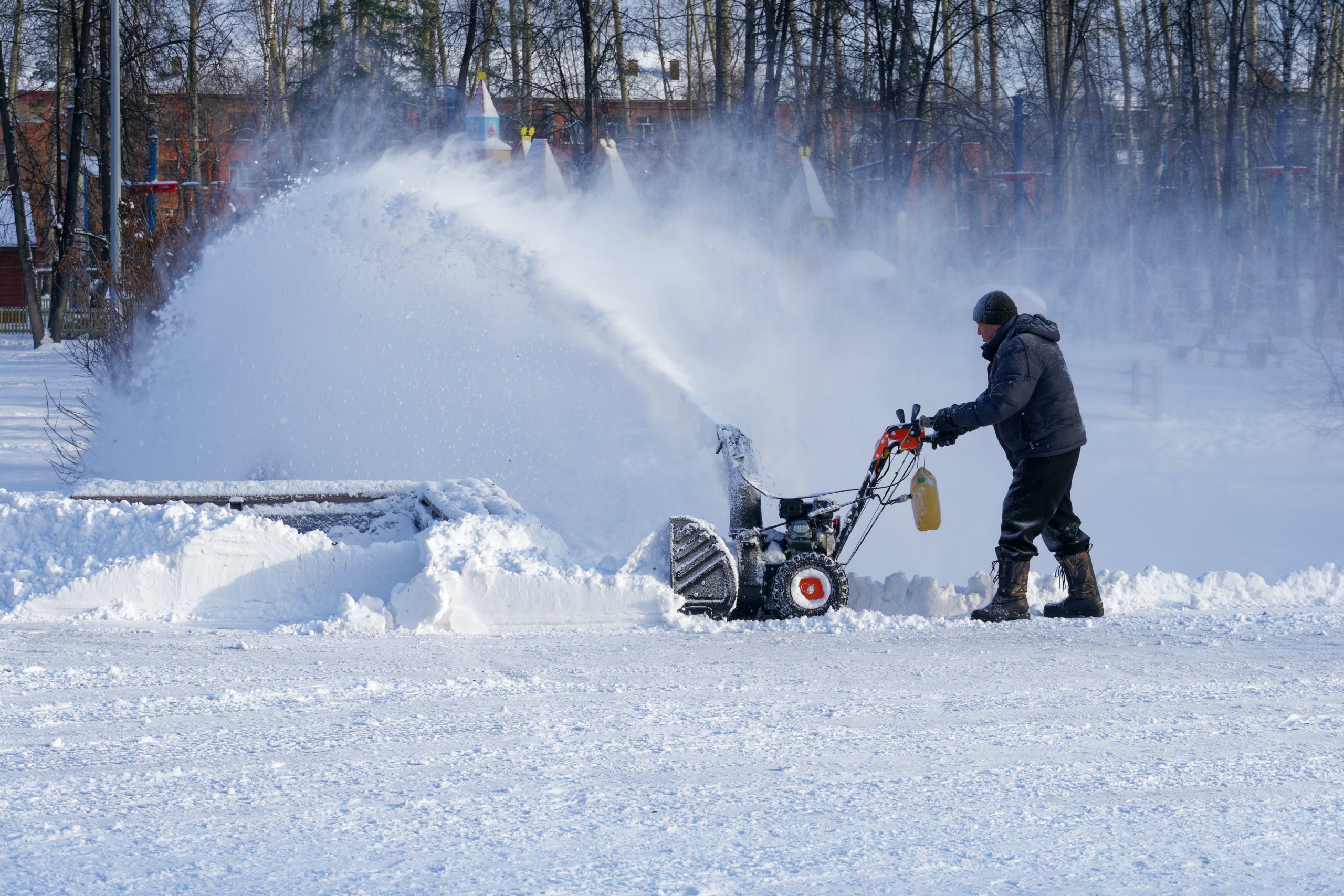 Find a Reliable Snow Removal Contractor in Advance
Finding an experienced and reputable commercial snow removal contractor should be a top priority in preparing for the winter season. Start researching contractors in your area, checking online reviews, and getting at least three competitive commercial snow removal prices estimate based on the size of your parking lots and sidewalks. Look for companies that specialize in commercial snow removal for businesses, with at least 5-10 years of experience and proper liability insurance and worker's compensation coverage.
Meet with contractors in person to discuss your snow removal needs and priorities and evaluate whether they have the necessary equipment, staffing, and resources to service your property throughout the entire winter. Explain your snow removal plan in detail and ensure they understand all requirements, especially timing and safety procedures before starting work. Ask if they perform background checks on all staff that will be on your property.
Some contractors offer bundled year-round grounds maintenance with snow removal services at a lower package price. If you have an ongoing landscaping contract, check if snow removal can be added on. This helps establish a long-term partnership and can provide greater efficiency with contractors already familiar with your property's needs.
Once you identify contractors that meet your criteria, discuss commercial snow removal prices in the context of your overall plan. While pricing is important, a reputable contractor with strong service standards and references are more valuable for ensuring consistently clear, safe access for customers and employees all season. Signing a multi-year contract with the selected contractor also locks in pricing and provides stability from year to year.
With a trusted and dedicated commercial snow removal contractor secured in advance, businesses can have confidence that their parking lots and walkways will be properly serviced when winter weather strikes. Advanced planning helps avoid emergency situations and provides protection against service disruptions even during the harshest storms.
Prepare the Property
Prepare your business property before the snow season to minimize hazards and ensure safe access during snow-clearing operations. Install highly visible weather-resistant signage at entrances to direct vehicular and pedestrian traffic, as well as close off any areas that will be inaccessible. Clear all gutters, drains, and downspouts to allow for proper drainage once snow begins to melt.
Check that all outdoor lighting, especially over walkways and stairwells, is functioning properly before snow accumulates to avoid dark, slippery areas.  Security cameras should also be tested to guarantee clear views of the property before snow obscures lenses and as plows may shift camera angles.
Notify all tenants, employees, and customers of your snow removal schedule, parking restrictions, and any other important information regarding winter protocols of the property. Stock up on necessary supplies such as bags of rock salt, floor mats, ice melt, shovels, and sand or kitty litter to distribute as needed, especially on steps and walkways.
Preparing the building systems, access points, and grounds in fall helps minimize the impact of heavy snow and icy conditions. With proper signage, open drains, operational equipment, advance notice given, and supplies on hand, businesses have greater control and safer operations when the snow starts falling. These relatively simple measures translate into fewer hazards, disruptions, and legal issues during winter weather.
Commercial property owners must prepare for efficient snow removal in Green Bay. Develop a plan, hire experienced contractors for snow removal Green Bay relies on, and prepare the property. Advance planning prevents disruptions, damage, and legal issues.
Assess previous efforts and improve planning to streamline operations and cut costs. Ensure safety and accessibility are top priorities. Now is the time to start securing snow removal for the winter ahead.
Strategic management and partnerships enable businesses to withstand extreme weather. Preparation is key. Once a plan is established and a contractor secured, install signs, test systems, clear drains, and stock supplies.
Notify staff and customers of procedures. Finding the right contractor for snow removal Green Bay services trust is essential.  Preparation and advance planning translates into safe access and uninterrupted operations.
With planning and partnerships in place before the first snow, businesses can operate all winter. Advance preparation is vital to successful commercial snow removal. Be proactive – don't get caught off guard in Green Bay when the next storm hits.