Your living room is one of the most important spaces in your home. It's where you relax and unwind after a long day, it's where you entertain guests, and it's where you come to escape from the world. When decorating your living room, it's important to choose a style that reflects your personality and makes you feel comfortable. This blog post will discuss some tips on how to do just that!
Don't Overdo It 
The first thing about good design is not going overboard. The people at Minimalistic Interiors know how important it is to have a perfect living room, so you can relax and unwind. Keeping it simple might just be the right way to go.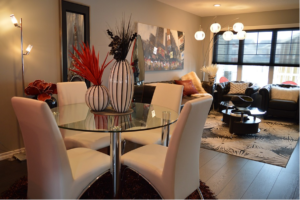 For example, too many decorative items can make the room appear cluttered and not very inviting. Instead, you can focus on a few pieces that reflect your style. Selecting one large statement piece such as an art print or a conversation-starting sculpture can be more effective than having several small items spread out around the space.
Get Unique Furniture Pieces
Find some great and unique furniture pieces to make your living room stand out! With so many different styles and colors, you can create a space that reflects your personal style. Look for pieces with interesting shapes and textures or furniture made with sustainable materials like bamboo or reclaimed wood. 
There are also vintage pieces that will give the room an eclectic vibe. If you prefer modern design, search for sleek lines and bold colors for statement-making furniture. Shopping online offers a great selection of unique items, but consider visiting thrift stores or flea markets to find some one-of-a-kind treasures as well. 
Mixing different types of furniture also adds visual interest to the room. Try getting a few traditional chairs and an unusual coffee table, or combine a contemporary sofa with antique side tables. Add some interesting accessories like floor pillows, a textured rug, or colorful wall hangings to complement your furniture pieces. 
Make It Practical 
You should try and make the most out of your living room space. Here are some tips to make it more practical:
Use multi-functional items: Utilize furniture with extra storage space or dual purposes. For instance, an ottoman can be used for seating and also store items.

Maximize the walls: Hang shelves and hooks to take advantage of vertical space. Use these spaces to store books, toys, photographs, plants, and more.

Rearrange the furniture: Rearranging the furniture can give the room a whole new look. Try making a conversation area, or use the space to create boundaries between activities. 

Add accessories: Adding artwork, rugs and other accents can personalize your living room and make it more inviting. 
Remember, making it practical doesn't mean making it boring. You can still make your living room stylish and reflect your own personal taste. Experiment with different color schemes, patterns, and textures to give the space a unique look that's all your own. 
Pick The Right Theme
Make sure to choose the best possible theme for you with the right color palettes in order to help you express your style and create the perfect design for your living room. Start by picking colors that reflect who you are and how you want people to feel when they are in the space. 
If you prefer a more classic look, opt for colors like beige or gray. If you're going for something modern and edgy, consider picking bold colors like red and blue. When picking your theme for the living room, pay attention to textures as well. Incorporate materials such as wood and metal that will help bring the space together visually. 
Add Personal Touches 
To truly make the room your own, you should consider adding some personal touches to it. Whether it's putting out pictures of your family and friends, showcasing a cool poster, or adding a few knick-knacks here and there, adding personal touches will give your space a unique feel. 
It will showcase your individual style and reflect your personality. It will also give the room a homey, cozy feel that no store-bought furniture or decorations can replicate. You can also add personalized artwork, such as paintings you've done yourself or framed photographs of places you've been to. 
Create A Relaxing Atmosphere
Since this room will be used for leisure time, it's smart to create a relaxing atmosphere. Start by selecting a color palette of soft and calming hues to create an environment that will be both visually pleasing and soothing. You can also add warm lighting such as floor lamps, table lamps, or wall sconces to set the mood. 
A relaxing feel will come through the decorations you choose. Consider choosing pieces that reflect natural elements such as wood, stone, or plants. You can also opt for furniture and accent pieces with smooth curves and textures to create a calming aesthetic. 
Use Wall Art
Make the room more lively and stylish using wall art. Wall art is a great way to add a personal touch to any living room and bring out the personality of the owner. It can be used in various ways, from using a single artwork for an accent or using many pieces to create an interesting gallery wall.
When using wall art as decoration, it is important to consider both size and placement within the room. You want the art piece to fit comfortably with the space you have available while still making a statement. Larger pieces are best placed against larger walls, while smaller pieces should be hung on more narrow walls.
Add Plants
Houseplants are known for instantly lifting the mood of any room, adding a little bit of calmness and freshness during hectic days. Adding these to your living room is one of the easiest ways to add a touch of style and uniqueness to the space. Not only do they look great, but adding plants has been proven to have health benefits too! 
They help purify the air by filtering out dust and other harmful particulates, as well as adding oxygen into the air for us humans to breathe in. Plus, there are so many different types of houseplants that you're sure to find something that fits with your home décor and personal style. 
A living room is a place for fun and relaxation, so making it your own is a must. Don't go overboard with the decoration, but do get some unique furniture pieces you feel like you'll need. Make it practical and set a soothing theme. You should also add some personal touches to feel homier and create a relaxing atmosphere all around. Finally, use some wall art and houseplants to liven up the place!