Farmhouse style is so cozy! It's perfect for families as it creates a wonderful atmosphere.
Here are 27 beautiful farmhouse living room ideas to decorate your home.
1. Modern Farmhouse TV Decor
Decorate the space above the TV with an old window and boxwood wreath.
We love our TV and never more so than in 2020 and the best part of 2021 during the pandemic and us staying home a lot more than we have ever done so in, ever. You have a beautiful TV, Netflix is one from someone else's account and we are ready to go. But then we start to get bothered by the TV's surroundings. And to really immerse oneself into a good series or movie, where the TV sits is a crucial part of the theatrical experience. The ladder adds the much-required warmth around the technologically advanced TV, to give it charm.
2. Rustic Wooden Coffee Table
Coffee tables can be the center of attraction in your living room. With this DIY coffee table, you will create a beautiful rustic decor.
Not only will it look great on your Social Media platforms, having a coffee and a homemade pancake or the perfect boiled egg with a runny center, but it will also complete home at no real big cost. You can play around with the nearby furniture to continue the flow of the organic, rustic look.  Undoubtedly, looks matter and scenic views at Kingdom valley Islamabad, which is an amazing place to live a luxurious life.
3. Rustic Mantel Decor
Farmhouse fresh spring mantel decor.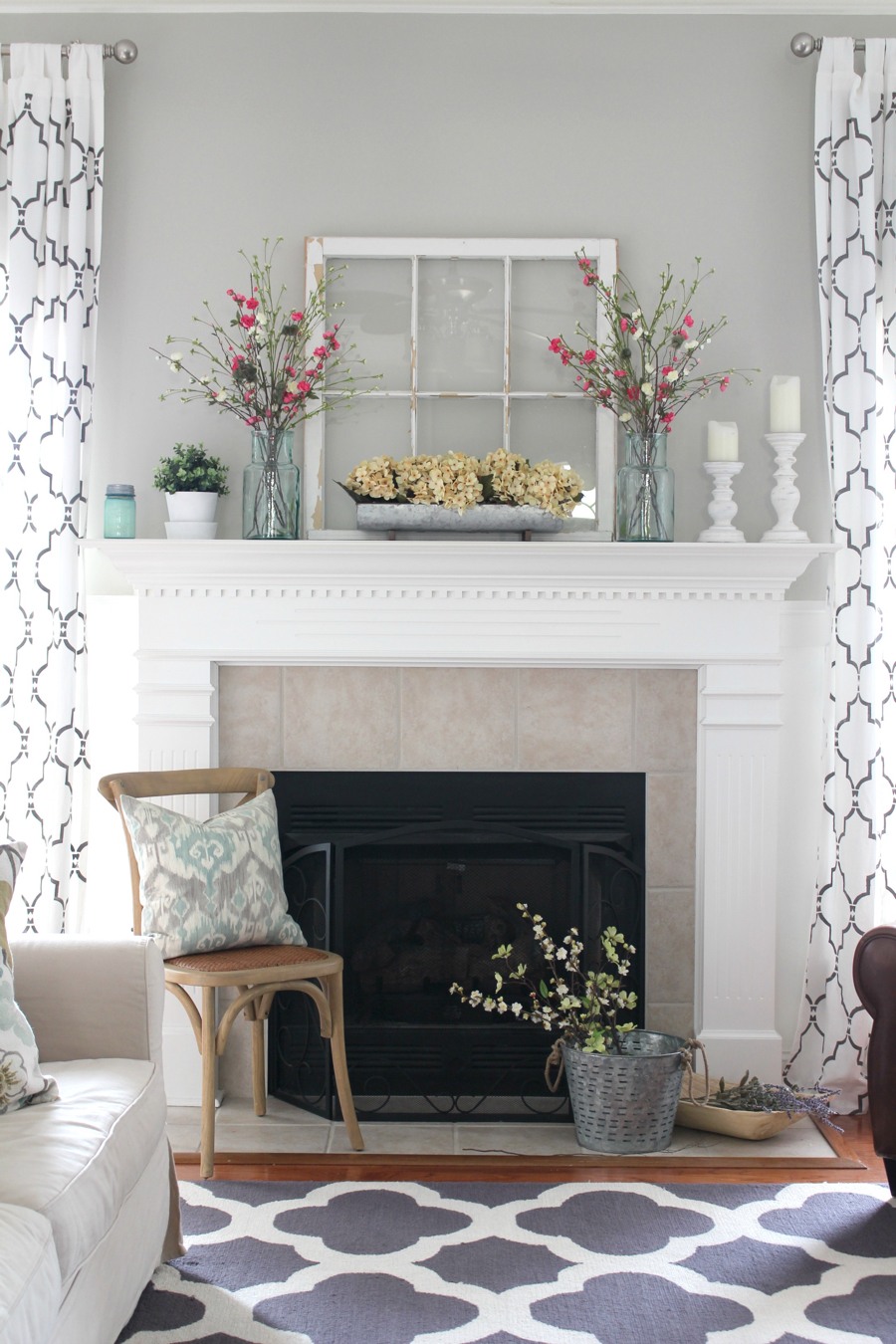 A lot of us love a great fireplace with its mantelpiece as it really does become the center of attention. Where it works or not, at an instant it adds warmth, personality, and character. But how to glamorize this and what to look after concerning the decor of the room? Well, pastel colors are great to illuminate the room keeping as much sunlight coming through as possible without making it look dull with perhaps warmer colors on the walls. Your furnishing is essential for the continuity of a Feng Shui style home with soft fabrics on the sofa, cushions, the rug, and various art throughout the living space. Don't forget a big bouquet of floors to bring harmony throughout the house, and some greenery all dotted around giving a little from the outdoor to the indoor. If you have an old fireplace that needs restoring, consider hiring a professional to ensure it is done correctly. Not only could a restored fireplace add value to your home, but it could also provide a charming focal point for your rustic mantel decor.
4. Cozy Pillow Corner
We know that pillows are fun and look great. We tend to buy a few here and there whereas, you ought to fill your sofas with them! It does give a lot of needed drama to the room, accentuating the comfort zones of the seating area. This is where your friends and family will discuss things from the week over a cup of coffee, tea, or wine during the evening in front of a good book or movie. Never underestimate what cushions can bring to the room. Get shopping and get creative for comfort's sake!
5. Milk Can Coffee Table
A wooden table with a painted milk jug base created the perfect centerpiece in your living room.
Wooden table with a painted milk jug base creating the perfect centerpiece in your living room. If you have been in luck and live in the countryside, you might have seen the odd farm here and there. Or indeed those fabulous crafts attic stores dotted around the old town. We tend to look outside the box for inspiration for the next best thing and for a sense of uniqueness. The milk can do the job perfectly well and does create a moment of the past in true fashion. Something unusual and cost-effective that will make your guests talk about it for a rather long time.
6. Rustic Chalkboard Wall
The wall above a sofa is one gorgeous place in your home for a rustic chalkboard.
Blackboards or boards, in general, can remind you of a to-do list, noting everything down you require for the day or week ahead without missing the important information. It can include a shopping list or various appointments. In all honesty, though, it isn't something that exactly brings you joy and energy; more of a necessity to get organized. We feel, however, by having a chalkboard in your living area as the center artwork can add something magical. As it is, words can be magical. Why not scream out loud I Love You written in big letters, for your loved ones to see when they get in from work or from an outing. Nothing better than promoting joy, love, and happiness.
7. Rustic Living Room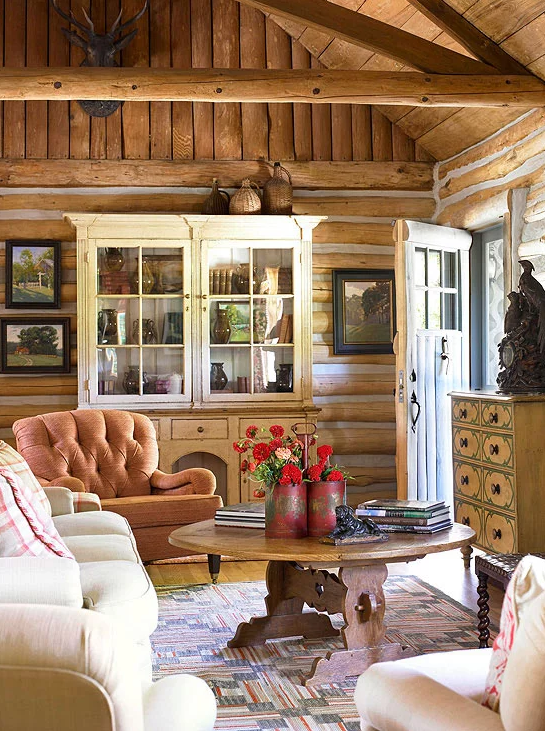 Some of us love a fuss-free room, with a few accessories as possible keeping everything flow with ease in a very white and bright environment. And without having to dust too much! However, if you are one to embrace modernity with rustic looks then go no further. A farmhouse feels will settle for the likes of leather, soft comfy fabrics, woods, and metal adding bags of character and warmth. Perfect for winter, nestled close to a fireplace with the smell of wood-burning. To a lot of us, there is little that could be better. Blend different materials together to build your perfect sanctuary of happiness and wellbeing, and include some Amish furniture to really complete the look.
8. White and Cream Farmhouse Oasis
Different textures and nature-inspired accessories bring rustic style to this bright living room.
The back-in-the-day-dark furniture holds a lot of history but somewhat saddens the experience once placed in your living area. This is the best of both worlds, for those who love the natural light to bounce off the white, cream walls, yet with furnishing that oozes with both classes, and history. An already made piece of furniture looks great, but so does it in hundreds of thousands of homes. Make your home, your home. Upcycle furniture to the maximum and give them a new lease of life. Old doesn't need to not look cool. See for yourself.
9. Rustic TV Console Cabinet
We love technology and good movies. But sometimes the whole atmosphere around it can soon look superficial and emotionless. It is therefore imperative to add things around it that will soften the experience and the overall look. Think of your TV console like the supporting actor to the TV. It holds equal importance. Feng Shui will say that the shaped edges of the TV bring negativity and stress, so, therefore, adding soft touches around it does add positivity all around and space where you will feel comfortable.
10. Cozy Farmhouse Living Room
Did you know, there are hundreds of different shades of white. It is crazy, especially knowing that white isn't even a color. However, you can really play with different white finishes. Some neat and some washed adding character and personality to your home and to yourself. Adding splashes of greys with different fabric and style make a shabby chic look rather delicious and indulging. Add wood materials, metals and yes, rust is a bonus to create a living space that breathes and is natural. Add green plants all around to create a little exotic haven.
11. Simple Fall Living Room with Pallet Accent Wall
Rustic modern farmhouse neutrally decorated for fall.
Rustic modern farmhouse neutrally decorated for fall. We discussed earlier shades of white, but in truth, you have shades of every color even the ones you never ever heard of before. In this instance it is all about the blue color, and how it can be incorporated into a room with all blue elements to it. Without actually touching the walls leaving the neutral, off-white. Whatever you do in a room, you always look for continuity. Things must make sense and have a clear direction. Baby blue works brilliantly if you wish to add a seaside approach and feel, adding either dark or softwood depending on how far you wish to take the theme.
12. Farmhouse Style Living Room with Fall Decorating Touches
A home isn't a home until you include all the personal stuff within it. And how you decide to incorporate that is up to you. But think about picture frames of your family and friends or great moments you had with a special someone. Add furniture that looks like it holds so much history that is marked by the children as an example. The texture is important if you wish to have a home feeling like a home. The blend of metal, wood, and soft furnishing all talk the same language and all incorporated together could not look any better. Do not be afraid of playing with texture and touches of old even if you are after a "new, refreshed look. The colors are all muted keeping things soft and cozy.
13. Rustic Farmhouse Living Room
Looks so comfy, and gorgeous. The warmth of rustic wood against white in this living room. Chicken coop coffee table featured.​
​ If you are into the rough and rugged outdoor look and love everything about the raw nature then this is definitely a look for you. But rough and rugged doesn't mean you ought to sit on a log of wood from a dead tree that happened to be there. No. The idea is to look like a caveman's palace, with modern and super comfortable touches such as this off-white ever so inviting to come and sit on.
14. Farmhouse Style Living Room with Cozy Pillows
Creating the perfect living area for you can be life-changing and will cut out all the negativity you had away from your home. A home isn't just a show home, it is a place to feel no anxiety, just simple pleasures. Organic furnishing will assist in making you feel zen, tranquility, and at peace with the world outside of your walls. Pillows will make the room inviting and a sofa you would love to decompress on. Soft touches throughout also do the exact same job. Incorporate a direction when it comes to colors in all little detailing throughout whatever they may be.
15. Cable Spool Repurposed as Clock Face
Create a rustic wood clock from an old cable spool.
You might have seen these great big clocks in various home shops, all well over the 3 digit cost price. And this can be hefty. They are usually made to look worn and torn apart. But, why not actually do it yourself and gather old, worn, and tear apart wood lying around? Put your trainers in the mud for a few days you'll get the same result for free, and even the smell to go with it. Anyway! The wall clock is exactly the same principle. Why buy something that looks old, instead of using what's already there, while respecting our nature?
16. Chic Farmhouse Living Room
You have a little place out in the woods that you call home for the summer vacation? Or simply you love the simplicity and raw products of nature adding "trueness" to your life? This chic living room screams nature without all the fancy bits falling from it. Just simple natural material that oozes with class and style. Life is already super complicated, so why complicate the interior of your home, when it can feel simple yet elegant and super comfy? This is a great way to bring joy, simply, and naturally.
17. Barnwood Chevron Accent Wall Decor
Ads an extra element of interest to your room with DIY Wooden Arrows!​
Nothing too fancy-schmancy, nothing that costs thousands for something so simple and unnecessarily expensive. It doesn't mean that you have spare space on your wall that you have to use, but if you are about to add a three-dimension to the room and something that is somewhat original while upcycling something natural, it can soon give your space a sense of belonging, and super contrast too.
18. Vintage Farmhouse Decor Old Trunk and Vintage Crib
Well, why not think outside the box such as this very cool idea on how to make the most of what you have, turning things into art pieces. Thinking of it, this is such a superb idea, it's untrue; one we never ever even thought of. People go crazy for old trunks and the prices of these reflect the demand, hence why they are unexplainably expensive. No need for that really. Let's look after number one, which is us, and let creativity overtake control, not the bank.
19. Tufted White Couch And French Linen Pillow
Gorgeous farmhouse living room with antique windmill, cotton wreath, and chicken feeder.
If you are living out in the countryside you have surely passed hundreds of times the same road overlooking an old windmill. Not only is reusing what's on our doorstep great and minimizes our environmental footprint, but it can actually totally look like a stroke of genius. In fact, if we did not tell you these were the actual items, especially the chicken feeder, you might have thought "I need to get me one of these!". How great do they look all together?
20. Chippy White Lime
Chippy white lime finished coffee table with plenty of modern farmhouse charm.​
The old-school varnished wooden furniture is not yesterday, more so like centuries ago, and can make a home look a little grim. But bringing it back to life in the 21st century is as easy as cracking an egg. All it needs is to be sanded down, roughly, then painted on and sent down again for the aged, beach-worn look. Add a few soft details around it like pillows, plants, and a basket with your favorite books and magazines.
21. Light Blue Coffee Table with Internal Storage
We never have enough storage. Even in the most storage house of all times! Especially if you have a big family at home with kids running errands everywhere needing so much space it's untrue. This big trunk-looking coffee table hides many drawers and compartments to make your living space clean and free from too many accessories making your space look messy. Put your feet up, and enjoy.
22. Cozy Farmhouse Style Big White Chair
We all dream of that one chair that belongs to us. One that no one else is allowed to ever use unless, well, there is no unless. It is yours and yours only! So, why not make it the ultimate of comfy! Add a cushion matching its surrounding in the pallet color chosen for the walls and diverse furniture and finishing touches, a banquet, preferable the comfiest in the world, and you are done.
23. Brown Couch Farmhouse Living Room Decor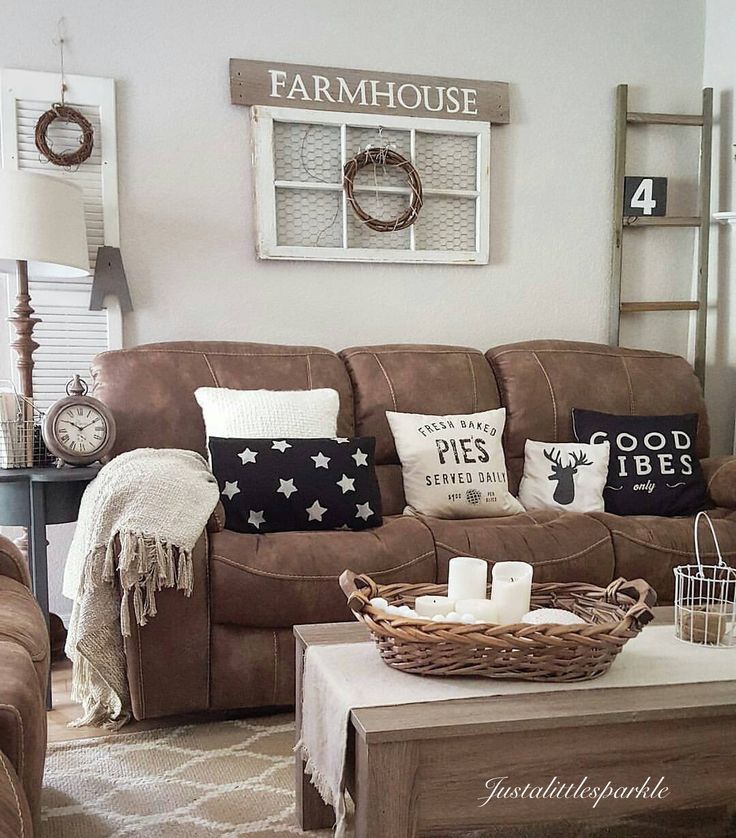 Great big leather sofas, we love them in the summer but perhaps not so much in winter. However, you can definitely get the best of both worlds as now there are leather-looking sofas that are actually made from a rigid faux leather fabric. It has a more animal look to the finished living space but one that also has warmth and comfort. Adding pillows and the same color throw with a similar color tone and pallet carpet adds to the natural flow of colors bringing every element in harmony.
24. Deer Antler Centerpiece Basket
You thought about all of the color scheme and the big furniture but now something is missing? And that is called detailing. This ranges from indoor pants, pillows, to photo frames, to vases and diverse small structures and artwork too, you guessed it, deer antlers! You may not be able to find them in the wild, but for sure you will be able to find them in the shop next door if you are near, or living in the countryside. It is important to note where you are living and try to recreate this by adding soft touches of understanding your neighborhood. It is lovely to respect and represent the environment you're in.
25. Spring Farmhouse Living Room Seating Area
If space isn't something that you are gifted with, or wish to re-do the reading/library room, there is nothing better than to have your own one-seater armchair for your comfort and convenience. This can be matched with your most valuable antique reading table in between both chairs if both of you wish to have a moment of life learning through books. Ensure to add subtle and natural touches such as plants, candles and set the mood to your liking. Ensure not to over cramp space with details, only the odd vase here and there will suffice.
26. Rustic Gallery Wall
Give your living room a rustic touch by creating a wall gallery.
We have seen dozens of show homes lately, they are everywhere on the TV. However, something we do not always get to see is how the interior designer brings the family into the home. Creating a little family gallery "shrine" so to speak will always create memories that never die. It will remind us of the past and even perhaps a particular moment that touched us deeply. We do indeed have smartphones and "clouds", but nothing, nothing beats a photograph and picture frames.  With you at all times without having to scroll for a day to find the photo you wanted.
27. Country Living Room Wall Decor
Pillows are a thing and so are sofas. But after all, this is where we spend most of our time with our friends and family over something great to need and drink until the early hours some days. Pillows should never be underestimated. They add the essence of what a home should feel like. And that is, comfortable. The idea is that you would instantly want to jump on the sofa head first like superman and have that cheeky grin on your face while making a manly grunt noise of satisfaction. Add more fake animal prints if this is your thing, even down to an animal throw or carpet. Faux of course that's without question. Doesn't it simply scream, home?