Looking for an easy gallery wall that's quick to design and simple to hang? These are some of the gallery wall ideas and layouts you can be inspired by.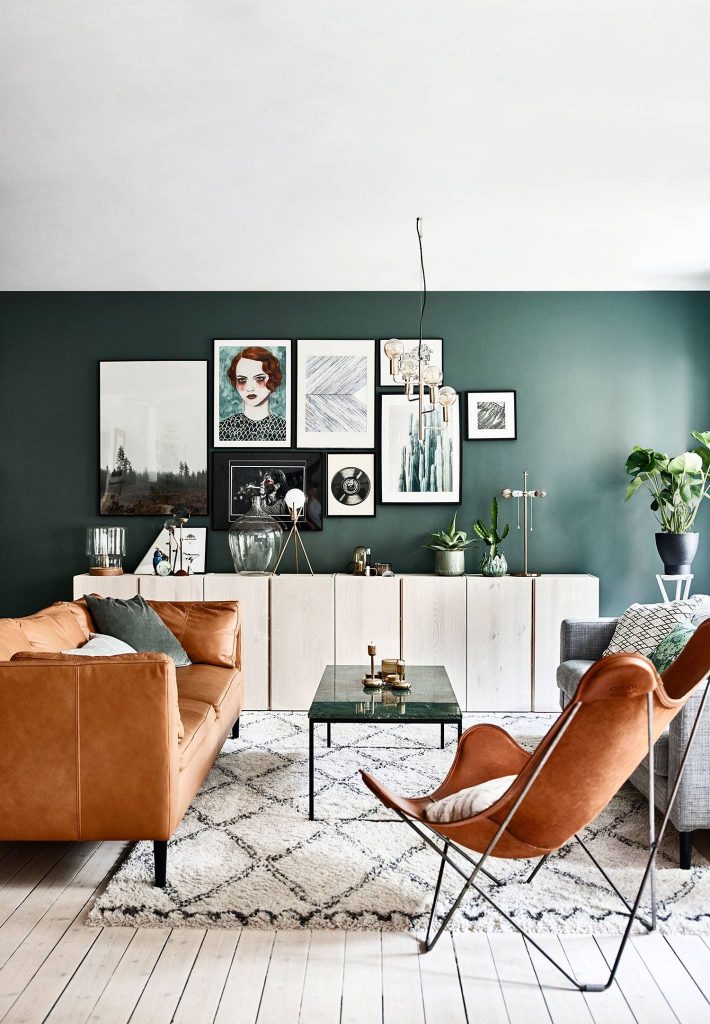 If you are a lover of tanned leather sofas and armchairs, but may not feel comfortable in knowing which color scheme may go way alongside it, then you may wish to consider this. A greyish British green could well be the only color option for you. It works so well immersing you in warmth and coziness. The green marble table top reflects the wall with a sense of continuity alongside the many picture frames on the wall. Add an off-centered golden style chandelier creating an organized mess.
Too cool for school. This is what this living area screams aloud. 80's retro imagery on the wall supported by really funky, new aged Scandinavian furniture and other late 70s and 80s touches like the globe descending down from the ceiling, and the coffee table light. This creates a really lovely focal point picture-perfect for those unforgettable moments between friends and family.
A little eclectic shabby chic here, having 70s furniture like this TV cabinet alongside a mix of art deco picture frames and other early century photographs in black and white. And somehow, by combining most eras altogether, it works a treat! It is different and could really tell someone's eclectic personality too. And that's important to be in a home that corresponds to you.
Monochrome never looked so intriguing. The watercolor paintings are sublime. Even on their own with some touches of turquoise here and there breaking up the monotony. Floating shelving has been put up, to include a lot of plants making the wall rather busy, hence the reason why the furniture look weather uncomplicated; leaving space for the business behind. Soft furniture and soft cushions all come into play directing your eyes straight on creating that all very important focal point.
The seaside beach brings you into its world like no other thanks to the 3D support from the beach vibe furniture having simple natural wood. The cactuses and the tall plant help you focus in between them creating a channel tunnel. Smart I think. The striped carpet has a very 1950's style to it, assisted once again by the watched-out picture frames. It looks simple, but a lot of thought and research has been made to create this illusion.
The dash of vivid pink does the trick remarkably well being the center of attention here. To me, it looks like a pair of chopsticks that bring it on the oriental side, but what is great about this wall is that it will leave the guests wondering the very same thing. What does it actually represent? I do not believe there is a right or wrong question and answer to this. Look fabulous and rather all polished up with clean lines supported by the lovely white sofa not taking any credit for the featured wall. Only to compliment it.
Cat lover? A lover of abstract art as well? What more would you want in terms of a simple yet effective piece of art. Beautiful "children drawing like storybooks" of two monochrome cats alongside the black and white sofa and ornaments around it. This is minimalist Nordic at its very finest; cats also welcome independence in terms of its hidden meaning and are rather playful on the wall being happy to be the center of attention.
Something tells us that children are involved in this little project through the very fabulous artwork. Some more serious than others but something that not only created a super-smart home but one with character and personalities influenced by its occupants. Very vivid colors from the sofa and the armchair, directing your eyes straight at that wall. Even the carpet screams out the word fun here. We love the extravagance one created and love the daring abilities to have said, this me in one look alone. Very playful idea and one that surely must be bringing continuous joy.
When we were teens we had all sorts of wall posters on our wall enough to make the family cringe every time they would enter our world. As adults very little changed apart from more mature wall art decisions! This isn't quite a bad thing…
This time, this is all about your favorite city and country to visit alongside your favorite old-school movies or music posters with beautiful family back and white pictures. Even down to the rug all elements work perfectly in balance together. The only thing that offsets all of the monochrome attributes is the 50s style dining chairs and table. Clean and simple with much personal history to be embraced here.
Plants not only help us to relax and to embrace nature in our very own homes, but they also contribute massively to the way our home looks and feels. This is a minimalist approach still incorporating many personalized touches to the drawing board. The wall is there but isn't in your face. It is the focal point of the room but in the most subtle of ways. Elegant one might say, not too dissimilar to an art studio or someone being an amateur photographer, living alone with his love for the shutter. This is what this room inspires.
This sure feels like someone is watching. Terrific small details that are super fun to get a glimpse of. A lot going on in such a small area yet one that intrigues the most. I adore the sofa. Simply 50s. Beautiful and somewhat timeless too. Everything is focussed around the monochrome accents, yet with splashes of yellows and natural wood. A great reason to stand by this wall is to remind yourself of how fortunate one is. I love the simplicity, but also the clear message it sends us.
Well, chances are the first thing you saw was the light pointing directly to what you ought to focus on. The wall artwork. It doesn't give you much of a chance to see things in your own time, it brings you straight there! A rather dominating feature, but one that is what it is supposed to do better than most. In some ways too, it welcomes you to the seating area to rest yourself and put your feet up because the room understands you must have had a hard day at the office. The wall paintings reflect the wall colors perfectly too, bringing everything into one giant piece of art. It doesn't fight against it, it does its job really well.
If you fancy yourself a bit of an artist then you've already gone and thought ahead about your own living room without even reading this text. This has tonnes of character and personality and brings massive amounts of you, in a room. It could be husband and wife is your own personal space. This is a super elegant wall that really does show who lives in the space, being arty and very much in love. With such a busy kinda wall art centerpiece, it is important to tame down the rest of the living area with simple furniture mixing in natural wood and finishing softening up the whole experience.
If minimalist Scandinavian styling isn't your cup of tea then you will love this example. This is a room, a wall that has been filled with things from someone's traveling antics throughout the years. You can feel the energy from each individual object flattering the environment. There are many different sensations that can be felt all in one room. Hundreds of books hidden away by the sofa but the overall explosion of colors make this really interesting. It is a home with personality and character and meant for someone that is pure without hiding their true persona. And I have to say, I love that.
Do we think this is a family of four living in this house apartment? This is all made by the Danish brand Bloomingville with many copper accessories throughout the room giving the eyesight something to think about. And, all done in the purity of the word. I love the really positive wordage on the walls within the picture frames embracing everything positive in a world that has many difficulties. But this room brings the family together and even if momentarily, it is like they are sworn to only have quality time around the table. That surely has nothing negative about it. Everyone should have a positive room for all the family, reminding them how important family and togetherness is.
If you are blessed with a very high ceiling you may have a high electricity bill, but also a wow of a space! The next way to gather interest on such a vast amount of space from the wall is to cover it with pictures and photographic frames in a design that is very New York-ish. The fireplace brings the word home within the home and somehow does bring all the picture frames on the wall together with warmness. This is a superb example of what can be done with an old warehouse making it look very sophisticated yet homely without much fuss.
Monochrome is beyond black white and grey. In essence, there are hundreds of different blends of the three above colors and can seem to have dozens of different colors all working perfectly well together. We love the hint of dark pink from the flowers on the coffee table that second guesses your eyes, without forgetting the faux fur animal rug on the floor. This is all about subtle texture and design all working in harmony. The wall sketches bring individuality to the room and are for sure something that brings all of our attention to.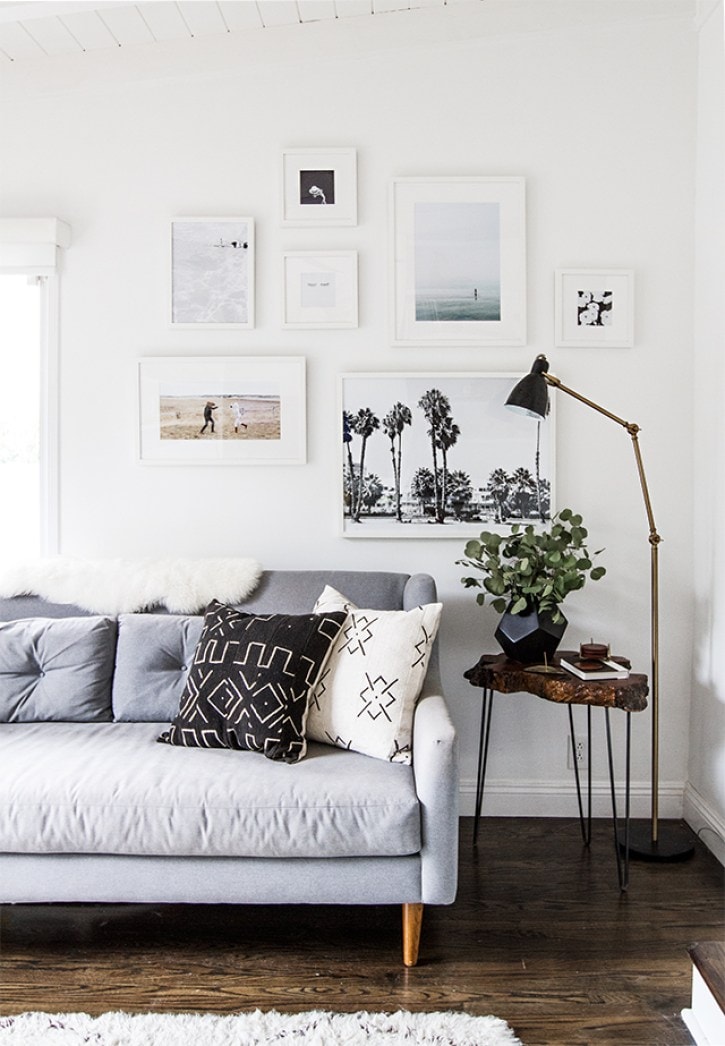 White walls bring in so much natural light from every angle of the room but it is rather tricky to have a focal point to the room with so much going on. It would therefore be an interesting idea to elaborate a part of the main dining or living room wall to have the main focus on, and generally speaking, it is where the heart in the house is, the sofa area! The colors of the picture frames and the sofa itself all work side by side creating a nice neutral environment without one trying to outdo the other. Even down to the soft cushions, lampshade, and plants vase. Subtle gallery wall inspired by Instagram photos, yet super effective offset to the window.
Those African figurines do the job to focus our eyes uniquely on the gallery wall remarkably well. Fascinatingly so, the entire wall is all about the beauty of African art. Being black and white or colored, the wall has enough to say to let you pull towards it to forever admire it. I love specifically the blue painting at the bottom left of the wall which crazily has blue doors and door frames next to it. Not sure if this was the intention, but cannot help but love this detail! The gallery wall is also exposed in the living area next door. It would be like a continuation of satisfaction for the most alert of art lovers.
The rug definitely brings everything into play. The simplicity of the sofa does not dominate the room but it sure stands pride especially with the deepest, sexiest shade of deep blue. The collage of picture frames is terrific and rather arty and different. The succulent plants are there to soften up the whole experience. A superb rich and darkroom having clearly advertised the gallery wall.