No matter how big your bathroom is, you will always have the need for additional storage and organization space. There are a number of ways to add storage and organize your bathroom without spending much and without needing a lot of floor space.
Check these little tips and use them drastically to change the look and function of your bathroom.
1. Mason Jar Bathroom Storage & Accessories
Who doesn't love mason jars?
Use craft paint for these awesome durable mason jars. They're water-soluble.
One-step paint is used for this craft and although it does not last forever, it is a lot more resistant and permanent than your average paint that will peel away in no time. If it does peel away, however, it could mean that you can change the colors every so often, creating a small change in your bathroom. Any old glass mason jar will do, so get recycling and creative these will look super cool and are an organizer's heaven!
2. DIY Rolling Bathroom Storage
Bathroom storage on wheels! Ordinary wooden crates come together for this attractive and handy bathroom organizer. It's an amazing DIY project with an easy step-by-step tutorial.
The only thing you would need is a couple of different tints to best suit your bathroom's interior or wood lacquer, or even think about choosing a waterproof paint. The wonderful thing about DIY is that once you have understood the steps, the color scheme really is up to the individual.
3. Cute Hanging Organizer
Don't leave your bathroom stuff lying around. Organize them with this cute hanging IKEA hack organizer.
via www.glamour.com
You have a hairbrush for straight hair, one that curls and one that does the same but that you really need; mainly using it as a microphone under the shower. Then there is the makeup, the dozens of different soaps and creams in the world. Where to put all that without using the sink as your personal beauty product bench not being able to wash your teeth? These little craft ideas are really efficient and cheap, perfect to get organized especially living in such a fast-paced world.
4. Rolling Vanity
Finding space for a vanity might be challenging, especially if you have a small bathroom — but if you could get that vanity to roll? It's perfect.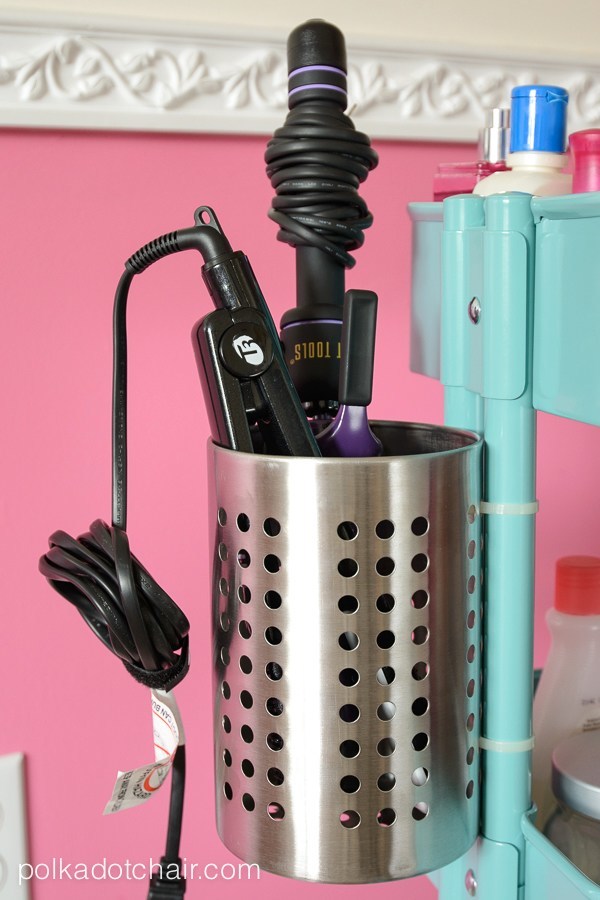 The reason why this is so practical and that you, basically, need one in your life tomorrow, is that you can start in the bathroom, doing what must be done, then module it around to your bedroom or an area that is available especially if you are house sharing, or living with the parents still. This makes it effortless to get ready, without having to carry a big load only to simply push it around like a suitcase, in the event that you might have forgotten that airport feeling!
5. IKEA Organizer
If you have a pedestal sink or wall-mount sink and no cabinets, there is still hope for you! These amazing ad easy install shelves from IKEA are designed to fit around a pedestal sink or the pipe of a wall-mounted sink.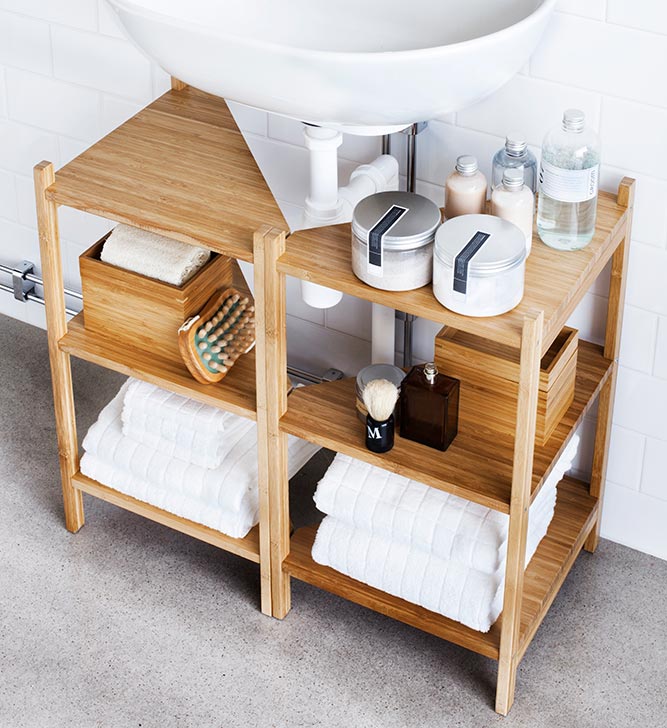 via ikea.com
Not only will you hide away the unwanted sight of the water pipes, but you will also create so much more practical space in the bathroom especially if your bathroom space isn't very spacious. You can keep the shelves to their original and natural wood color finish, or give it a lick of paint to suit their surroundings better.
6. Window Box Bathroom Storage
Check this amazing wall-mounted wicker window boxes or baskets storage idea. Love it!
Not only will it give your bathroom a much more natural and organic feel, but it will also be super practical! And we never have too much practical space, have we? It will hide away the most important of all tools on the planet; such as toilet paper. Things you might not want to advertise so obviously. You could also take advantage of the extra space by adding a small green flower arrangement. Something to make your time a better time in the bathroom. After all, we spend enough time in it so why not pay extra attention to its overall feel.
7. Mini Bathroom Shelves For Organizing
Combat your bathroom clutter with a few small shelves to provide great storage for necessities and toiletries.
Shelves are here to save us from piling up too many items into one place making things look not only messy but find it very difficult to find the simplest of things within the toiletry jungle! Honestly, you are looking for a cream? Could take you 5 minutes. You'll end up looking under the cushions of your sofa. We have all done it and been there! Organize your space, which we find crucial to start your day perfectly.
8. Magnetic Strips Organization
Do you keep on losing your bobby pins, tweezers, or clippers? Here's a 2-minute solution to solve every woman's dilemma.
What's incredible, is that all of these are usually lost then found in the most random part of the home! Anyway, to avoid having them lend onto your plate of food, we highly suggest this magnet wonder. Similar to a kitchen knife holder, and ever so practical, and safe; especially if you have young children running around 24/7. You could even think more outside the box, by using metallic/magnetic paint that will stick most small beauty items onto the wall itself. Could make yourself an area on the wall for all of your metallic belongings.
9. DIY Faux Floating Shelves
EASY, and INEXPENSIVE, DIY Faux Floating Shelves! Finally, you can have the look of floating shelves with so much less work!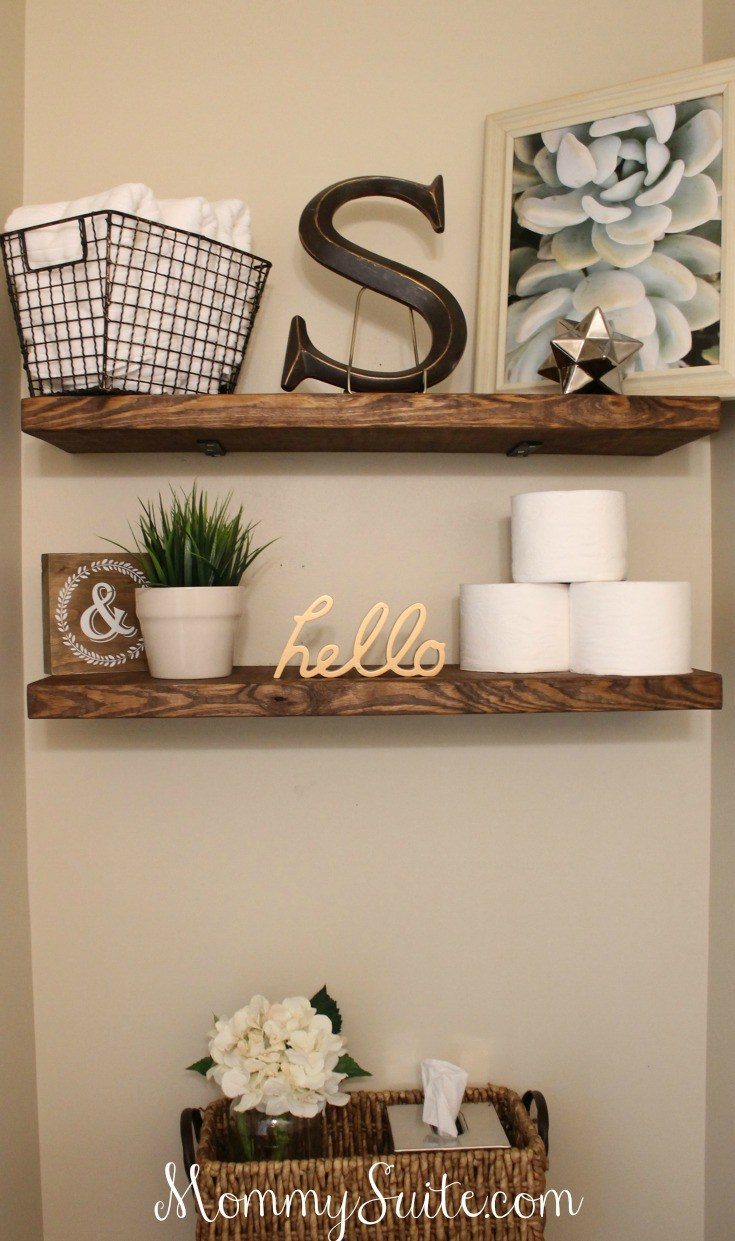 Walnut wood is one of the richest, and beautiful wood around, especially after a little coating of light varnish onto it to showcase the awesome natural pattern. Wood has the ability to make us feel more comforted and secured, bringing a little nature into our homes – especially into a bathroom where normally everything is so white and clinical like you are about to get eye surgery. It blinds you. So adding softer material such as wood would calm things down, and give you ample more space.
10. Pretty Bathroom Jars
Where to hold cotton balls, Q-tips, and cotton rounds? Decorate some jars! The result makes me so happy. This way your pickle jars can turn into pretty storage.
via eighteen25.com
A lot of us have these jars in our kitchen that we are ever so proud of. It means more organized space into the shelving units. And in the bathroom, the same rules apply. But let me guess, you never thought of it. Although glass in the bathroom can be tricky in the event of breakage, if you have a sturdy shelf things should stay safe. Use a cake plate to really make things pop with different colored tops adding much-needed color in a sterile atmosphere.
11. DIY Toothbrush Holders
Here's an easy way to store your toothbrush. Simply recycle a large plastic cap and use a piece of velcro!
via www.ohohblog.com
Does your toothbrush end up on the sink, top of the toilet, or in basically the most random of areas gathering dirt? I bet you wouldn't want to push your teeth at risk this much! We spend a lot of money on toothpaste and toothbrushes, but as a nice watch, when we are not using it it is vital that we look after it. It is so simply silly to DIY and so inexpensive that you do not have an excuse to not consider it! Super practical, and this will ensure your smile never fades away! Gives you a massive reason to smile every day.