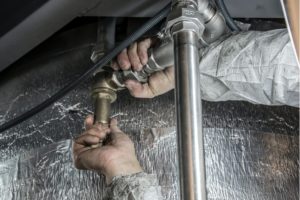 Plumbing repairs can be expensive, and even the most minor issues can add up quickly. With soaring utility bills and the constantly increasing cost of living, it's crucial to save wherever possible. Fortunately, there are some practical and cost-effective ways to lower your plumbing costs while still ensuring that your household has safe and properly functioning plumbing. Here are some ways to keep your home's plumbing system running in peak condition without breaking the bank.
Hire Professionals
Professional plumbers have experience diagnosing problems quickly and efficiently, saving time and money. They also often have access to parts and materials at discounted prices, further reducing your overall costs. Additionally, hiring a professional gives you peace of mind that the job will be done correctly from start to finish. 
While taking on big repair projects with DIY solutions may seem cheaper, it can cost you more in case of complications than if you had hired a professional. For any more complex plumbing needs, it's highly advisable to always seek expert plumbing and electrical services.
Install High-Efficiency Fixtures
Installing high-efficiency fixtures can provide significant savings over time since. This is because efficient fixtures like efficient faucets and low-flow showerheads can use up to 60% less water than regular models.
Installing efficient fixtures also helps the environment by reducing water consumption while keeping your bills low. You must also ensure your plumbing system is properly sealed and all pipes are insulated to help keep your energy costs in check. 
Invest in Quality Plumbing Fixtures
Investing in quality plumbing fixtures is essential for saving money in the long run. Inferior plumbing fixtures can cause an unnecessary potential for problems and expensive repairs. This means you will incur much higher costs than the initial purchase to get quality plumbing fixtures. Quality plumbing fixtures are more durable, and often offer more efficient designs that improve water pressure and reduce water bills over time. 
Address Issues Immediately
When plumbing issues appear, it is essential to assess and address them as soon as possible. If you delay, the problem can likely become worse and more costly. Start by taking preventative measures to inspect and maintain your pipes, sewer lines, and other components. 
If a plumbing issue appears, contact a reputable plumber quickly so the issue does not escalate. These actions will help reduce the time and money spent on repairs and eliminate the need for emergency plumbing services.
Prevent Clogged Drains
Many plumbing issues arise from clogged drains, which result in costly plumbing services and replacements. It's imperative to prevent clogged drains in your kitchen and bathrooms. 
To do this, you'll want to regularly inspect the strainers in your sink and bathtub openings, ensuring they are free of debris like hair and soap buildup that can impede water flow. You should also be mindful of items like cooking grease, cotton swabs, dental floss, and wipes because they can all lead to drainage problems if not disposed of properly. Consider regularly unclogging the drains yourself whenever you can. 
DIY Simple Plumbing Issues
Taking care of simple plumbing tasks can save you a lot of money in the long run. Do-it-yourself plumbing can be intimidating if you don't know what you're doing. However, there are plenty of plumbing tasks you can take on with just some basic tools, such as changing out washers and gaskets, unclogging shower drains, or even fixing broken shower heads and faucets. 
There are online resources with tutorials that demonstrate how to fix common plumbing issues in just a few steps. However, if you're unsure about an issue, always call a professional to avoid making a bad situation worse. 
Plumbing is essential but can be costly with high material and labor costs. To lower your plumbing costs consider maintaining your plumbing regularly by unclogging drains and inspecting for issues. You should also invest in high-quality fixtures that last long and hire professionals to get the job done right the first time. High-efficiency fixtures can also help reduce your water use and plumbing costs. Finally, you should try and handle minor plumbing issues like replacing the showerhead on your own.