Decorating a room for your kid is an exciting and rewarding experience. It's also one of the best ways to show them how much you love and care about them. At the same time, you need to approach it thoughtfully; after all, your kids will be living in their bedrooms and should feel comfortable and inspired while there. To help you create a space that your little ones will enjoy, here are some tips on how to decorate a room for your kid:
Incorporate Your Child's Interests
Decorating a room for your kid is an exciting and fun experience. Incorporating your child's interests into the design of their room can make it even more special and unique. So if your child likes to play basketball or idolizes basketball stars, folks at Hoop Dream Studios can help you create a basketball-themed room for them. They specialize in turning any space into an immersive basketball experience, making the room look like it was designed by a professional. If your kid is a football fan, incorporate jerseys, posters, and other paraphernalia to make their room more engaging. Incorporating your child's interests is a great way to make their room special and unique while helping them become more engaged with their surroundings. 
Not only can this be a fun activity while decorating their own space, but it can help them build self-esteem and pride as they learn to express themselves through design.
Establish a Theme
A theme for your kid's room is one of the top suggestions for decorating it. Not only does having a theme help to tie the entire room together, but it also allows you to be creative and have fun while decorating. A theme can inspire ideas that work with the existing furniture and décor and add new pieces that bring the whole space together. 
A theme also focuses on what your child enjoys and celebrates their interests. Whether your kid likes sports, animals, or fairytales, there are plenty of themes to choose from. Using this idea as inspiration helps create an enjoyable place for them to relax and play in. Additionally, it allows you to create a space where they feel secure and happy. 
Furthermore, a theme allows you to express your child's personality and make their room theirs. This allows them to take pride in the space and enjoy being surrounded by objects representing who they are, making for a more meaningful overall experience. 
Keep It Organized
One of the top suggestions when decorating a room for your kid is to keep it organized. Keeping things in order can make the room look more visually appealing, and will also be beneficial when it comes to cleaning up after playtime. It can help minimize clutter and create an environment that's easier to maintain. 
Organizing items allows you to easily find what you need when you need them. Having everything organized in its rightful place eliminates having to search high and low for things, which saves time and energy in the long run. It also makes it easier for kids to know where their belongings go instead of having them scattered all around the room. This helps instill a sense of responsibility from an early age. 
Organizing also helps maximize space in the room and makes it easier to identify any potential hazards that may be lurking around. By decluttering, you can create a safe environment for your little ones where they know exactly where their toys are at all times. It also allows you to enhance certain room areas by highlighting furniture or creating focal points without having too much stuff in the way. 
Get Creative with Wall Decor
The walls in a child's bedroom are the perfect canvas for creating something unique and special. A well-decorated wall can bring a room to life, adding character and cheerfulness to the space. When decorating your kid's room, getting creative with wall décor is one of the top suggestions for making an impactful transformation. 
Adding creative wall decorations can make a huge difference in any room, especially when it comes to kids' rooms. Wall decorations allow you to express your child's personality and showcase their interests while also making them feel like they have their own little world that they can call their own. You can create a custom design mural or add fun wall stickers for a more playful effect. Or, you can use framed art to hang family photos or pieces of artwork your child made. 
Introduce Some Greenery
Studies show that having plants around makes people feel more relaxed and energized; therefore, adding some greenery into the mix is a great way to make the room feel alive and inviting. You could go for low-maintenance options such as succulents, cacti, or even air plants that can easily be hung from the ceiling or placed on shelves.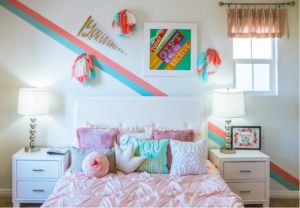 Decorating a room for your child can be daunting, but it doesn't have to be; just remember to keep an open mind and be creative. If you follow these tips on decorating a room for your kid, you can create a space that your little ones will enjoy for many years.