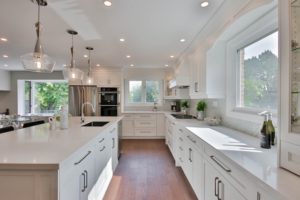 If you're planning to revamp your kitchen in 2023 and are in search of the perfect cabinet color to elevate your design, you're in luck. We've rounded up the 10 hottest wall kitchen cabinet color trends that are sure to give your space a fresh and trendy look.
1.Serene Greens: Shades of green, ranging from muted sage to bold emeralds, are becoming increasingly popular in kitchens. Green cabinets can add a calming and fresh touch to your space.
2. Timeless Navy: Navy cabinets are a classic choice that will never go out of style. This dark and sophisticated color pairs well with a variety of design styles.
3. Elegant Gray: Shades of gray have been popular for years and for good reason. Gray cabinets provide a neutral backdrop that can be easily paired with other colors and finishes.
4. Warm Woods: Natural wood cabinets can add warmth and texture to your kitchen. From light maple to rich walnut, wood cabinets can give your space a cozy and inviting feel.
5. Moody Blacks: Black cabinets are making a statement in the kitchen. This bold and dramatic color can add a touch of sophistication to your space.
6. Soft Blues: Soft blue cabinets can create a serene and tranquil atmosphere in your kitchen. This color pairs well with white and natural wood finishes.
7. Bold Reds: For those who want to make a statement, red cabinets can add a pop of energy and excitement to your space. This bold color pairs well with neutral walls and flooring.
8. Bright Yellows: Yellow cabinets can add a sunny and cheerful touch to your kitchen. This color pairs well with white and gray walls for a clean and fresh look.
9. Playful Pinks: Shades of pink are no longer just for little girls' rooms. Pink cabinets can add a playful and whimsical touch to your kitchen design.
10. Rustic Oranges: Rustic orange cabinets can add a warm and inviting touch to your kitchen. This color pairs well with natural wood finishes and other earthy tones.
Before committing to a full transformation, it's important to test out the color in your space. With these 10 hot kitchen cabinet color trends, your kitchen is sure to look stylish and on-trend in 2023.