Renovations make your home enjoyable, comfortable, safe, and pleasant – something that adds value and extends its life. As a family grows, so does the need for space and more privacy. Working from home also made an impact as living spaces started to make way for offices.  
Aside from the feeling of enjoyment in renovating, consider which project has a good return on investment (ROI) and will give your piece of real estate better value when it's time for you to move or upgrade. 
ROI is as much a function of the local real estate scene where the property is located and the quality of the remodelling job. That said, it's not wise to renovate over and above the quality of the homes in your area. 
Consider Why And How You Are Renovating 
The best renovating project is one that you need the most at the moment. Consider how this will impact the value of your home versus the cost – over time. The quality home renovations done by a team of experts with a solid reputation over the years consider many factors aside from aesthetics.   
A holistic approach matters in materials, energy efficiency, functional utilization of the space, and foot traffic. While any structure that increases the size of a living space impacts the resale value, a beautiful street view is love at first sight for many buyers and makes it hard to ignore. Although size is one of many bases for pricing the property, quality and craftsmanship also matter.  
For instance, a converted attic, an extended home office, or a basement renovation should be well executed and not stand out like a sore thumb. For a better price when you sell your home, imagine the taste of the prospective buyers too.   
Unless the main objective is to fix or hide a flaw, recouping the repair cost may take time. One thing that is not quantifiable is the pleasure of living in what has become your dream house.  
Property values appreciate in general, and if you rent it out, you will have a substantial ROI even if you don't sell the house. A few changes to consider: design-wise boosts value, but a poorly designed one can even decrease the value of your investment in renovating the following:
Room expansion or room conversion 

Addition of a garage 

Minor renovation or adding an ensuite bathroom 

Kitchen Renovation 

Porch, deck addition, terrace, or gazebo 

Main door replacement 

Window replacements 

Additional bedrooms 
Knowing why and how you are renovating your home is necessary to start the whole renovation process, which can add value to the property.
Major or Minor Remodeling? 
Are you an investor with a heart or an owner with an eye for investments? These two perspectives influence how you want to renovate and what budget you will allocate. There are four types of renovations: 
Basics

– Take care of leaks, flooring and the like to ensure they are livable. 

Curb appeal-

It includes a 'facelift' like a bit of landscaping and a washover 

Best Bang for the Buck –

These repairs have good ROI and are what most buyers would look for. It includes sidings, some kitchen repairs, and new windows.  

Passion Projects –

It's the opposite of big bang for the buck because spending is disproportionate to ROI. It includes swimming pools and the like. 
If you are looking at reselling or renting a home, there's no need to tear out structures or go into expensive details. Projects with the most ROI are replacing vinyl sidings with synthetic stone cladding, garage door replacement, kitchen renovation, bathroom renovation, entry door replacement, and window replacement. ROI can vary from 46% to 93.3% and averages 70%. 
Consider minor bathroom fixes for the best value for the spend by adding a heater, replacing the vanity, installing the shower head, and adding more storage space.   
More extensive kitchen remodelling includes changing the cabinets, refinishing or changing the flooring, and purchasing new kitchen equipment. Changing a countertop or working table with stainless steel or granite is popular because it is easier to clean and resistant to chipping, burning, and scratching. 
If you are flipping the property in the future, make sure that the buyer appreciates the value of the repair and does not consider it too expensive or downright unnecessary – like a swimming pool with high maintenance costs.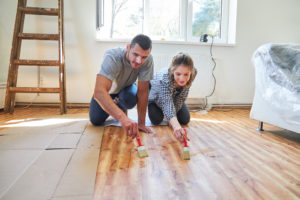 The Bottomline 
The budget for renovation would depend on what you need to live happily and comfortably in your space. Which renovations add more value depends on whether you view it as an investor or a proud homeowner.  
When you decide to undertake a vast project, shop around not for the cheapest builders but for ones with experience and integrity so you can enjoy an upscaled home without breaking the bank.