15 Unique photo display ideas that will bring your memories into life. Cool ideas on how you can hang your photos in creative ways.
1. DIY Photo Wall Hanging with Triangles
Do you print your photos? If not, you can change your mind after seeing this beautiful DIY Photo Wall Hanging project!
This will not only be saving you many hard-earned dollars but also bring a little something extra to your home and within the space, you wish to remind you of the best moments of your life. As an extra detail, look at the color scheme of the room, then choose photographs that could compliment your interior color-wise. This is a 9 photo frame with triangles, but could easily have 12-15 with say, circles at the bottom to smooth its energy.
2. DIY Photo Wall Hanging
This DIY photo wall hanging takes just a branch, some string, and great snapshots! Doing it all in Black&White makes it look cohesive, like artwork. Easy and beautiful project.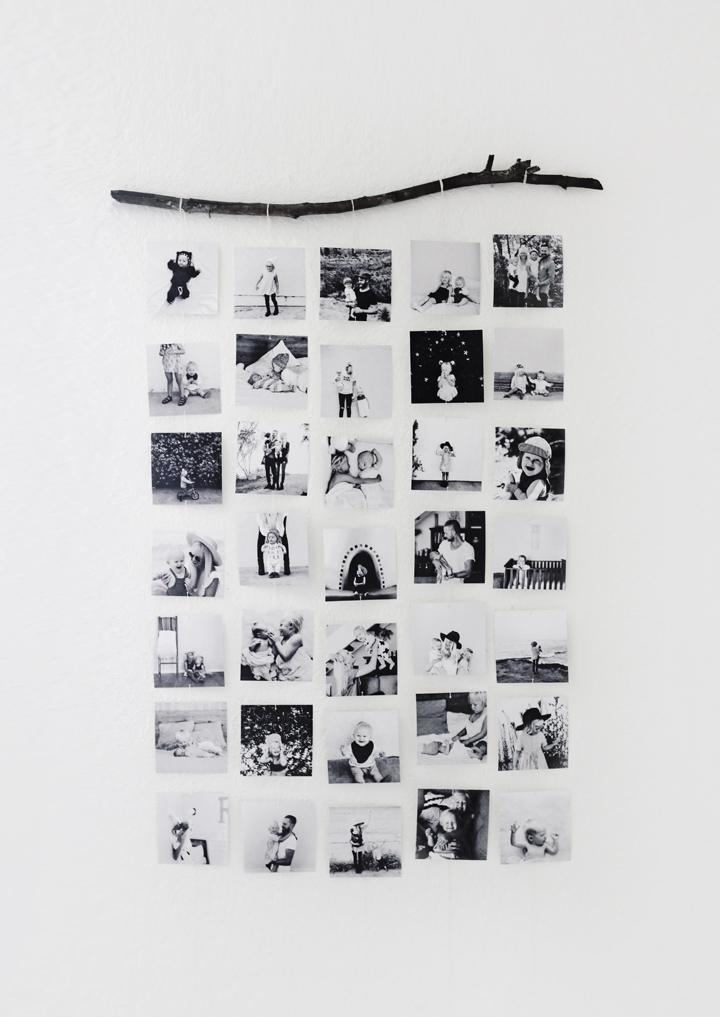 The branch can be any branch that has fallen from the tree by itself and must be rather sturdy and fully dry without any signs of moisture. It will keep its shape better without jeopardizing the results months later. The branch can be left to its original state or can be painted, treated with a mat finish, or little varnish which could help it last longer protecting it for years to come.
3. DIY Geometric Photo Display
Use twine to create this modern geometric display.
via www.thecaldwellproject.com
Geometric artwork was ever so popular in the middle of the century and this was to be seen in every household. It was over one slightly with everyone wanting to recreate the 50s, but one cannot hide its ingenious beauty once on your wall. It creates something interesting without looking dull and therefore always here to exercise your eyesight. Since it is an intricate design, it will always be the focal point of the room, thus perfect for the family pictures for you all to enjoy throughout your time in the room.
4. Balloon Chandelier
Make your party photos pop by creating a balloon chandelier.
The brilliant thing about this is that most of the required tools are very possibly in your home as we speak. It does not demand anything too fancy, only some of your time and creativity only. Helium is indispensable because without it, your artwork will be faced with gravity, and gravity always wins! This is budget-friendly and perfect for a bridal shower, baby shower, birthdays, anniversaries, and every excuse known to gather friends and family around. Could also be a great solution for table numbers with names for the "just got married" lunch or dinner.
5. Instagram Photos Frame
Grab some clips and string and turn them into a real Instagram page.
Well, might as well do something, even more, unusual with it since it became indispensable in our everyday lives. Some of our best photos are now online for everyone to see hoping for alike, or thousand, but what we fail to do is to keep these treasures as constant reminders. If you post a lot, you might have to scroll down a lot to remind you of a special someone or a special event or celebration. Nothing better, than some old school; by printing your favorite moments onto photo paper, proudly in the room of your choice.
6. Miniature Resin Photo Charms
Turn your favorite photos grams into resin-coated charms.
We all have the pictures of our children in our wallets all scrunched up and losing color, and this DIY takes that very same principle but looks safer, a little better, and more convenient. These are great for children aged 3 and above to remind them of their favorite person or people in their lives, or pets, or indeed a picture that reminds them of beautiful things. A joyous moment in their life that they can be reminded of whenever they feel like it.
7. Wall Picture Display
Rustic wall picture display – you can get the line and clips at Ikea in a whole set. The wood behind is lovely.
via heelsinthemud
This idea works best with black and white photographs, with small, natural wooden pegs. It can be as long or as short as you wish it to be depending on how many pictures you are hoping to put up. Looks super retro and a little old school, but terrific against a white and somewhat bland wall of the room. Perfect for the wedding pictures, or pure moments that were most beautiful that you'll love to be reminded of every day of your life.
8. Mineral Photo Display
Energetic stones and minerals are becoming more and more popular.  You can also use them as a décor element! This display looks colorful and chic. It's the right choice for anyone that likes to think outside of the box!
We all have our own color gemstone so this can really be personalized to the max and unique to you and you only. And that is what is very cool about it. It is a module, and can easily be adapted to a different area of the room, or a different room altogether if you are getting too used to it. Wedding pictures and family pictures work really well with this concept. If the stone isn't your thing, do something similar with your favorite rocks you picked on a romantic walk around the beach at midnight.
9. Cute DIY Photo Collage
Polaroid-like Collage of Pictures on a Hanger.
via simplestylings
It is different and unique and will for sure catch your eye every so often. And this is the whole point really. To create something that is both unique and personalized to you, and which will look great in any room you wish to advertise it in. The coat hanger can be made out of any material, but one that will be of contrast the most. Can be covered in fabric if it isn't the exact show hanger to give it more appeal.
10. Wrapped Canvas
Use washi tape to add a fun and easy faux-frame to display your favorite photos.
Using frames your walls will be covered in holes, everywhere! And sometimes not only can it be messy, but also time-consuming and the walls won't ever look the same if you made a miss judgment hole in the wall. Using this smart way to go by frameworks is a brilliant idea that can be taken down at any time you wish, can be replaced, or put in a different room and area. It will also give a 3-dimensional aspect to the room giving it more character and depth thanks to the wrapped canvas photos
11. Embroidery Hoop Photo Display
Turn embroidery hoops into a unique photo display.
To DIY certain objects for the wedding is getting ever so popular for all of the crafty people out there! Not only will these life hacks be personalized to you, uniquely, but also will save you a lot of cash in return. Besides, who would not want to have unique pieces showcasing pure love and commitment. It will make everything seem so much more authentic, rather than simply bought and unpacked and done. The labor of love starts when you use craft you made by your own hands into objects of meaningful art
12. DIY Picket Frames
Pictures are so important in our lives as they are today, in a world that we can forget about what is most important to us all. And these are our families and very best of friends. These are perfect to hang within our homes but also a brilliant idea to gift them to our loved ones. Nothing says love more than something you have done by hand, had the thought process in the first place, and the time to do so. Means a lot and nothing will do so as much as this gesture.
13. Popsicle Stick Frames
Popsicle Stick Frames. The cutest project… just takes popsicle sticks and washi tape!
via eighteen25.com
Children love these little things but let's not be ageist here, adults do too, we do too! Since the summer is coming in a hurry and embraces us with its continuous shine, the more reason to eat as many popsicle fruit sticks! But all in good time and only once in a while to keep the shape reasonable and the doctor and dentists away! You will not feel too bad and guilty about eating them once you see the results. Super fun and easy to do with the children getting stuck in too for a lovely family time. Have a competition going to who will make the better design!
14. How to Hang a Gallery Wall the Right Way
Check these step-by-step instructions below to find out how to hang a gallery wall the right way (and avoid messy mistakes).
If you fancy yourself a bit of a photographer, whether professionally speaking or simply as an amateur having the love for photography, you will love knowing how best to display them in your home, or indeed in your gallery. You would want them to be on the walls being safe without the chances of falling and breaking on the floor. This tutorial explains the better ways to hang these up, and the mistakes we all do to avoid.
15. Photo Frame For All Your Favorite Pictures
via freshideen.com
Photo Frames are great but can end up costing a lot of money, and also can appear everywhere around the home making a bit of a clutter. So, what other ways to enjoy them all within a big area cluster-free, against a wall? A massive frame it is! Terribly smart idea to not only display dozens upon dozens of your favourite pictures, but also a great way to incorporate style on a bland wall working well alongside your space. This is a fun project that can be done with all the family, using a bit of glue stick. You could have your wedding pictures, your favorite holiday adventures, or even, the growth of your little ones every week all within one picture frame.