There is a range of renovation ideas and simple hacks that can help to create a cozier living space in your home. If there is a room (or rooms) in your house that feel a little cold and sterile, then you are sure to find a couple of ideas in this article that can help change that. 
We will look at hints and tips to help create snug living rooms, peaceful bathrooms, dreamy bedrooms, homey kitchens, and more. 
11 Renovation Ideas to create cozy living spaces in your home
 1. Start with the Fireplace
If your home features a fireplace, then you should emphasize it as much as possible so it can act as a centerpiece in your living room. On a cold winter night, there is nothing more relaxing than logs burning on an open fire. You could even fit a traditional wood stove, surrounded by freshly chopped timber for a rustic setting.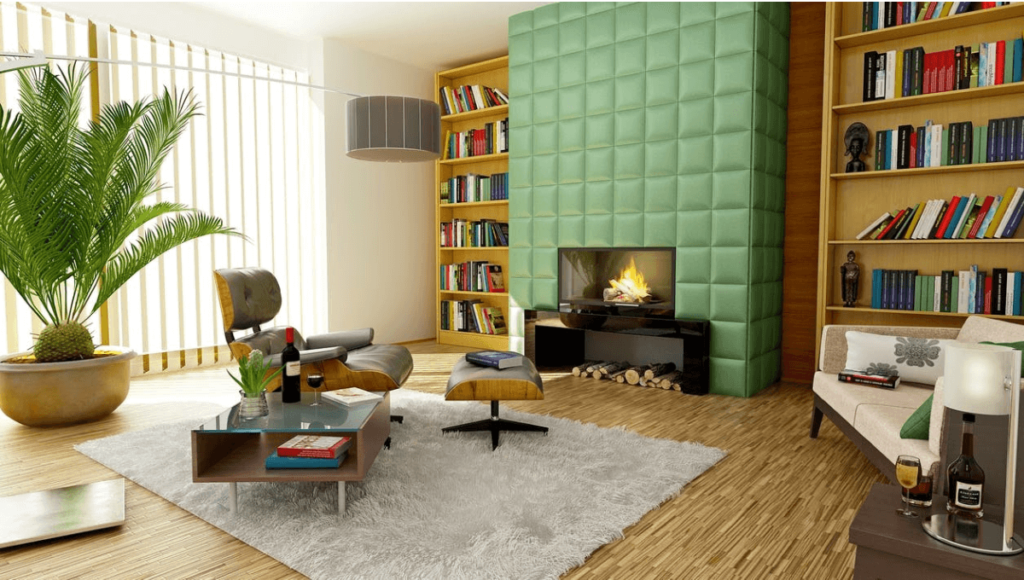 Hanging a mirror or painting above your fireplace can help to direct the eye and add to the traditional style. 
 2. Create a welcoming entrance
After a long day at work, it is nice to return to a welcoming sight, and the entrance to your home can immediately put you in a relaxing mood before you have even entered the house. 
Welcome yourself, your family, and your guests with some decorative features around the entrance to your home. Consider a handmade front door wreath combined with a textured doormat and a lantern that provides some ambient lighting. 
 3. Freshen things up with plants and flowers
There is nothing more relaxing than being amongst nature, which is why houseplants can be a fantastic way of making a living space cozier. Whether it is some lush ivy hanging from your kitchen or bathroom windowsill, or low-maintenance plants for your living room like peace lilies or Yucca, greenery can bring some tranquility to any room of the house.

4. Invest in professional lighting
A dimmer switch can help create a range of moods and help adjust your light settings to something that is more comfortable. This is especially recommended if you suffer from migraines. 
A dimmer in the bathroom is ideal for a relaxing bath time, while adjustable lighting in the living room can add more drama while watching a movie, or provide more illumination when reading. 
LED lighting is much more energy-efficient than traditional lightbulbs, so if you choose to invest in expert lighting, be sure to upgrade your bulbs.

5. Choose a warm and inviting color scheme
It is amazing how much the color scheme can impact a room, and choosing a warm color palette is the best way to make a room more inviting and comfortable.
Variations of red, yellow, orange, and browns are the most warming colors for a home. For a living room or bedroom, a nature-inspired autumn color palette could be a good option, but it may be worth speaking to a professional interior designer for some expert input into what colors can achieve the desired effect.
Address a group of professional contractors, SOD Home Group. They will help with all renovation, construction and design related matters.
6. Build an outdoor social area
If you live in a warm state such as California, then it would be a mistake not to make the most of your outdoor space. Building a fire pit and comfortable seating in your backyard or garden is one way to bring the family together, so you have a cozy place to hang out during those summer nights. 
A sheltered outdoor dining area, complete with heating, is also one way to enjoy your outdoor area in the cooler, rainier months, so you can still invite your friends and enjoy a few drinks in the fresh air.

7. Enlarge a space with mirrors
Professional interior designers will always promote the benefits of mirrors, especially for smaller rooms. A large wall mirror can really work wonders in terms of making a room look and feel larger. 
Mirrors also don't have to be limited to just the interior of your home, with mounted garden mirrors becoming a popular trend across the US.

8. Add a Family Room
You may wish to remodel your basement or garage to add a luxurious and comfortable family room. Here, you and the kids can enjoy watching TV together, playing board games, making handicrafts, or anything else the family enjoys. 
Your family room could also be the perfect spot for that new TV entertainment system you have been debating buying.
9. Improve meal times with a kitchen island
A kitchen island can serve a range of functions, from housing the cooker, providing more room to prepare meals, or adding more cabinetry to your kitchen. However, it can also be a great place for everyone to gather around and enjoy a meal, or a glass of wine between you and your partner. 
10. Install a free-standing bathtub
Is there anything more luxurious than taking a bubble bath by candlelight, while maybe enjoying a small glass of red? A free-standing bath can really take your bathroom to the next level and give you your own 5* hotel spa experience. 
There are hundreds of styles to choose from if you are looking to avoid traditional ceramic white. Copper bathtubs are becoming a national favorite for their striking design and heat conducting qualities. 
11. Convert an alcove into a reading corner
Knock through to the closet under the stairs or remove the shelving from an alcove in your living room to build your own little reading snug. A chic armchair, throw blankets, cushions, and a retro reading lamp is all you need for the ideal place to enjoy your favorite novels. 
If reading isn't your thing, then you could even buy a vintage record player to sit and listen to the classics.
We have tried to include as many DIY projects as possible in our list of 11 cozy renovation tips. However, if you are considering a large project and are based in California, then it is advised to employ the help of professionals. Speak to kitchen and bathroom remodeling contractors in San Jose for quality service, from design to completion.