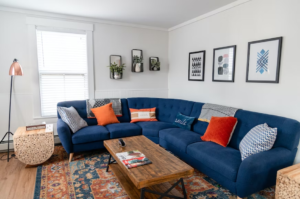 If you are planning to make changes to your home, adding different color schemes will be a great place to begin. Adding different shades of colors is the quickest way to create ambiance.
Keep in mind color matching can make or even break the appeal of your home. So, putting up extra care is paramount when choosing home colors associated with walls, ceilings, floors, furniture, etc.
But the question may irritate you – 'How can I upgrade my home without costly renovation?' It may seem super complicated but don't be worried. We are here to make things clear for you.
Let's take a look at twelve easy tips that will totally change your home!
1. Adapt to What You Already Have
Your home's fixed elements include furniture, accessories, flooring, cabinetry, trim, wall tiles, and countertops. You have already stuck with these elements. So, they automatically become a part of your color palette.
Most of the fixed elements are generally of neutral color. But the problem is neutral colors have different undertones. You need to understand the undertone of colors before designing your home. Then you can either match the undertones or contrast against the undertones.
If you want to match warm colors' undertones, you can select a warm color palette for a wall. When it comes to contrast against the undertones, choose a palette of cool colors for warm color undertones and vice versa.
2. Test Before You Buy
Before buying a big bulk, you can apply color to a small space. It will help you identify whether you make the right decision by choosing that particular color or not. This is really an excellent and inexpensive way to give it a try.
As you know, color and fabric change differently with natural lights and artificial lights. During the daytime, the wall's texture looks different compared to the evening's artificial lights. Closely observe the variations of colors throughout the day.
If you find you still love this color after a few days, be sure to purchase the full amount of this color. The process prevents your walls from completely messing up and also saves you time and money.
Another great idea could be using paint swatches or an upholstery sample in your room. After a few days, if you feel that the color is appealing, you can choose that color for painting your room.
3. 60-30-10 Rule
According to this simple decorating rule, first, divide the entire space. Then allocate 60% for the dominant color, 30% for the secondary color, and the rest 10% for the accent color.
This rule helps you maintain balance within a room. The dominant color of 60% gives you a strong background for the remaining 40%. Usually, people fix this color on the walls.
When it comes to secondary color, you can use it on 30% of the surface areas to support the main color. Apply this color to rugs, furniture, draperies, curtains, and other elements.
And finally, use the accent color with artwork, throw pillows, or minor decorative pieces. As an accent, use one or two colors in every room to upgrade your color scheme.
4. Use the Color Wheel
You can choose the perfect color scheme for your home using the color wheel. There are mainly two approaches to selecting the color. One is a complementary color scheme, and the other is an analogous color scheme.
For a complementary color scheme, choose the color that is placed on the opposite sides of the wheel. It generally includes a bold contrast of colors.
Examples of complementary colors are red and green, blue and yellow, and orange and purple. That means, in the color wheel, you find the red color is the opposite of green. It's better to use complementary colors in the formal spaces of any home, such as the dining room or living room.
An analogous color palette is just the opposite of complementary schemes. Examples of analogous colors include red and orange, green and yellow, and blue and violet. In the color wheel, these colors are next to each other.
As this color creates a relaxed feeling, it is widely used in the informal areas of a house. Thus, it is suitable for dens, bedrooms, and family rooms.
5. Paint Your Ceiling
When you want to change the look of your home and upgrade it to the next level, you need to consider painting every bit of your house's interior and exterior parts.
Adding colors to your ceiling can create great wonder when designing the interior. Painting the ceiling can create an illusion that makes your room looks bigger.
Applying the right dark colors, such as dark gray, deep blue, chocolate brown, etc., to your ceiling will make your room cozier and lower your high ceiling. On the contrary, using a lighter tone can make your lower ceiling feel higher. You can choose whatever fits your space.
6. Choose Neutrals
In any color palette, you find neutrals as it is an important part of this palette. You can choose either a default neutral or a white neutral color.
You may think all the white looks similar. But when you apply the various shades of white on the wall, you will note the undertones.
The default white color is generally used in furniture, trim, ceilings, and cabinetry. On the other hand, using default neutral in the connected areas of your house, such as hallways, open spaces, lofts, bathrooms, and closets, will be great.
7. Opt for a Bold Color
You must enjoy your room if it is painted your favorite color. So, why don't you make this color the center of attraction? It will be an absolute idea as you don't tire of seeing this color every day.
Bold colors in your palette can be the darkest or the most saturated. It normally depends on personal preferences.
You can pick your favorite color for this. But make sure this color matches or complements your fixed element's undertones to get a better output.
8. Go for a Gallery Wall
When you wish to make significant improvements to your home decoration, set a gallery art wall in your room. Adding beautiful artwork, color palettes, textures, hanging photographs, paintings, empty antique frames, vinyl album covers, etc., to the entire wall creates vibrancy in your room.
Mustard, peach, light blue, and green shades will give you a tonal cohesive look. You can also achieve that effect by using similar colors and frame styles to your wall.
Select empty, large walls when you choose a wall that goes well with these artworks, as choosing narrow walls, nooks, and crannies, will fail to grab visitors' attention easily.
9. Use Colorful Throw Pillows
One quick addition to making your interior designs colorful is using colorful throw pillows. If you cannot decide which pillow colors must be selected for your space, look around the room. Then identify what colors already exist in the room.
Before picking the right pillow colors, it's also worth considering what types of artwork, textures, and patterns you have. Choosing a similar shade for your pillow colors is a brilliant idea, as it will make your room come together.
10. Put up Temporary Wallpaper
As psychology says, colors really have a powerful impact on your mood. If you use colors wisely, they will give you a relaxed feeling and calming effect.
With the help of these temporary wallpapers, you can shift your surroundings in a blink of an eye.
Choosing light-colored wallpapers makes your room more open, feels brighter, and also welcoming. These wallpapers are typically used to add some colors and give your room a traditional and classic feeling.
On the other hand, dark-colored wallpaper makes a room look smaller, cozy, more enclosed, and intimate. It also demands the visitor's attention.
11. Add Plants to Your home
One Of the excellent ways is to fill the room with plants. The idea not only adds color to your room but also gives it warmth and a natural feel.
Not just green, you can also add plants with different shades like pink, purple, and red, giving your room a more colorful look.
The size of the plants doesn't matter, either. You can pick a large planter or several small tubs and spread them throughout the room. Additionally, you can choose hanging planters to affix to the ceiling or walls. These will definitely add colors to your home.
12. Add Colorful Rugs
Applying colorful, versatile, convenient area rugs is perfect for changing the look and feel of your home. Rugs come with thousands of combinations of colors, shapes, design patterns, and materials, so they are perfect for different floors.
Area rugs work well in the dining room, bedroom, and den. It adds warmth to the hardwood floors. Plus, it gives a layer of protection from scrapes and scratches. These simple, inexpensive designs can transform a dull room into a formal, colorful living room.
You can choose a bright color rug for a dramatic look. If you want something more subtle, apply an earth-toned rug that best matches the colors of your throw pillows. These rugs provide you with a splash of color.
Final Thoughts
In interior design, color is an important decorative tool.
When you are thinking about renovating or updating the appeal of your home continuously, changing color schemes could be the easiest and most inexpensive approach to start with.
We hope these tips to renew your home without the huge cost of remodeling, help you update your house's style and feel.