Here are some inspirations for you, how to decorate Easter eggs in a minimal way.
Chic Black & White Easter Egg Bunnies
Looking for a minimalist Easter egg idea? Check out these stunning black and white Easter egg bunnies. Easy to make and so beautiful too.
They would go perfect inside a monochrome kitchen, still celebrating the Easter season without screaming it on top of high rooftops. Get white-colored eggs to boil, leave one to its natural color and the other with a mat, black paint. Bit of black string and the all-important black and fine marker pen. These little bunny eggs work really well as a tabletop centerpiece for the themed day.
DIY Minimalistic Easter Eggs
These minimalistic easter eggs are easy enough to make with your kids & stylish enough for an easter centerpiece!
And all with the assistance of an old toothbrush, a bit of black food coloring, and of course, the eggs. You would almost fool your guests into thinking these are delicious-looking chocolate eggs. Fun prank coming up? With a similarly themed table, these eggs will add much season greetings and add the ultimate Easter touch in the chicest of ways. Looks good enough to eat right?
Neutral Easter Eggs
These refined and pale neutral marble eggs will go great with whatever decor you pair them with. I love the contrast of the bold black egg!
Someone will be forgiven to ask how much you paid for these and where did you get them from in the first place! It is amazing what can be done with eggs. Not only are they mega delicious and full of protein and overall great nutrients, but they also can look this good. Almost making them look like marble eggs bought for a lot of cash. You could almost mix in a little gold or copper paint in there for that one special golden egg.
DIY Scandinavian Sharpie Easter Eggs
Add a bit of class to your egg decoration with these simple, Scandinavian-inspired pattern ideas.
Although simple, you ought to be rather gifted in the handling of a fine point sharpie black pen. By punching a hole from top and bottom with nails, you're getting all of the egg out, while conserving the eggshell. This makes it a possibility to use items as hanging ornaments throughout the home and in this tutorial, on simply branching wood from the outdoors. This step by step is done in monochrome, but you could also be using a lot of colors instead. Have fun with this one and hand over responsibilities to the rest of the family too!
DIY Naturally Dyed Speckled Easter Eggs
If bright colors are not your thing, These dark, rich, blues are bound to be right up your alley.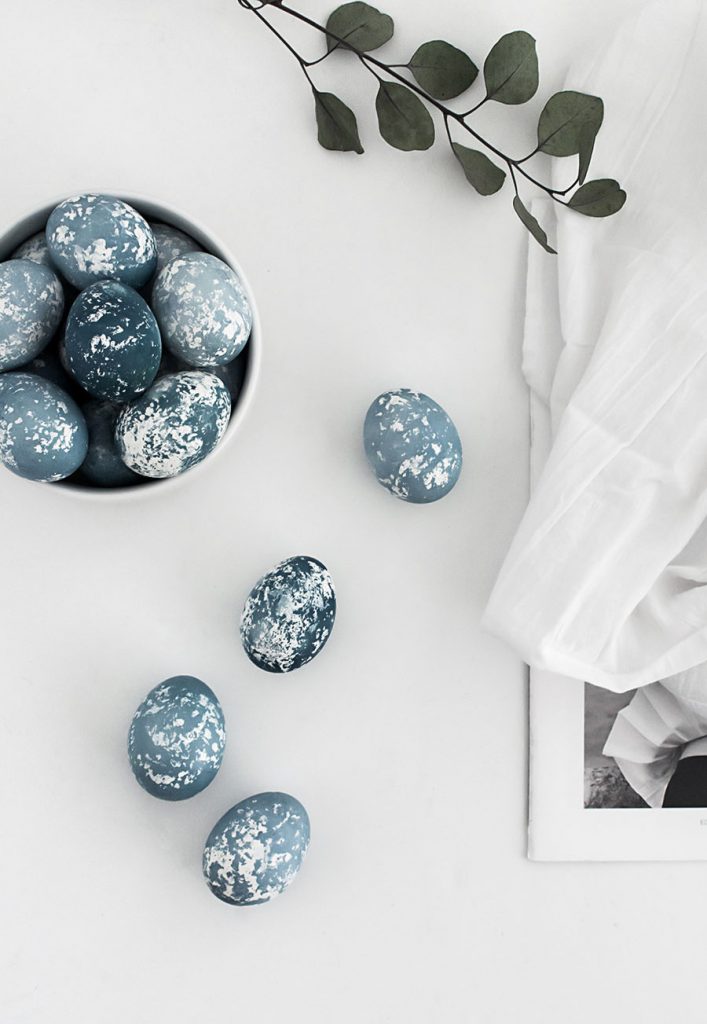 Here, red cabbage is used and put in a pot. The watercolor that comes from it is almost like a magic trick. You won't believe it. Stunning color and perfect to get your eggs looking at their best. You could even stick an old white t-shirt once you're done with it to once again look totally brand new.
DIY Splatter Easter Eggs
Simple and classic ink splattered eggs.
We have never seen what dinosaur eggs could look like, but if we used our imagination, they would look something like that. A thousand times smaller of course! These are super beautiful mixed in with other black and white accessories in and around the eggs adding even more Easter decor credibility. Using the toothbrush does get a little messy, so best done outdoors preferably. But hey, messy always translates to fun right?
Paint Splattered Eggs
You can use the splatter pattern on both plain and marbled eggs.
From the material list, there are a few elements missing, such as making sure to have a big outdoors, and to also cover yourself from head to toe with a plastic protection coat of some sort because this is about to get very messy! Once again, the inner kid in you will feel youthful again. You'll find more paint over the other person than on the eggs themselves but hey, that's Easter for you! Enjoy with the family while it lasts and makes a big deal out of it. Then, the little ones will grow older, stop painting the eggs and instead throw them at you!
Mud Cloth Inspired Easter Eggs
The tribal lines of these paint and sharpie eggs are simply amazing!
A lot of eastern civilization has fallen for African art. After all, they are so exuberant and ooze with color and joy, and everything wonderful. And these eggs pay the exact homage to great African people. Recreate African art onto these super cute eggs, adding beautiful drama to a room that will boast in character. You won't need to be an artist. Take a look at hundreds of different examples of what can be done. Don't need to keep things black and white, so do not be afraid to add color to your patterns.
Gold Animal Easter Eggs
Transform your Easter Eggs into 3D. Make this sweet, simple gold animal Easter Eggs DIY. Gold paint and glitter bring charm to these spring-time animals.
What Is lovely about this DIY is that the eggs will look great left to their original color (best use white shells though), or you could indeed dye them using vegetables' natural coloring. You can find the small animal in most children's shops, that you would simply need to spray in a glitter golden color to add to the drama. Try to paint the animals in white first, before adding the gold color. It will be easier and won't need to apply tonnes of different coats to make it shine bright.