It's amazing the things you can make with a single item. Some things are so versatile! Mason jars are one of those things! You can use them as a decoration for parties, for storage, in the kitchen.  The possibilities are endless.
If you have some Mason jars lying around, here are a 21 ideas on how to decorate your mason jars. And if you don't have any Mason jars, get some! Check these 21 Mason jar crafts and DIYs to pin now and try later.
1. Floating Candles
Place a floating candle in a Mason jar for a simple- but spectacular centerpiece idea. Finish off the look with a tiny bit of twine!
via Emmaline Bride
2. Memory Jar
Turn your Mason jar into a wonderful terrarium of beach side memories! Make a vacation memory jar with your favourite pictures. 
3. Mason Jar Desk Organization
Try this super simple and easy Mason jar DIY desk organisation! What's the best part about this Mason jar craft? It's totally no-fuss. Flip jars on their side to keep your things in place.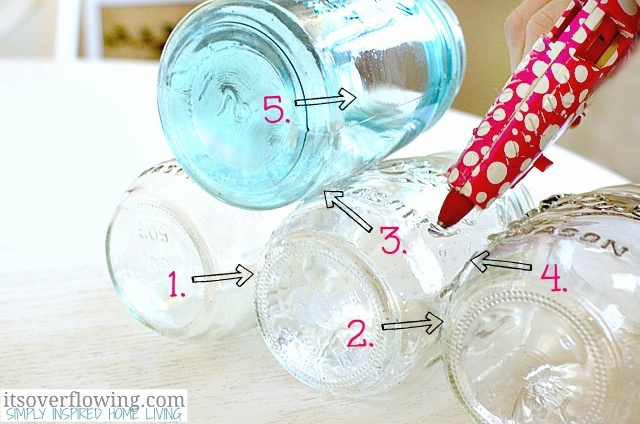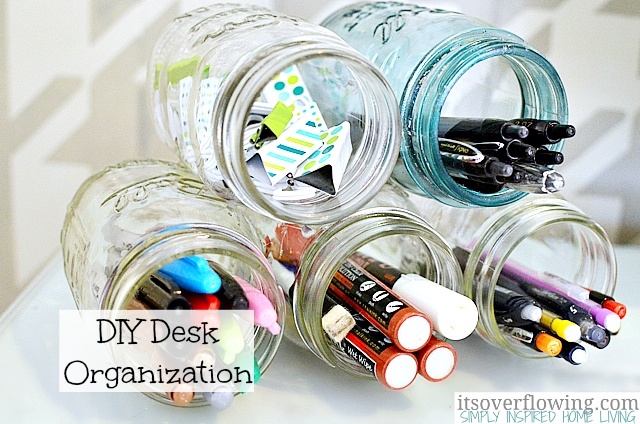 via Its Overflowing
4. Mason Jar Candle Centerpiece
Try these Mason jars with black paint for a peek-a-boo lighting fixture you'll love! Even better, they come in a mini size as well! Use a baby food jar to create the cute little mini holder.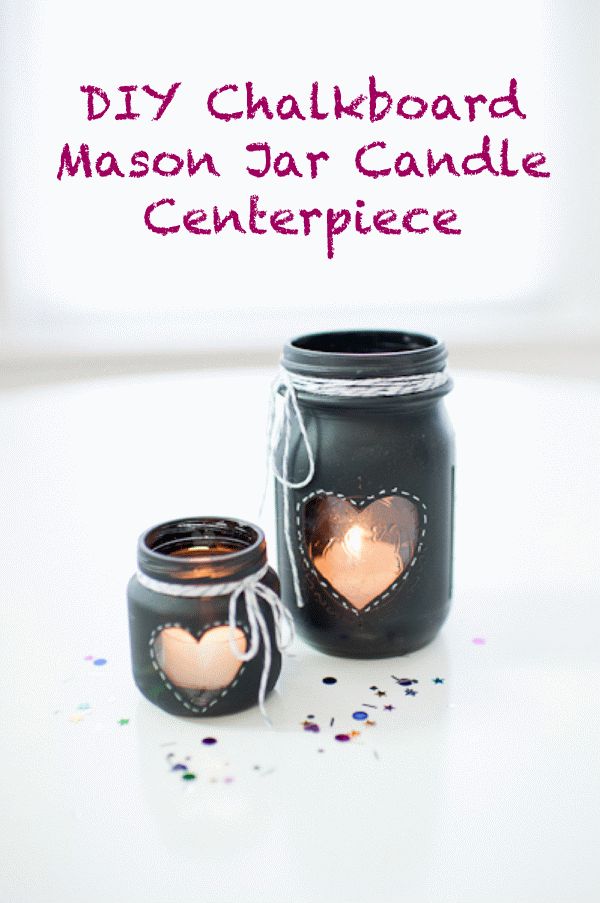 5. Watermelon Mason Jar
Make this watermelon Mason jar in under 10 minutes. The jar is half transparent, you can see how the glass paint tints the Mason jar, but you can still see through to the inside. Add flowers for a vase or candles for a centerpiece.
6. Mason Jar Succulents
What is the best part of these pretty planters? These little succulents are drought-friendly! You will love how low maintenance these are!
via Lolly Jane
7. Mason Jar Planters
Bring a little spring to your indoors! Make a fun DIY Mason jar planter and plant them with your favorite flowers or herbs.
Use a spray paint to paint the jars with your favourite colours, then add a second coat of paint and set aside to dry.​ Decorate them with a piece of burlap and cotton fabric.
Fill the jar with potting soil and add your favorite plants or herbs.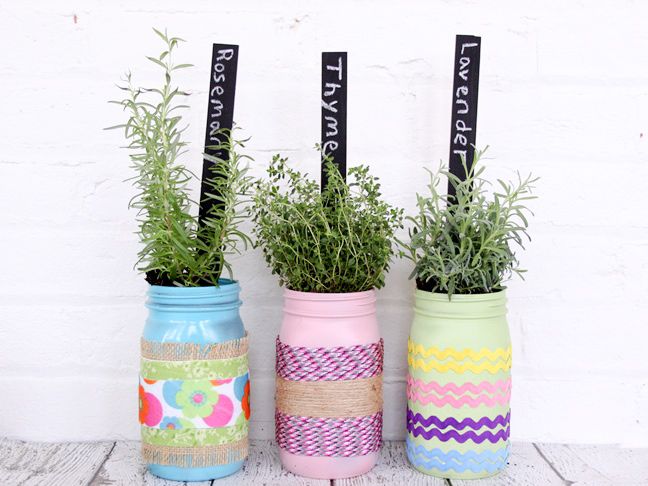 via Momtastic
8. Mason Jar Candle
Turn leftover jars into long-lasting candles. You can add a few drops of your favourite essential oil or food colouring and make it a perfect DIY gift.
via Andy & Clothes
9. Glitter Dipped Mason Jar
Have you ever seen anything more perfect than this gorgeous, gold and glittery Mason jar? Add some glitter and gold to your jars and make them the perfect addition to your party decoration.
via Lilyshop
10. Gold Leaf Mason Jar Planter
Shiny and pretty! These gorgeous gold leaf planters would be a chic addition to any fireplace.
11. Back to School Mason Jars
Give old jars a fresh layer of paint and turn them into fun home storage! They are so cute and perfect for desk organisation.
12. Summertime Floating Candles
This project will cozy up a room and has the power to make you feel relaxed!
Pick some of your favorite summer scents: mint, lemon, lime and add some water to Mason jars. Then add some floating candles. This is super easy!
These candles are naturally beautiful with green and yellow colors.  With their evening glow, they will become the perfect addition to your terrace or balcony.
via Nest of Posies
13. Mason Jar Butterly Terrarium
This project it perfect for people who have trouble keeping plants alive. Faux butterfly terrarium is great for adding a natural feel. Just use some sheet moss, styrofoam balls and artificial colourful butterflies to create this cute tabletop display.
14. Mason Jar Table Numbers
This is a clever idea to combine your flower centerpieces and your table numbers for a bride-to-be.
Crafting your own wedding can be amazing, especially when you can combine two wedding elements into one.
The combination of Mason jars, chalkboard labels, and twine are so popular. What about incorporating bright, bold bandanas into your decor instead? Tie a bright yellow bandana around the top of your Mason jar to give it extra color and character!​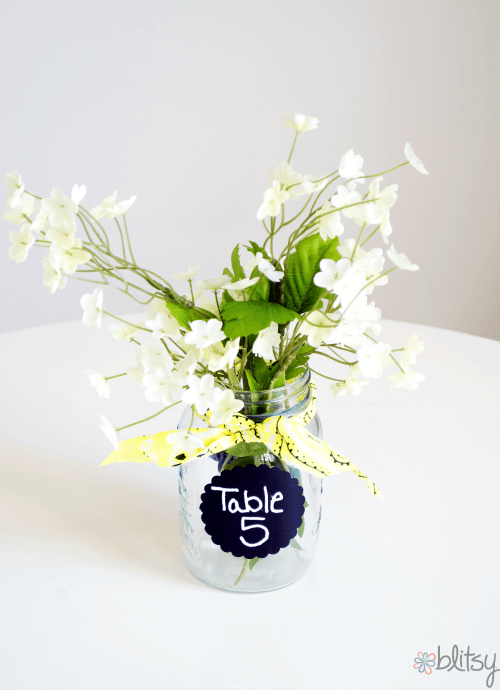 via Blitsy Crafts
15. Pink & Gold Chalk Painted Mason Jars
Chalkboard style is definitively still trending… and of course everyone loves a pretty Mason jar – so let's combined the two!
These pink and gold chalk painted Mason jars​ will add some colours in your home. Use cherry blossom chalk paint, sandpaper and a gold wax to the jars a coral sheen. Finish the project with adding spring flowers.
via The Happy Housie
16. Polka Dot Mason Jar
Are you looking for ways to brighten our your home? This easy project will do the trick!!
Paint the jar with your favourite colour and some polka dots! Add flowers for a pretty display.
via R & R Workshop
17. Funfetti Candle in a Jar
This one looks yummy!
via Beth Cakes
18. Unique Lettered Jar
Pick some foam stickers for this project and lay out your favourite phrase on a jar. Apply one or two coats of primer, two coats of paint, and two coats of glossy sealer. The last step is to pull off the stickers and painters tape.
19. Snow Globe Jars
This isn't the season for Christmas decoration… But who wouldn't fall in love with these snow globe jars?
​They're easy to make and will look just wonderful! You can even wrap them up and give them as gifts for Christmas…
via Whipperberry
20. Mason Jar Animal Globe
Now it's time for something a little bit different. This idea will be perfect to make it with your kids.
Pick an animal figurine or any plastic toy to display in your glitter globe. Make sure you add a few drops of glycerin and as much glitter as you like. Have fun with this animal globe!
via DIY network
21. Mason Jar Wall Art
Do you want to add a bit of character to your empty wall space? This wall piece will be great for that! What you need to make this amazing Mason jar wall art is just an old piece of wood and a little bit of inspiration.
You can add your favourite flowers and other decoration! Sounds great, doesn't it?
22. Mason Jar Luminaries
Create a mason jar luminary – similar to a scatter candle – the easy way.
via www.dreamalittlebigger.com
Now it's time to do something with your Mason jars! You don't have any at home?  Buy some of the beautiful jars and start your DIY project!