Your house is supposed to be your sanctuary. It's supposed to be the place you can be yourself and find peace. However, achieving that feeling is no easy task. You have to invest lots of resources to make your home comfortable and soothing. Although having a bigger budget helps, you can do quite a lot, even with limited funds. Below are six affordable tips on how to decorate your house and make it perfect for your unique needs:
1. Add Some Plants
Plants and flowers will have a tremendous impact on how your home feels. They will figuratively and literally bring your living room, kitchen, balcony, and any other space to life. The best part? This is a pretty cheap hack. You can find affordable flowers and plants in your nearest grocery store.
Taking care of plants is also pretty straightforward. You just need to water them and ensure they are getting enough sunlight. That's it!
Besides the plants themselves, you can also use the plant pots or flower vases to enhance the feel of your home. For example, you can paint the plant pots to complement the rest of your home's decor. 
Meanwhile, flower vases can add a touch of sophistication to your home. That's especially true when you invest in stylish flower vases. They may cost a lot, but the transformation they deliver is usually astonishing.
2. Choose Your Paint Wisely
When searching for the right paint for your home, there are two options to choose from. The first option is light soft, understated hues. Lighter walls are good in various ways. For starters, they can make your space look larger than it really is. Lighter colors are also good at opening up a home.
The other option is dark paints. Darker paints like dark navy are bolder and super elegant. Dark paints are particularly great in smaller rooms.
Note that you don't have to paint your entire home with just one type of color. You are free to combine different colors to get the appearance you want. Just make sure there is seamless cohesion in each room.
3. Raise Your Ceiling
Another way to make your rooms look elegant is by raising your ceiling and making it look taller than it actually is. How? Simple, try hanging your curtains higher up on the walls. You will immediately see the room look bigger, more spacious, and glamorous.
Speaking of ceilings, you can also use crown molding to make your home look even more gorgeous. Crown molding introduces fine little details that boost the cohesion between your walls and the ceiling. It will make your rooms look royal.
Once you're done with the ceiling, think about your floor. Do you need a new carpet or polish? If you have a concrete floor, consider having it repolished. The gurus at https://craftsmanconcretefloors.com/ explain that you can re-polish any concrete slab. But, of course, how good the finish will look depends on your concrete slab's quality. Nevertheless, a fresh polish should bring your home to life.
4. Add Lighting Fixtures
Lighting can make all the difference, especially at night. With the right type of lighting and fixture, you can set and change the mood of your home at any time. We encourage you to install fixtures for all three types of lighting. 
It's also important to think about the types of fixtures you're installing. Don't just go for the generic chandelier used in every other home. Find some designer fixtures. If you don't have the budget to buy designer lighting fixtures from the store, check thrift shops or antique stores. You can also take advantage of seasonal sales.
5. Add Some Pillows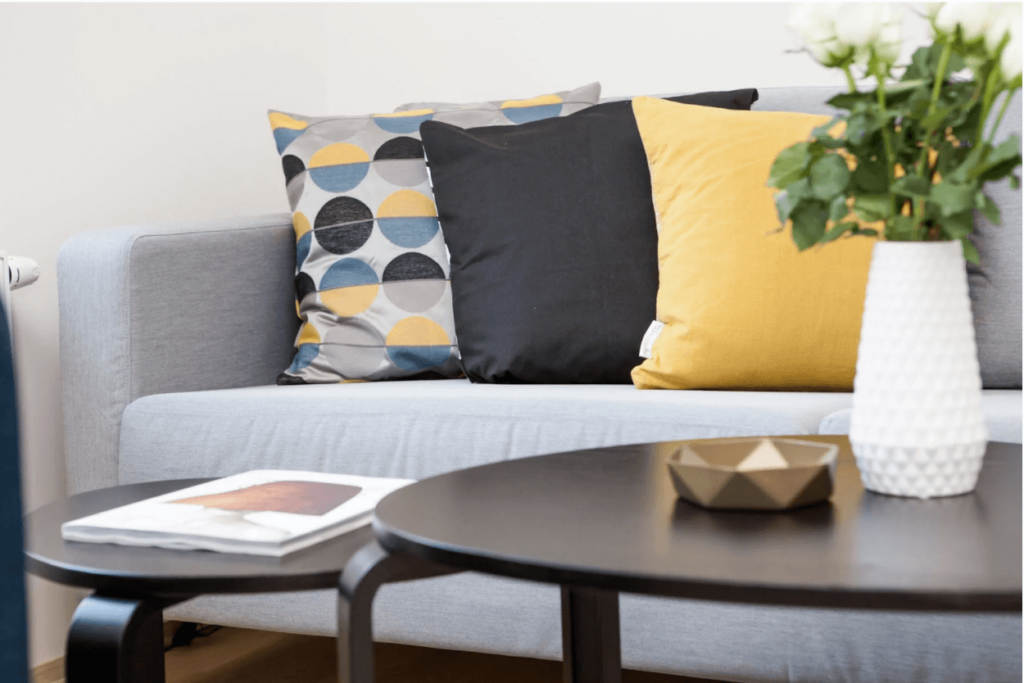 Pillows add a plush appearance to a room. Mix and match the colors, and your room's mood will change instantly. Besides making your living space look perfect, throw pillows are also very practical. 
So, shop for soft and cozy throw pillows. Try finding larger pillows like a 22-inch cover with 24-inch pillow inserts. You'll find the larger pillows more elegant than the smaller ones.
6. Accessorize
Accessories can make your home look luxurious. Most people achieve that using gold accessories. For example, you can add gold picture frames, mirrors, etc., to your space. But, do not overuse the gold. Too much gold in one place ends up looking absurd.
Besides golden accessories, you can also add decorative vases, wall arts, a console table, and other accessories.
Consider the amount of space you have when adding accessories. Don't squeeze too many items into a small space. Your home will look cluttered.
Decorating your home doesn't have to be an insanely expensive project. All the tips discussed above can be implemented on a budget. Follow this guide, and you'll be amazed at how magical your home can be.