It's exciting when you get to start a new project. Any endeavour and hobby can be a learning experience and, gardening can also prove to be quite fruitful, pun intended. As when starting anything, it's easy to get overwhelmed by the vast amount of information that is out there and many people can get intimidated and don't start at all because of that. That doesn't have to be the case as it doesn't take a lot to start your very own garden. A bit of determination coupled with some elbow sweat can give you a running start. From vision to reality, it's always important to remember that this is a marathon, not a spring. So, with the right attitude, let's get started.
1. Start small
And by starting, we mean to take baby steps. Googling anything about gardening can yield mountains of info and, it can easily burry you. While there are guides there that focus on vast gardens with a multitude of options, it's important to start with the basics first and grow from there. Planting just one type of vegetable in small numbers is an excellent learning opportunity and a great start to your gardening carrier. 
Picking carrots, onions, potatoes, tomatoes or any other easy to maintain plants are a great head start. If you are thinking to yourself that this may not seem like much just remember that until now you didn't have any plants at all. Anything is better than nothing and, from that humble beginning, you can easily expand onto new and larger projects.
2. Mulching and fertilizers
You want the best for your future garden and are looking for any help you can get in that area. Mulching is simply putting a layer of very fertile dirt around your plants. It provides them with the nutrients they need, cools the earth down a bit and prevents weeds from growing. Mulching also makes the area stand out a bit, as the mulch colour is usually a bit darker than the regular dirt. For starters, any will do and, you don't need to overdo it when applying mulch. 
Keep the mulch an inch away from the plants, and an inch in height when applying it. Doing this is a safe way of applying the mulch. As for various fertilizers, it is important to know that you should always opt for those that are made from natural ingredients or are as eco-friendly as possible. Using some non-brand, low grade and, cheap options can only harm your plants and you in the process. Consider mulching and fertilization as a sort of a booster to your plants and a helping hand when times are rough. Or a pat on the back when times are good and, you want to see them grow and flourish.
3. De-weeding
Weeds are the main enemy of your plants, whether you have a single patch with a couple of vegetables or a full and large garden. It's good practice to do a daily walk and checkup around your garden to see if any of these pesky weeds have reared their ugly head around your plants. They drain your plants of their valuable nutrients, hinder their growth and help in spreading diseases. So, it's important to stay vigilant. Mulching prevents them from growing as it deprives them of natural sunlight but it's always a good idea to inspect and check, just to be sure. After all, you want to grow vegetables that you can eat, not weed.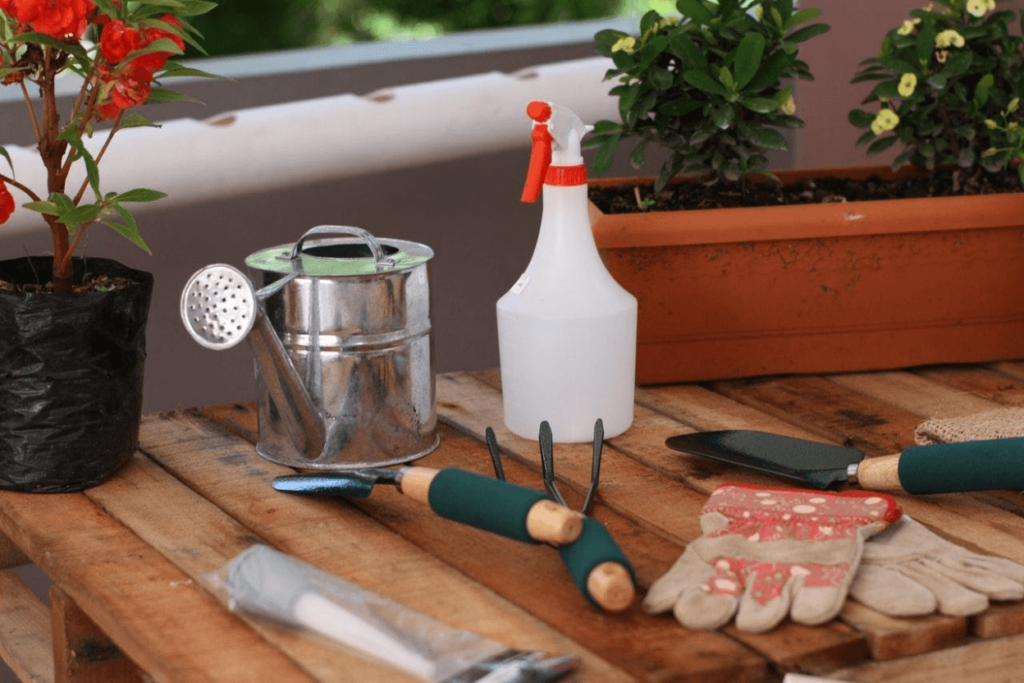 4. The right tools for the job
As with any profession or hobby, you can't do it properly if you don't have the right means for the task. Here it's important to know that you don't have to break the bank to get the best bang for your buck. Getting quality garden tools is a matter of scope and need. If you have a small garden (that we are aiming to create here) and just a couple of plants in it, then you need a tool or two to get started. Basic tweezers, de weeders and cutters, with one or two pairs of gloves, and you are off to a good start. As your garden grows and expands, so will your arsenal of tools that you can apply at any given time. 
One important thing to note here and, which many newcomers to the hobby forget, is gardening tool maintenance. After using them and before storing them away, be sure to clean them from organic matter and dirt. This prevents mould from forming on them and further prevents them from spreading. Also, your tools will be in tip-top shape for when you need them.
5. Observe the light
Mother nature has taken care of a lot of things for you. Some plants need more light, while some thrive in the shade. You can lay back on your porch and look at how the light spreads around your future garden to best determent where to plant each plant. If you see an area that is almost always exposed to light, then plant accordingly and, the same applies to any plant that enjoys a cool shade. Meeting their demands and needs only leads to them throwing and growing as fast as possible.
6. Proper watering
Just taking the hose out and soaking everything is not going to cut it. Too much water is as harmful as too little. Moderation in all things is a key to a thriving garden. Dripping hoses and sprinkler systems can help you out if you can't figure out the right dosage and want to be sure. Too much watering can make the roots of the plant's decay and rot away, so dosage is important. If you look at any area, try to imagine an inch of water. That's the amount of water that your plants need for the entire week, so you can divide it by seven if you want to know the daily dosage. Or, again, you can skip the math and get an automated sprinkling system until you get the hang of it.
7. Pest control
What was a cute little snail yesterday is a threat to your garden today. Until now you probably haven't paid attention, or haven't noticed any critters around your garden. But once you start gardening, they will start to appear. Avoid beginners' blunders, and don't start spraying them with any excessive amounts of insecticides. For starters, and since you should start on a smaller scale, you can remove any of them manually. As they are easier to spot when you have a smaller garden, it's also easier to maintain the status. If they prove persistent and annoying then always look for organic, natural and non-toxic products to deter them away from all the hard work you put into this project.
8. Seed management
Naturally, when you are just starting with gardening you will have to buy seeds. But, seeing as this is the beginning of your journey, keep in mind that you now have your very own seed production in the comfort of your backyard. Just one plant can have many seeds in it that you can use for future planting. Make a mental note to store away at least one or two plants when you harvest them and, you can use the seeds from them in your next endeavour. Speaking of writing notes
9. Write a journal
The difference between goofing around and science is in writing it down. There is no need to keep all the info in your head when you can use a piece of paper. You can use a journal to write down when you first planted your plants, when did you water them, applied the mulch etc. Or you can go digital and use any of the readily available gardening apps. Any of these solutions are there to take the load off your mind and help you concentrate on other, more important things. Like planning for future harvests and expanding your garden. Or you can draw out new layouts and plans for how you would like your garden to look. 
10. Garden waste disposal
Whether you are pruning, de-weeding or harvesting, there are going to be organic by-products and unnecessary waste. You may be tempted to just throw it in the regular trash bin, but that would be a rookie mistake as this organic matter decays faster than others and can lead to nasty surprises. To avoid unpleasant smells, sights and situations there is a solution in a form of a new addition to your hobby. Composting. As you are now producing your plants and seeds so is your garden producing future fertilization with the help of composting. Having a small but dedicated composting area is an easy thing to set up and you are creating your fertilizer that is guaranteed one hundred per cent naturals. It doesn't get any better than that as you know exactly what was used to make it.
11. You also have bug allies
Just as some bugs can be considered pests and harmful to your plants, there are also a couple of them that can help you out. Bees and butterflies will also take notice of your new garden and can be polite and help your plants flourish. There is no need to deter them or do anything to prevent them from reaching your plants as they are not harmful to them in any way and can only help you out to have a thriving garden. 
Making that first step and planting at least one plant is the step in the right direction. You are now well on your way to a healthy and fruitful hobby, that will keep you occupied for the foreseeable future. Gardening easily grows on you, again pun intended, and soon you will find yourself tinkering and expanding your garden for years to come. As you expand it's always nice to remember your roots and where you started, which can make a fond memory. Gardening can be an excellent de-stress exercise and an escape from the hustle of the daily life that you so sorely needed. We wish you all the best in your future endeavours as you start your gardening journey. And may you enjoy the fruits of your labour.