The student room is a special place. Regardless of size, it is both a living room, a bedroom, a library, a gym, and a place to study. A student's workplace can be compared to the workplace of an office representative. Therefore, good lighting is very important. A comfortable desk and chair should be placed near a window to make the most of natural light.
The study area must include ergonomic, comfortable furniture; a convenient arrangement of office equipment (computer, printer, and other electronics); drawers and shelves for storing DVDs, books, and visual aids; table lamps and fixtures. It is recommended to place all these items in easily accessible places to ensure their convenient use.
How to Create a Study Space at Home?
Find more exciting ideas for making a study space in a small room below.
Combination of Opposite Styles
Student life is a time of active change, the desire to learn more and express yourself as much as possible in this world. Therefore, an excellent solution for the interior of a student room is a combination of opposing styles. If you would like to use such an interior solution but have too little time, contact the trustworthy ib writing service and get professional writing support from experienced writers. This will help you solve not only academic problems but also find time to create a dream room. 
A minimalist style with eye-catching, bright decor elements is an excellent choice for a small student room. Thanks to such an interior, you can modify the surrounding space every day. Therefore, you can always find a place to study. Everything interesting, bright, and original is welcome and allows the creation of an excellent learning environment.
Urban and loft style is an interesting combination of new and old in the interior. Masonry, rough plaster, and pipes are perfectly combined with modern appliances, chrome surfaces, and glass partitions. An open layout forms the basis of such an interior. There are no partitions. Therefore, it is not difficult to find a convenient place to study. Zoning is carried out taking into account the following:
Accent with light;

Color contrasts;

Glass partitions, the location of which does not affect the basic open space concept.
When deciding to decorate a room using several interior styles, try not to use too many different solutions at the same time. It is recommended to use no more than two styles in order to make the space interesting and comfortable for studying.
Hobby Accessories in the Interior
A person without hobbies is like a tree without roots. Hobbies give brightness and sharpness to life. The interior of the student's room should contain hobby accessories. In such an environment, studying will be much more pleasant. But how make the hobby organically woven into the environment?
If you like to take pictures, decorate the room with author's photos, photo wallpapers, or collections of vintage cameras. Use the lamp as a lighting fixture, film photo frames, Polaroid pictures, etc. Such details will give originality and semantic completeness to the interior.
Those fond of heavy music should take care of the room's soundproofing. It is also essential to plan everything, so there is enough space to install instruments. A good option is a convertible bed. It allows to free up maximum space for movement in the daytime.
If drawing is your hobby, you should set aside a special place in your room for your favorite pastime. Paintings, sculptures, and art objects will make the interior multifaceted and interesting. An easel, brushes, colored pencils, posters, prints on textiles, as well as books on fine arts, can be an accent emphasizing your hobby.
Room Zoning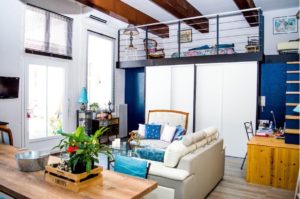 To avoid cluttering up a small room, it should be clearly delimited into zones: sleeping, studying, sports, a recreation area, and a separate one for hobbies. It is better if zoning occurs due to color design or a multi-level floor. Let everything be bold, stylish, and original.
Some zones can be combined. But it is recommended to make the study area separate. Then nothing will distract you, and you will be able to work in a pleasant environment.
Study Room Requirements
Lots of Free Space
Fill each zone with the necessary furniture. Even if you are living in a houseboat, it is appropriate to create an interior with a lot of storage space (large closet, shelves, drawers, etc.). This will help keep your studies organized and free up space even in your small room.
Pay attention that the room should be spacious and light enough to provide comfortable sleep and convenience during classes and gatherings with friends. In addition, the interior will become more neutral and lighter when using light wood furniture.
Proper Lighting
Light plays an important role in the visual perception of a student's room. The more light, the more pleasant and cozy the room. The study place should have enough both artificial and natural lighting. For this, it is not recommended to curtain the windows with thick multilayer curtains or lambrequins. For general lighting in the room, you can use a small chandelier. Alternatively, you can choose a medium-sized lamp.
The study area needs additional lighting. Therefore, it is advisable to use table lamps, floor lamps, or ceiling spotlights.
Now You Know How to Make a Good Study Space
Therefore, the room is a special place for the student. It should combine a place for recreation, study, creativity, etc. Its arrangement should be approached responsibly. It is crucial to divide the room into separate zones and provide good lighting and plenty of free space. Then study will be more comfortable and effective.
Use the original study space ideas described in this article and create the study space of your dreams!