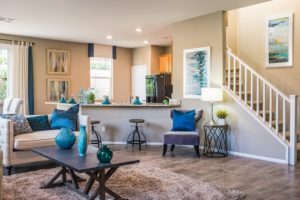 Looking to improve the layout of your home? In today's short guide, we'll explore several tips for  doing just that. Let's dive in!
Add an Island to Your Kitchen
Kitchen islands are a great way of structuring the layout of your kitchen. An island can act as a superb centrepiece and social hub for your kitchen space while also providing a new level of definition to the room. Kitchen islands are also a great option if you want to zone your kitchen space.
Integrated Storage
If you want to minimise clutter, it's important to consider how you can optimise your storage. When considering how to alter the layout of your home, you'll want to consider what you must store, the storage space required and where in your home would work for easily accessible integrated storage.
Integrated or built-in storage can come in many forms. For example, you may want to have walls or concealed presses with storage room inside them. The more seamless integrated storage, the better from a design point of view.
Knocking Wall Down to Enlarge a Space
To create more space, you could have a wall between two rooms removed so that you can create a larger space. Of course, it's vital to ensure that a wall can be knocked down. After all, a wall will not be suitable for removal if it is a load-bearing wall.
However, if it is possible, you may, for instance, want to create a larger kitchen. This will not only make for a more practical and user-friendly kitchen space but will likely add to the value of your property. This may be especially appealing if you are considering selling your home in the coming years.
Lastly, a larger kitchen space can make for a more aesthetically pleasing room. Of course, you must hire professionals to undertake this work.
Study Wall Construction
On the contrary, there may be a space in your home where creating two rooms from one will actually improve the layout of your home.
Installing stud walls is also work only suited to professionals. To have a single stud wall installed might cost somewhere in the region of £700 to £900. If you're unsure whether to have a stud wall added or to have a wall removed to enlarge a space, you can always consult with a professional designer. The same is true for improving the layout of your home in general.
Relocating or Removing Interior Features
It's important to spend time considering what interior features/fittings you may want to relocate, adjust or remove. For example, lowering or increasing the height of certain windows may maximise their ability to let light in.
Beyond that, if you have any rooms with two separate door units leading into the other half of your home, you may decide to have a wall established in place of one of these door units.
Adding an Ensuite to Your Bedroom
If there is sufficient space, you may want to have an ensuite added to your bedroom. Not only can this be useful, but as with many home layout alterations, it may add value to your property.
Hiring a Professional to Improve Your Home's Layout
When it comes to redesigning the layout of your home, you'll want to hire a professional designer or architect. Be sure to spend sufficient time to find the right person for the job.
It's best to secure quotes from three designers or three architects before deciding who to go with. That way, you can compare the quote, their experience and any online reviews or ratings they might have.