Looking for a way to do a DIY table? These 15 easy ideas will work with almost any type of home from modern to traditional, industrial to a farmhouse, romantic to contemporary.
Build your own DIY table!
1. DIY Copper Pipe & Nylon Zip Table
This geometric copper tube table is tied together with nylon zip ties. The structure itself is made sturdy by the network of triangulated shapes.
via paulloebach.com
Paul Loebach is the furniture and the product designer that combines traditional woodworking with a design philosophy covering a wide range of industrially manufactured objects from furniture to lighting, to everyday household. His design focuses on materials, experience, and the emotive meaning of objects. You can design a unique opportunity to invoke change and adapt objects to the functional needs of our evolving lifestyles. You will need copper tubes from your local hardware store, and you are already halfway there. This will add an industrial touch to most rooms in the house alongside a sense of warmth.
2. DIY Minimalist Dining Table
Minimalist furniture requires a lot fewer materials to build and it creates a modern style. It's also fairly easy to make.​
According to the clients ' wishes, Amber interiors are the design studios that create furniture that selects architectural details and finishes. You too can decorate a fully functional beautiful space with furniture that doesn't feel too over fused or thought of. From a Feng Shui point of view, since the minimalist approach is all about the flow of air, it makes perfect sense to let the positive vibes be let loose without being obstructed by busy furniture.
3. DIY Lego Table
This custom-made DIY Lego table will be a great addition to your kid's room. It's as fun to use as it is to build.​
via www.domesticimperfection.com
Lego has hit the market and changed its entire ball game over 10 years again now, and with clever marketing has become, once again, a giant in its field, and something to take on very seriously. The desirability of legos has boomed and now, there isn't anything on earth that cannot be replicated. Why not join the force, and build your own lego table with your children and see exactly how far you can take the idea. Soon enough, you might have the lego bug, and start building the entire kids' space with these little wonders to include the bed frame. A great way to interact with our kids, and a great way to open up their minds early on.
4. Concrete Table Top
Brings a very industrial style to your home decor with this concrete tabletop.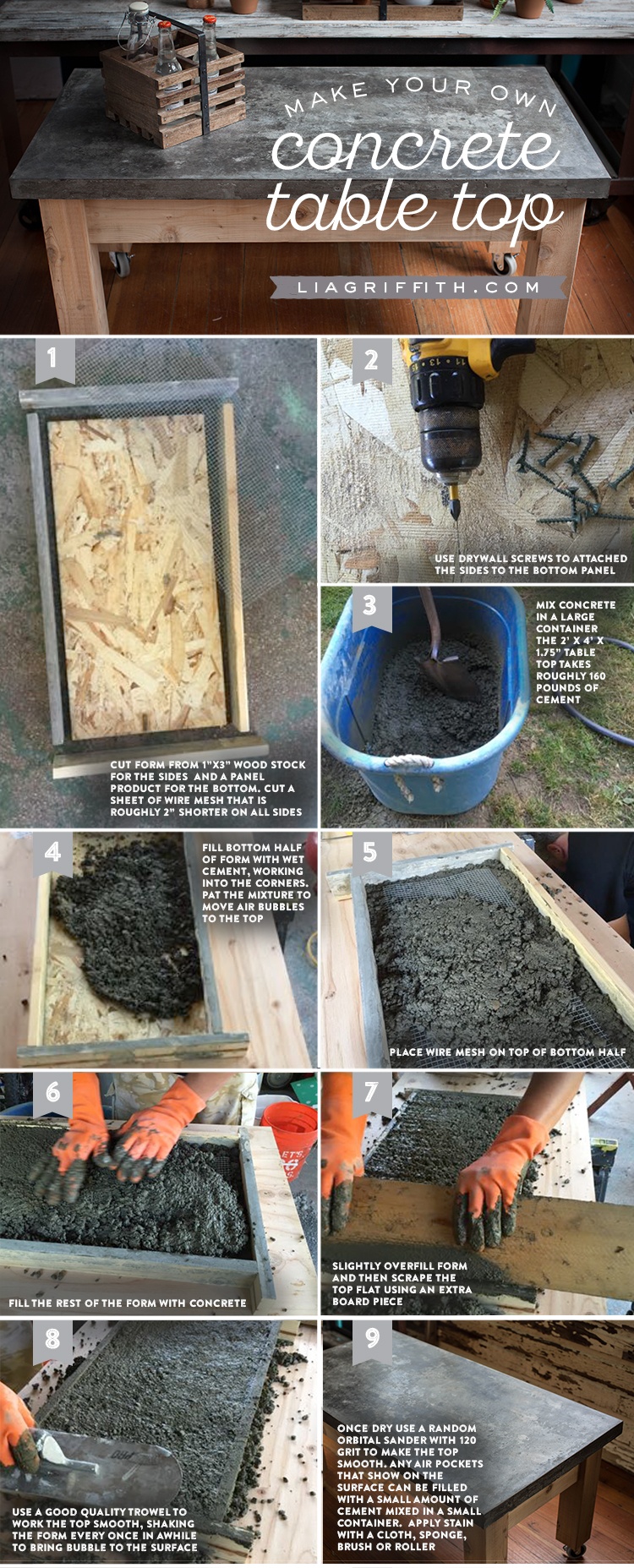 via liagriffith.com
This concrete tabletop since many moons ago and still is a very popular option. Not super environmentally friendly, however does give so much character to your indoor or outdoor space. And one thing is for certain, the durability of the concrete table is almost infinite. It is simple to clean and look after, especially if you have a big family around and are worried about keeping this clean and tidy. What's also great about using concrete is that you can also mix many different colors within it in the mixing stage, creating darker, warmer shades, making it look like a natural stone rather than concrete.
5. DIY Vintage Desk
Build a vintage piece of furniture with lots of character!
via strawberry-chic.blogspot.com
If you aren't into the minimalist design or the industrial or anything that resembles coming out of Ikea, then, you must think about going vintage. Vintage doesn't mean unreliable or about to break down, vintage is all about the look in this instance. The best is if you already have spare wood that demands a new lease of life, that you can send down and re-varnish or apply a watery polish. What is great about this project is that it stays inexpensive, however, it will look like you've spent a few hundred dollars on it. The legs can be left to their pure self, or with paint. You can create a beach vibe painting the legs white, mixing an equal part of paint to water; resembling a shark.
6. Wire Basket Table
This really simple and small table doesn't take much effort to build.
Watch here the video tutorial:
via www.theshabbycreekcottage.com
You do not have too much time on your hands but love the idea of creating something with your own hands? This could definitely be a project for you. You can pick up similar baskets in pretty much every yard sale, or indeed at your nearest DIY shop. And they are really inexpensive. Alongside the table once finished, you may wish to consider doing something similar with the same wire baskets, and putting a cushion on it creating a small pouf style chair. The perfect side table for the bedroom on either side of the bed, or simply by the sofa as a drinks table.
7. Easy DIY Reclaimed Wood Sofa Table
Fill the space behind the sofa with this easy DIY table in rustic style.
Increasing the character of the space and increasing the overall functionality of the room. You might wish to wet the extremities of the wooden tabletop by dropping it for an hour to engorge in water, for the wood not to split from the drilling. This can sometimes happen when piercing close to the extremities of the wood. Reclaimed wood is the best to look after our environment, and in a farmhouse-style home, giving an instant character makeover. This DIY will not take more than half a day to build, and something that will make you stand proud, with low overall costs, simply more elbow grease.
8. Mid-century Nightstand
Build this mid-century nightstand for your bedroom and add easy style to your home decor.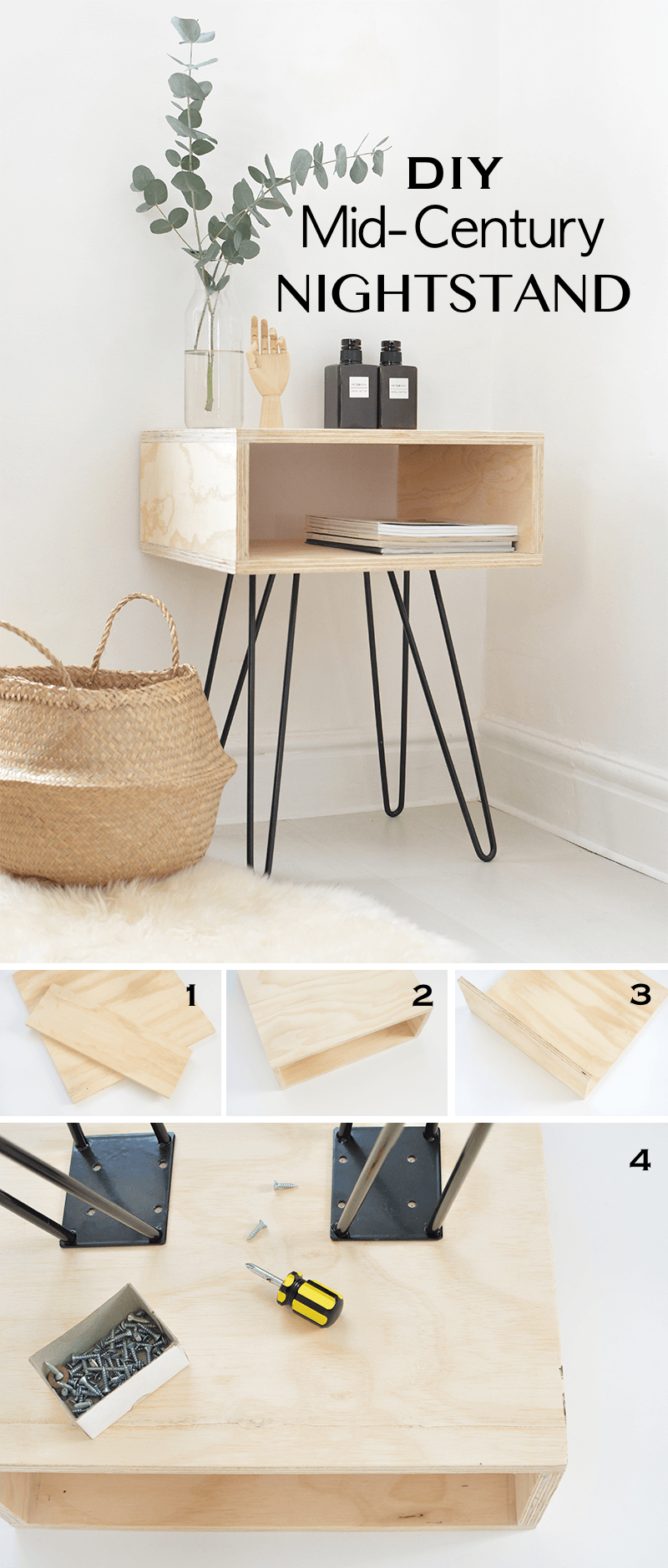 The 50s really took the design to the next level and one of the most memorable. Everyone wanted to outdo each other in the style department. And to this day, it stays a really exciting era for most designers and adds real character traits to your home space. If you wish to purchase 50s items, you will soon be looking at four figures on a couple of items only. So, it is best to improvise a little and take some time out, building this in absolutely no time at all. For more harmony and continuity within your home, you can even look into building a coffee table based on the same principle, only twice to three times as long including valuable holding space underneath hiding all the unwanted away such as the remote, books, and the rest.
9. DIY Farmhouse Dining Table
​Add the warm rustic feeling to your house with the farmhouse-style table.
​You can have pretty much any style of house with most style interiors and chances are, a little old school within the design won't hurt too much. On the contrary, to have a balance between the new and the old creates something really cozy. The table is the art form of what is most important to us, and that is to eat all together. So having a structure that has character definitely adds to the table engagements and conversation. Because it has warm energy written all over it. Custom tables are great, reusing wood and giving it a new life even it'll be proud of. And do not forget, really good wood furniture always comes at a price. And here we are talking about a piece of furniture that will endure the time of life for the following few generations, creating memories.
10. Wooden Dining Table
​Learn how to build a beautiful, farmhouse-style table that is lightweight and portable for all of your entertaining needs.
via www.ehow.com
​Building a table, or pretty much any type of furniture can truly be intimidating. But unless you give it a go, you will never know for sure. No matter if you have never attempted to build your own furniture, the satisfaction you get at the end of it is unparalleled to anything else. Besides, you will also know that your creation is sustainable, and exactly where it came from and how it was made. It stays light and therefore will be great to move around from one room to another, or even to the exterior on a warm sunny day with friends and family, unlike the concrete table at number 4 earlier. You can dress it up with any kind of tableware too, placemats, and anything that takes your inner designer fancy.
11. Mid-Century Modern Hairpin Table
Here is a great little table to make that you can use almost anywhere.
via tatteredstyle.blogspot.com
Easier to make, we would love to hear from you as this really is children's play and can be knocked up in a matter of minutes. The finished product looks incredible though, and you can have fun making lots of them. This will add much character to your already versatile and somewhat industrial-looking room wherever you choose to place it. You can take it with you anywhere moving from room to room whenever it needs you. If you find a bigger version, you can make the most dramatic of coffee tables by putting a few coats of lacquer to protect its top from stains. It really adds a ton of charm wherever it finds its space.
12. DIY Vintage Clock Table
Take an old clock face and turn it into a whimsical end table for your living room.
Fashion changes and don't we love buying and buying some more. When we eventually think outside of the box though, a lot of furniture can be reused and be made into something totally different, not only saving you hard-earned money but also triggering the designer in you. If you have an old, broken-down wall clock that has been sitting in a corner somewhere waiting for a miracle to happen by fixing itself, chances are, well, it'll still be broken. Or perhaps, you came across at the flea mart an old clock that you fell in love with instantly, not thinking exactly what to do with it. Some homes miss the mark when it comes to character and fixate on white, bland, boring soulless, and characterless homes that can look great, but are missing the exact essence of what a home is all about. Great fun making it we reckon.
13. DIY Suitcase Coffee Table
Get a bit creative! Do you have an old suitcase and a chair? Then this project is for you.
Do you like traveling? Think about it: you're drinking a cup of coffee, and then you decide you want to go somewhere. Just grab your table and go!
via shopruche.com
As the beautiful weather slowly approaches and rain become a thing of the past, for a little while at least, then a family picnic surely is on the table. There are beautiful picnic hampers available in so many places, but why spend hundreds of dollars on something you'll end up using a few times a year only. FOr what purpose. And on top of that, it is extra furniture to fit in your home-invading your space. And as we know, space is so important in a home and also worth a lot of money if you get to think about it. Think of this as if you were living in a small apartment, and you have a folding, wall-mounted bed that comes down when you need it. You will love this DIY. Genius!
14. DIYPallet Table
​Turn an old door and pallets into a big beautiful dining table!
When the time comes for the big sales of the year, we gather in numbers greater than numbers out to vote. Crazy really don't you think? Like a bunch of sheep simply following the crowd and all looking the same. Be the back sheep. Be different. Also, not only will you fabricate something unique that no one else has in the world, but you will also look after preserving what is left of our planet by upcycling what you have to hand. All you will need is an old door and a few screws and voila, a table. In practice, you will require more, but you get the point. Salvaging what you have to hand is magical and to make something beautiful out of something you thought of doing a bonfire with is one of the greatest achievements you'd have done in a while.
15. DIY Chevron Table
Another DIY pallet table with the chevron pattern.
16. DIY Driftwood Coffee Table
Reclaimed wood is the best. You can do so much with it. If you love your Sunday DIY this is definitely a job for you. This project will look great in an old farmhouse-style home, and even in a super clinical home to adding precious earth attributes and character. This is a real family table, as it can be bashed up from side to side; it'll only add character, memories, and forever stories. You can customize the table the way you feel if the chevron style is not to your preference. A few steps are required for this to spruce into a real true beauty, but ought to take you a couple of days during your weekend. From the finished article, you can use any varnish you feel like to suit your home the best from natural to dark wood finish effect, to a grey tint or a watered-down paint solution.
Having a really nice and economical DIY solution satisfies the modern flare for the sumptuous interior style. Instead of using regular wood, integrate the unique driftwood that is highlighted by its story of being washed up on a beach, riverbank, or other coastlines by the movement of tides and winds. DIY driftwood coffee table with glass top are much more attractive than their conventional wooden counterparts due to their unique, undulating patterns. Using the durable and scratch-resistant glass table tops makes it easy to clean and maintain the coffee tables. Glass Table tops here are particularly economical compared to other markets, hence making it the perfect choice for budget-conscious DIYers.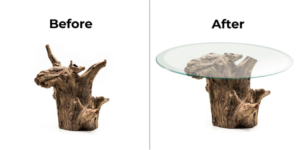 Via glass table tops