Succulent plants are perfect for decorating your home. Here are 29 ridiculously cute and easy DIY succulent planter ideas.
Learn how to display your succulents!
1. Clay Succulent Planters
You can easily make these little succulent planters at home. Take on this adorable DIY project by following the tutorial.
via sayyes.com
2. Mini Succulent Pots
You can sprinkle mini succulents all around your house for small but meaningful accents. Add some pops of color in your decor by making these mini pots for cactus and succulents. .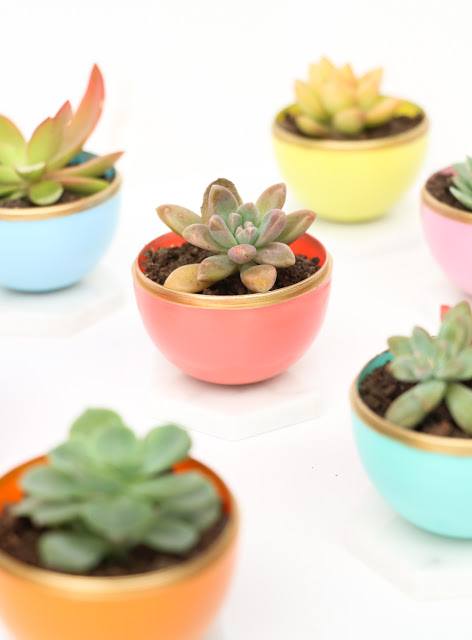 3. DIY Plaster Mini Planters
Add some colors to your home decor by making mini pastel planters with pigmented plaster that you can make at home.​
4. DIY Concrete Succulent Planters
Here's a DIY project for you – make your own concrete pots!
via erinmadethis.com
5. Faux Metal Hexagon Planters
Jump on the hexagon decor trend with these sweet mini pink planters in the geometric shape. A fun twist on the interior decor trend, and in such a fun pretty contrasting color.
via www.curbly.com
6. Thrifted Brass Light Fixture Turned Glam Terrarium
How to turn a $2 thrifted brass light fixture into an awesome terrarium for succulents!
7. DIY Balsa Wood Succulent Planters
These DIY Balsa Wood Planters are super easy to make!
via brepurposed
8. Wine Cork Magnet Succulent Planters
Wine cork succulent planter magnets – these are adorable!
via www.itallstartedwithpaint.com
9. DIY Painted Air Plant Bell Cups
​Spruce up your home with painted air paint bell cups.
via www.myanythingandeverything.com
10. DIY Diamond Hanging Succulent Planters
Create these unique Diamond Hanging Planters perfect for small succulents or organizing small objects in a stylish way with a few easy supplies.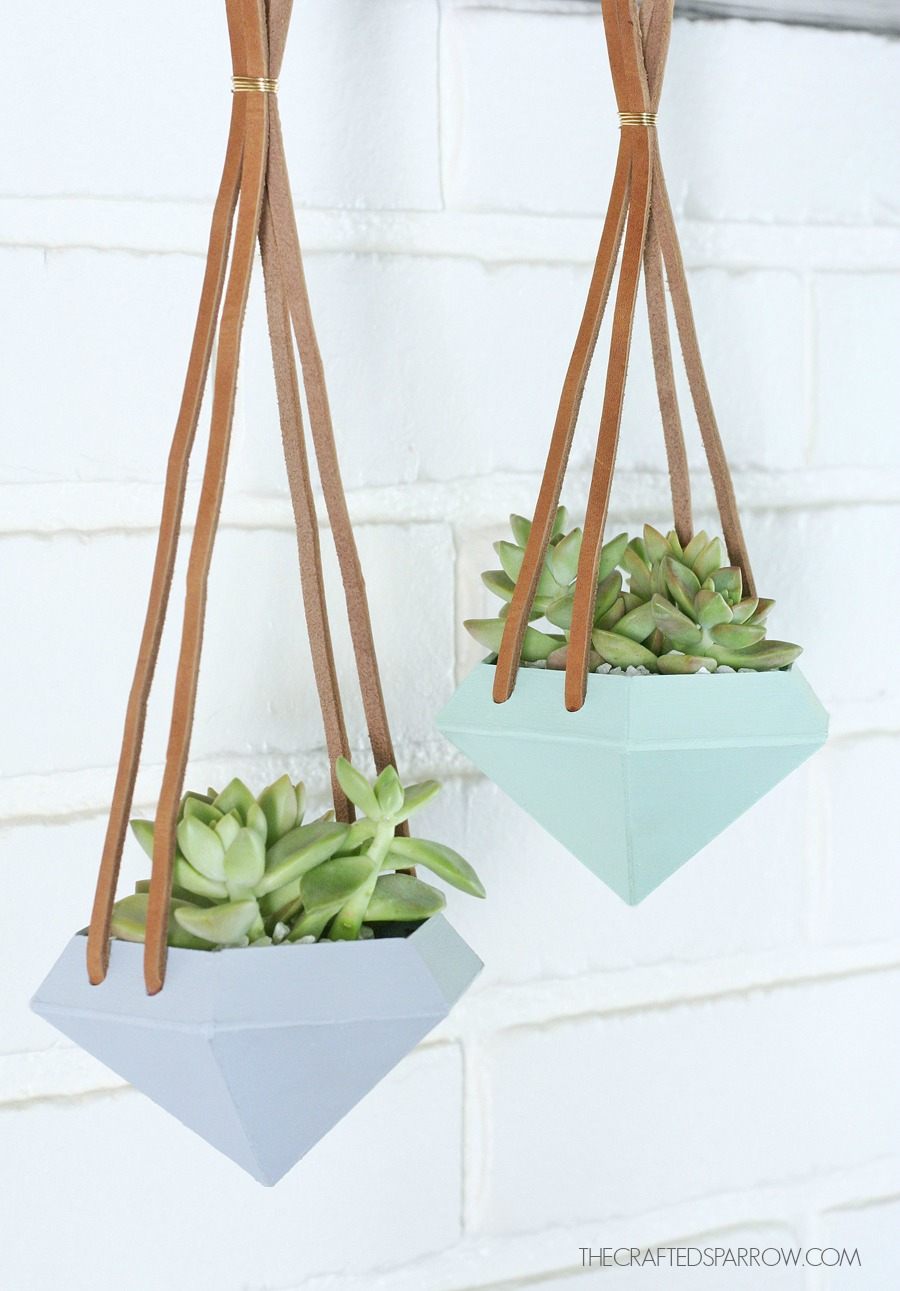 11. Copper Pipe Pot Plant Holder
Make this simple DIY succulent holder using copper pipe.​
​12. Small Brass Succulent Caps
The best thing about metallic is that it always makes a statement. And if you're going for just a little spark, this easy-peasy DIY is where it's at.​
13. DIY Succulent Garden
Making a succulent garden is easy. Choose your favorite succulents, a planter you like, prepare potting soil as well as some rocks and start planting.
Watch the video tutorial:
14. Dinosaur Succulent Planter
​Make your own dino planter with soil, succulents and a plastic toy dinosaur!
Watch the video tutorial:
15. Modular Concrete Planters
Need something you can arrange in endless ways? These modular concrete planters will keep things interesting.
16. DIY Hanging Clay Succulent Holders
This cute idea uses Fimo clay to sculpt an adorable air plant holder.
via bashstudio.com
17. DIY Marbled and Ombre Concrete Succulent Planters
Start with white concrete, then stir in powdered pigment. Marble them, create an ombre stack, go two-tone- the sky's the limit.
18. DIY Mini Granite Succulent Pots
DIY a set of mini granite pots to house your succulents.
19. Mason Jar Succulent Pots
DIY mason jar succulents. So easy and pretty. Great gift idea!!
via lollyjane.com
20. DIY Crystal Planters to Purify Your Home
DIY crystal planters are the perfect project to clear the energy (and air quality) of your space!
via jojotastic.com
21. DIY Pinch Pots
Would be awesome for the kids to make pinch pots to hold their own little succulents or 'air plants'! DIY Pinch Pots! Easy and fun craft for the whole family.​
22. DIY Balsa Wood Planter
Make this DIY Balsa Wood Planter. A simple tutorial to turn these soft wooden sheets into something useful and durable!
via fallfordiy.com
23. DIY Wooden Centerpieces Boxes
Get inspired to revamp your wooden boxes into some plant holders.
24. DIY Mini Wooden Succulent Planters
Gorgeous DIY mini wooden succulent planters!
25. Geo Planters DIY
Color blocked geo planters are a current fave DIY. It's one of those that gives you a sense of accomplishment once you finish! Succulents or candles make great fillers!
26. DIY Packing Paper Sack Planters & Vases
Do you have a problem with hoarding packaging papers too? It's alright! This DIY Packing Paper Sack Planters & Vases is for you!
via fallfordiy.com
27. Modern Concrete Planters DIY
Modern concrete planters made of sprinkler guards, excellent for tiny new cuttings to give!​
28. Tiny Succulents + Birch Trees
Gorgeous succulents in birch logs!
29. DIY Glass Terrariums
​This is so awesome project to try.