Whether you're feeling nostalgic about warm beaches and the summer sun, or if you want some bright splashes of color and a little bit of fun in your home, caribbean style decor is the perfect way to add a little more fun into your life. From vibrant colors to striking patterns and textures in fabrics, there isn't a single signifying feature to the caribbean style home, and it's more of a whole atmosphere. 
But don't lose hope! Giving your home the desired effect isn't hard, especially when you know what main elements to add to pull off the look. But even within the caribbean style, you need to decide how striking you want the scene to be, or if you just want to keep it to sheer fabrics, wooden accents and a lot of tropical greenery. 
To know more about all this, keep reading! 
Picking the Right Materials 
If you need to give your Florida house a little bit of flourish, or even a makeover before you sell, you need to know what materials to use for this theme. Most commonly, wooden furniture along with plain, colorful walls works best. 
You can use bamboo, rattan, and even some textured fabrics on the floor or beds to add depth to the room. Some of these materials may be expensive, but if you feel that this is something really important, you can consider taking a renovation loan either at the same time as when you buy your home, or even at a later point. 
It will pay off because the quality of the furniture in your home needs to be good enough to last a few years – there's no point in buying cheap furniture that will break down in a couple of years and make you spend more money on new one later. 
What Are the Right Colors? 
There are countless color combinations that work really well in Caribbean homes, but the themes are few – you need colors and hues that remind you of the sunset, of days spent on the beach, of the blue and green of the ocean and the brownish yellow of the sand. If you think about the afternoons, you can include brighter colors against white and yellow. 
This gives interior designers (and you) a lot to work with. You can pick a neutral background and fill your rooms with colorful cushions, pillows, and brightly colored furniture. The most common colors to pick are from the Caribbean sunset, like shades of pink, purple, turquoise, green, yellows, and of course blues. 
Add a lot of Plants 
The caribbean theme is incomplete without adding plants and greenery to your rooms., and even though natural elements are a frequent part of other themes too, nature is all this one's about.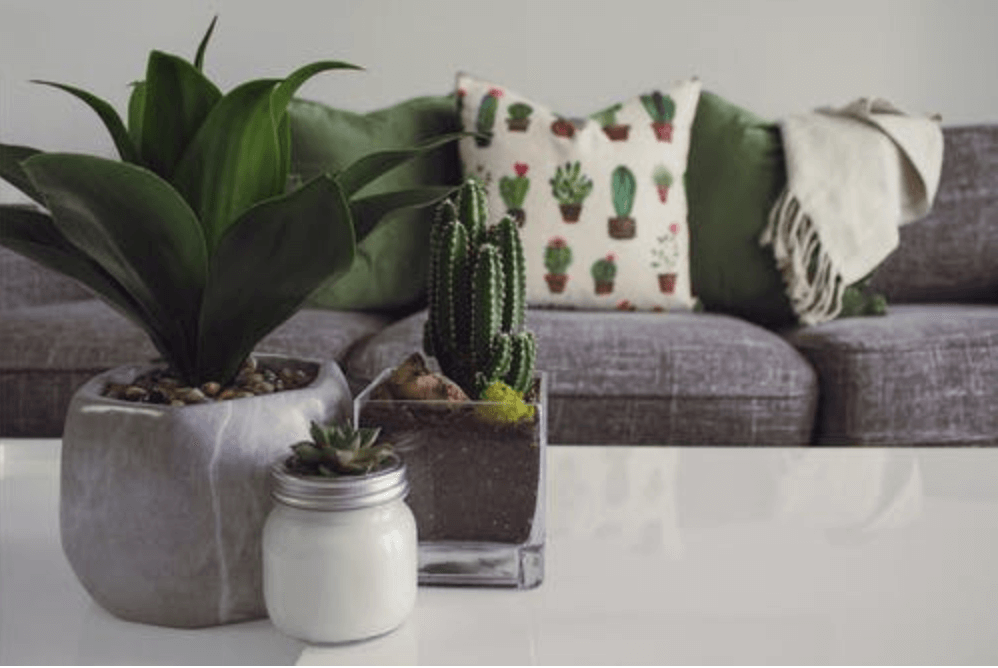 From tabletops to the corners of your to in front of the windows, there's no shortage of places to be filled with plant life. We recommend that you use live indoor and outdoor plants for your rooms, since they can help make the air in your room fresh, and there are countless plants that require minimal upkeep but still thrive at home. 
The Right Kinds of Fabrics 
This has been discussed before but needs a section of its own –  the right kind of fabrics make all the difference when it comes to the Caribbean theme. Think about brightly colored woven fabrics, cushions with beads and lace, and white sheer fabrics that let in a lot of light and brightness in your living space. 
Beachy Decor 
If you don't want to place plants in your living space, have hope. All is not lost yet! Any decoration pieces that remind you of the ocean and the beach can fit right in, like seashells and beads. 
Get a vase that's blue or purple liek seaglass, or even an aquarium in the corner that's full of tropical fish and underwater plants. 
You can even use paintings and other art to inspire visions of the summer, or go for brightly colored mandala art to have people thinking back to their beach outfits! 
How Important is Light? 
This theme works best in open spaces with a lot of light, and even when you're thinking about going a bit darker, the room would be full of wooden accents and sheer fabrics – but a dark caribbean theme is a bit harder to pull off. 
For most themes though, it's essential that you use light colored windows and shades, and that you opt for a more open layout and focus on maximizing space with your furniture arrangement.