Pallets were initially used to protect, stack, and transport materials while being handled by machines like a forklift. But while many would think that they are disposed of after, they are recycled, repaired, or reused.
Made from wood, they can also be turned into reusable materials. Upcycling pallets is another way to defer them from ending up in landfills. But are they safe to be in your home? This article discusses the use of pallets, why and how they are treated, and how you can tell if they can serve as materials for your new home project.  
Are Pallets Safe To Use At Home?  
The brief answer to that is it depends on various factors. They must also be treated due to the nature of their industrial usage. On the surface, they are made of wood that is supposed to be eco-friendly.
What needs to be questioned is where they have been, what it was used for, and if the wood has been treated with chemicals. At the same time, if you sourced your pallets from pallet repair companies like challengerpallet.com, you can contact them for more information regarding the safety of pallets for reuse.  
Pallets made of wood are susceptible to rotting when at least 20% moisture is present. Other than fungi that can break down the wood structure, insects or pests can live in raw wood. It can spread pests internationally to different locations if the wood used for pallets is left untreated.  
Chromated copper arsenate (CCA) was initially used to preserve pallet timber. But the chemical composition of arsenic could leak from the pallets and cause health hazards. At the same time, wood treated with CCA is prohibited from being burned and used for creating children's toys or play equipment, decking, garden furniture, picnic tables, etc.
The Environmental Protection Agency (EPA), along with the lumber industry, had since decided to discontinue using CCA-treated lumber in home construction in 2003. However, it can still be used for industrial purposes, like moving materials around factories as part of the manufacturing process.   
The United States Department of Agriculture (USDA) also developed a program that ensures the limitation of pest entry in foreign soil because insects can bore into wood. As a result, pallets are heat-treated and fumigated with methyl bromide. Exposure to methyl bromide can irritate the eyes, skin, and respiratory tract. Inhalation of the chemical can also cause pulmonary edema and kidney damage in extreme cases.  
This chemical has been restricted for years because of its effect on human health. There is also no telling how long wooden pallets retain the chemical since they are used in different ways and undergo other processes to serve their purpose in various industries.  
With all these chemical treatments, you may wonder if you can still use wooden pallets for your home projects. The answer is yes. But it would help if you learned how to identify which pallets are safe for usage.  
Look Into Pallet Treatment Codes 
Various industries shipping cargo packaging must adhere to ISPM 15, which stands for International Standards for Phytosanitary Measures No. 15, a set of regulations that outlines minimizing the spread of pests and diseases from one country to another through packaging materials for cargo transportation. It applies not only to pallets but also to boxes, dunnage, packing blocks, crates, and drums.  
ISPM 15 applies to both softwood and hardwood packaging materials. Be sure that your reclaimed pallet wood is safe to use by looking up markings, or if unmarked, it was sourced locally. 
The following marks are what you will typically see in wooden pallets.  
You will see the IPPC mark that prints the four letters downward with its logo on the left side. The IPPC symbol will be found on the left side of the stamp. Along with the symbol are the two-letter country and the company registration number on the right side of the marking with the treatment code. Underneath the country code is the type of treatment the wood underwent to be ISPM 15 compliant.  
Country codes are geographic identifiers that point to where the pallets were treated and prepared. It consists of only two letters followed by a hyphen, the manufacturer, or the code of the treatment provider. Some examples of country codes are the US for the United States, JP for Japan, and CH for Switzerland.  
National plant protection organizations (NPPOs) set phytosanitary standards in various countries. By working with their governments, they enable their country's or territory's responsive measures to plant health risks. NPPOs also allocate unique producer or treatment provider codes that manufacturers use. Here are the following: 
HT – Heat treated 

DB – Debarked  

KD – Kiln dried 

DH – Dielectric heated 

SF – Sulphuryl Fluoride 

MB – Methyl Bromide fumigation 
Among these four codes, the first three (HT, DH, DB, and KD) were not treated chemically and should be safe to use. MB-treated pallets are toxic and should be avoided. SF marked pallets were fumigated with sulphuryl fluoride, a safe biocide to methyl bromide for wooden packaging. But they are not safe for home use or making bonfires.  
Other stamps that you might see on your pallets: 
EPAL – Approved by the European Pallet Association 

EUR – Old European Association logo 

PRL – Verified by the Package Research Laboratory 
EPAL pallets were debarked and heat treated, which are safe for reuse. The EPAL also does not permit the use of methyl bromide. Pallets marked with PRL mean that the largest IPPC inspection agency in the United States verified their lumber. Colored pallets are also toxic and are not safe for reuse.  
Those without a stamp or marking are for domestic use, also known as national pallets. Most of them did not undergo the treatment process as the ones for export with markings of the International Plant Protection Convention (IPPC). 
These typical stamps or markings will tell you if your pallet is safe for home projects. In general, heat-treated pallets are safe for reuse, and those treated with chemicals should not be anywhere on your property. When sourcing pallets, be sure to check the marking. If they are blurry or unreadable, it would be safer to avoid them.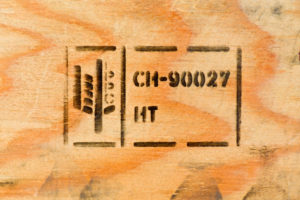 Takeaway 
You can use wooden pallets for home projects, depending on how they were treated. The IPPC sets international standards for wooden packaging to prevent the spread of pests and diseases from one country to the next. Pallets are marked with codes to indicate if the lumber used was IPPC-verified. They are stamped with the IPPC logo, country codes, and treatment codes. Pallets are treated in two ways: heat-treated, which indicates that the pallets are safe to use, and chemically-treated ones, which households should avoid.