A backyard pavilion is a covered area that increases your home's living space. While some pavilions are free-standing, others are affixed to the house. Although a pavilion is always covered to keep out the elements, the open sides give the impression that you are outside. Some pavilions have a specific function; they may be built next to a pool to offer shade from the sun or to increase the size of the dining space in the home. Others are landscaping or decorative elements.
Backyard pavilions are enchanted locations that are cozy, tranquil, and most importantly, adaptable outdoor areas that you can change to suit the occasion. With wine in hand and the sun setting, you can enjoy warm summer evenings with loved ones or crisp, romantic date nights. They also lend a touch of elegance and homeliness to any venue, making them ideal for formal events like small weddings, family memorials, reunions, and unplanned fun gatherings.
Pavilions can be made to complement the exterior of your home using a variety of materials, including wood, aluminum, and vinyl. They are unrestrained, offering you countless chances to be inventive and create something special in your backyard.
Here are seven suggestions for enhancing the appearance of your outdoor pavilion.
Backyard Pavilion Ideas That You Can Try
A Simple Wooden Pavilion
Image Source – Jaja.archi
Wooden pavilions are one of the first things you'll notice because they give your backyard more charm and elegance. Your backyard won't be a dull, lifeless area any longer. Function and aesthetics will blend to create an outside space that you and your guests will adore with a lovely pavilion in place!
Tools required:
Tape Measure

Carpenters Level

Standard or Cordless Drill

Screwdriver

Wrench

8' Step Ladder

Safety Glasses

Safety Gloves

Hard Hat

Square Rachet

Socket
Here, are the steps to build a simple wooden pavilion:-
Where each pole will go, dig a 2 to 3-foot trench and pour concrete into it. Prior to construction, let it cure. Using post anchors and screws, fasten the 7 in. x 7 in. wooden posts to each concrete slab after the concrete has dried.

Utilizing a ladder, fasten the beams to each post until all 4 are linked. Then, use two #10 x 1-1/4″ pan screws to secure one Roof to Post Bracket, and repeat on the other three sides.

By combining each piece's notch and tightly screwing it in, the roof rafter is finished. Build the wooden roof in parts when the roof rafter is finished. Connect the rafters with each component of the roof panel.

Roof edges and ridge clips are joined. Put a frame around the roof panels. Assemble the roof peak and fasten the roof panels. Check the roof's corners. Fix the corner caps and the beam.

Brackets for the roof peak and the roof-to-beam should be secured. Slide one Ridge Cap over the Ridge Clips to attach the ridge caps to the roof panels. All that's left to do is decorate and have fun!
An Outdoor Kitchen Pavilion
Including an outdoor kitchen in your backyard is a fashionable trend. An outdoor kitchen allows you to host and entertain friends and family in the comfort of your backyard and comes equipped with a grill, refrigerator, and plenty of seating. Following these 4 steps will create comfortable yet useful outdoor hospitality when building an outdoor kitchen.
Choose a Location for Your Outdoor Kitchen
The ideal location for your outdoor kitchen should be considered. If you'll be running inside for seasonings, utensils, and other necessities, setting it up on a patio or deck next to your main kitchen makes sense for a low-key environment. But there's no need to build another outdoor cooking area near the one you already have if you want a standalone, fully equipped facility.
Not every outdoor kitchen requires a roof, but if you're spending money on top-of-the-line appliances, you'll want to safeguard them. Your home's interior timbers can look wonderful in combination with straightforward post-and-beam construction. For more informal cooking areas, consider a retractable awning or an adjustable umbrella.
Connect
Before your home is finished being built, you should connect an outdoor kitchen for electricity to save the headache of retrofitting and to save money. You could only think you'll need a few outlets, but if you want something more sophisticated, prepare ahead. While he's constructing your interior, a plumbing subcontractor can install a water line and sink for you. In order to ensure that you never run out of gas when using a gas-fired grill, connect it to the main gas line in your house.
As you construct an outdoor kitchen, consider the materials. Your grill's surrounding flooring should be fireproof; your best bets are flagstone or concrete. Appliances made of stainless steel are resistant to snow and rain, and teak is a tough wood choice. To protect them from harmful UV rays, materials should ideally be coated with a sun-blocking substance. They also should be waterproofed. Spray some water on the fabric to see how it works. After a storm, it can take hours for your seat cushions to dry if it doesn't bead, which would seriously ruin the enjoyment.
A Rustic Stone Pavilion
Image Source – Pinterest
It requires no special abilities to construct a stone pavilion. Instead of stressing about correct cutting and fitting, you can unwind and let your creativity flow thanks to the relaxed, free-form design.
Here are the procedures for creating a simple stone pavilion:
Consider the size.

To create a flat base with a slight slope for drainage, dig a hole that is about 10 inches deep and pack a 6-inch layer of gravel into it.

Place the brick and stones for the pavilion on a bed of sand, then compact them to level the surface.

After sanding the cracks again, you can finish by landscaping the area surrounding the new pavilion.
Materials Required:
Black iron pipes measuring 3/4″ x 10′ in length are needed 
Paving bricks, Landscape fabric made of gravel Wooden stakes, Sand Stone
A Modern Metal Pavilion
Image Source – Pinterest
Your lawn will look beautiful with metal pavilions. For outdoor use, they are incredibly robust. Due to the hot-dip galvanizing process, every metal part is weatherproof. With the addition of surface coating, the high-quality wrought iron material almost eliminates the need for ongoing maintenance. They can be constructed in a variety of forms, sizes, and materials and metals.
Types of Metals used:
All metals possess the stability and toughness required to build a sturdy garden pavilion. However, it's crucial to keep in mind that a pavilion built of solid metal is the only one that can withstand heavy winds. Hollow tubes and pipes are less durable and less able to endure the forces of nature than solid ones. Regarding the available possibilities for processing and coating, there are also substantial differences between various metals.
Even while aluminum is very lightweight, a pavilion may not always benefit from this. This is because less stability generally translates into less weight. Due to its high cost, aluminum is rarely employed as a solid building material for metal pavilions. The type of coating that may be used is likewise constrained.
Stainless steel gives the pavilion a more premium and opulent appearance. Due to the need for specialized welding wires and polishing agents, it is also highly expensive to procure and treat. On the plus side, it possesses a high level of corrosion resistance, comparable to that of surface-coated iron or regular steel.
Wrought iron, conventional steel, and iron
Use common steel, iron, or wrought iron to create a sturdy, elegant metal pavilion. These cost far less and may be processed using standard methods while being just as stable and resilient as stainless steel. Additionally, these metals can be coated for the best possible corrosion resistance.
Also ​​incorporating the right outdoor lighting in the metal pavilion may transform a plain area into something wonderful and distinctive. You can add some decorative led outdoor lighting to make it cozier. You may use some garden-adapted hanging lights for enhanced ambiance or led outdoor wall lights, and with the correct décor, your outdoor pavilion lighting will look just stunning. If you match the lighting to the décor, you will be ready for gorgeous gatherings outside your property. Depending on the application you want for your pavilion, you may choose from several types of lighting, from chandeliers to candles.
A Relaxation Pavilion with a Hot Tub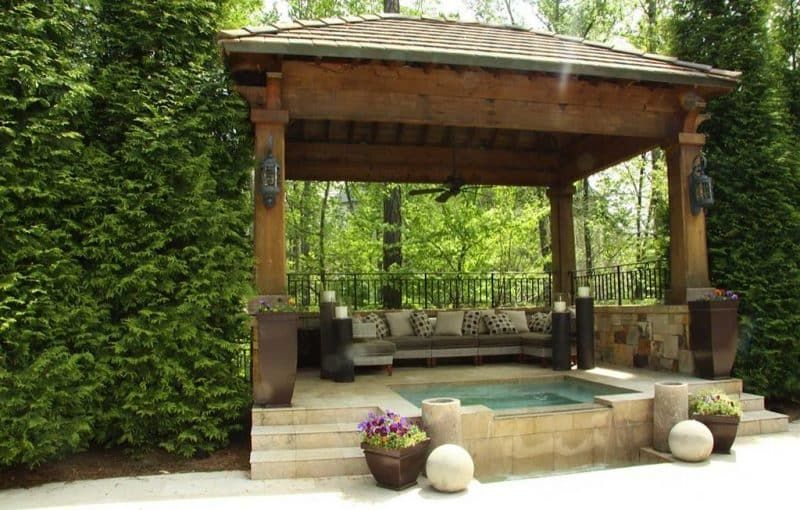 Image Source – Pinterest
The backyard living area you create with these outdoor hot tub ideas will be a fantastic addition to entertaining year-round with family and friends. Nothing beats taking use of the beautiful outdoors to unwind and relax while soaking up the sun. 
A hot tub can always fit in your backyard, even if it is a little area that cannot support a pool. There isn't a better way to unwind from a stressful day at work than to relax in an outdoor spa. There are many different hot tub designs available for you to choose from. For an outdoor hot tub, you will also need to make plans for a deck, landscaping, and privacy. Check out the great suggestions below to get you started!
You'll need steps to make entering and exiting your hot tub simple if you've decided to build it above ground. Even if you can buy spa stairs that match your hot tub cabinet, creating a unique set will enhance this feature even higher!

Different materials can be used to design the steps leading up to your hot tub, and the material you select will depend on where your hot tub is installed. Stone and wood are the two materials that are most frequently used. You could build wide wooden stairs leading halfway or three-quarters of the way up your cabinet if you put your hot tub on your deck. If you've made a fake in-ground installation, this works very nicely!

Stone comes in a variety of sizes and shapes, so you can accommodate various aesthetics if you have a stone patio and make stone steps in the same manner. Consider using thick, precisely cut slabs to give the area a contemporary, elegant look. Use broken or rough-cut stones for a more natural or rustic appearance to give your steps a distinctive, asymmetrical appearance.

Any above-ground hot tub can have bar seating installed on one or more sides. While visiting the spa, you can put items like your towels, drinks, speakers, or phones in the bar seating. If you enjoy entertaining, installing bar seating will also provide a natural meeting area and enable you to provide comfortable seating for guests who aren't utilizing the hot tub.
A Multi-Purpose Entertainment Pavilion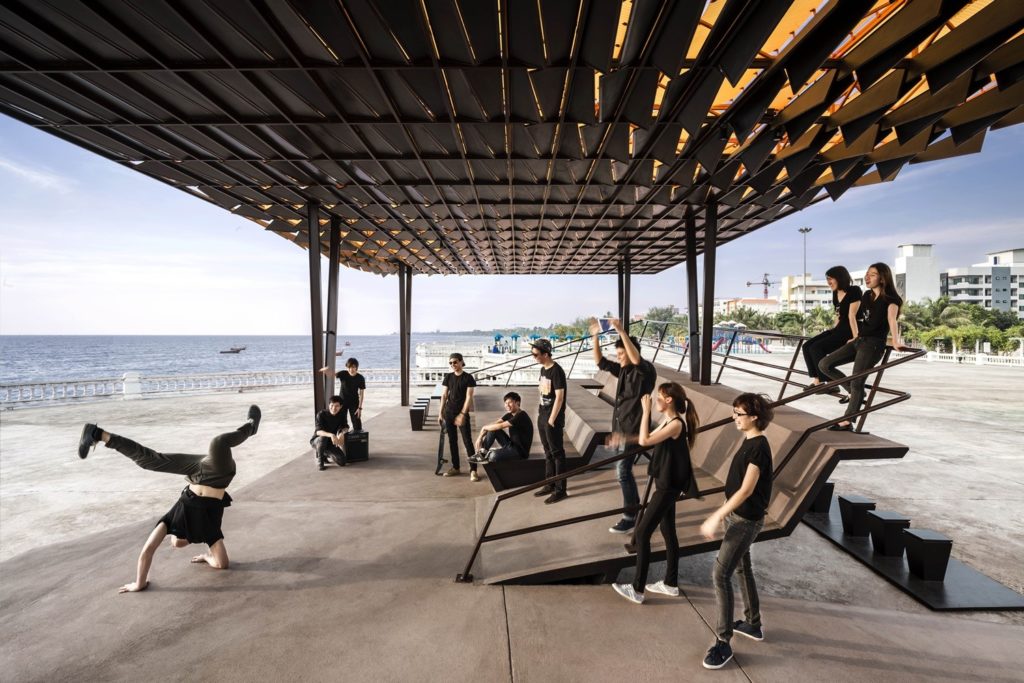 Image Source – Archdaily.com
The amusement centers for your family and friends are pavilions. As a result, you can have furniture, a bar, a fireplace, an oven, or a grill in a warm and attractive outside area. Additionally, a plug can be installed within the pavilion so that you can use gadgets like speakers or other devices without having to worry about extension wires. Look no further than these 3 motivational backyard steps if you're intending to create an outside entertainment area or spruce up the one you already have.
Consider how you'll use the outdoor area.
On paper, any design for an outdoor entertainment area seems fantastic. However, you also need something that is useful and attractive.
You need to consider how you'll utilize the area once it's finished. Your typical time management practices will affect the specifics.
Consider the elements and amenities.
One of the essential elements for your outdoor entertainment area may be overlooked if you consider your yard as a whole.
Adopt an outdoor living space design that is functional now and in the future.
Numerous businesses can provide you with generic landscape designs. Even in some of the adjacent areas, where patios are similar from house to house, you might notice this. Indeed, they have served other clients, but will they serve you?
A Cozy Fire pit Pavilion
Image Source – Pinterest
Any time of year, getting together around a fire is a terrific way to spend an evening, and installing a firepit in your backyard may help you get the most use out of it. It can greatly enhance your experience of outdoor living. It's a natural meeting spot that gives your outdoor nights more atmosphere and glows. A fire pit also adds warmth and light, prolonging the amount of time you can use and enjoy your yard.
You can go for a custom-built firepit or a functional fire table, depending on the size of your yard and how close you want your fire to be to your hot tub.
A fire pit can be dangerous if it is not placed properly or if adequate placement and design considerations are not made, despite the fact that it is a magical component of a fully developed backyard sanctuary. You certainly don't want to be thinking about mishaps or safety concerns while adding something of this magnitude to your environment; instead, focus on being warm and comfy while admiring the dancing firelight.
Let's examine some of the vital components of backyard fire pit design.
Select the Proper Materials for Your Fire Pit 
You may build a fire pit out of many fantastic materials. However, some materials, despite their beauty, are not suitable for the high temperatures produced by a fire pit. You can be putting your yard's safety in danger if you don't know the material's heat rating. A stainless steel inside liner is frequently used in fire pit designs to ensure a barrier between materials and to keep heat contained so it doesn't cause issues. Your fire pit's installation and design are strengthened by this.
 Pay Attention to the Fire Pit Height
A professional would always consider height and circumference when designing a fire pit. As a safety measure to contain the fire, there is a tendency to build fire pits overly high. However, this may force people—especially kids—to approach closer in order to lean in and roast marshmallows or hotdogs. In fact, this makes the fire pit less safe.
Be mindful of your orientation
You undoubtedly have a specific spot in mind when you choose where to put your fire pit. In order to improve the beauty of your backyard, you should make sure that your fire pit can be viewed from a variety of locations. An important consideration in fire pit design is wind. Professionals will take the direction of the wind into account to ensure that the smoke won't be blowing straight into the faces of your guests or any nearby seating locations. In the wrong location, a fire pit can obstruct or distract from vistas, be badly impacted by weather, and potentially create more discomfort than comfort, turning your yard's fire pit into a nuisance rather than a lovely feature.
Think About Your Fuel Options
Even though you might immediately think of wood-burning when you consider a fire pit, you might be hesitant to go with this option due to the wind in your yard or other safety issues. It's alright. An equally attractive and safer alternative to wood can be a gas fire pit design. You don't have to deal with wood debris or chop it up; it's also a little cleaner. To guarantee the connection to the gas line is made correctly, you just need to employ a qualified plumber. Still in awe of the wood-burning alternative? A full fireplace might make the process safer.
Consider a Fire Pit Substitute
If a fire pit design isn't what you have in mind, a fire table can still provide the same fire color and warmth. This piece of outdoor furniture can add a touch of sophisticated elegance to your outdoor environment, providing you with the same central gathering area in a more aesthetically pleasing package.
Conclusion
A pavilion in your backyard is a feature that will enhance the appeal and value of your home. The ideal pavilion structure will increase your living space and give you additional covered outdoor time. Each suggestion here makes your outdoor area feel opulent, like something you might find at a pricey resort, but you can use it every day because it's in the comfort of your own home, not a hotel! These suggestions will wow visitors, please friends, and bring great joy to your family. While initially requiring some work to construct, this adaptable backyard feature will raise your home's value and serve as the backdrop for many years' worth of family memories.
Once again, thanks for reading our top pavilion advice!