Wood is a natural material that we love putting everywhere, including in our homes, gardens, and public spaces.
While it looks stunning on its own with unique tones, rings, and swirls, wood can sometimes be enhanced with a coat or two of paint. This can help you achieve an aesthetic that its natural appearance wouldn't have otherwise.
However, it's not as simple as slapping some paint on and calling it a day. For the best results, you'll need to follow these tips.
Sand the Wood First
Before you break out the paintbrushes and paint, you need to ensure the wood you're working with is a clean slate, so to speak.
Typically, wood has small jagged pieces and bumps, which will be emphasized when you paint over them. As a result, your handiwork won't look great.
Take the time and effort to sand the wood before you start. 
Start with coarse-grit sandpaper, then keep progressing to finer grits. You should also sand with the grain for maximum effectiveness.
When you're done, make sure to get all dust and debris off of the wood. If there's anything still on its surface, then it'll show when you paint.
Use a Primer Before Actual Painting
If you've painted your nails before, then you'll know that you need a starting coat of primer before you put the actual color on. The same concept applies to painting wood.
When shopping, double-check that you're buying primer made especially for wood; it'll have special binders and resin. It'll be designed to prevent tannins and natural oils in the wood from bleeding through the paint. Also, it'll seal the wood surface and make your paint smooth and consistent.
Make sure you give the primer plenty of time to dry before you proceed with painting the wood.
Choose a High-Quality Paint for Wood
Not all paint is created equally; there are specific ones made of wood. The pros at www.realmilkpaint.com/shop/oils/hemp/ suggest using all-natural hemp oil, as it works well for porous surfaces like wood. It can be used to revive leather goods too, so that's handy to have around the house.
If you pick high-quality paint, then it's more likely that it'll dry evenly and have good adhesion. Products that dry too quickly can show your brush marks and uneven finishes. And those that try too slowly not only take a long time to cure but are also prone to peeling and chipping.
In addition, get paint that's resistant to moisture and fading. This cuts down work in the future, especially if the wood's outside.
Paint Correctly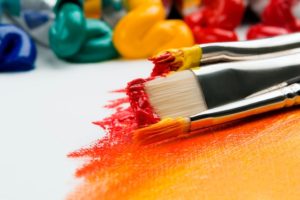 You have two choices for application: paintbrushes or rollers. The former is better for smaller areas and detailed work, while the latter is optimal for covering large spaces efficiently.
When choosing paintbrushes, opt for ones with synthetic bristles. These will hold their shape better, resulting in smoother and more even finishes.
As for paint rollers, get one with a median nap. This will hold more paint, and you won't have to refill as often. Plus, it has better coverage.
When using a brush, you need to use even strokes, so go slowly. Use the same amount of pressure throughout, and avoid overloading it with paint, as it'll drip and pool, which will ruin your work. Like with sanding, you should go with the grain of the wood.
For rollers, don't try to tackle too much at once. Instead, work in small sections. When rolling the paint on, do it in a W or V pattern. Then smooth it all out with even strokes.
Have Patience When Drying
If you've rushed additional coats of nail polish before, then you've probably experienced smearing and bad results before. It's important to have patience when waiting for coats of paint to dry.
Take a look at the manufacturer's instructions to see how long you have to wait. But in general, you'll want to give it at least 24 hours in between each coat. If you're working with a large area, you can save time by breaking it down into sections.
By allowing the paint to dry completely, you'll avoid peeling and tackiness.
Sand Between Coats
In addition to literally watching paint dry, you'll need to sand the wood lightly between coats too. This is definitely not a DIY job for impatient people.
Light sanding is vital for a smooth and even finish though. It'll remove imperfections from your last coat of paint, meaning you don't have to paint perfectly.
The optimal type of sandpaper here is fine-grit, like 220 or 320 grit. You'll want to gently sand the wood in a circular motion.
When you're done, you should wipe the surface clean with a damp cloth before applying more paint.
Do note that you won't have to sand in between coats if you're using self-priming paints.
Finish With a Protective Clear Coat
When you're satisfied with the coats of paint, you'll need to finish it off with a protective clear coat. This can either be a varnish, polyurethane, or shellac. Read up on each to determine which is the best for your project; polyurethane is pretty popular because it has various sheens.
Whatever you choose, it'll give the wood a nice finish. And more importantly, it'll protect the paint from scratches, stains, and other damage.
To apply the protective clear coat, check that the surface is clean and free of debris, and use thin and even strokes. Follow the manufacturer's instructions for both the number of coats and the drying time.
Paint Wood Like a Pro
Many homeowners opt for professional painters to redo the wood on their houses. But if you're someone who loves challenges and DIY projects, then you can easily paint wood on your own.
If you sand the wood first and get high-quality primers, paint, brushes, and rollers, you'll have half the project down already. Also, practice patience when applying even strokes of paint and waiting for the coats to dry. In the end, you'll have beautiful paint that'll look like it's professionally done.
Read our other blog posts if you need more help with home improvement projects.